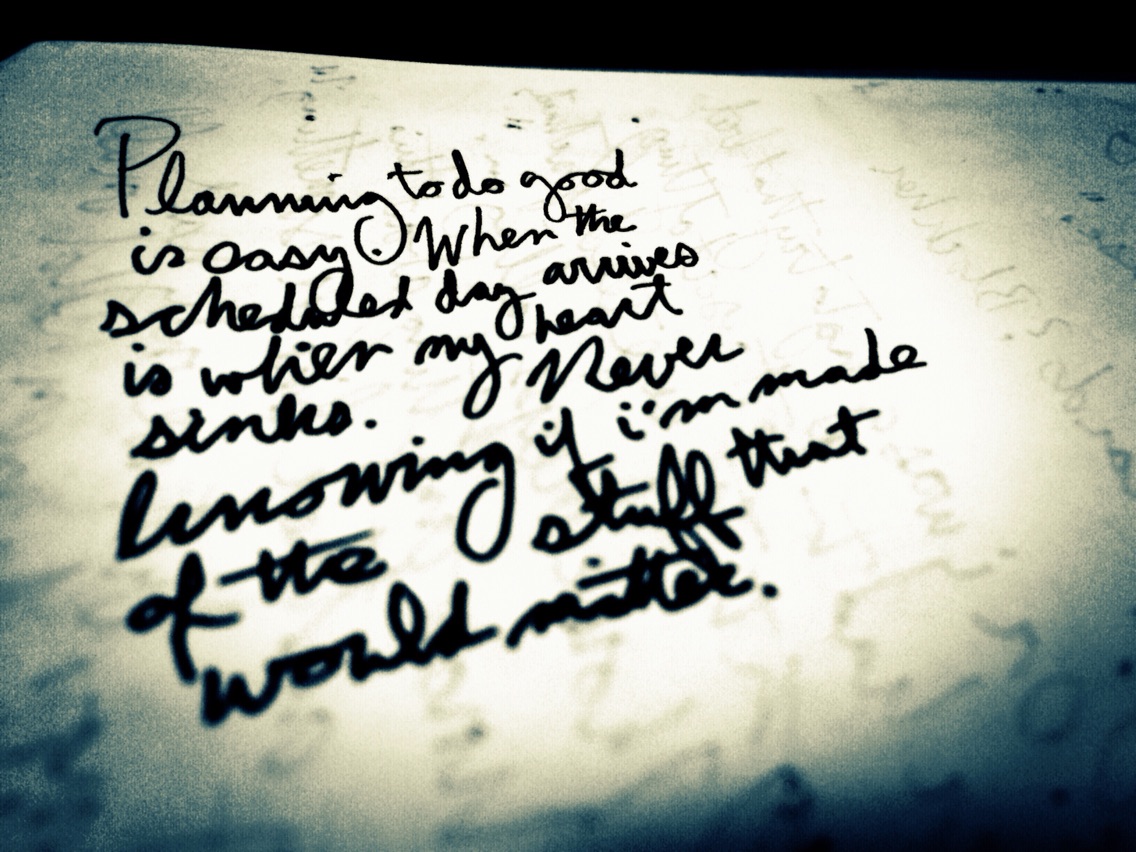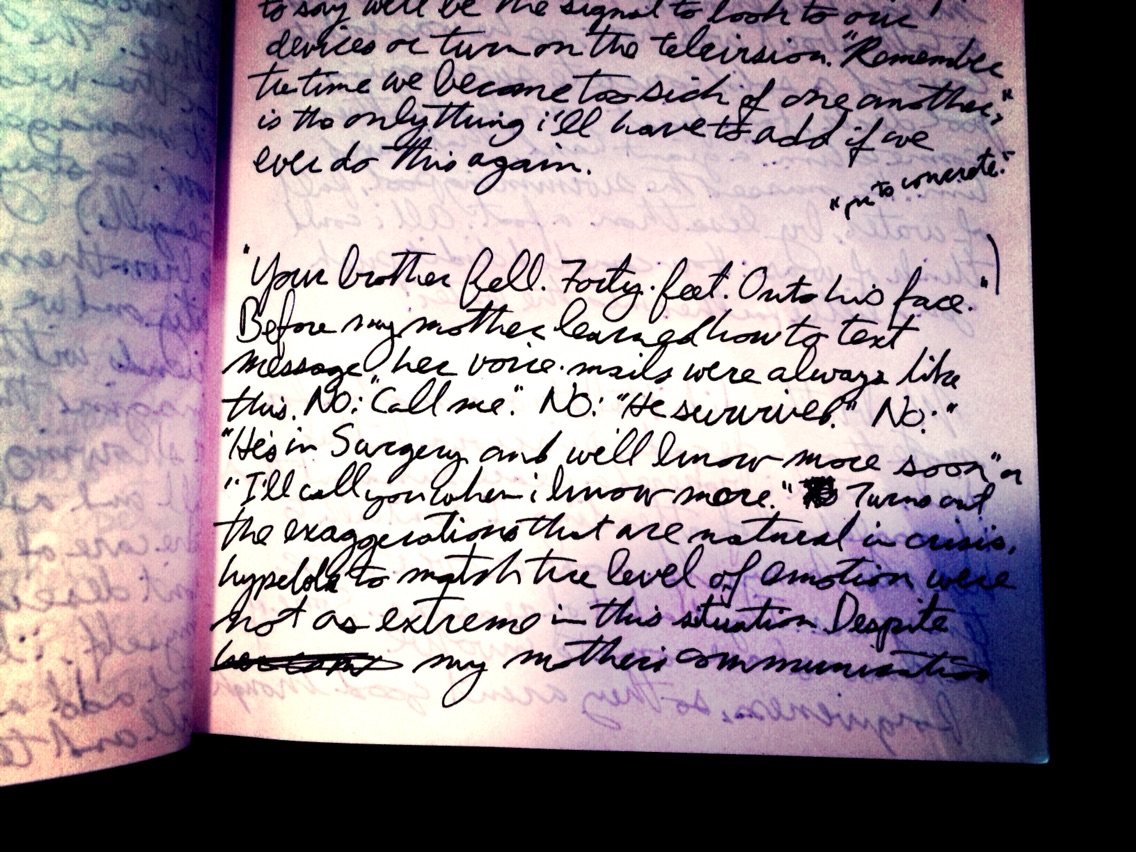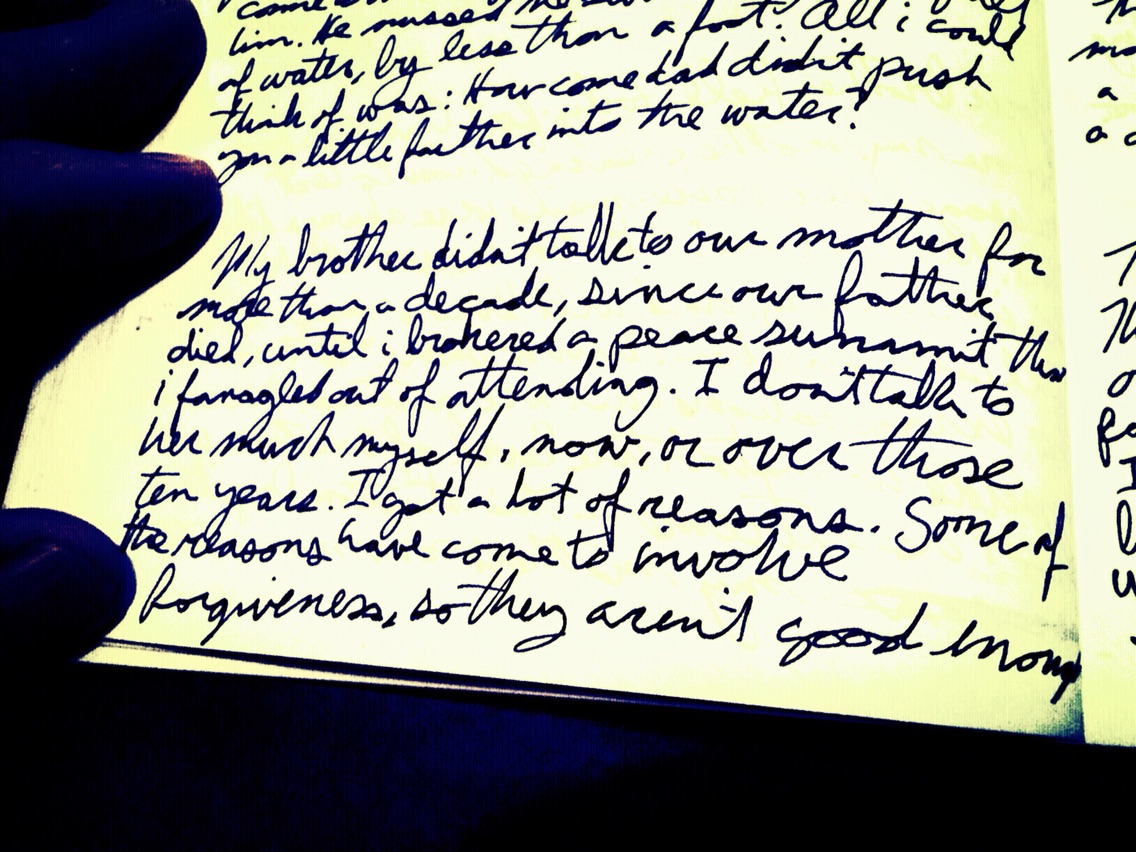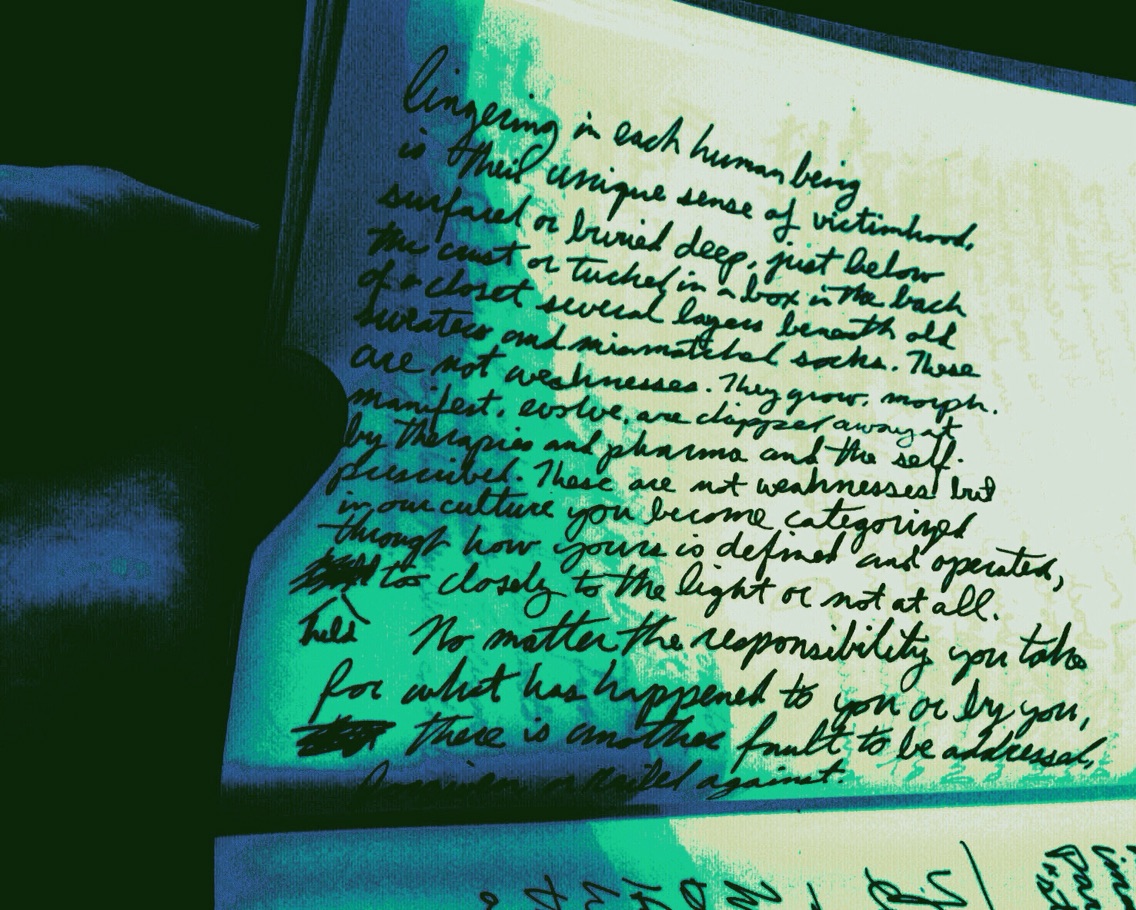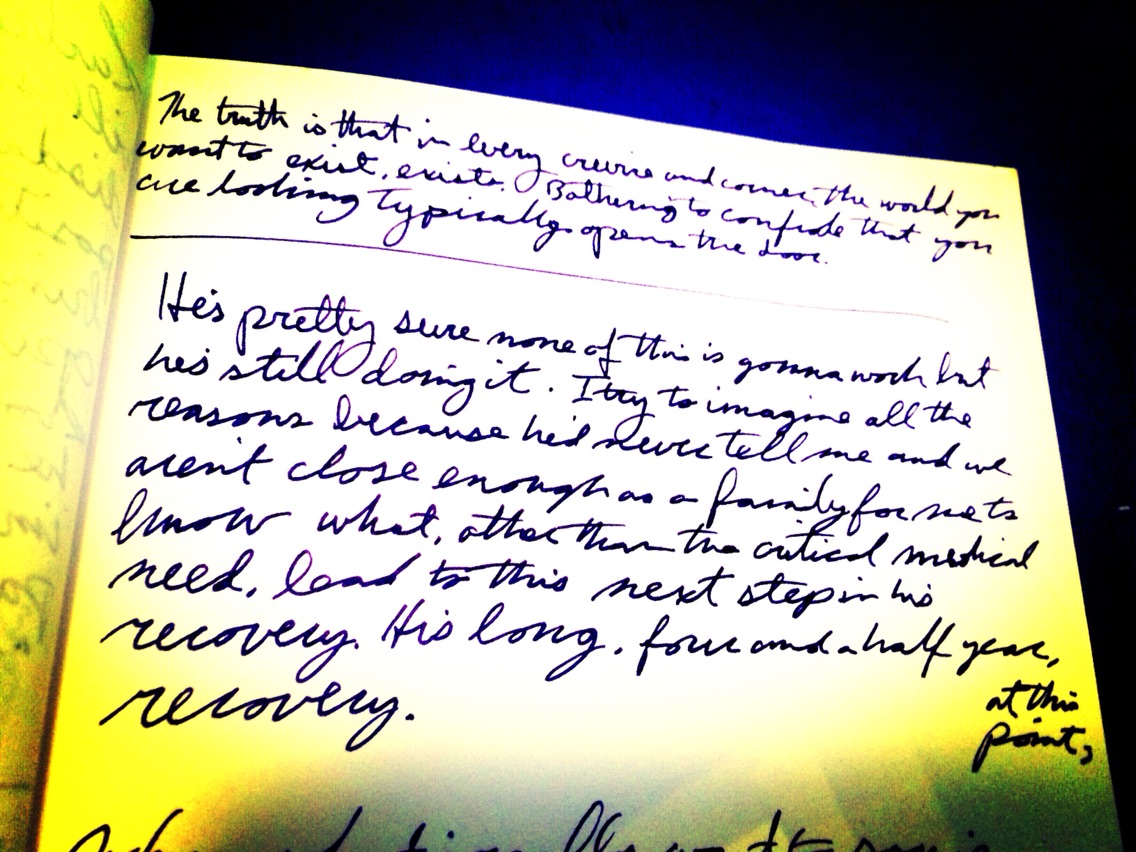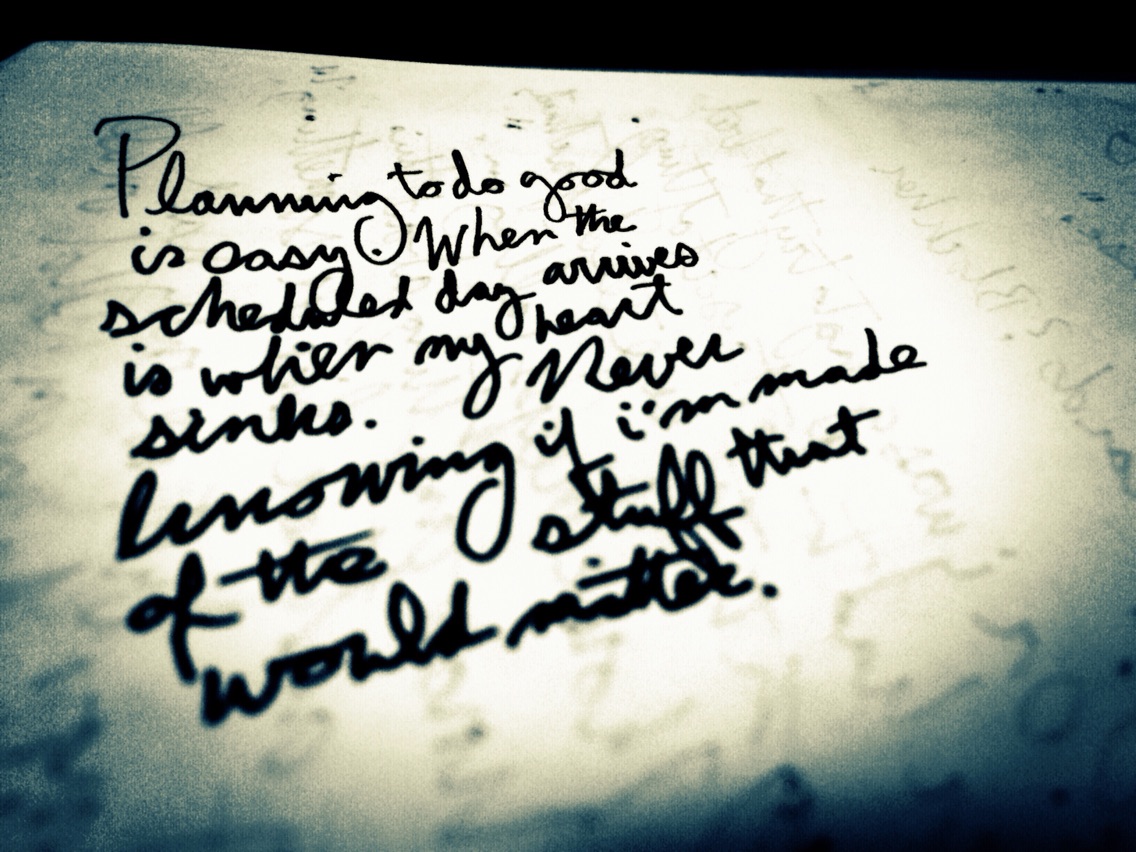 No.3
A DIGRESSION:
Planning to do good is easy. When the scheduled day arrives is when my heart sinks. Never knowing if I'm made of the stuff that would matter.
p.shaw
It started somewhere, without a number, then each of us have spent our lives ignoring the lack of progress.
No.1
I'm anticipating that moment where we say nothing.
It comes after all the: "Remember the Time"s that are guilt presented in the shiny wrapping paper manufactured for nostalgia.
That moment is what we've come for. I think. You may not. I doubt you do or will. And that is okay. But at this point it's really the only reason I have bothered. After all the "catching up."
That moment could be the calm before the storm of making a new memory worth our small collective of "Remember the Time" types of future conversations. Ones that we could change from laden with subtext to simple memories: recall.
But I'm anticipating that we've come too far to make these new kinds, or any: Angry or Guilt-Laden; Exciting or Dangerous.
That moment where we have nothing left to say will be the signal to look at our devices. Mine a pocket computer connected to everyone and no one. Yours a turning on of the television to watch what I consider the most vile of the now.
"Remember the Time we became too sick of one another," could be the only thing we'll have to add if we ever do this again.
p.shaw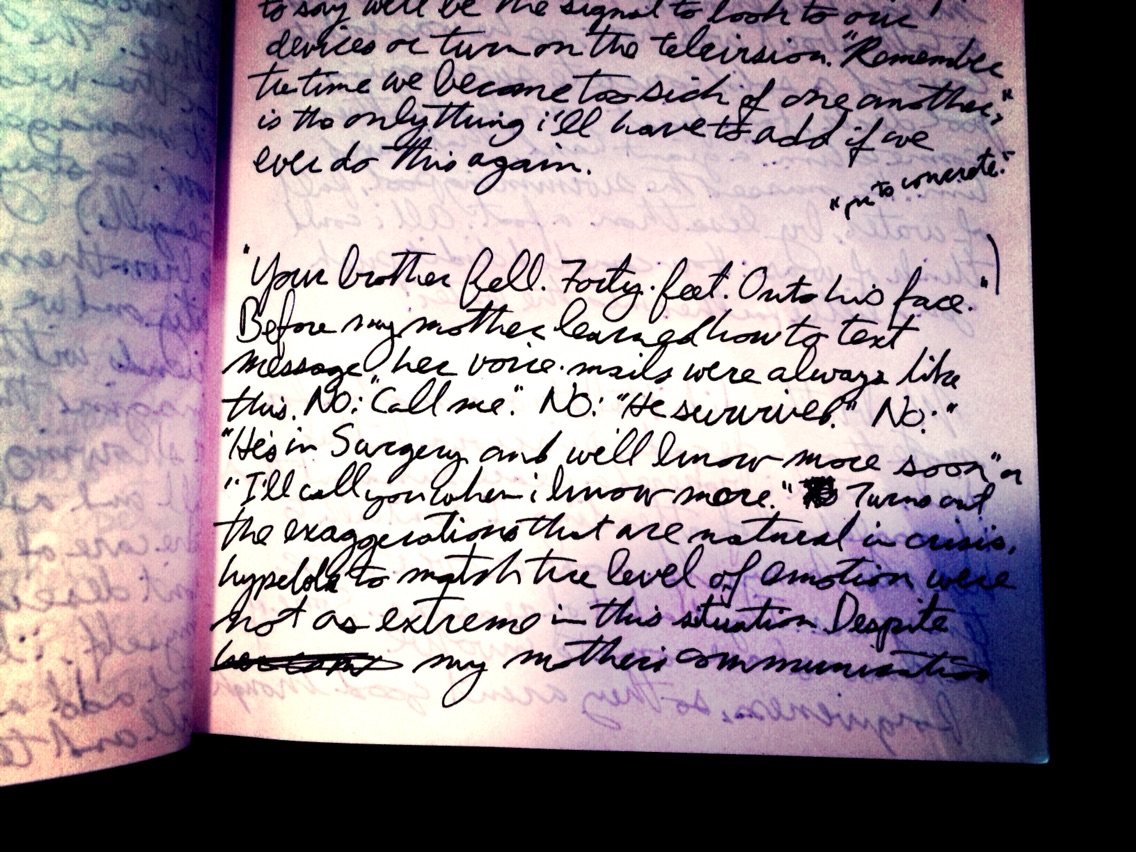 No.2
"Your brother fell. Forty feet. Onto his face. On concrete."
Before my mother learned how to text message, her voice mails were always like that. Can you hear the periods in her sentences? I can hear the periods in her sentences.
There was no: "Call me." No: "He survived." No: "He's in surgery and we'll know more soon." Or: "I'll call you when we know more." Her voice mails have always been just the headlines.
The exaggerations, that are natural in response to a crisis, and often accompany the initial communications, the hyperbole to match the level of emotion being felt, weren't actually existent in this case. My brother had fallen, literally, forty-feet on to his face, on to concrete. She had gotten it all right. Delivered me the specifics. Whatever underlying passive-aggressive guilt tactics her usual voicemails were a part of – and let's get this straight: this was one of those passive-aggressive-guilt-delivery voicemails – this time she was just spreading the news.
p.shaw
N0.4
My brother's accident is labeled "Industrial' by organizations like Labor & Statistics, when it comes to the fact that he will never truly work again in a field that he loved. And by Labor & Industries, when it comes to determining who the hell is gonna finally pay up for this mess his body has become.
While we say my brother fell forty feet on to his face, the physics and the dimensions are more complicated, and more violent, than that.
Just before my brother fell, he was atop a forty foot scaffolding erected along the face of an A-Frame lodge that was four stories at its apex. The lodge was developed for tourism in Northern Arizona by a company from Las Vegas. When he wasn't fighting fires for the forestry service he would do jobs like this, where he was contracted to paint the beams of the lodge with things that would attempt to make them more fire repellent. That part was his job. The job of putting the scaffolding up safely and accurately belonged to a company whose sole purpose is to erect scaffolding.
Here are basic details:
• The scaffolding fell away from the building.
• As the scaffold fell through what would be it's inevitable, gravitational, ninety degree arc, my brother rode it downward.
• Yet, In the final stages of descent the scaffold encountered a 10 foot concrete wall that surrounded the swimming pool of the lodge.
• That encounter flung my brother, 'like a rocket,' he says, from the top of the scaffold. Heading on his own new geometry toward the concrete pool deck.
• My brother was facing toward the building as he rode the scaffold downward, until that is, he was thrown from the scaffold. Then his body was turned so he could now see where he was falling.
• The first portion of his body to impact the concrete decking was the right side of his face and neck, from forehead to clavicle, at approximately a 15-30% angle.
• He never not lose consciousness.
That is to say, he never died.
p.shaw
 
No.5
A DIGRESSION CONTINUED:
I returned and for the first few days I resembled nothing of myself. I told my wife, "I feel alien." She said, "Funny. I was going to say you looked like an alien." She said that to make me laugh and it did, but I said back, "Don't. That hurts."
I said, "I never resembled anything I'd call a 'self.' Nothing you could never ascribe me to. How could I? I don't know who that person would be that you think 'always shows up.' I feel like I never show up."
p.shaw
No.6
When you dig into the details of my brother's accident you uncover the physics of his survival. Which may, for some, remove the use of the word Miracle in relation to his survival, while rendering the outcome no less miraculous.
The beginning of the outcome was delivered to me when I finally spoke to someone over the phone. It was my brother who called. Miraculous. Jaw wired shut, just out of the first of more than a dozen surgeries he has had to endure, and less than twelve hours after his fall. Yes. I took that as miraculous enough.
But the miracle he wanted to talk about, between what was left of his teeth forced shut, was how, as he was rocketing toward a solid concrete swimming pool deck, our dead father came to him, "a giant hand" that saved him by "turning me around, face first, helping me to turn my head to see where I was going, otherwise I would have fallen onto the back of my head and my brains would have exploded."
He missed landing in the swimming pool by two feet. While I listened to his guttural voice during that miraculous phone conversation where I felt so much gratitude to any of the identities I have ever prayed to, where he still, after all he had been through, sounded just like my brother, all I could really articulate in my mind were two things:
• How come dad didn't push you a little farther, into the water? And...
• Is that what faces are made for?
p.shaw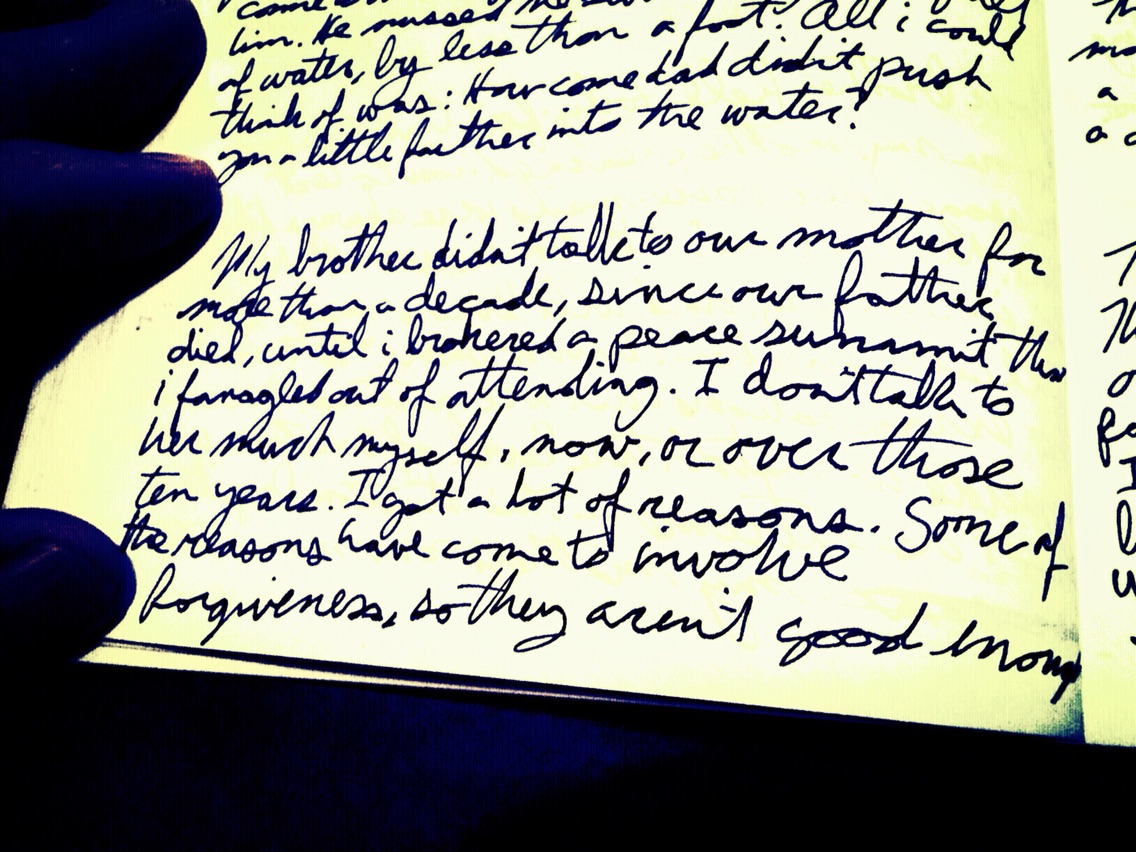 No.7
My brother hadn't spoke with our mother for more than a decade, essentially since our father died. It's not that simple, really. There are a lot of reasons when you get into the conversations. Most of the reasons have to do with the past though. The past and how it feels everyday, in the present. I've come to believe it's your past plus whatever inhabits your mind when you wake up on any given day that equal up to your reasons.
I don't talk much to my mother myself, now, or over those ten years. I got a lot of reasons, too. Some of my reasons have come to involve a kind of forgiveness. Which means that to the person who is receiving absolution, they aren't really good enough reasons at all anymore.
One of those kinds of forgiveness lead me to broker a sort of peace summit amongst what was left of our family. The occasion was important. My grandmother's, my mother's mother's, ninetieth birthday. With as little contact as I was maintaining with my mother, I was to convince my brother and his family that we could all gather in honor of grandmother. That I would be there and if instances would run awry or foul, that I would be there and we could take off and get away from the madness. I said things like, "It's time." or, "It's not about mom, it's about grandma." It worked. Plans were made, airfares and travel considerations, for all of us. There would be cousins and nieces and nephews and for my grandmother, all the way down to great great grandchildren. Such a matriarch, that regardless of all that occurred in our immediate family, one thing we could agree on was that she was worthy of our love. Thing is, I fanagled out of attending. Weather-permitting was the excuse. We did have a doozy of a snowstorm and travel out of our airport was abominable. But the truth is, I took the out with no regrets. It was a relief to not have to be there. They were going to have to handle it amongst themselves. And for me, I could end any consistent conversation or relationship with my mother. A new era of my own.
p.shaw
No.8
My best reason that I don't speak much with my mother is her husband. Her husband of more years than she was married to our father. He is a bigot. Which makes her a bigot, too. Because my mother has always been whatever her man has been.
Neither of them admit it: Bigotry. In fact, they will deny it inline with their rhetoric by starting statements with, "I'm not racist, but..." or by utilization of the indefinite article THE when they speak of others: "The Gays." "The Blacks." "The Mexicans." and yes, even: "The Orientals."
But regardless of their denials, by definition: Unreasonably prejudiced; intolerant; they certainly are bigots. Following are some related synonyms, that arguably can be applied to myself in some regard – not with regard to my feelings on race or sexuality – that further comprise my best reason for not talking much to my mother, or rarely see her. These words, rush through my head, as I listen to her and her husband speak of anything related to politics, current events, or the service they are receiving from a young 16 year-old at the TGIFridays at the mall.
• Biased
• Warped
• Twisted
• Dogmatic
• Partisan
• Sectionalist
• Intransigent
• Obstinate
• Rigid
And each of these words that course through my mind while listening to them, have their own definitions, their own related synonyms, that comprise my narrative related to family and this is what drives me away from her.
The reason my brother didn't talk to her for more than ten years, has a lot to do with a lot of instances in our family history. But the best reason, as he tells it, was because of a dollhouse.
p.shaw
No.9
DIGRESSION IN PAST TENSE:
This is the way an eight-year-old remembers it: The mother was screaming at the father who was on his back, on the floor, in the kitchen. She was yelling that he was faking, that he couldn't be dying. She was half right.
My eight-year-old self came down the stairs and shuffled across the linoleum in the thick socks we all slept in during winter months. I never lifted my feet. Just short, shuffling steps as she kept on yelling the same words and same accusations that had woken me up.
She added kicking his thighs. As an adult I would have added pounding, particularly on his chest. As an eight-year-old child I added sitting.
She never got down to his level. She stood at his half length and bent over him to yell. I shuffled down his right side and sat cross-legged, what I had been taught to call Indian Style, near his shoulder. I put my small hand on his ear. But I didn't say anything.
I don't know when the paramedics had been called, or by whom, this is an unresolved fact in our family. There will be a lot of those in this story. They, the paramedics did arrive. They removed my mother from the kitchen. They set me on a bar stool so I could watch as they worked. They pounded.
My mother said the same things she'd been saying from the other room. Saying them, still audible, but not yelling.
When my father was put on a gurney and it was lifted, a paramedic put me on it, tucked me between my father's legs. It was my first ambulance ride. They could never do that now days. Liability. But they should. It was the right thing to do.
This is how an eight-year-old remembers it.
p.shaw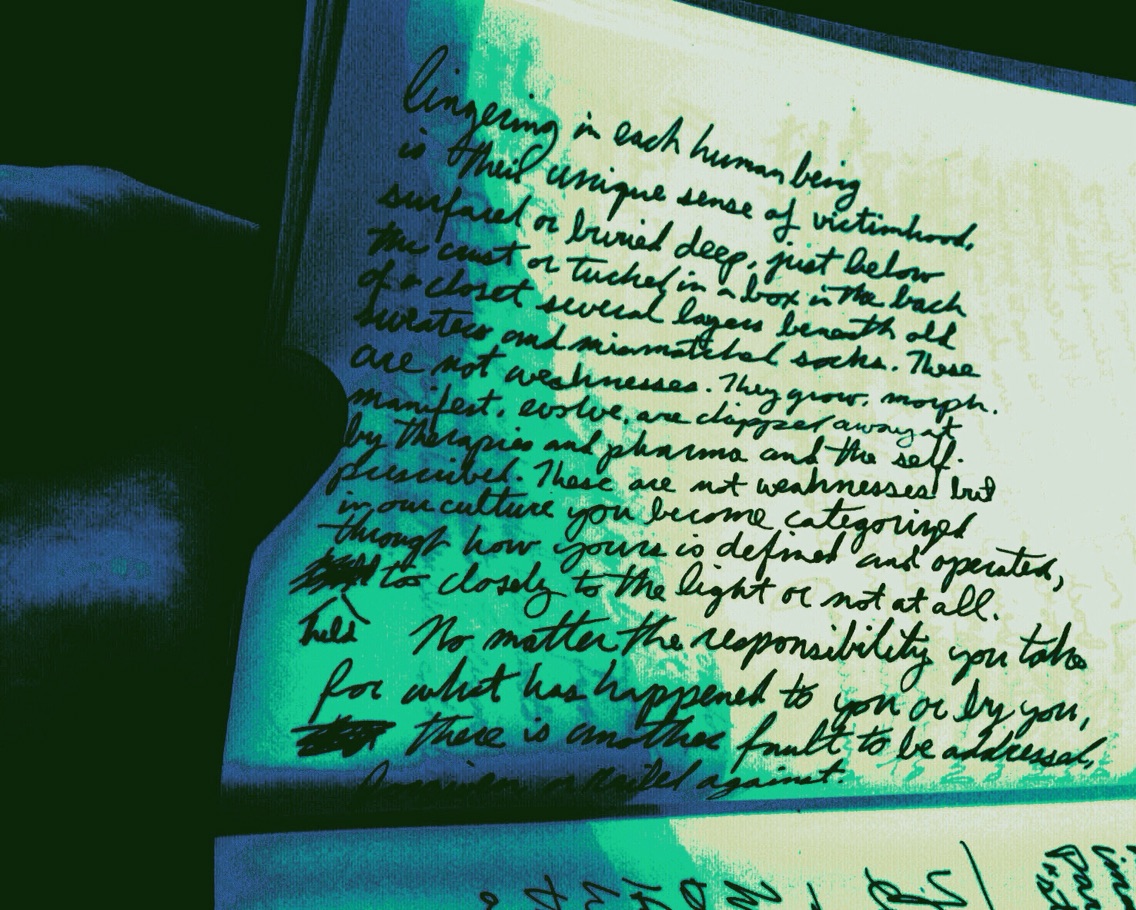 No.10
There will always be someone, something, not getting the proper attention applied to them. There is always something missing or it wouldn't be considered an equation. These will happen over and over again, to all of us.
I am visiting my brother in Houston, Texas at TITR Memorial Hermann. This is a place, Houston, that I wouldn't come to if my brother wasn't here. He is here participating in what looks to have become another recovery procedure without a particular end date. The purpose is 'Pain Management', which means another round of detox from opiates prescribed to him, in a country with a medical system that can't seem to do better. More excuses. More blame.
His first ten days, the detoxing from his medication regimen, was "pure hell." I ask him about the details of hell and he mostly talks of the lack of television, the scheduled demands of his day and the lights out. My brother likes television. It keeps him company. In the detox portion of the in-patient therapy the television, is in a common room full of "people way more fucked up than me," and it can only be on from 5:30am to 8:00am, and again from 4:00pm-6:00pm. "Hardly fair," he said as I think to myself about how none of this was ever supposed to be predicated on an idea of fairness, no matter who it's designed to help or profit.
Then, after the hell, comes weeks with no schedule, a room of his own in an extended stay hotel near the hospital campus and what seems to be very little in the way of scheduled procedures or activities of any kind. There are some injections. There are spinal manipulations and electro-therapies to the nerve system and there is physical therapy – which consists mostly of walking around the entire shopping mall that is across the street from the hospital campus and in fact, has a skybridge leading to it. "If you walk the whole thing, following the wall and making every right turn until you end up back at the skybridge, it's more than two and half miles," my brother tells me. "Do they let you go into the stores?," I ask wondering if that'd be a good way to pack in some extra mileage. "Too much chaos in them. The junkies get distracted. They elderly trip all over everything," he says. "So, you walk in a big long line?," I ask. "Yeah," he says, "just a bunch of fucked up people shuffling their way through the mall."
He is telling me this on the first day of my visit. At the mall. He has asked for some time off because his brother, me, came to visit. And even with this day off that we have together, he chooses for us to go to the mall. There really isn't much more to do in Houston. I look around as he says that bit about fucked up people shuffling and find what he describes a bit indistinguishable from what I see around me.
And lingering in each human being is their unique sense of victimhood: surfaced or buried deep; just below their crust or tucked in a dusty box in the back of some closet several layers beneath old sweaters and mismatched socks. These are not weaknesses. For each of us they will appear at different times. For my brother, his is now if only because I am here now to witness it. They will grow, morph, manifest, and evolve. They will be chipped away at by therapies and pharma and the self-prescribed. These are not weaknesses but I can see in the culture surrounding me that you can categorize each of us through how yours is defined and operated. Too close to the light or not at all.
And no matter the responsibility you take for what has happened to you or by you, there is another fault to be addressed, forgiven or railed against.
p.shaw
No.11
We're riding in what has become my brother's personalized shuttle from Memorial Hermann back to the extended stay 'hotel' palace replete with wine cocktail happy hours and breakfast buffets. The shuttle is meant to transport a dozen or so at a time, but since my brother has to take this shuttle a couple times of day it's kind of at his beckon call. He's usually the only one in it. He's gotten to know all the drivers. This nice woman wants to know why he has someone with him today. Wants to know who I am.
Instead, my brother wants to talk about how no one visiting Mexico should ever eat tacos. How, "every time you see a dead dog along the highway in Mexico and then you drive by twenty minutes later, that dog won't be there."
I say, "wait just a goddamn minute. Mexico is a big country. I've been all over Mexico and you can't say that Mexico is one thing." This is my way to argue against his bigotry without calling him a liar.
The driver, she's never been anywhere, "in fifty years, I never really been anywhere but Houston. I've never seen a blue ocean. I've been to Galveston, but their ocean ain't blue. I'd like to see one before I die."
I say, "I never had a dog taco, and I've been all over Mexico," because I want her to see some blue ocean. "You can't say people eat dog there. And even if they did, they'd have more reasons than any of us know about."
The driver says. "I used to think I'd eat anything once. But, you know how you come home so hungry, and there's a stew in the pot on the stove and you just slink by to steal yourself a taste?" She's telling us about her childhood. She's given up on blue oceans because of my brother's talk about roadkill tacos and she thinks she's gonna one up us now. "I lifted that stew pot lid, thinking I'd pick a piece off the bone and you know what it was?"
I ask, "What was it?" My brother quiet now either from the pain in his face and head, today's treatments just another insult to his need, or because he's mad at me for stomping on his dog taco story.
"It was coon meat," she said. "You know how I know? The head was in there, the teeth still in the mouth, peeking out at me from the stew pot. I'd never eat no coon after that, no matter if it tasted of caviar. In fact, I never eat nothing no more that I don't know for sure what it is, first."
Then we're talking about drug cartels and beheadings and time-share scams, or my brother is talking about those things. All of these subjects in less than the twenty minutes to takes for her to drive us in the shuttle back to the hotel. And I think, 'no wonder people down here never go anywhere.' And I'm looking for something to say to stomp down this anecdotal rant about a country that is a place I love, so I say, "In Kansas, where my brother and I grew up together, I had a best friend whose parents trapped and ate coyote." It was true.
p.shaw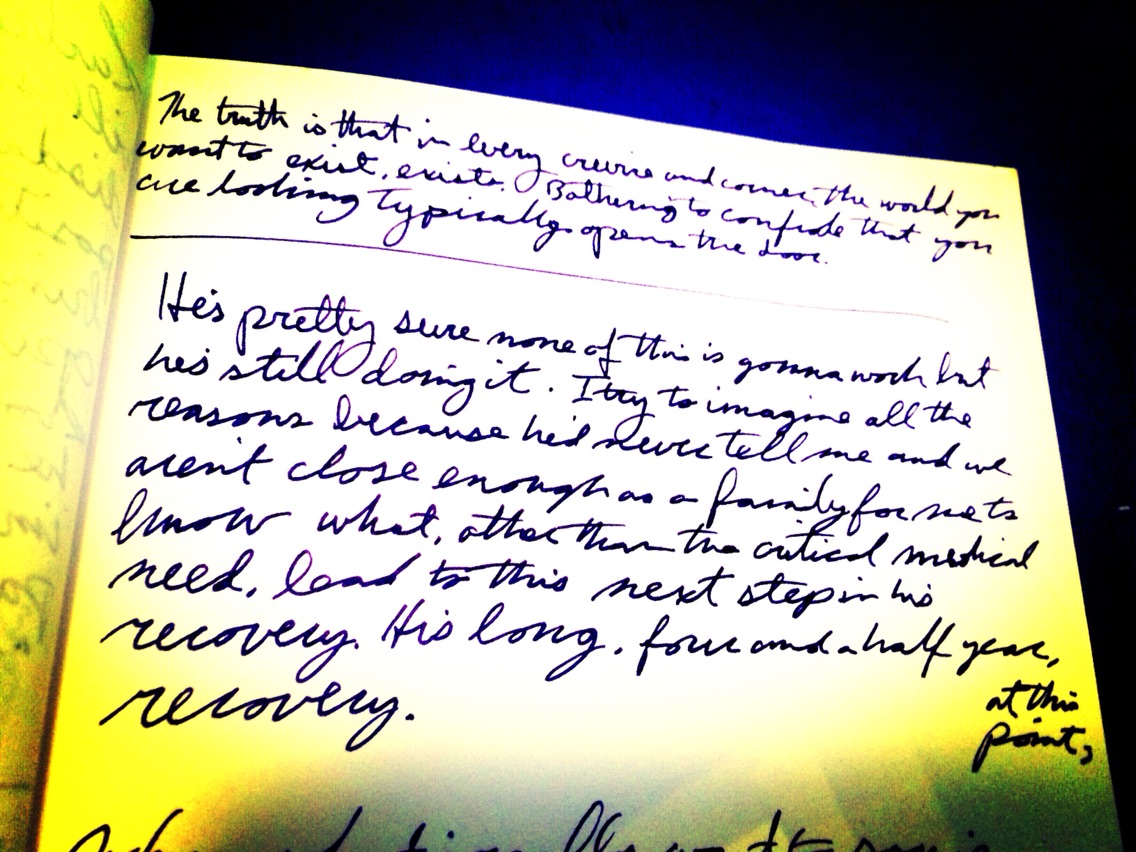 No.12
"The truth is that in every crevice and corner of your life, the world you want to exist, exists. Just bothering to confide to others that you are looking for that world is what typically opens the door."
I'm paraphrasing. Or something like paraphrasing. More like imagining, because I wasn't there when the counselor said something like this to my brother and his group during their ten-days-of-hell-detox. I can imagine it going like that both because I've been through these in-patient procedurals myself and because I know the lingo. It evolves, the metaphors they use in attempts to focus an individual, calm them, give them hope. And while I'm imagining this exchange, I'm not just making it up.
"They kept talking shit about opening doors to a better life. That what I am living doesn't exist. Some shit about finding your life in the crevices. Can you believe that crap? All these junkies and patients like me, ready to crawl out of our skin after a few days and no TV and they think we want to hear this shit. I wanted to pinch that fucker's head off his shoulders."
That's what my brother described and I just translated it for you into what I know and have heard before, fully laden with the affectation of a 'Helpful Guide.'
Here's the thing, my brother's pretty sure none of this is gonna work but he's still doing it. His third detox, this time with some promise of relief based on the Pain Management Regimen that follows the detox. That's amazing in itself. Even when the insurance company is paying the more than $30,000 for him to be here, it's amazing that he is willing to be here at all. That he is giving it a shot. That after all these years, this idea of himself as still a patient – verses a junkie like the others here, 'the ones that do this to themselves' – is still intact and that he hasn't just given up.
Then I try to imagine all the reasons he hasn't given up. Because he'd never tell me and we aren't close enough as a family for me to know what, other than the critical medical need, lead to this next step in his recovery. His long, four and a half year – at this point, recovery.
p.shaw
No.13
I land on determining what I could fix. Fix about us. Fix about myself. The latter really being the only chance I'd have at doing anything. The former would just be collateral bonus points.
I will count all the years, that come to equal decades, when nothing I did made a difference. That sounds defeatist. That sounds melancholy. That reads like the cliche of all cliche: 'poor me' I have some regrets, there are a few. And perhaps that is what this whole experience is about. Seeing myself through more sets of eyes and quantifying a life to a mix of standards that are different that what have been my own.
This is not unique, totally natural, and when I think about my brother I often compare our lives by choices. I could say 'career' but that sounds very intentional and I am not sure either of us can cop to that. What we do, what we have done, to make a living, has come about through choosing left or right turns, a u-turn here and there, at times in our history where everything felt like a gamble. We both made bad choices. Choices that limited ourselves to less choices as we have aged. And the defining difference between us is that in those same times I have held no position in a line of danger. Not hero danger. Not protecting the innocent danger. Just nothing with a hight rate of industrial accident.
I can ask myself if that correlates with sacrifice. If what I missed is having stakes high enough. What I am talking about is a permanence to our work. An impact, no matter how fleeting on a grander scale, as to something made or preserved that would carry farther than the minutes of our lives.
p.shaw
No.14
Give it enough time and what we are talking or thinking about will cycle back to this method. I could think it's just how our family is but it's just how being human is.
And still, I ask myself as my brother is managing to reminisce and embarrass me all in one moment: What had made my formative so informative to him? Why, when I have so desperately wanted to reject the notion that any of those years could define me, they were the only times he could use to define me?
It's not as if, when we were living them, we had given even a passing thought to those moments holding the weight of our definition. And yet here they were, more often now that now – easier than trying to see what we had both become.
p.shaw
No. 15
The problem with our family is we all want to blame someone. There has to be a fault. The line that has existed since my father passed, since before he passed – when he was both legitimate victim and self-created victim – was that it is my mother's fault. Let's be honest. She did some fucked up shit. Those incidents were her fault. Or the outcomes, or the scars, of the lies we kept telling ourselves owed a lot to her choices. Bad ones. But the historic trend in our family, that there must be a single point of contact for blame for all that has resulted, is our largest faults as humans.
The truth is we all did fucked up shit. I'm no better than the next. And I was part of the chorus that for decades held our father as the saint. It's hard to accept the faults of heroes, everyone knows that. But the harder work is being willing to look for their faults. The small ones. The ones that were so quiet to be insidious. The ones that on the surface looked shiny and genuine and could be passed off as a simple mistake. But heroes are supposed to know better.
I am noticing new ones. Small ones that are becoming bigger ones. Like how it was irresponsible to bring us with him when I now believe he knew it was the last move all along. We would be left there after he was gone, and any hero should begin with acknowledging their quest. For him to bring us to the place he, and only he, wanted to end on – a place that was already ending on its own, faster than any natural demise – so he could synchronize his last breaths with a dying town, that can only be judged as selfish. Or sentimental. But isn't all sentimentality selfish when you are proprietary and mum on your intentions?
There was nothing there for us when we came and less for any each day. Why would a father, I mean 'hero', do that? Why are there still all these fathers doing that, still? Why are the men who are just becoming a little less than boys going away to war, retreating to towns like the one our father brought us back to. Retreating with less of themselves but with new wives and babies, found and born in San Diegos or Seattles. Too many to watch the end and not enough to stop it.
And we all did things we should probably get a fucking medal for.
p.shaw
NO. 16 DIGRESSION INTO IDEAS ON NATURES OF GUILT, DESIRE, NEED & MY BELIEF THAT NO ONE ELSE IN MY FAMILY IS FEELING ANY OF IT.
No. Wait. The problem with our family is guilt. Stated guilt with a true lacking. Or an oblivion to the definition of what is that scratching pain keeping one restless and awake through the night. Both are inherited. Both are active in our worse of times. Dormant in our best of times.
Because beneath a genuine human desire – and our family being comprised, arguably, with humans, we are too prone to 'the genuine'-ness' of existence. Only prone. I said, at the beginning of this chapter: a Digression. Let's start over. With you and everyone else.
Beneath the genuine human DESIRE to be seen is a deep NEED to be unseen.
At the time of my father's eventual death (rather than all the times he attempted to hasten the departure), our family was left to hope that exhaustion was the excusable natural stepping stone to a forever nothing.
Being tired, so tired, that we would have no interest left in our own ends was a hell of a way to accept the mess of feelings we didn't want to discuss.
That packing of the scraps of my father that no one claimed was like pushing chairs to the margins of the room at the end of the party, for a last sweep, a beating of the rugs before rolling them for transport, away. Away from us so there were no reminders except for the ones of beautiful and misguided, shiny veneers of nostalgia to pass by in the halls on our way from bathroom to bedroom. Evidence that once we were a family like ones we admired. When all we had ever done was momentarily try that on.
We rolled up the carpet to take away the evidence that someone, us, as ever complicated and broken as our father ever existed here. And to be too tired in the end could stave off grief. But not guilt. Not mine.
When I dreamt three nights ago of the moment I was told my father dies it seemed to my dream-self that they were delivering old news – just as it would be in real life and in that dream, he has been gone now for decades. But because dreams are dreams and by that I mean, pliant, they have an insistent design built into them. Immediacy out of time. So that time through the words of my mother – who wasn't there when it did happen and I was – became "...it's only been one day since his death. We didn't wait that long to tell you." And that took hold in my dream as a new truth. That he was just now dying for me and in my fragility as the youngest child they were keeping it from me until the right moment. One day later or decades since, were ideas that my dream-self wrestled with for a moment, a pliant moment that held on layering itself as THE consideration through the rest of the length of the linear dream and into my morning, after I woke, as I brushed my teeth, ate silently at the table, listening for something other than the sound of my chewing at waffle.
I've digressed in this digression as a way for this to be just like that dream happening in the middle of my life, in the middle of this essay, making sense to some and when it doesn't it doesn't matter because that is how living is.
Another way of saying it is that "...it's only been one day since his death. We didn't wait that long to tell you.", split what was real apart from what was now true. Yesterday. A Yesterday. He died. He died Yesterday.
And she wanted me to be angry, it seemed. She wasn't alone in this want or in the delivery. She was there with her husband and my grandmother (who also had not been there on that yesterday decades ago). And so I was.
And there, in the corner shop where all the packed scraps had been carted off to sell as antiquities rather than memories of dead families, I was now, in my dream as dreams allow for such transference, finding his things. Things I would have kept had I been asked. And there were my things. Things he had kept from the years when it was only myself and him, living together, in tiny apartments away from all the others in the family, trying to make it stay together, a family of two. He had kept those things after I had moved away to college and those scraps had been packed together with his scraps by the family who either didn't want to remember that it had only been him and me for almost ten years, or that they were jealous that it had only been him and me for almost ten years. And all of this they sold. Or they maybe even paid to have taken away, all of what he left and my items put among his, in an attempt to kill all they were too tired of having to consider.
And in my dream, I was finding them at the curiosity shop on the corner, just moments after they told me he had died yesterday. And I was angry it took so little time for what was ours to go on display.
p.shaw