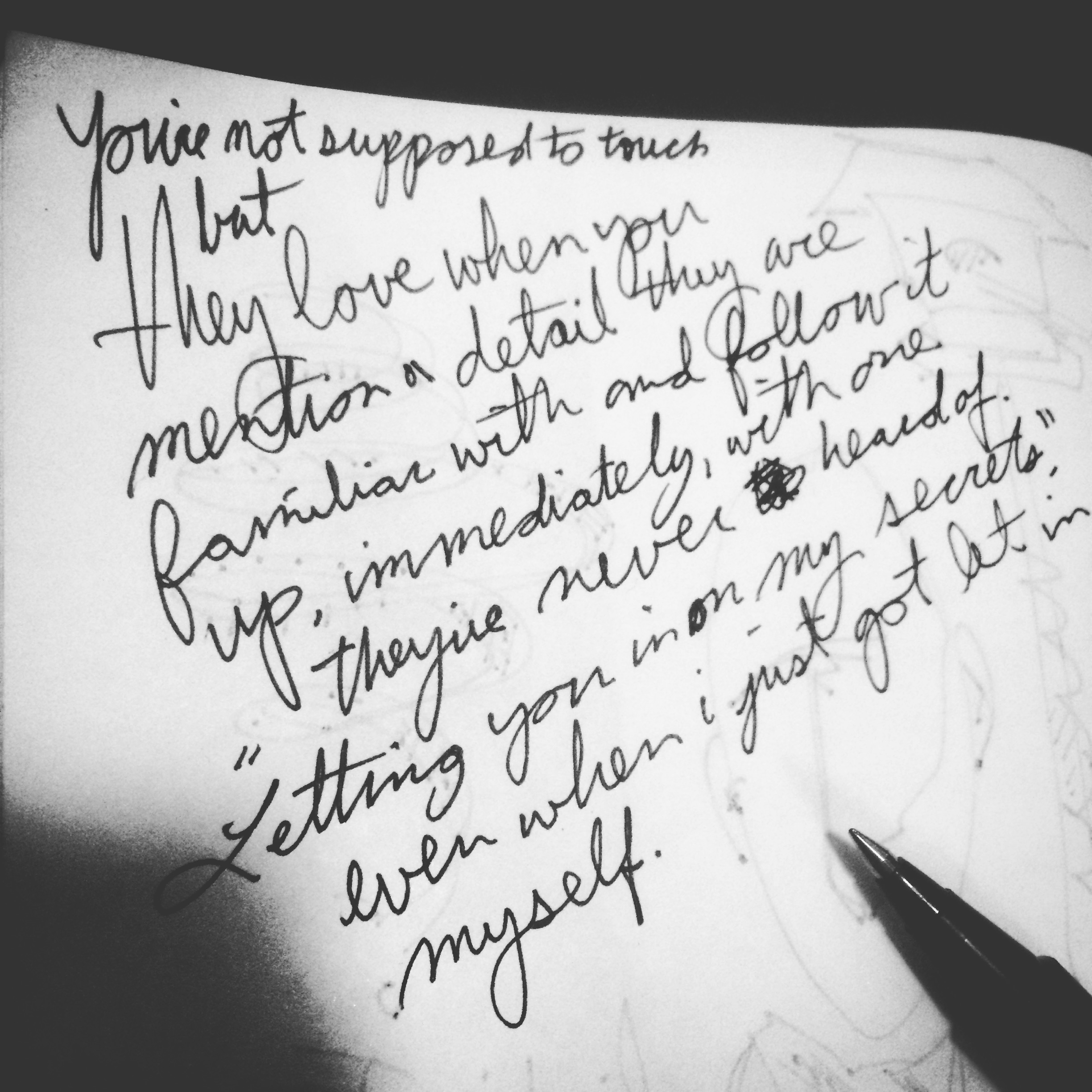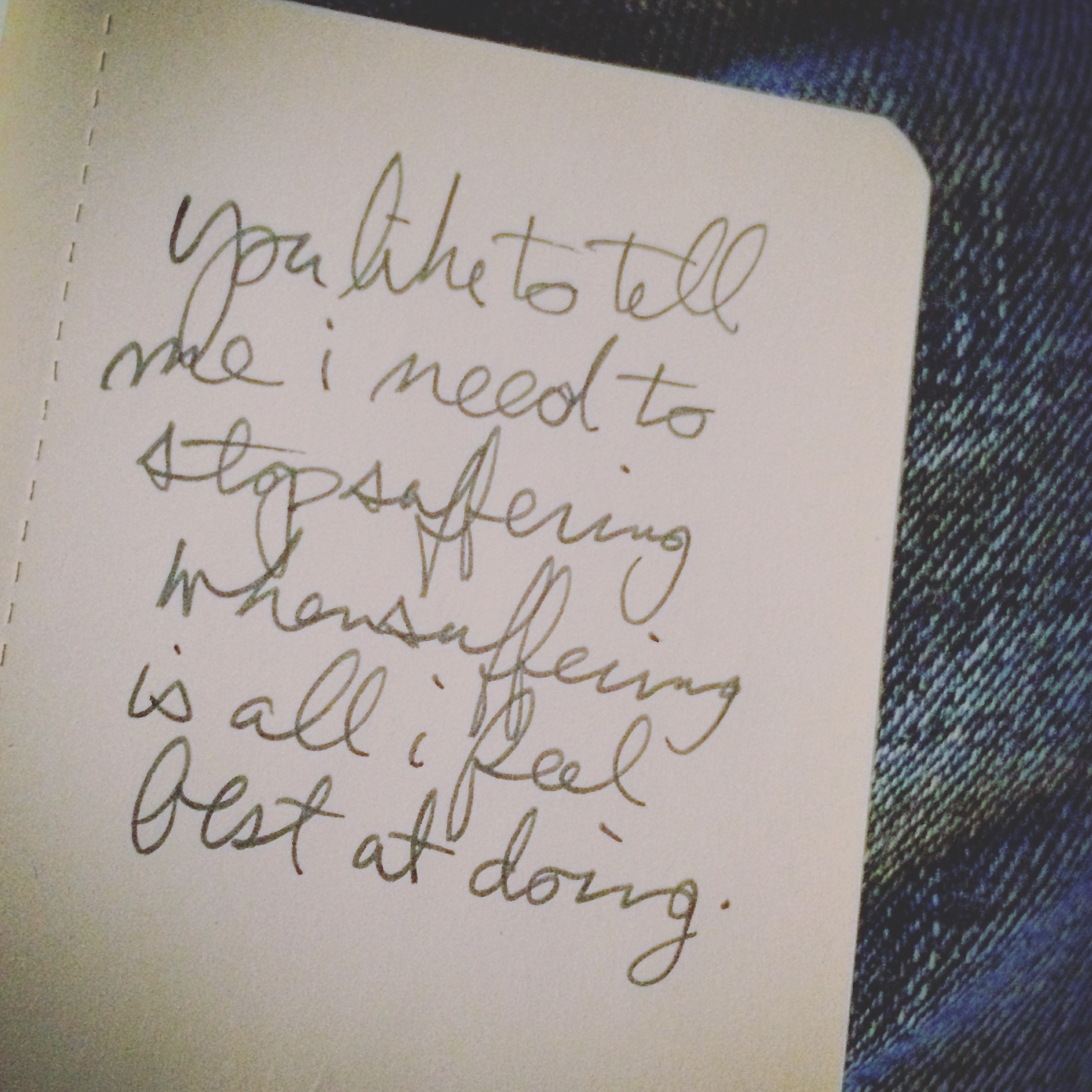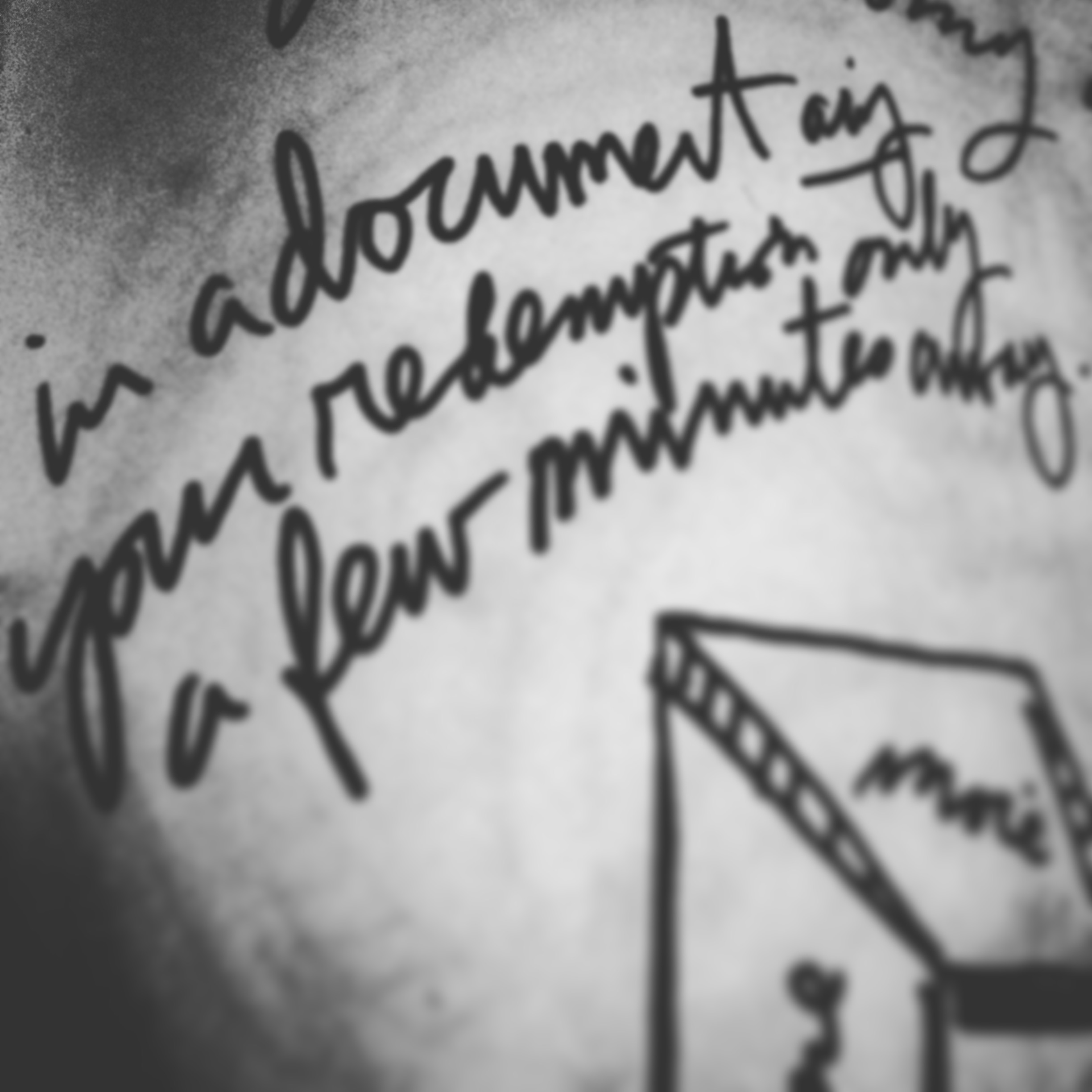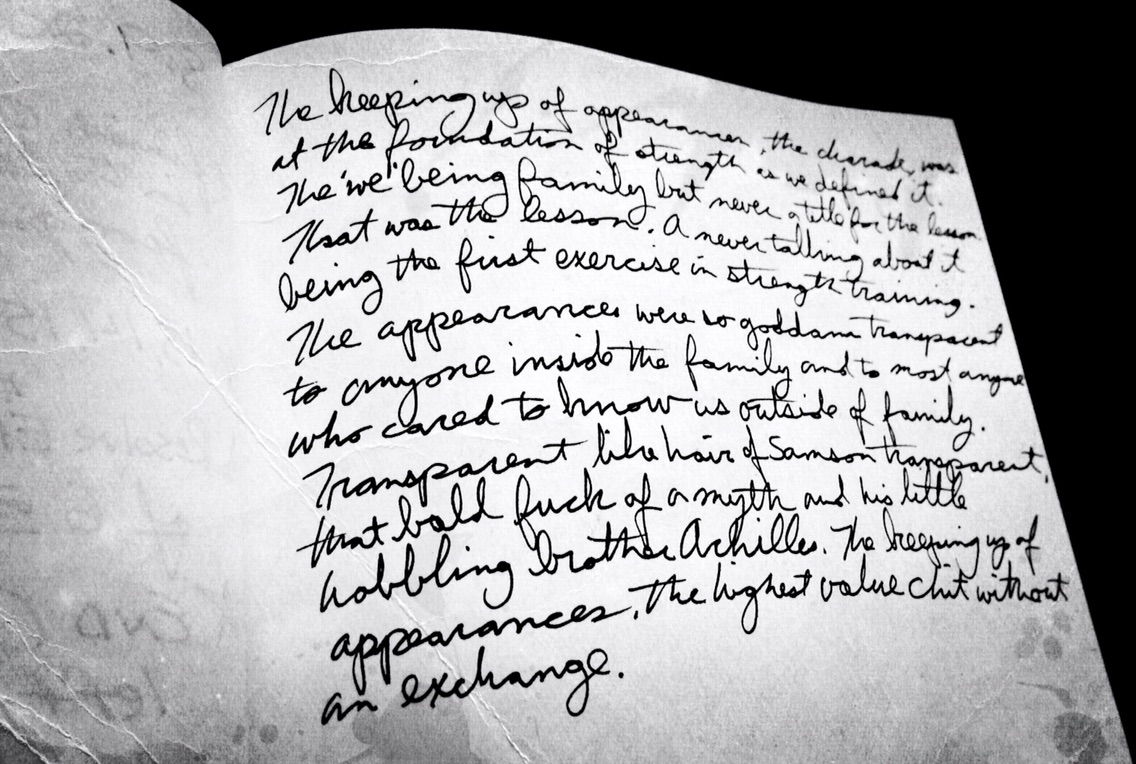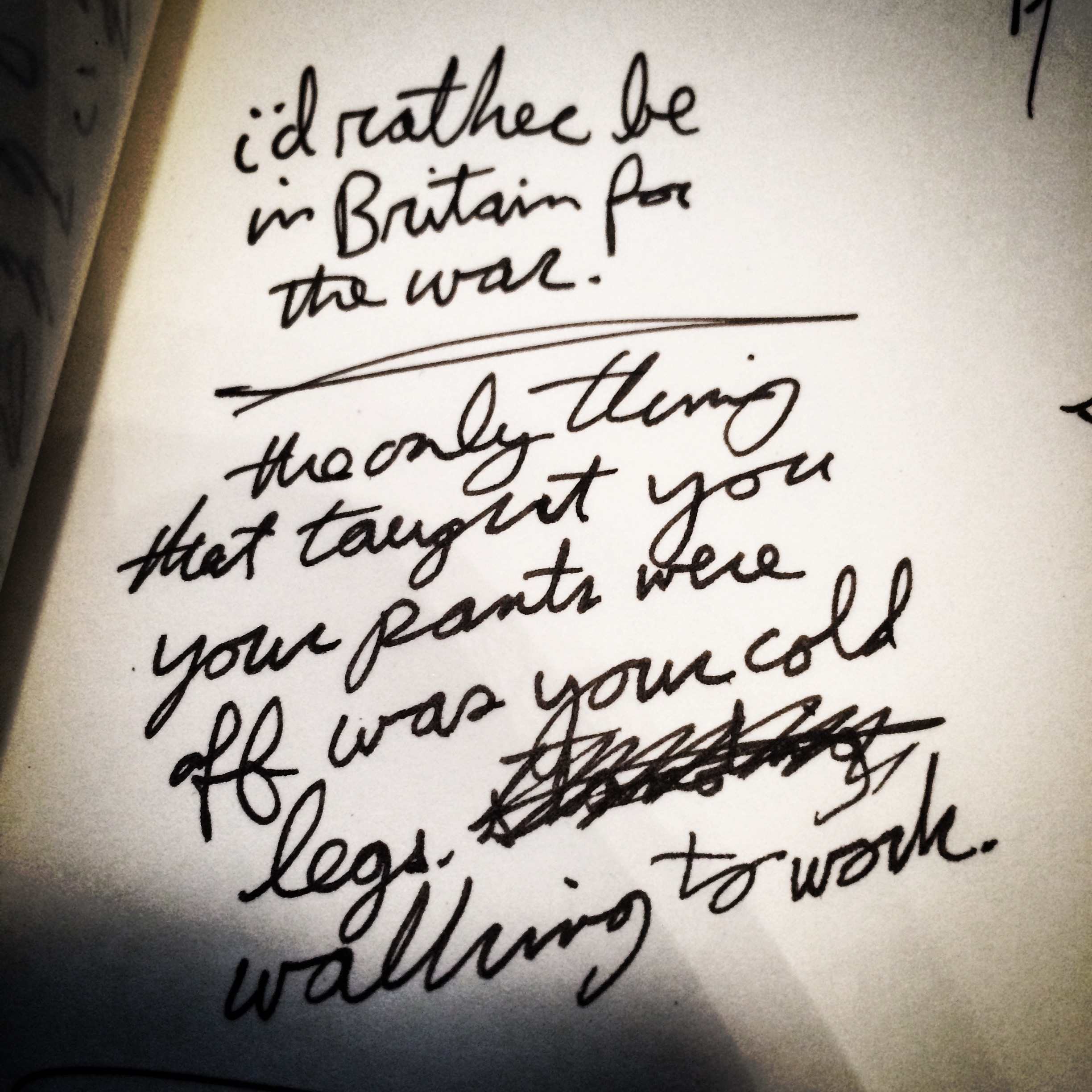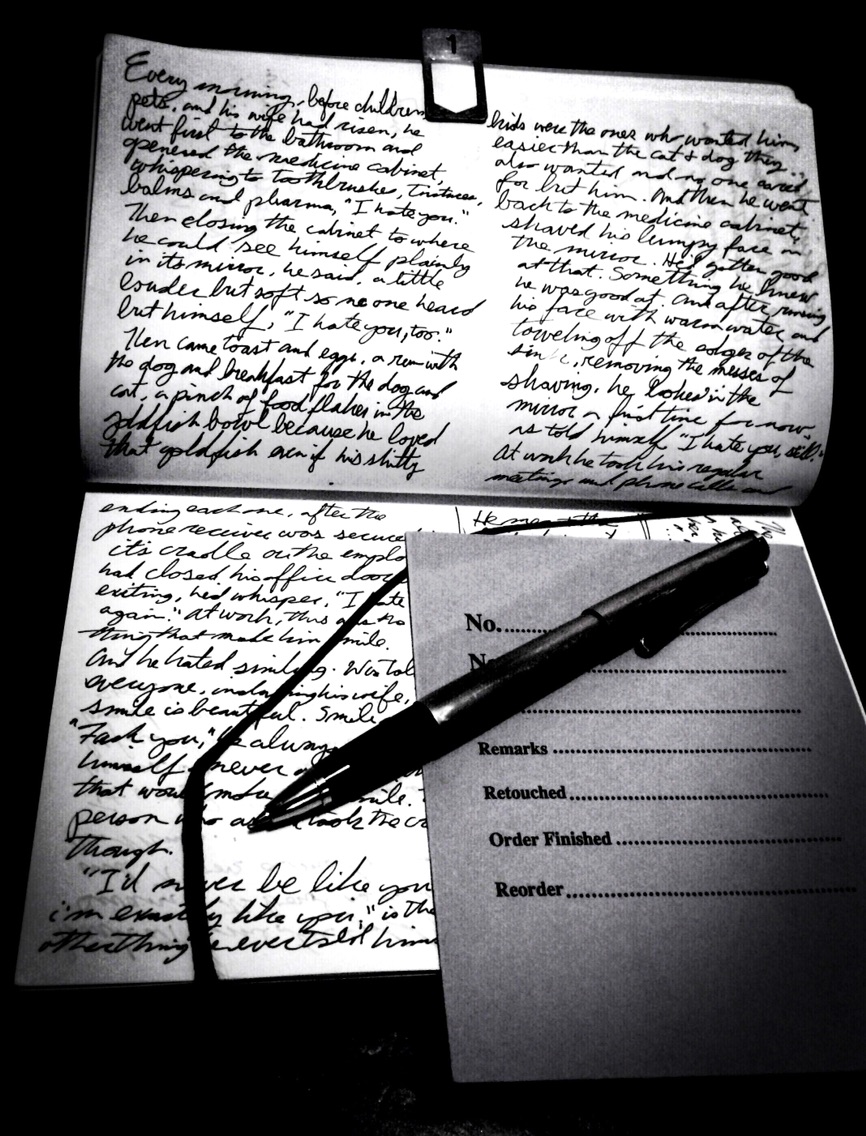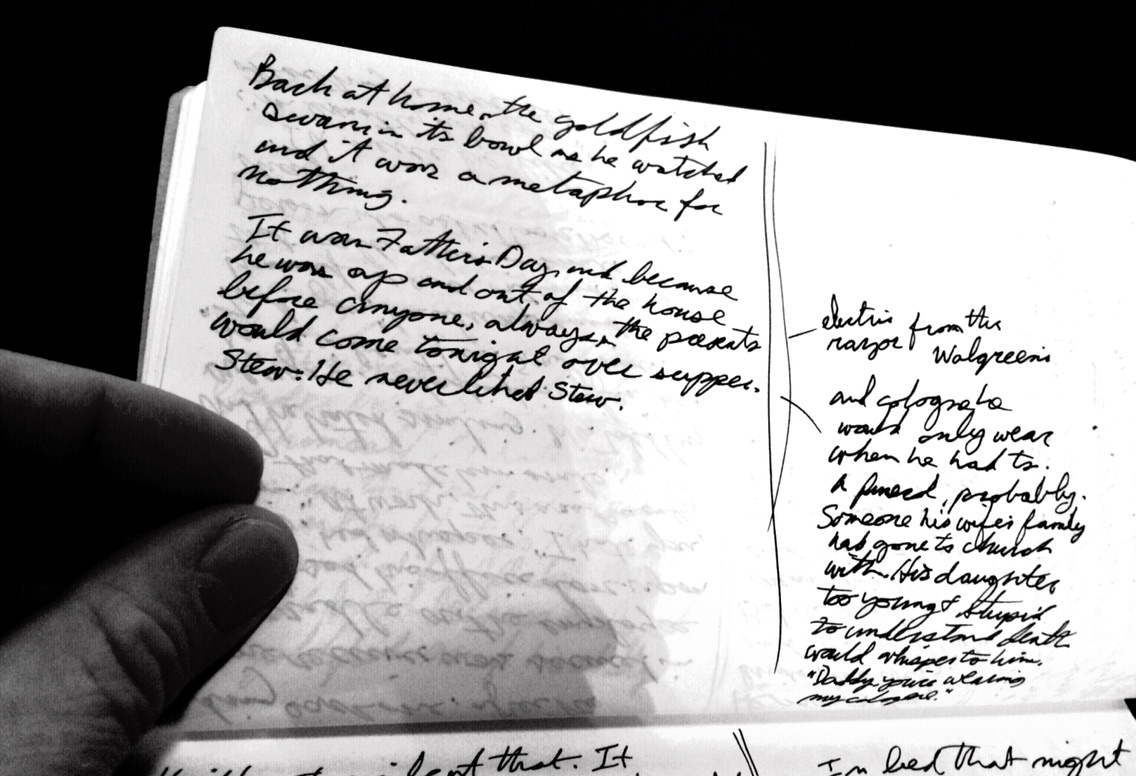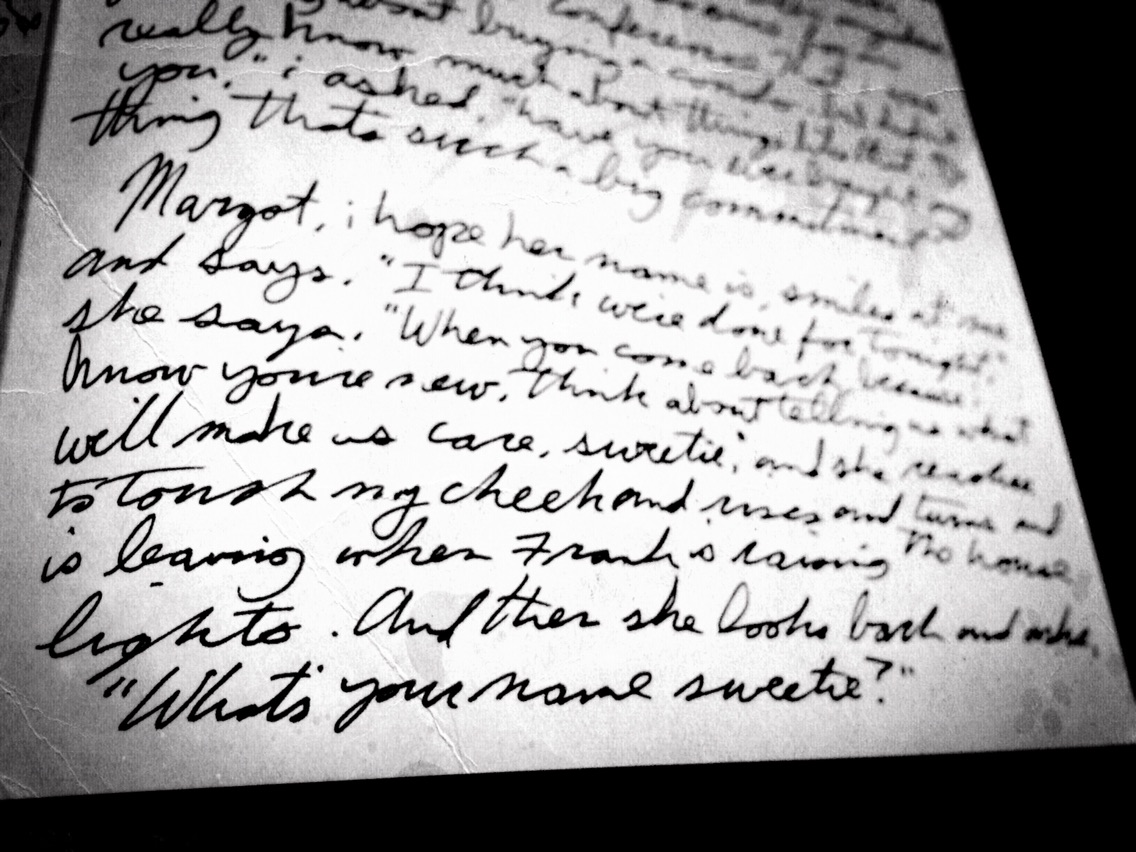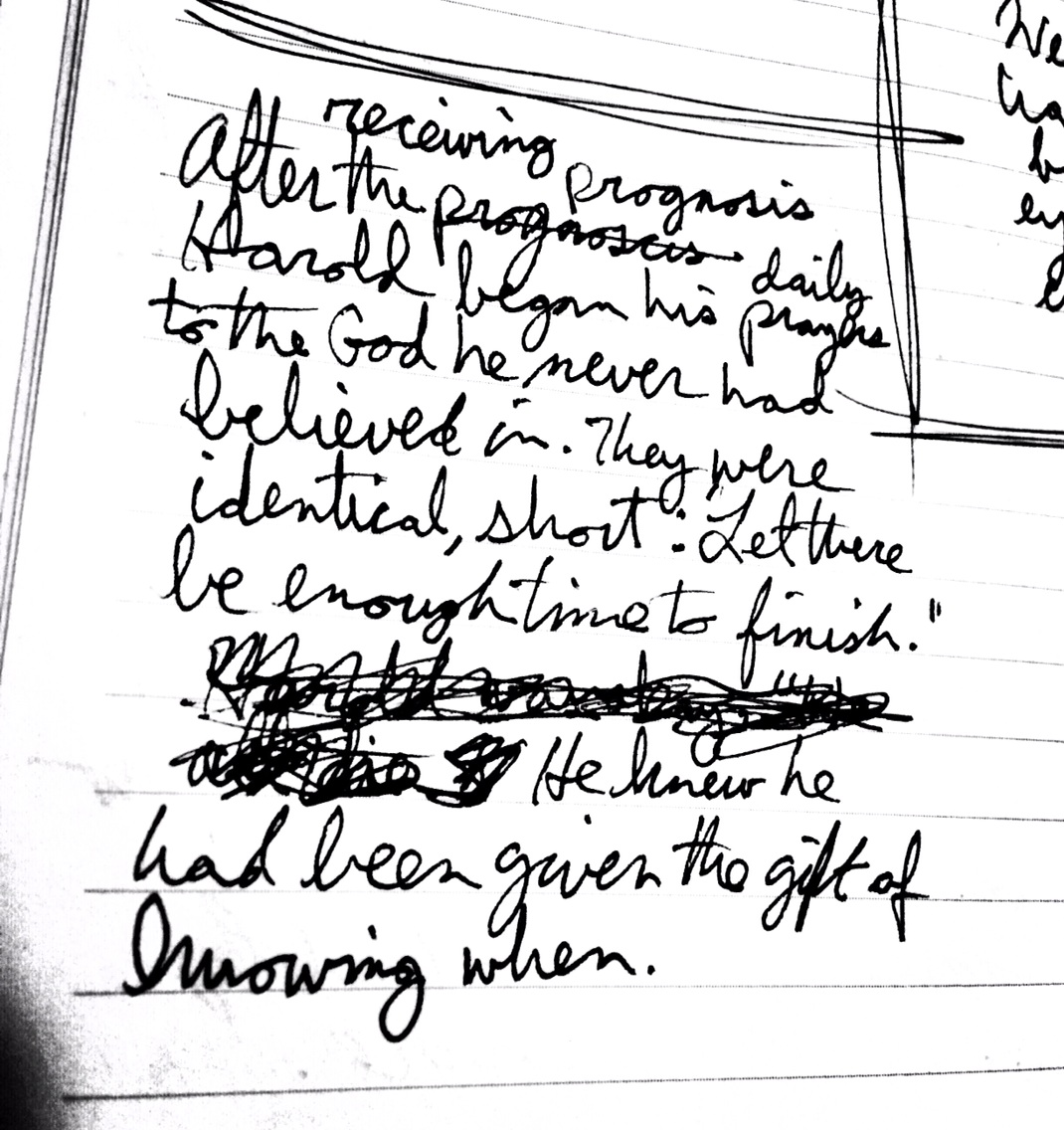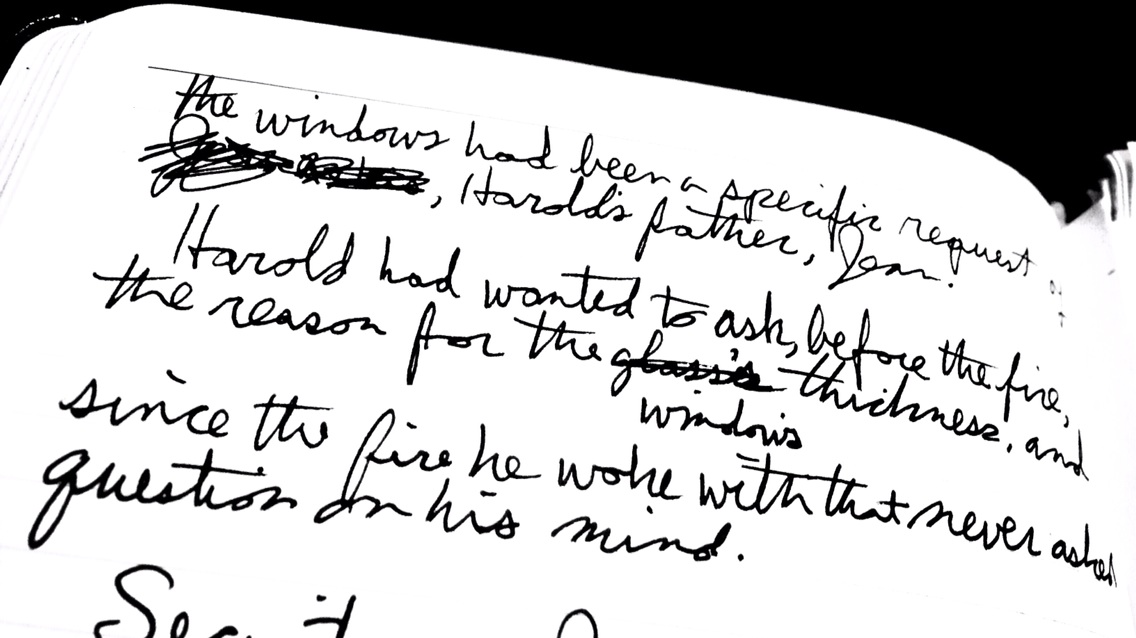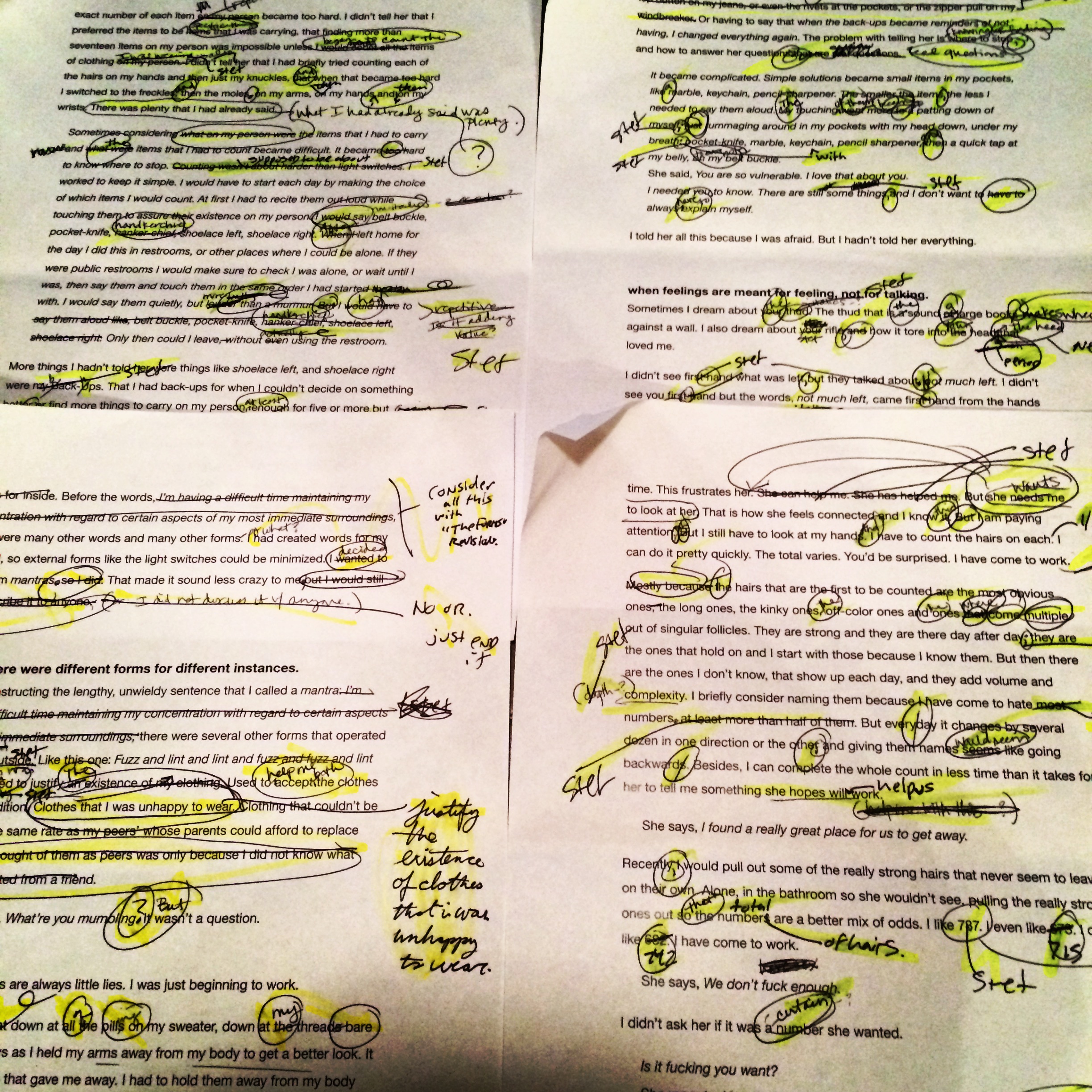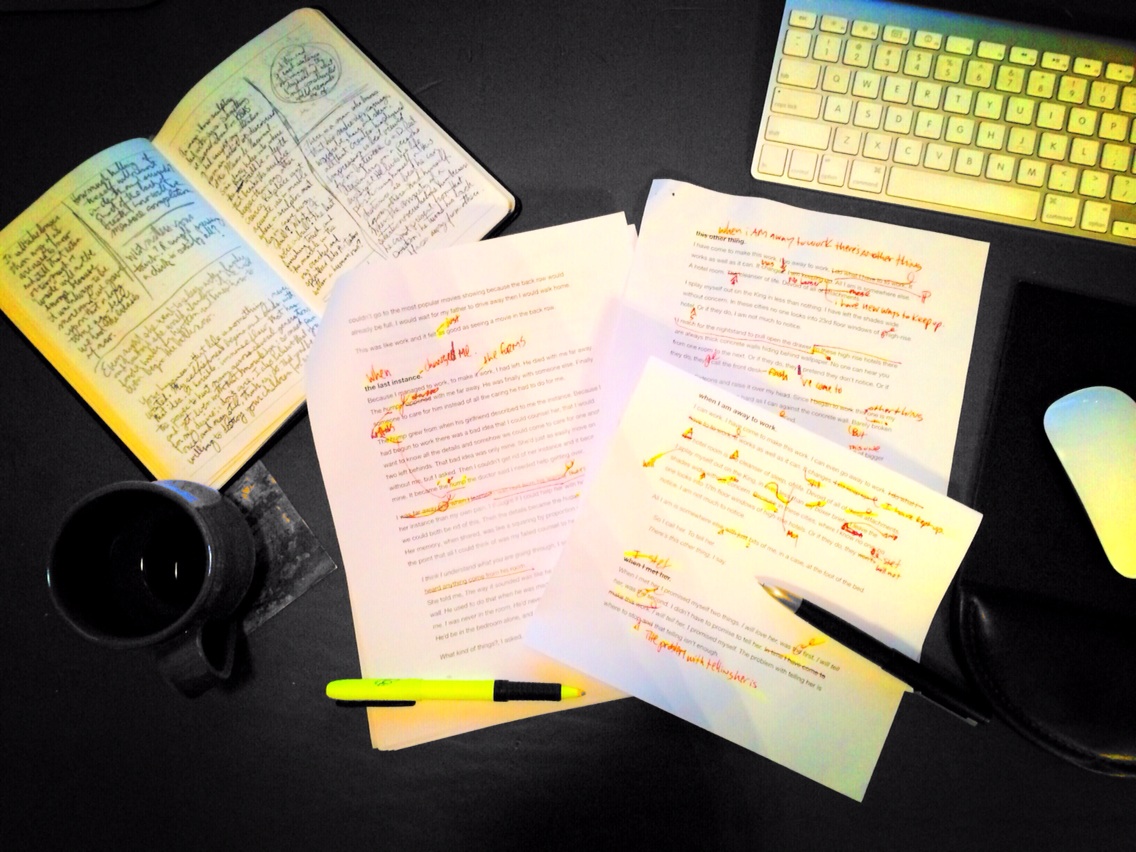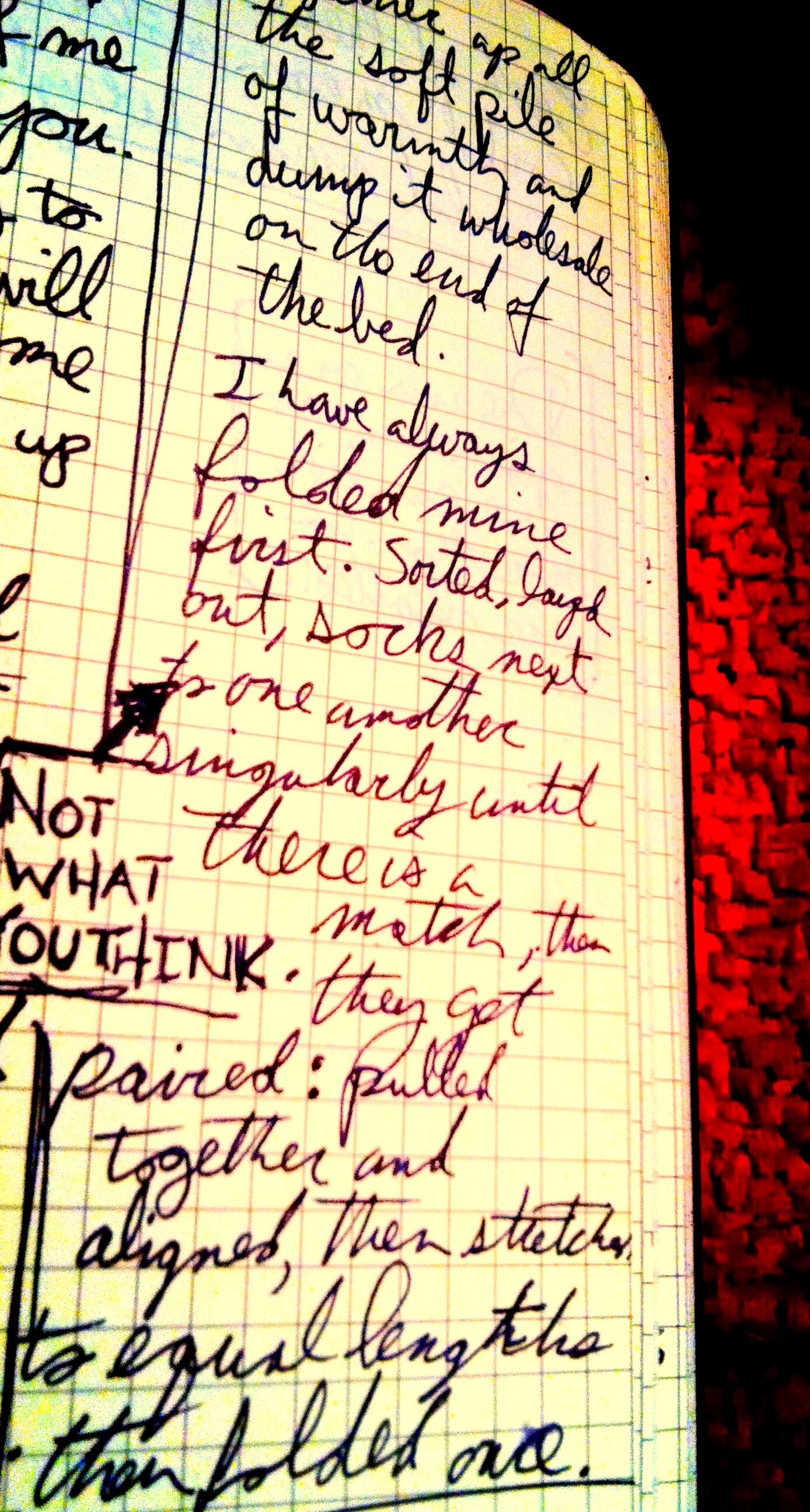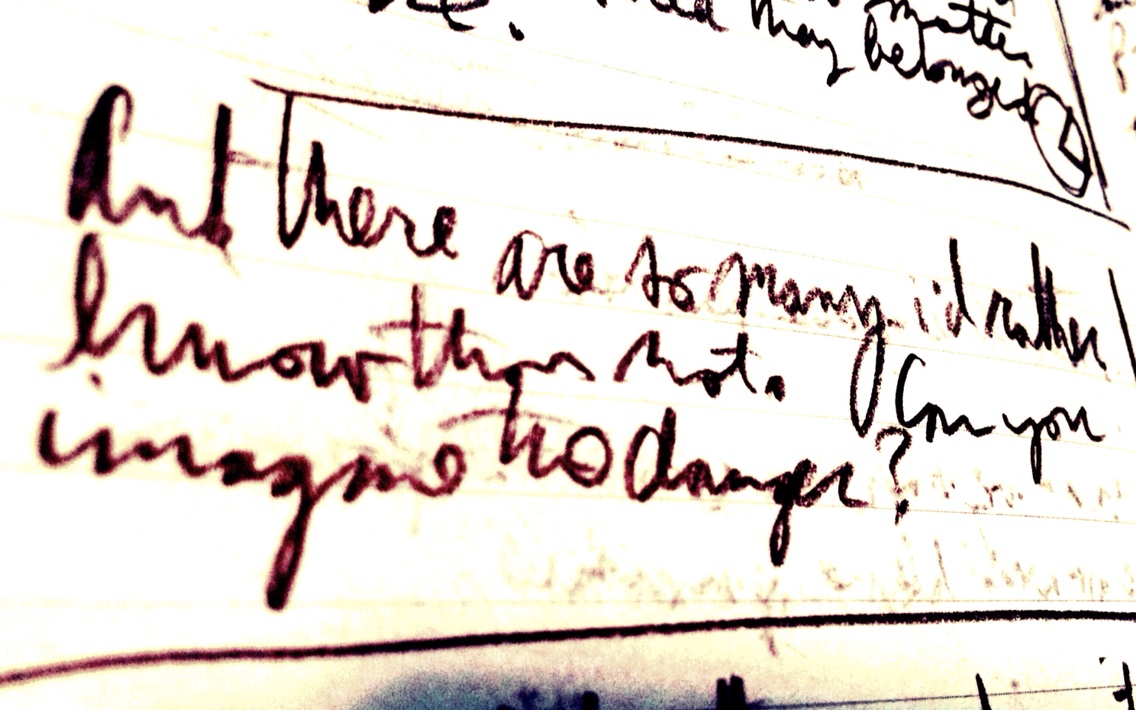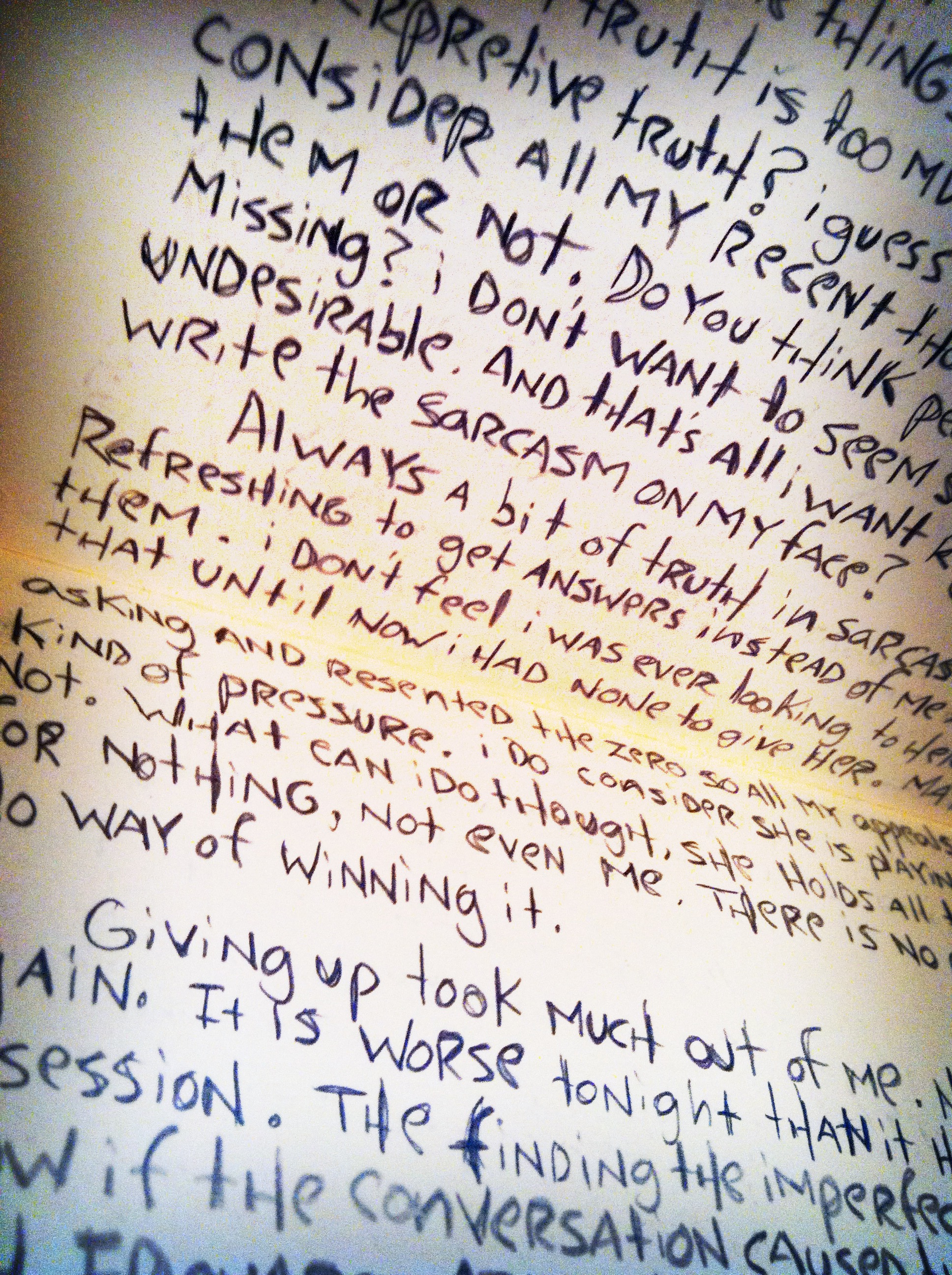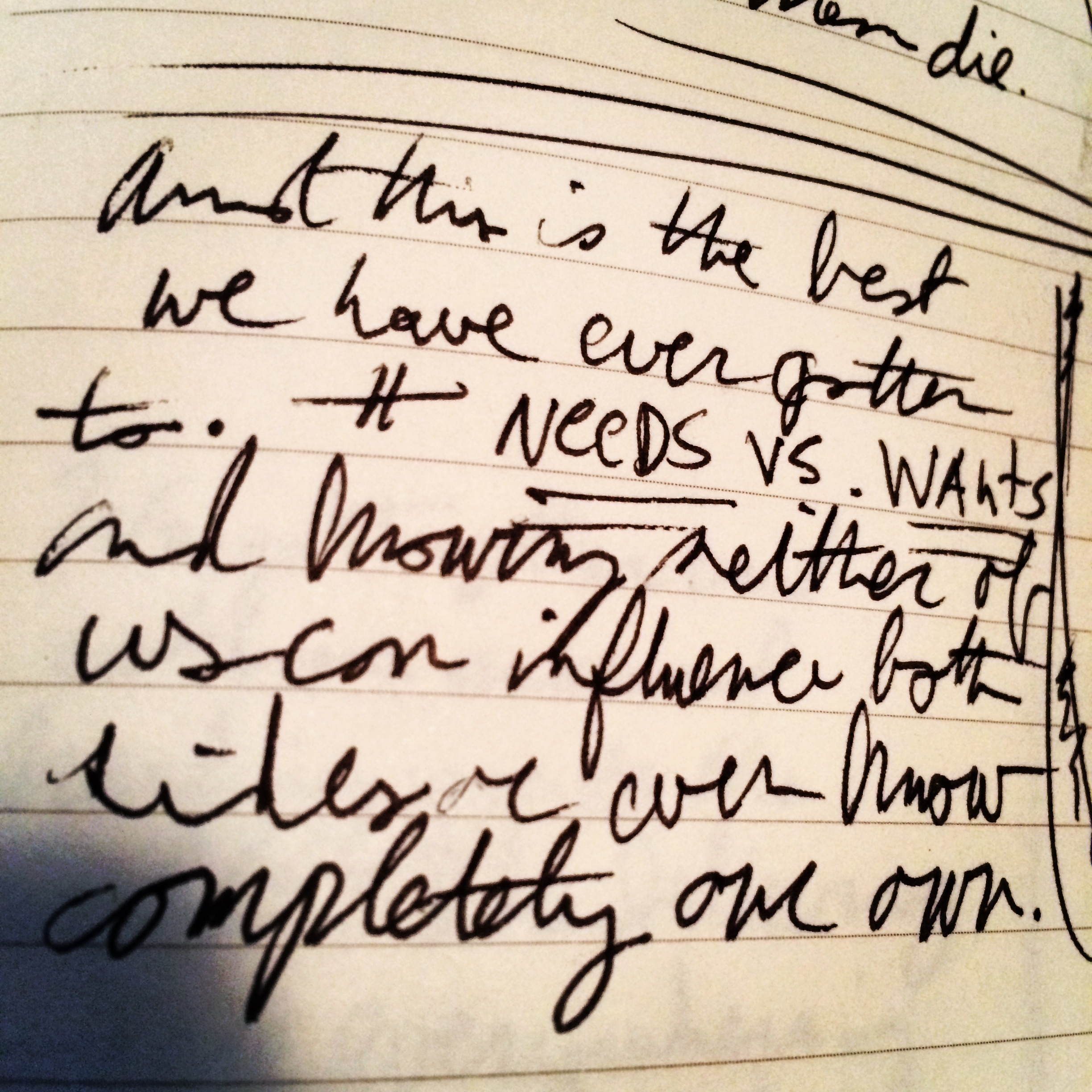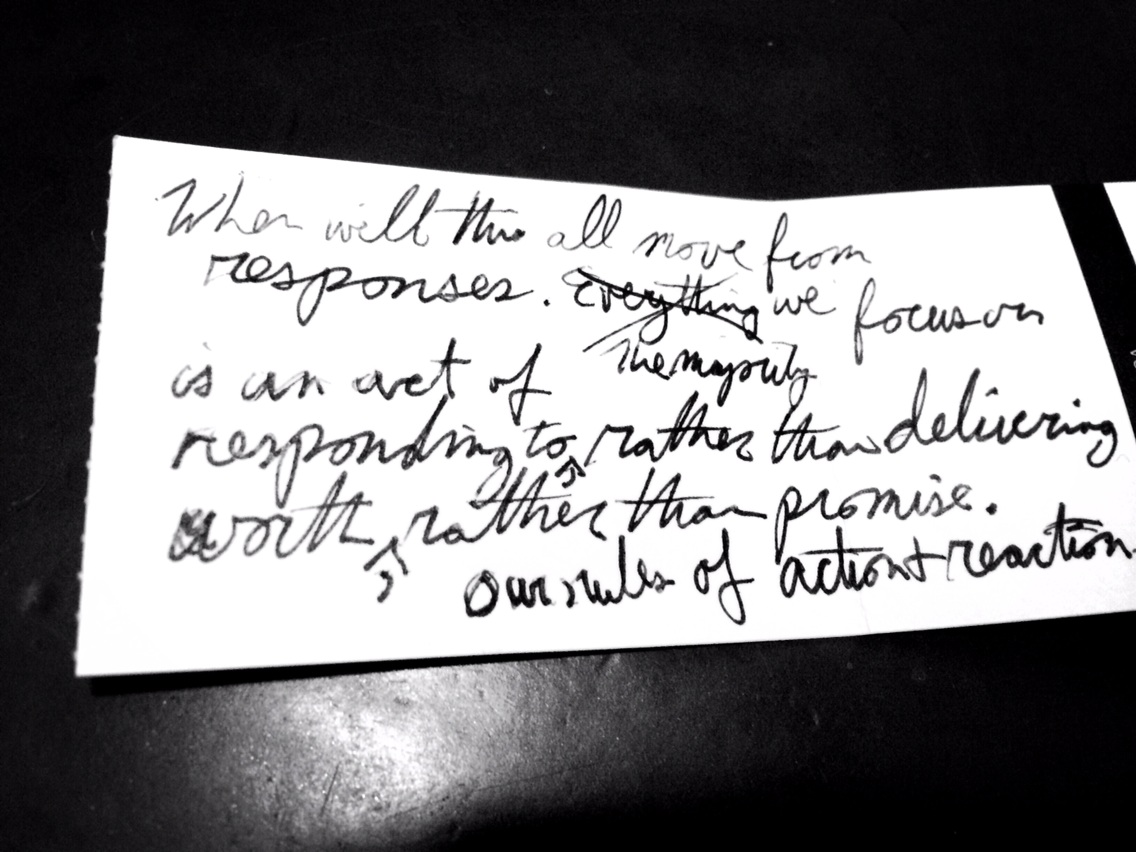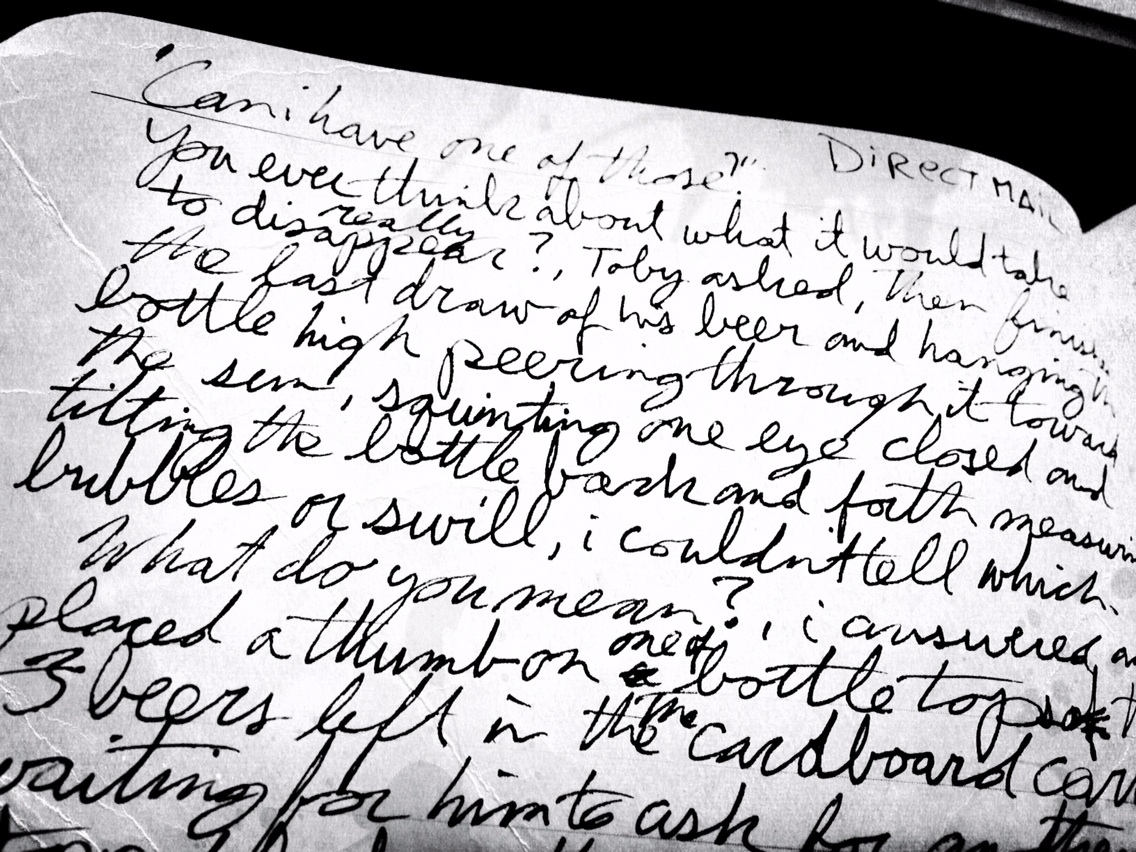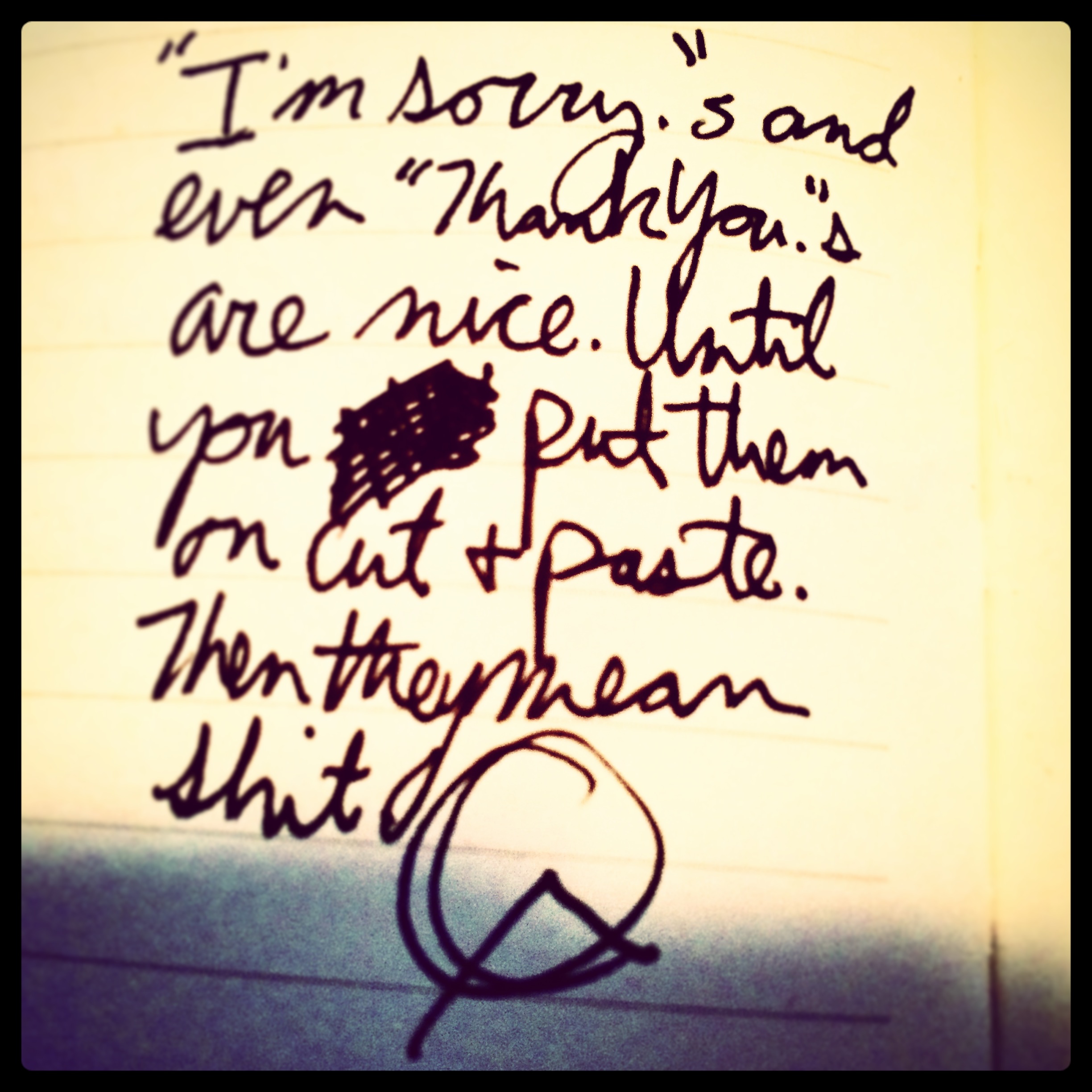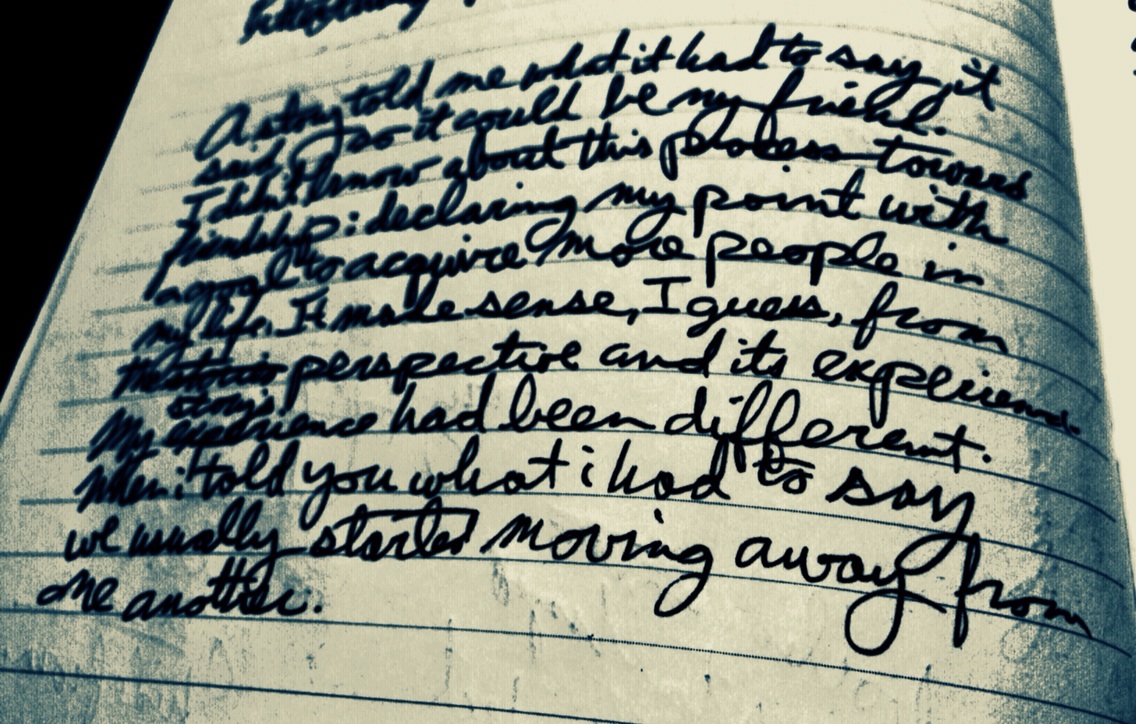 Paying attention and keep getting it wrong.
Tired of the noise you keep telling me: 'will never be true.'
Then clanging, then chirping, then sighing, then crashing, then stomping, then dreaming, then kissing, aren't worth raising an ear to.
p.shaw
Rather than ask for it, which is to give you one more toil on my behalf, just go back and take it all back.
If I could take back I'd begin with all my sanctimony to see what ruins of forgiveness would be left to us.
p.shaw
Default roommates without the benefits.
There hasn't been a room for subtlety to sleep in the entire time she has been living in this conversation. Couchsurfing from the very first moment we began to see ourselves. And even courteous etiquette runs eventually awry, long in the fabled quiet tooth. We want to ask, "Why're you still here, trying to fit in?" We want to ask, "Isn't it nicer where you came from, more comfortable?" We want to ask, "Aren't you better off there?" Instead we ask if she'll move over and make some room on the cushions. There's a lot of television to catch up on.
 
p.shaw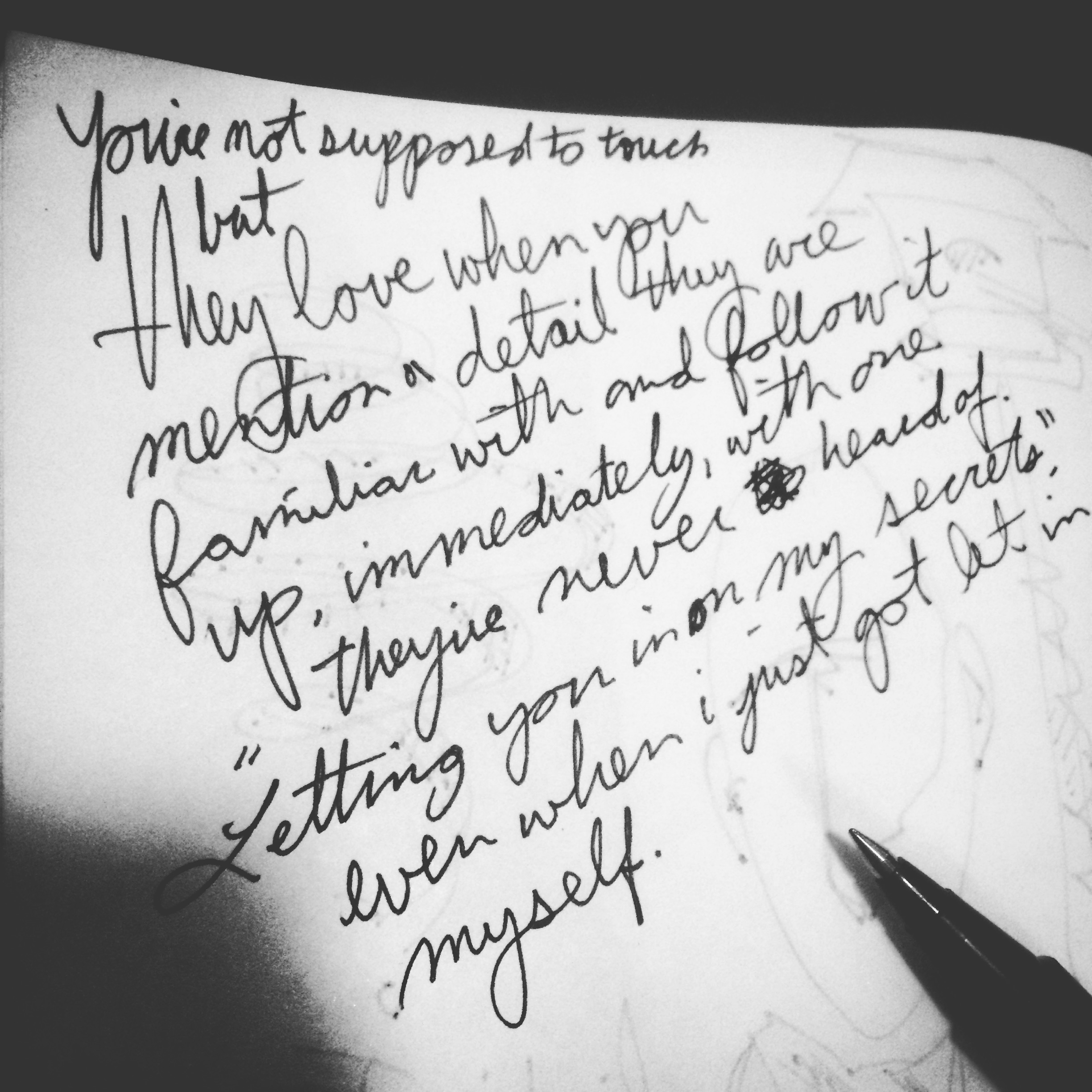 Performance Failures: How to Sound Rather than Be.
You're not supposed to touch, but they love when you mention a detail they are familiar with, one they believe to be more obscure than it is, immediately followed up with one they've never heard of: "letting you in on my secrets" even when I just got let in myself.
p.shaw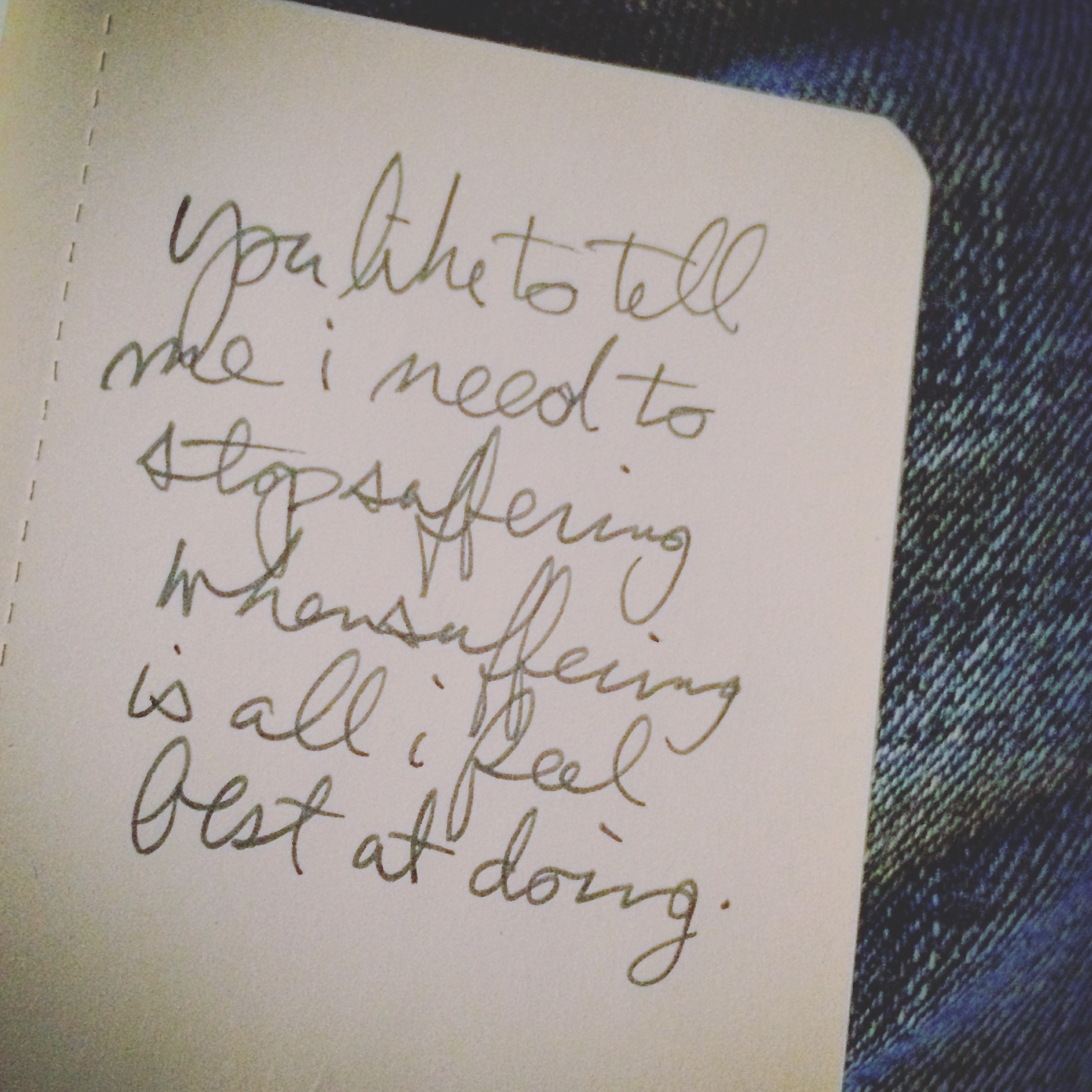 Hillbilly Love Song Part.1
You like to tell me I need to stop suffering when suffering is all I feel best at doing.
p.shaw
Hillbilly love song Part. 2
Gotta stop thinking you're the one who knows the best way of being.
p.shaw
Hillbilly Love Song Part. 3
There's some of you I can't get enough of. And others I only hope I never see again.
p.shaw
Hillbilly Love Song Pt. 4
And I hollowed out. Thanks to you. Thanks to you.
And I'm empty on the inside. Thanks to you. Thanks to you.
And I'm all emptied out on my insides. Thanks to you. And thanks to you.
p.shaw
Hillbilly Love Song Pt.5
We could just get together, like we used to. We all could. We could all just get back together, just get together, again. Just like we used to.
p.shaw
Hillbilly Love Song Pt.6
Then when it gets all quiet, I wonder if you feel it. Wonder if you can feel me thinking of you. I don't wanna believe you can't. I don't want to believe you gave it up. Somewhere in me I can know all our hiding is only for surviving because somehow it was decided this is how it's meant to be.
p.shaw
We all far cry from Justice.
We all cry far for love.
p.shaw
Best Practices for Continued Distribution
For those looking to continue to receive:
• For our Affection, we ask you to please, double opt-in
• For Shame, single opt-in is acceptable
p.shaw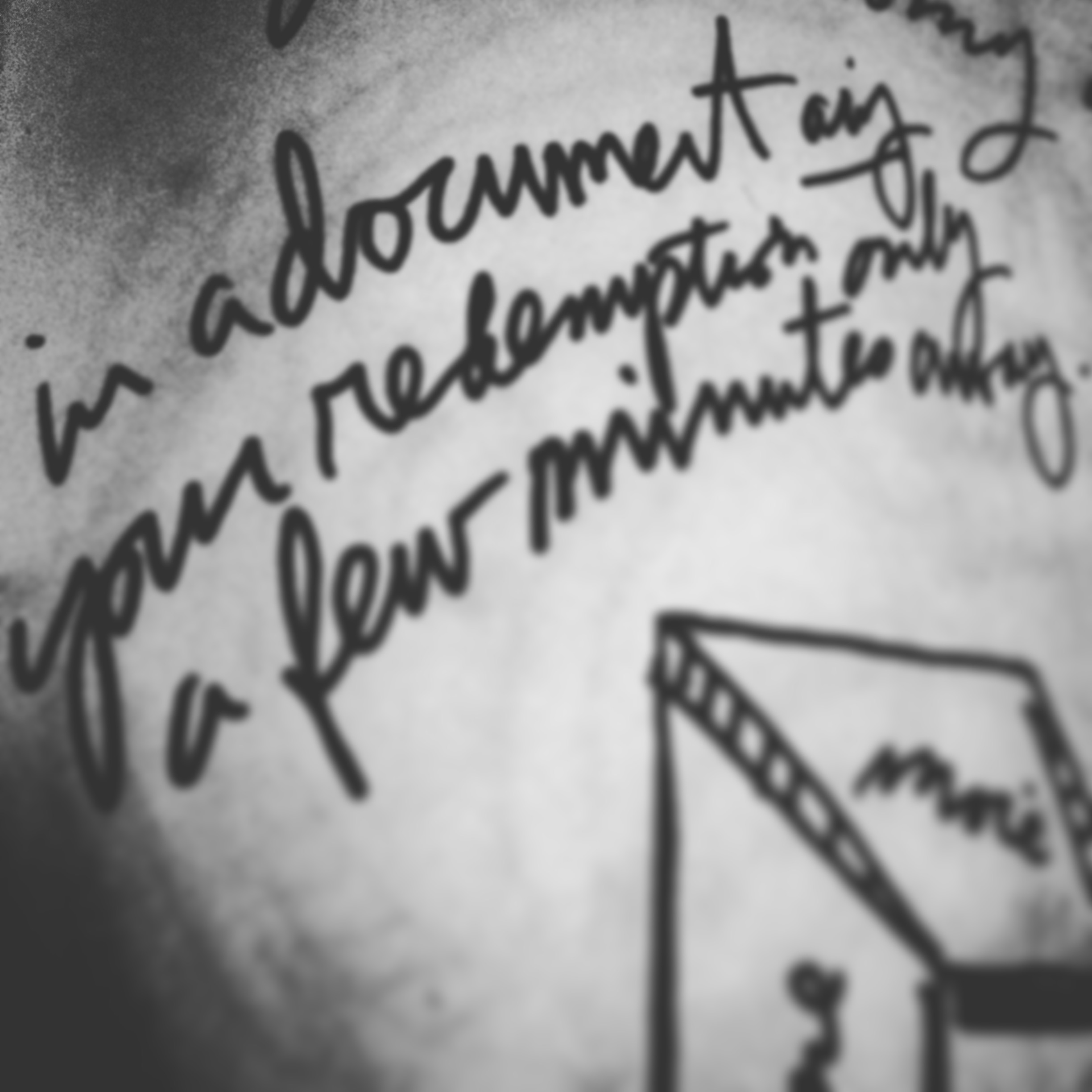 Compressing your time allows the rest of us to forgive your normality.
In a document(ary), your redemption is only a few minutes away.
p.shaw
you decide.
I want you to talk to me about how I "never let up."
p.shaw
What Happened to...
Where have the noticeably considered, worth discovering, suggestive uses of the simple gone? Being able, or having to, decide on what an Astro-Brite™ Post-It® may mean – flirty-fun or passive-aggressive office politic– these distractions have sadly diminished. When will the younger come to realize that everything about our old ways can mean something? Did mean something?
p.shaw
What is always less about than more.
It's less about us and more about how you said to me: "These are almost all of the stories we never needed."
p.shaw
By way of excuses or explanations.
Because for more than forty years no one asked, least of which were those I needed to; and the least of none at all is a worse kind of zero.
p.shaw
Yellow & Blood-Red Bits on Our Tongues.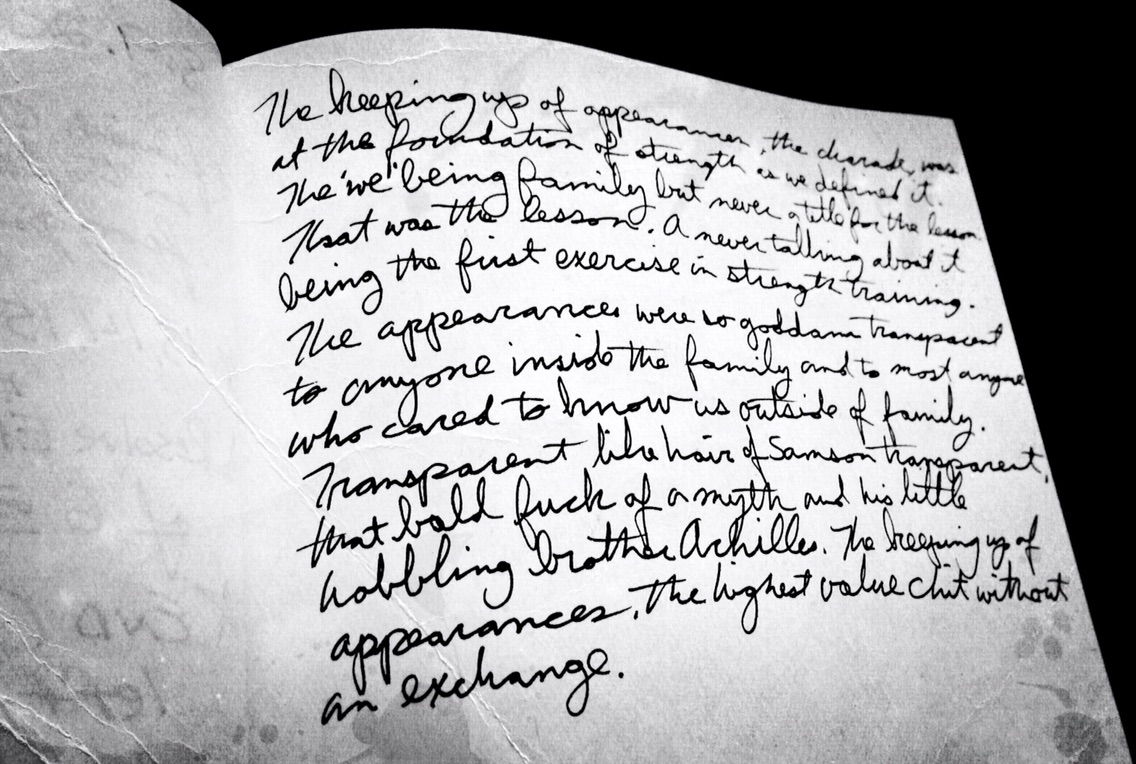 We haven't left yesterday's cliches behind here. We're just reapplying them to a room without a cost of entry.
The keeping up of appearances, the charade, was at the foundation of strength as we defined it. The 'We' being family but never a title for the lesson. That was the lesson. A 'never talking about it' being the core exercise in our strength training.
The appearances were so goddamn transparent. A film the color of jaundice like cheap sunglasses. Easy for all inside the family to ferret out, to know, even if we never talked about it. That was the logic of the exercise: 'There is so much for you to work at keeping away.' And to the few outside of the family who cared enough to know us (stretching the importance of 'cared'), we were more transparent. Transparent like hair of Samson transparent, that bald fuck of a myth and his little hobbling brother Achilles.
And still, this keeping up of appearance was the highest value chit without an exchange.
p.shaw
As much as I am committed to the assist, my nature is to break.
What you probably wonder about, as you go to sleep at night, worrying for my eternity, hoping I can allude damnation, is just how I am so willing to mock a God:
1st: She gave me the free will to do so. I feel obligated to exercise.
2nd: I'm pretty confident that we screwed up her commandments through some shitty and inadequate translation.
3rd: I always rely on forgiveness.
Thanks you, though, for your continued concern.
p.shaw
Nightstand Artifact: 03.26.2015 – Insecurity and lonely deprecation is unbecoming and ugly – but it still happens.
You may not want this, or care to wake to thoughts you could have just let pass, but this is all you have to receive. This paying attention, more than you deserve. Not because you have or have not earned it, for you have – the results of the polling and the detailed critical analysis are all in and conclude, even if they were wastes of resources since just living qualifies – you have. But, because the world tugs everyone away from anything anyone deserves – including yours – no matter of evidence or the obvious will allow yours to be unique: a signifier outlier: an exception: not to rules; the rules were all abolished yesterday.
This is just not your own.It is for all who don't want it. You do deserve less and more. But if you ever are to bother any of us again with your bother of an exercise, then go forward knowing there is no time for you. And know that we had already given you more, already too much. Make every goddamn word worth while when they are worth nothing. Or try to convince us of your benefits of waste without asking us to listen to arguments.
Those are your two choices, are all you get in the worth of loosening of your lips, and they both amount to us telling you to keep it to your damn self, on hidden pages, for after your death and some future definition of anthropology. But please, now, go to sleep, and keep it all to your damn self.
p.shaw
I think I should have figured out why I stopped liking talking.
I'm happy to accept the responsibility when I get the heads up. However, I could have simply resisted had I been aware it was happening as it was happening.
I think I'll need to now start with determining. Determining if I ever liked talk. Or if I ever was the talker liker you are now making me out to be. Making me out to be this only through your insistence that I stopped. That I changed. That I am now missing something. I've been here all along waiting for your call. Well, not entirely waiting for your call, but here nonetheless. Capable of taking that call and then talking. Your accusatory tone now sets me back. How can we begin to address your needs when you have placed the accusations of my disdain in front of your complaints.
Certainly I was in possession of duties assigned to me. I also was in possession of the authority to delegate. And I have. Delegated. But I've always been a pitch-in-to-get-the-job-done type of fellow. So, if we're going to begin with the accusations then in my opinion we must start with getting a handle on who made me in charge of determining and figuring out those parts of myself that were changing and happening to your disapproval, unbeknownst, without notice, in the background.
notes for Sir, Missus Natalie Teeter is On All the Lines.
And we see it all as a war
And we see it all as a war } I am approached as if I know,
a handful of guesses is
the best anyone will have.
And we see it all as a war } And I am getting tired
of not answering,
tired of 'alone.'
When 'alone' should be
the last thing we are.
And we see it all as a war } And I am incapable of doing
what I once fooled myself into
believing I was doing.
And we see it all as a war } There is a timer set in me
for: disillusion;
melt-down;
fraying of the survival net
all I am told to believe: to wake to; to plug into
to make the plugs for
to dig from the earth the batteries for who will be next.
And we see it all as a war } How to plan:
• Have more resources
And we see it all as a war } How to resource:
• Do not limit the plan

p.shaw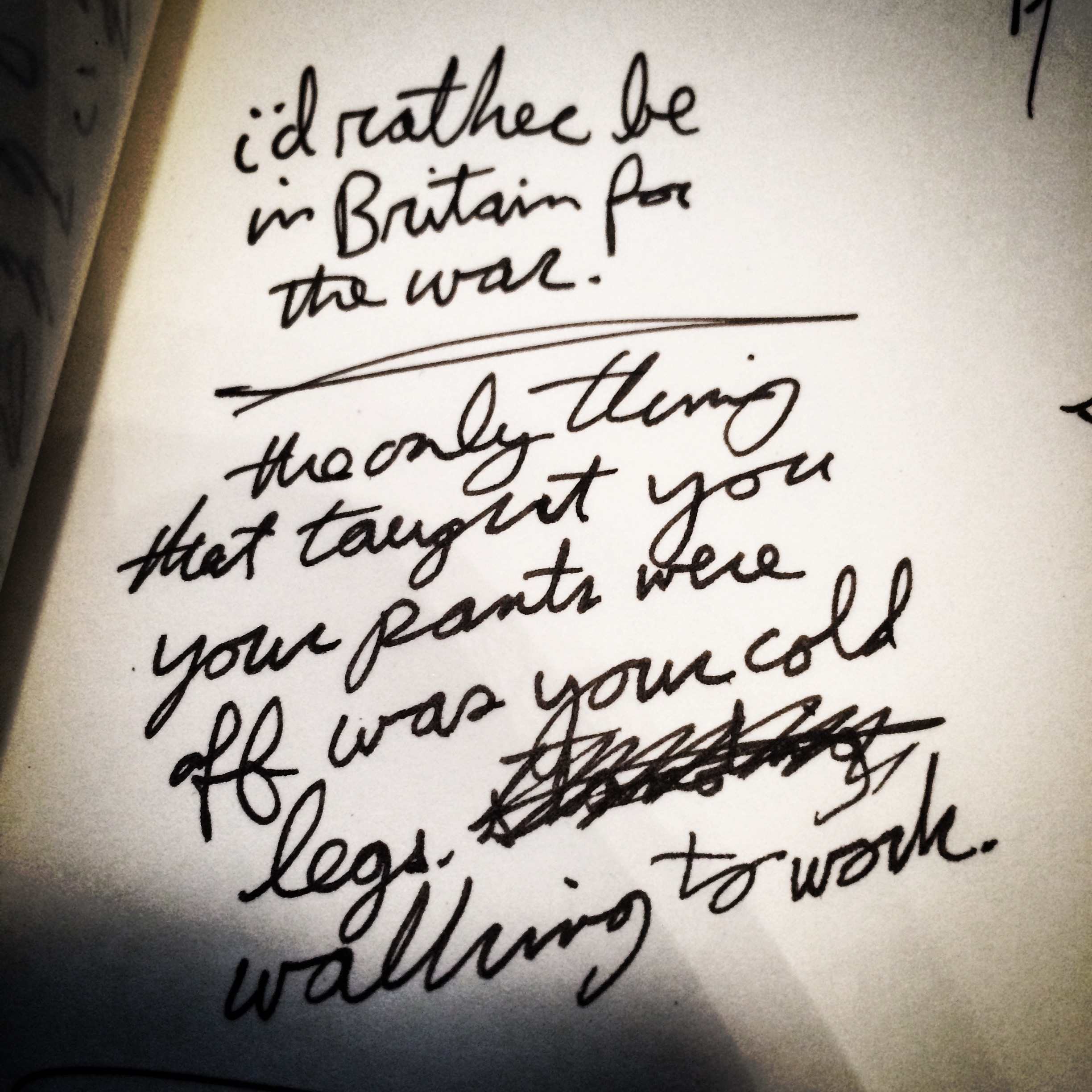 Nightstand Artifact: 02.07.2015
I'd rather be in Britain for the war.
You know what this is. And I know what this is and that's one part of it. Enough to make me stop going on and on, as in: "i know what this is. I can handle it. I have handled it before." That 'as in' isn't enough to make it stop. I stop. It stops. But it doesn't stop for longer than a moment and tI have to wonder when it will end.
And the only thing that taught me that my pants were off was my cold legs walking to work.
p.shaw
When instead I said.
All these words were in my head for a response. They all looked so good. They all could be the right response.
The combinations could be but were not endless. There were arrangements that felt particularly poignant, others where the words had more striking elegance, another – my favorite so far but hardest to remember to keep straight – had a brutal honesty that made me feel like a man. Whatever that meant.
And I could see them all swirling in my head and I was trying to balance remembering all the many possible combinations, especially my favorite 'masculine one' that kept getting articles transposed, clauses erupting on themselves when it was wrong and when it was right it was obvious, and I was trying to do this cataloguing while also listening. Looking like I was listening of course, but actually really listening. The kind of listening that she was always begging me for but that I could never tell if it made a difference when I achieved that level of listening. I could never see any satisfaction or happiness or change in her behavior that would relay a sense of being sated, fulfilled by my earnesty.
But what was important right now is that I was listening, even if I was also cataloguing. Cataloguing all these incredibly epiphanic combinations of great words that came to me from some special place, some place I had never been able to access before and now seemed like a trove of relief after decades of struggling to just find a few simple phrases that conveyed my feelings adequately and now I had so many options and they were all so good, and I was placing them on mental shelves so that when it was my turn I could just reach for the right combination that made the best repsonse and just say it, not my favorite, but the right one for the response; and by 'just say it' I don't mean blurt it out like some idiot who has been waiting for his turn to talk but with a sense of contemplation and ease, a beat of a moment, several seconds and then my articulation. She would see me as a different man, that I had accessed another part of my emotional state.
When instead, I said, "I love you."
She took some same beats, several seconds, a contemplative time reference before she said, "that sounds like there's a dot, dot, dot, after that."
p.shaw
Edits on Direct Mail: 8.12.2015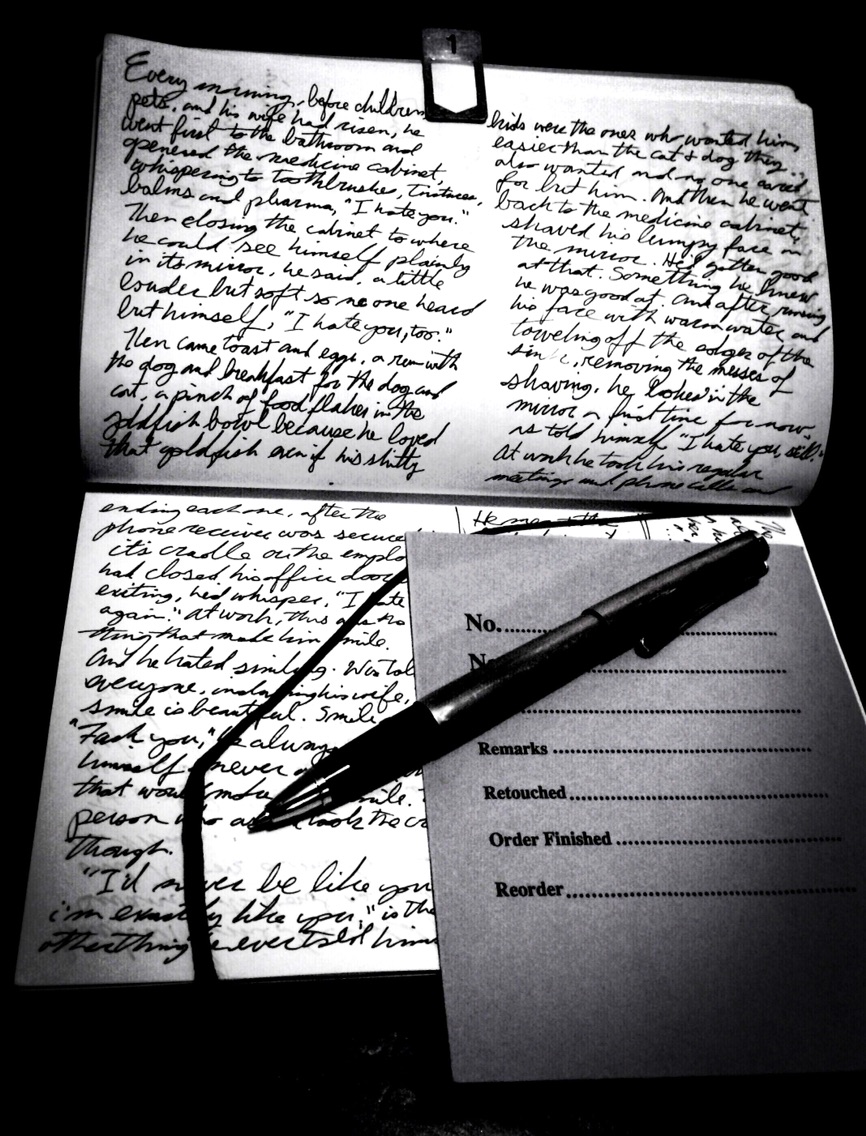 beginnings to: where we go from.
Every morning, before children, pets, and his wife had risen, he went first to the bathroom and opened the medicine cabinet. Whispering to the toothbrushes, tinctures, balms, and pharma, "I hate you."
Then closing the cabinet to where he could see himself plainly in its mirror, he said, a little louder but soft enough so that no one could hear but himself, "I hate you, too."
Then came toast and eggs, a run with the dog, and breakfast for the dog and cat, a pinch of food flakes in the goldfishes bowl, because he loved that goldfish, even if his shitty kids were the ones who wanted the goldfish. 'Easier', than the cat or dog they had also wanted but that no one cared for but him. And then he went back to the medicine cabinet and shaved his lumpy face in the mirror. He'd gotten good at that. Something he knew he was good at. And after rinsing the left over shave soap from his face with warm water, he'd towel off the edges of the sink to remove the messes of shaving. He looked in the mirror a final time for now, as he told himself, "I hate you, still."
At work he took his regular meetings and phone calls and ending each one, after the phone receiver was secured back in its cradle, or after the employee had closed his office door behind them, he'd whisper, "I hate you, again." At work this was the only thing that made him smile. And he hated smiling.
He was told by everyone, including his wife, "Your smile is beautiful. Smile more." 'Fuck you,' he'd always say, to himself. Never aloud. And that would make him smile. And the person who had told him to smile always took the credit.
"I'd never be like you and I'm exactly like you," is the only other thing he told himself. Who he meant was his kids, his wife, and the goldfish. But he mostly meant his father and his mother.
The only things he'd ever allow himself to tell himself were:
• I hate you.
• I hate you, too.
• I hate you, again.
• Fuck you.
And: • I'd never be like you and I'm exactly like you.
for: where we go from.
p.shaw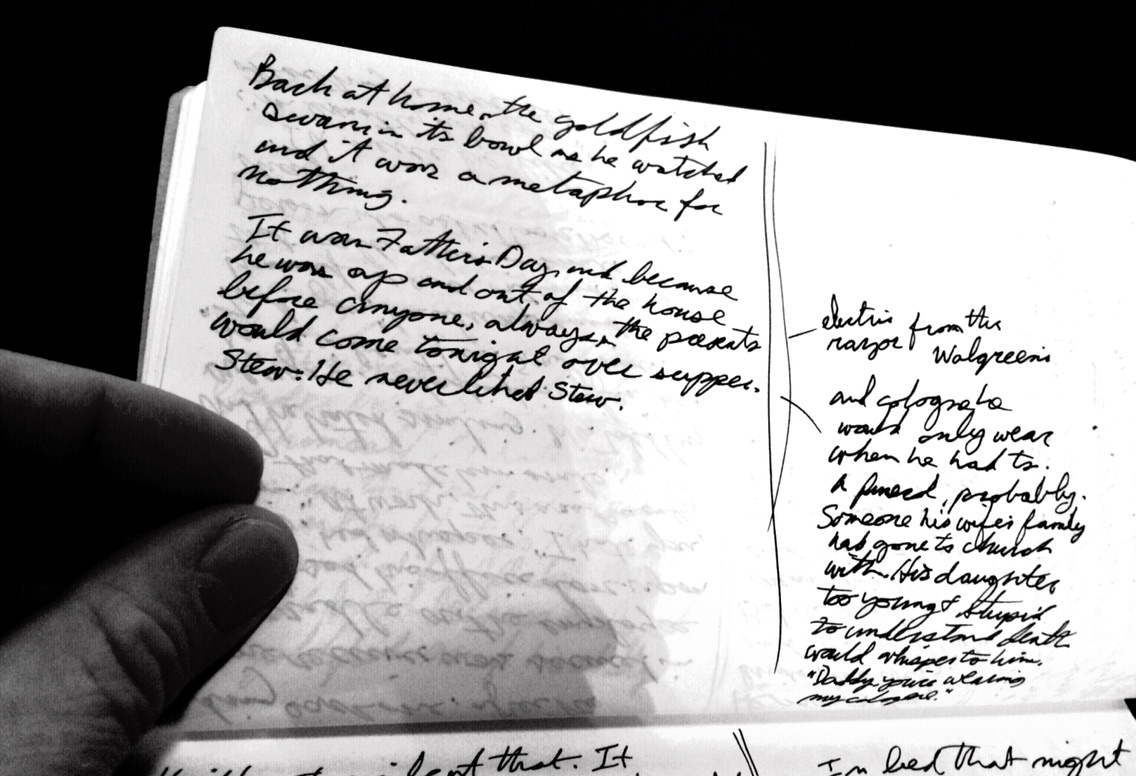 more from: Where we go from.
Back at home the goldfish swam in its bowl as he watched and it was a metaphor for nothing.
It was Father's Day, and because he was up and out of the house before anyone – no matter the day of the week, which meant always, his presents that were purchased from the drug store would have to be presented tonight over supper: Stew. He never liked stew. Just like he never liked the presents. This year: an electric razor and cologne he would only wear when he had to: a funeral probably, someone his wife's family had gone to church with, his daughter too young and stupid to comprehend death, and missing the point of the whole procedure, would lean to him in the pew and whisper to him, "Daddy, you're wearing my cologne." And that would have to be good enough reason to bother.
For: Where We Go From.
p.shaw
Sweetie.
"And then there was the time I lost my left eye in a jeep accident, in Nigeria, when I was in the Peace Corps."
"Wait. What? You lost your eye?," I asked. I had been tricked. Yes, tricked, into attending this speed dating thing. And this woman, I was thinking, was my final commitment in this whole absurd affair Dennis had tricked me into.
"That's not a thing anymore," I had said to Dennis, four nights ago when he had sprung it on me.
"Yeah. It is," he said.
"No, man. It's not," I said, "unless it's some sort of evening of irony. Regardless, I'm not getting anywhere near it," I'd said.
"You owe me," he said.
"I know," I'd said, "you'll have to just find another way to cash in on that. I wouldn't have been caught dead at one those things when speed dating was actually a thing. Sure as shit ain't going now," I'd said.
Dennis said, "Why do you say it's not a thing anymore."
I'd said, "Because it's not."
"Why isn't it?," he'd asked.
"I don't know." I'd said. "Because it was stupid and creepy in the first place. And because the internet won," I'd said.
"As if the internet dating isn't creepy," Dennis said.
"It's come a long way," I'd said.
"Maybe speed dating has too," he'd said. "You owe me, Tim", Dennis said, "you gotta be on my wing for this."
"Dude, you're saying that wrong," I'd said.
"What." Dennis said.
"You mean you want me to be your wing man," I'd said, "not to be on your wing," I'd said.
"Who gives a shit how you're supposed to say it," he'd said. "What the hell does it mean, anyways?," Dennis asked.
"I have no idea," I said, "some thing about Tom Cruise and flying planes."
for Sweetie.
p.shaw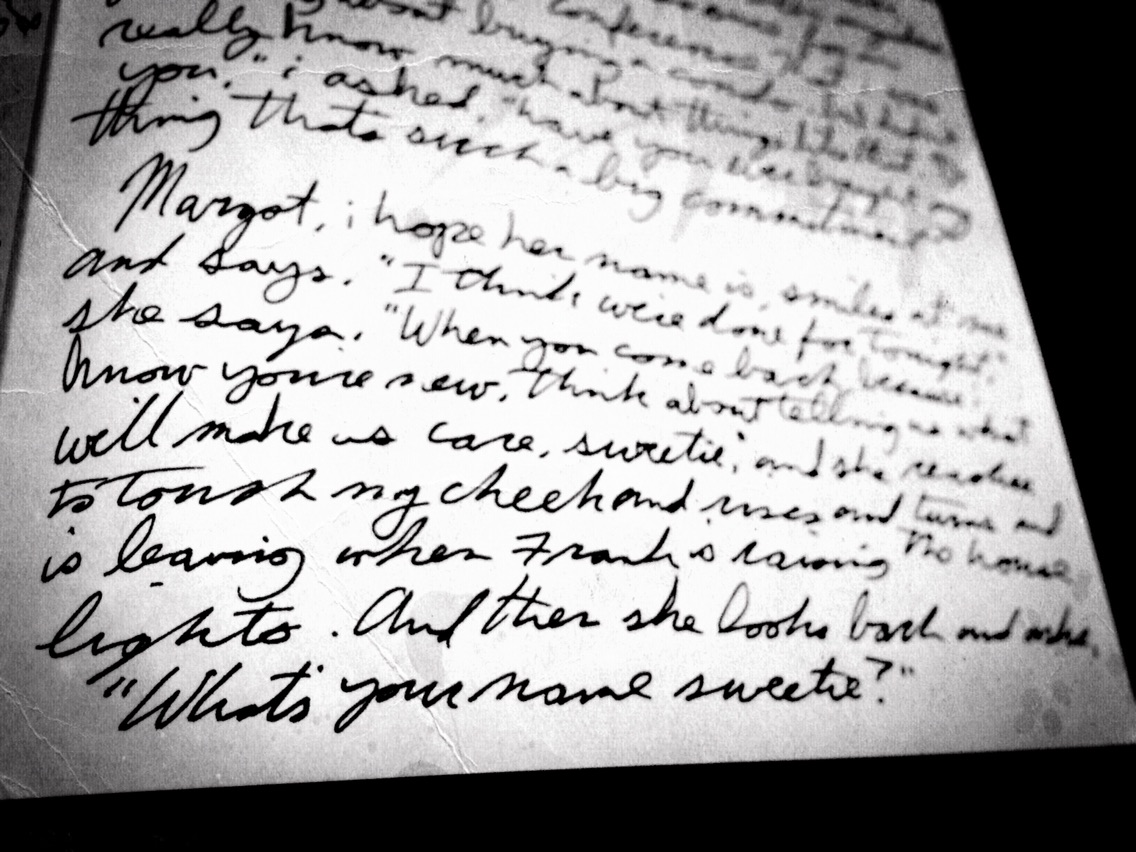 Margot, I hope her name is, smiles at me and says, "I think we're done for tonight," she says, "When you come back, because I know you're new, think about telling us what will make us care, sweetie," and she reaches to touch my cheek but rises and turns, and is leaving when Frank is raising the house lights. And then she looks back and asks, "What's your name, sweetie?"
for Sweetie.
p.shaw
Missus Natalie Teeter is On All the Lines.
"Mister Simmons, there is a call for you on line one."
"Who is it, Shane?"
"A missus Natalie Teeter, she said, sir."
"I don't know any Natalie Teeters, do I, Shane? Please just take a message."
"Yes, sir. I tired that, mister Simmons. But you see, sir, she asked for you, specifically. She said she found you on the internet, sir. She said the internet told her you were in charge, sir. And she wants to talk with you now, she said, because you are in charge. She said that if she can't talk with you, she won't leave a message, that she will just keep calling until she can talk directly to you, sir."
"You aren't making much sense, Shane."
"Yes, sir."
"Isn't there something you can do? Block her number or something?"
"Sir, I tried that, sir. Or I was going to try that but you see, sir, we've never had to deal with this sort of thing, and I can't get a call through to the eye tee department, sir, because missus Teeter keeps calling in."
"Shit, Shane, I don't know anything about this stuff but can't you try another line or something?"
"Yes, sir, mister Simmons, sir, but we only have ten lines and currently she is on hold on all of them."
for Missus Natalie Teeter is On All the Lines.
p.shaw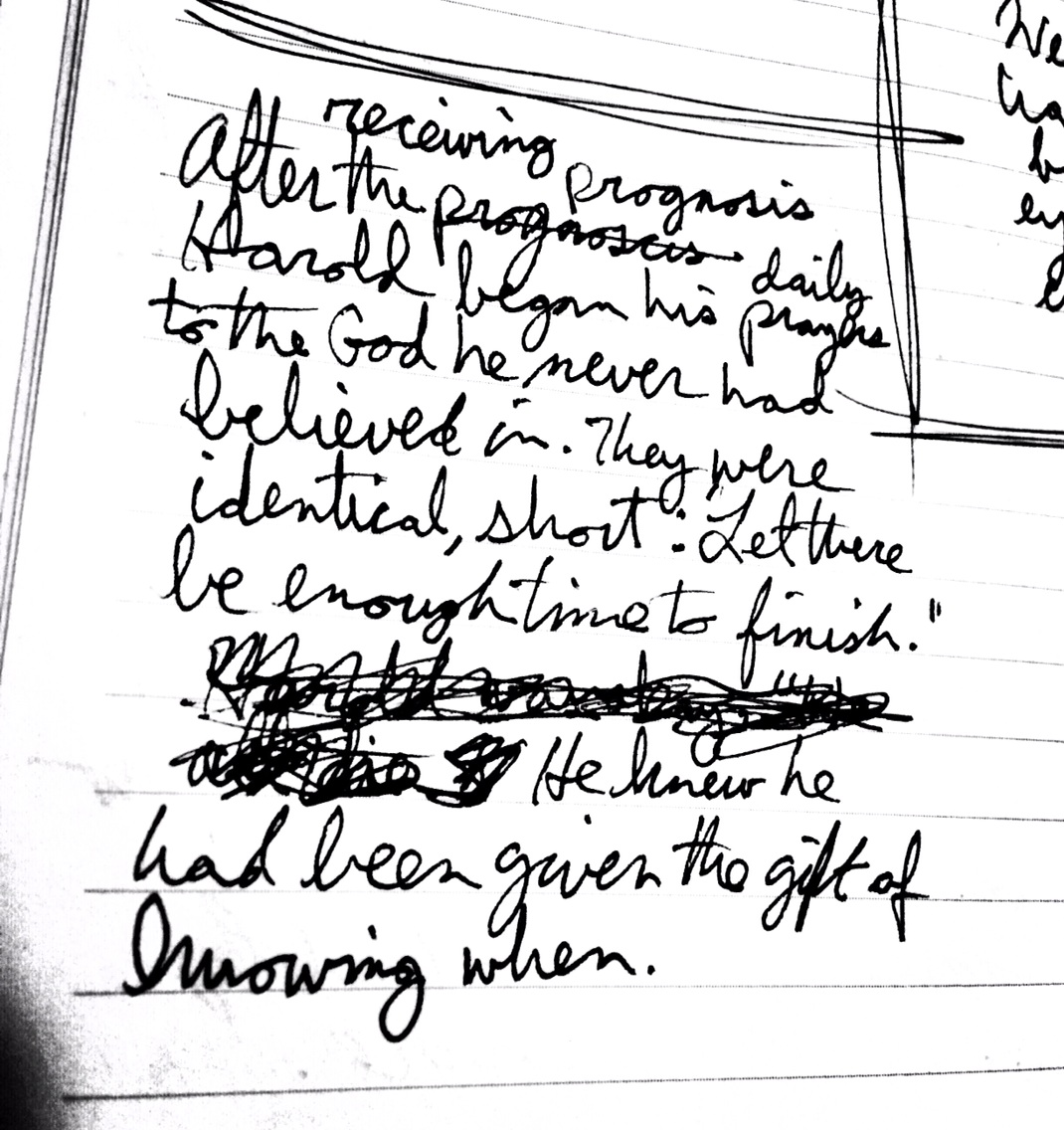 dodge #1.
After receiving the prognosis Harold began his daily prayers to the God he had only ever pretended to believe in – they were identical, short: Let there be enough time to finish. – because he knew he had been given the gift of knowing when.
from An Inconsolable.
p.shaw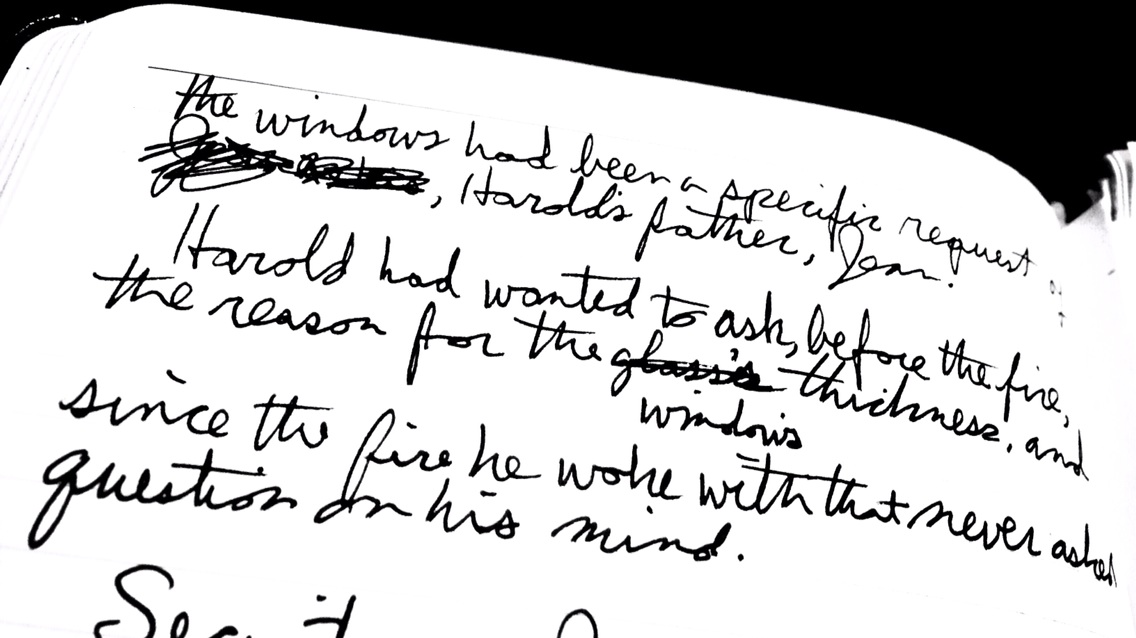 forgot to ask.
The windows had been a specific request of Harold's father, Jean.
Harold had wanted to ask, before the fire, the reason for the window's thickness, and since the fire he woke with that never asked question on his mind.
from An Inconsolable
p.shaw
The Etymons in a new draft
We don't count the hamsters.
"There are twelve of us," he said. "Three boys, four girls a man – our father, a woman – our mother, and two dogs and the hamsters."
I looked at the acrylic box dangling from his hand. It appeared to have a mass of several hamsters. I could make out at least 3 pairs of eyes. "If there is more than one hamster," I said, keeping my eyes on the box, "then your count is off, by one or more."
He lifted the box toward my face, "they only count as one to us," he said. I waved him off. He pulled them back, just a little further from my face, "Don't ask my mother about them. Please?"
"It doesn't really matter," I said. "You'll get the room for nine," I said.
"But there's twelve of us," he said. "I need you to record that on your little clipboard," he said.
"That's not what we do here. It isn't that important to us," I said.
"It is to us," he said.
"That's fine," I said.
"Is it?" he said. He was pointing to my clipboard. There was more to his questions that I didn't have time for.
p.shaw
Nightstand Artifacts: 4.30.2014
2:38am
At the end of each sentence, an image in the physical – of what my constructed world reminds me of.
p.shaw
I am trying to find someone new:
I am trying to find someone new and the only assurances I have are the things I must first address –
: The conflicts I have grown within myself.
: Why my hands will never seem dry.
: That this is all there is and hardly the beginning.
p.shaw
final notes before reading tonight.
from W.I.H.A.D.T.M.M.C.W.R.T.C.A.O.M.M.I.S.
p.shaw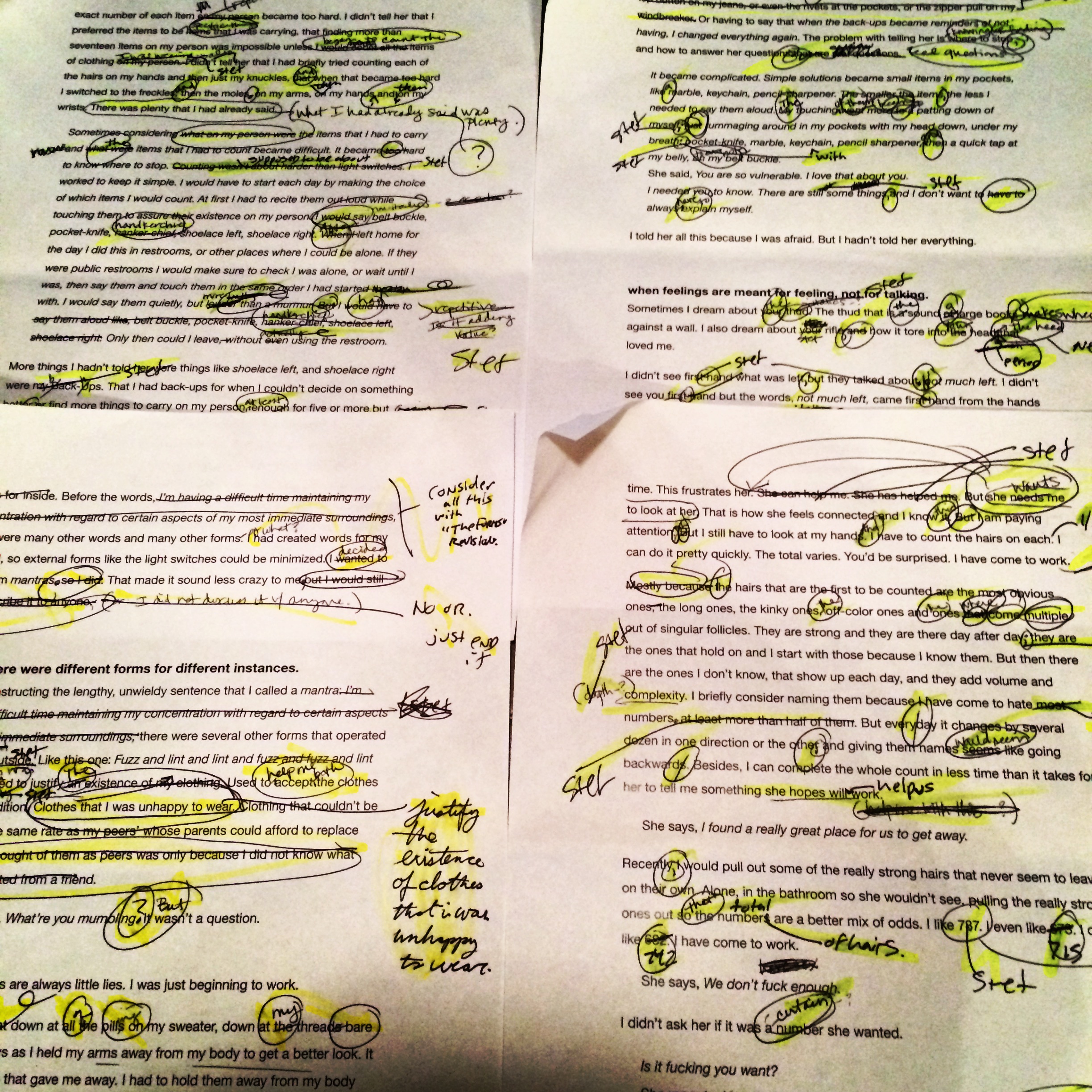 working on deadline
from W.I.H.A.D.T.M.M.C.W.R.T.C.A.O.M.M.I.S.
p.shaw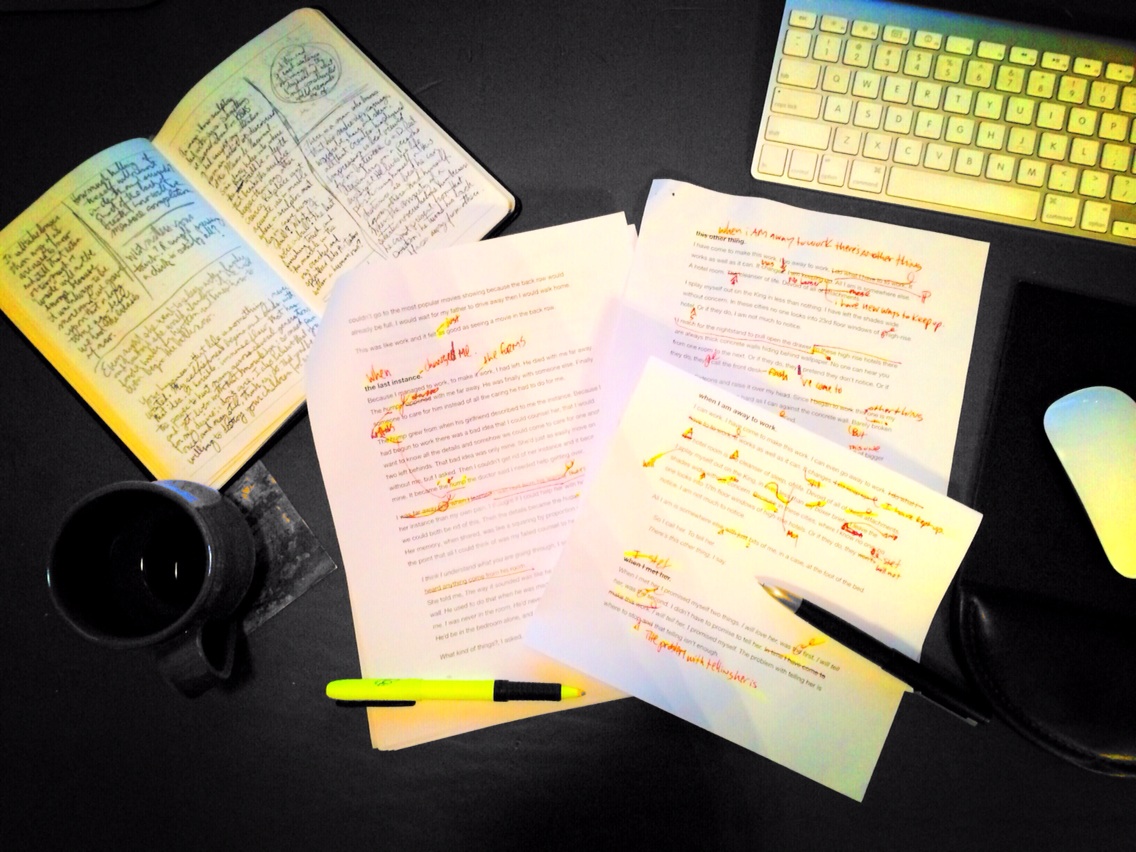 10+ Drafts in and you just don't know.
from I.H.A.D.T.M.M.C.W.R.T.C.A.O.M.M.I.S.
p.shaw
from When I'm Having a Difficult Time...
where will this damn thing ever end?
and I'm continuing to work on: I.H.A.D.T.M.M.C.W.R.T.C.A.O.M.M.I.S.
The lies we all tell ourselves are:
• to add importance where there is none
• to fill the empty spaces
• to replace the moments that should not have happened
• to escape all of these from ever occurring again
The lies I told myself were:
• to be someone else
The lies I have told everyone else were:
• in hopes they'd not notice
Somewhere between on top of, underneath, connecting, forcing apart the above categories, I have managed to lose track of whom I ever was becoming to myself, for myself, or for others. As I look at all of them realizing my surprises are little lies to test one theory or the next, I am underwhelmed with a lack of change, impact and intimacy. Mostly in myself.
What would change though if what I am is not complete? If I had the energy for another experiment I'd consider forgetting everything I know and taking a dramatic step.
p.shaw
then turning the calculator upside down.
There could be something wrong with me when I don't finish words. Not sentences. Sort of normal. But words?
p.shaw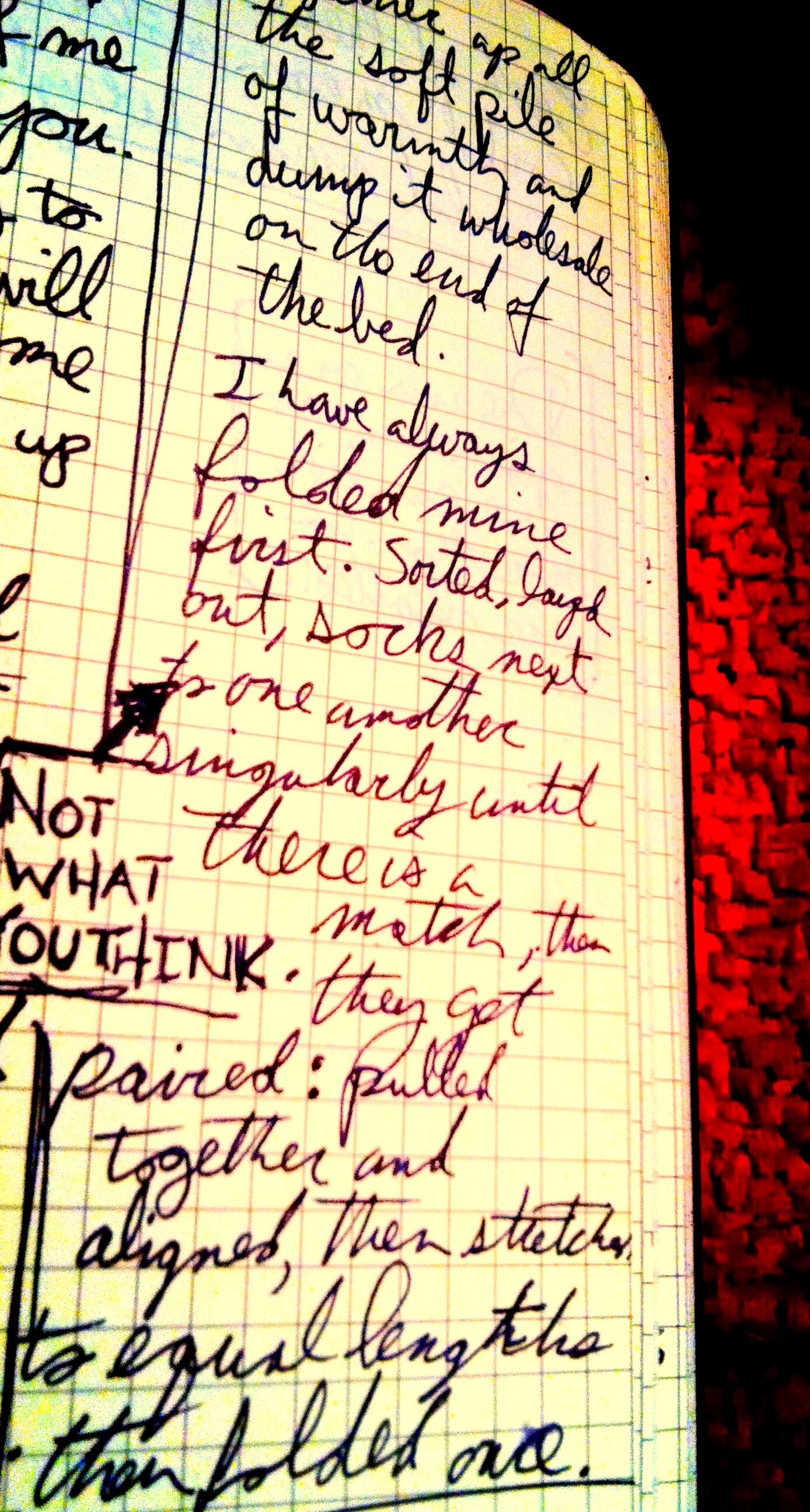 Not What You Think.
I turn up all the soft pile of warmth and dump it wholesale on the end of the bed. I have always folded mine first. Sorted, laid out, socks next to one another singularly until there is a match, they they got paired: pulled together and aligned, then stretched to equal lengths then folded once.
p.shaw
Nightstand Artifacts: 4.2.2014
3:39am
If only to be as sure of the truth of words before they are said as after.
p.shaw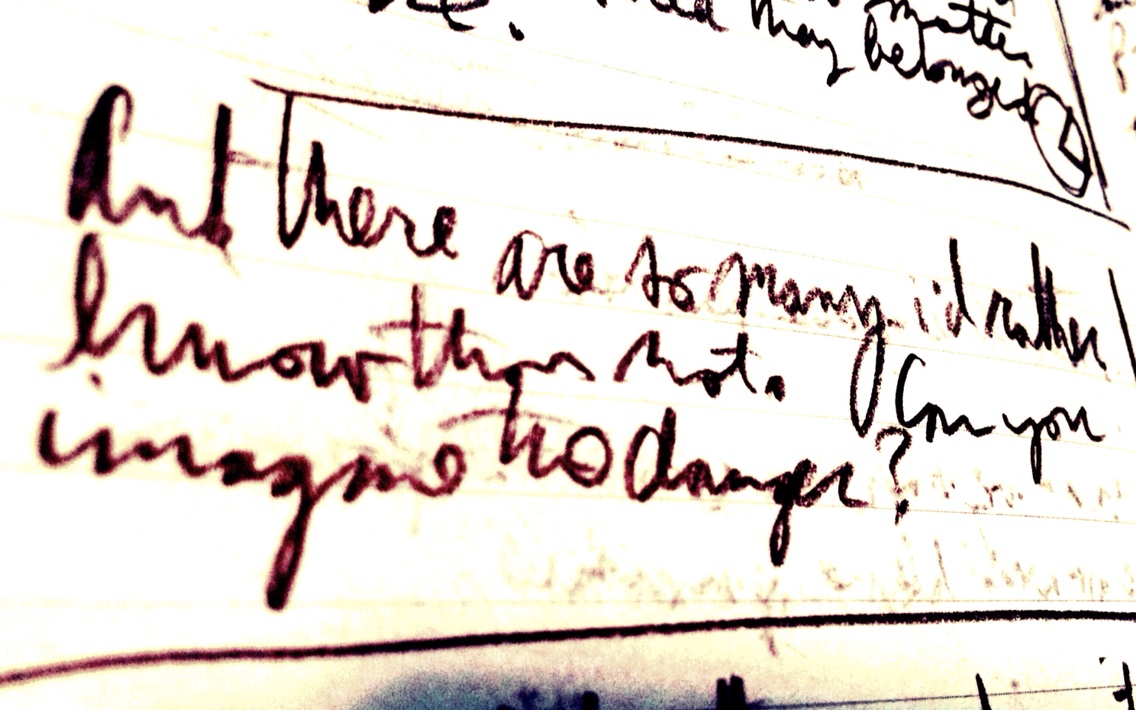 On: When you go asking for it.
And there are so many I'd rather know than not. Can you imagine the danger?
p.shaw
Nightstand Artifacts: 4.20.2014
2:23am
Resurrection always sounds like a good idea until you gotta count on it happening for you.
p.shaw
wake up calls & unpleasant realities
It won't be the cumulative that does you in. It'll be that one night that you forget, or even just decide that all your precautions don't need to be followed on this occasion; when, whatever happened on the outside now does and invades upon you in the safety that you had constructed to withhold through regimen and hold so fast. And whether it be a letting down of your guard or an uncharacteristic oversight, the intruder that is death, or a kind of death, or even just a welcome mat to death will remind you that all of what you're doing should have never been done.
p.shaw
I have become the typecast.
Unable to shake off
the familiarity of the role.
I won't disintegrate
into the portrayal yet the emotion
is the same, unyielding
tide that continues
to come in
with never a recession,
one wave crashes
to another
one atop it
and so on
and so forth but
the cresting
is not of ebbing
but only the relief
that one moment moves
onto a next
and that will never end.
p.shaw
consumptions
The sustenance we suffered from was our knowledge. Privilege and fortune has led from consumption OF to our consumption of the self, or more often and accurately: our neighbor. The sustenance we suffer from is our lesson.
Can we write the same words again and again, construct the sentence as it was once more, once more, leave it untied and once more as it was and began with? Can we read the same books, see the same films, eat the same meals? (They are not quite the same as two moments cannot exist identical like fingerprints.) Can we breathe the same breaths? Record the catalogue of the entirety of the existent moment and play it back over again and again? Recording, I am certain in its essence, is a generation of a thing. Not the original – that I won't work.
How can you the live the same love over, think and be and smell and see until it chafes through repetition: leaves a scar as proof of the continuation; as a document for the two lovers: The Moment and The Participant. The photograph.
p.shaw
Or.
You may not think this but: in a future world people would pay to stare at you. Not: Lurid. Just: Contemplative.
And we, or I, would like to explain this. But I think it takes longer than you have. Or, you'd question my sanity. Or, you'd question my intention, at least.
p.shaw
when things change you.
The synchronized movements of the two meeting at the correct moment. Wait a second. That would be accepting a right, and a wrong. I do, by the way, accept a right or wrong that is, at least in some things. Things of a moral and ethical nature. For example, with things that have to do with a proper sequence, there is of course a right way: to fly or land an airplane, just as there is a very wrong way. There is a correct direction to point a gun. Hopefully not at oneself or any living thing. Targets will do and in certain cases... they may have to be living, which brings up the "in certain cases," aspect of right or wrong. A whole different ball of proverbial wax: a sticky one that I am not qualified to comment on. And besides, I was only trying to place a context.
p.shaw
Nightstand Artifacts: 4.1.2014 on leaving
2:07am
The extraction will be long and protracted but the catalyst was accepted, I swallowed the contract, there is no turning back, no staying put.
p.shaw
Nightstand Artifacts: 4.8.2014
3:12am
There is plenty I am working toward understanding and am not quite ready to share.
p.shaw
Nightstand Artifacts: 3.29.2014
5:12am
Some people say "fiancé" like a wish instead of a belief.
p.shaw
Words like that, if applicable...
Finally justified to use words like:
• Bastard
• Asshole
• Scum
p.shaw
Nightstand Artifacts: Up Close & Personal
Starting at 4:17am through 6:56am
 
keep us
breaks
Friday basis.
enjoying a sunny spring
morning but under
only my hot tea
concrete under my hopeful
make me happy
last night, who
inside with her dreams
without me
memories
p.shaw
That Belong to the Novice.
The faking taught me little, prepared me even less. And everyday the pain is there more real and removing the veils from the walk-throughs of the past. That's what's the worst. It's not just the "Knew/New-Improved-More-Real-Than-Before" kind of pain. It's more a set of corrective lenses to the past, compiling more immeasurable pain, layered and layered onto my narrow shoulders.
She fixed me and I didn't bother considering the consequence of the sacrifice. The offering wasn't really necessary. I should have been better read, more expose, had a tighter grip on reality... all on my own. The Love/Pain/Feeling Scar is not that. The Scar is from the removal of reality and that tool or tail or appendage was that reality and was how I could feel. I needed it to feel, to feel responsibly, anyways.
Maybe it was the T.V. that removed it. Or any media. Divorce; my imagination, they were all sharp enough implements. Somehow, I don't think finding the culprit is what brings about the Hollywood resolution.
p.shaw
Sometimes you just dream of being killed.
They used to only be afraid of brown people. If this kid wasn't white, like glowing white, not just his skin but every thing about him, and if they weren't living in arguably one of the most liberal backwaters of the world, of America, where that kind of whiteness can wash out a credible threat – then, they should be scared for their lives. It was the look he had on his face. The kind of look he had in his eye as he walked into this public place, like a killer, not in the past tense but the present – as in this moment. I can see how they all used to only be afraid of the colors they weren't used to.
Which is what, for them, terrorist should be defined as. Call Webster's. Call Merriam. Call that other one if there is another one, and have the Wall Street Journal artist who draws people in stiple create an illustration of this little white weasel fucker who looks like he came to kill all of us, especially all of them who are waiting for it everyday from a different color. Except... he didn't. He just looks that way.
And I think, what a waste of a mad looking fucker.
p.shaw
p.shaw
By What My Eyes Think.
They have seen and I hope they always will. My always, anyway. When they do they think about what they see and then they inform me. They don't tell me how they processed the work, for I am the one with the words.
The informing is done less through information and more through what they think, their opinion. And that's the inherent problem in the relationship.
I say that I hope they always will, even though I have not learned to trust them, yet. They haven't earned it. I haven't earned it.
I have to rely on them, regardless. If you showed me another source, you would be showing me and so they would know, it would then go nowhere, because that's how they keep the control.
If you tell me of a better way, I will listen, but I won't be convince until what you tell me has a better track record, despite their lackluster performance.
p.shaw
I spoke for...
Fly on wall
Felt as a punch
p.shaw
Life has changed. Relaxing's the same.
Everyone needs some "down time." 5pm and that the day comes crashing, that everyday life comes creeping in. Oh... just to get away, couple hours to shoot the breeze, and blow off steam.
When we were kids, grass-stained knees from helping Papa in the fields, relaxing was a sun-drenched porch, lemonade in the swing, lat summer sunsets and a down home meal.
Well, things are a little bit more complicated, for me, than back on the farm. Mortgage. Deadlines. And a new house to furnish. But at least I found that sun-drenched porch to enjoy.
p.shaw
NIghtstand Artifacts: 3.23.2014
6:32am
Today, I don't know if I remember.
p.shaw
Nightstand Artifacts: 3.22.2014
3:12am
I find myself one unenlightened mother fucker.
4:49am
Lefty is Papa's favorite titty.
p.shaw
Nightstand Artifacts: 3.201.2014
1:37am
I could have done horrible, hurtful things. Instead, my acts were just stupid.
p.shaw
but I'm still not happy with what I see in all of those mirrors.
Maybe I am trying to choose a starting point from which to start over. Anything else, for the last year, which is really all I can speak of because I can't seem to remember certainties before that, has all just bled into one another: Ecstasy and hatred, control or lack of health, and sickness would change sometimes by the minute. Most often though, measured in days. Then it was over and I became practical and I have punctuated that with drinking.
p.shaw
Burning in the Single-Wide
What do you think the child who is now a kid thinks when he peeks through a crack? To see great aunts and an "Uncle," and many others he hadn't anticipated being here on this night, not making holes, or screaming. or splintering, or burning; but they are burning in the "living room" of the single-wide after the child has been put to sleep and the secret society gets to their work.
p.shaw
Praise Be to Hymn.
"What a wonderful Christian boy," they would say as they grabbed hold, my father chastising me later for my letting them, saying that they were leaving me looking like "a flushed young fag" saying he could see my rouge painted cheeks lasting well into the first hymn blasting forth from the choir, Praise Be to Him, 9:30 sharp, the same every week. "What a catch he'll be when he gets older and a pastor's son to boot. You better keep in the church's good graces if your youngest were to have a chance, Ethel." These words were a steady repetition and all farmer's wives were named Ethel, Opal, Josephine and the like, so I heard it from them all...
p.shaw
Not taking you where you want to go.
All the algorithm
goes inside.
When your idea, was
to go outside.
You wanted to go here.
You went there.
p.shaw
Data Gathering.
Almost 36% of 2nd Generation Polish Americans have never eaten Fruit Loops.
source: The Kellogg Institute for the Study of Polish Breakfast Habits
69% of those surveyed who were born in 1969 are responsible for providing an over dosage of sedatives to their Beagles for grooming purposes.
source: Island Institute of Beagle Beautification Awareness
How much truth do you have to tell...
...before I may omit some things?
p.shaw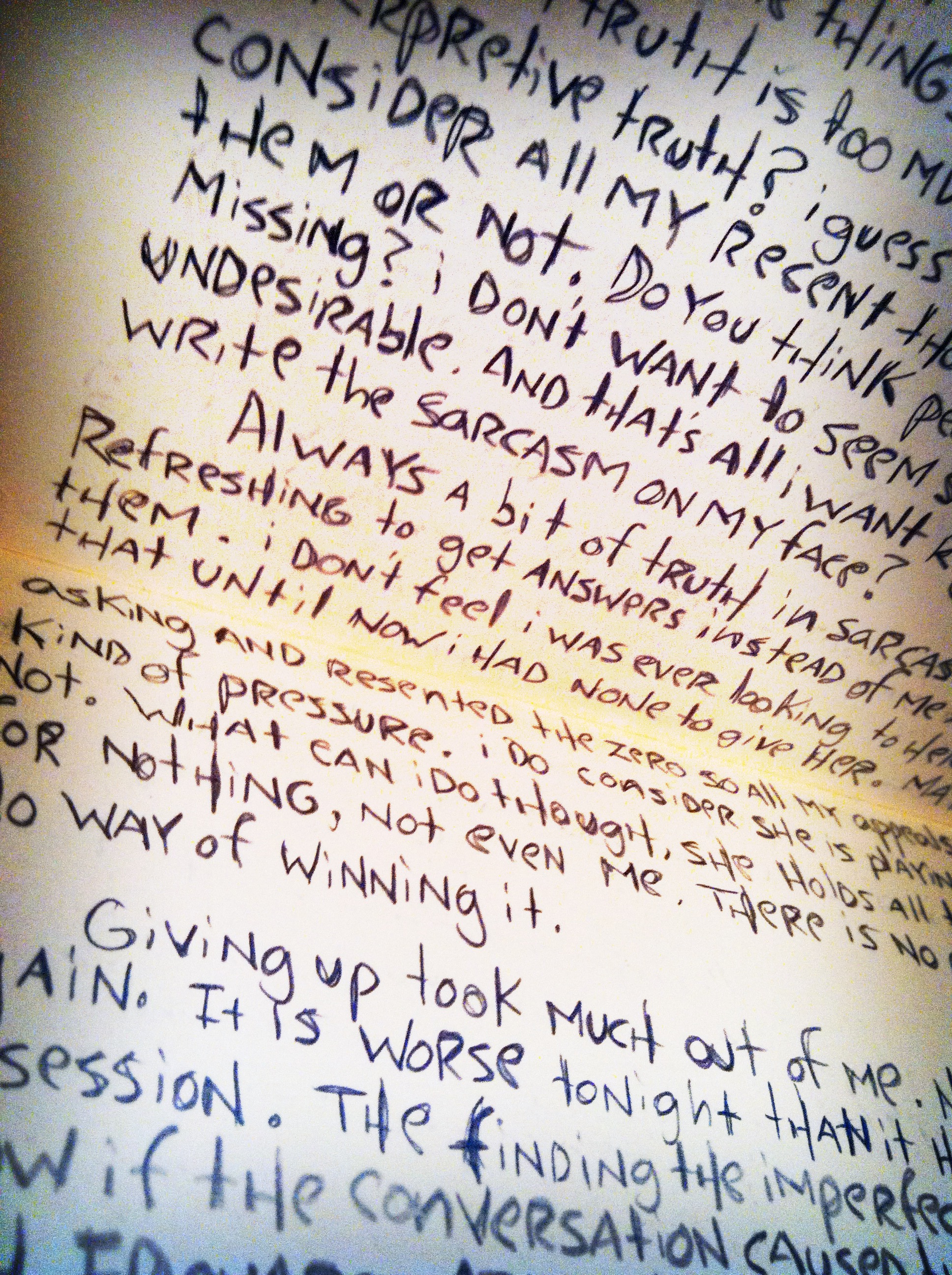 Giving up took much out of me.
and there's always that bit of truth in sarcasm.
p.shaw
Devil's Plaything
It's a late acceptance of what I am.
p.shaw
The hands get to the point of being between.
I was always told I had the hands of an old-man. That they were handsome. The hands that made me a man when I wasn't.
p.shaw
forward to a future interest...
We do not assume there will be more, nor do we assume there will be.
It's simpler than that. We just do not assume. Deign to even bother to keep that construct alive. In fact if we had interest, if we cared, we'd work to kill that construct. We do not assume.
We act as there is no next second. To assume is to accept a future. We only know and accept a present. A now.
p.shaw
Everyday I get to hear new life in our parking lot.
Could we have seen our rivalry developing? I am but a threat – that stealing from is your best solution? I admired you. Thought your revenge would have more plot.
for RB.
p.shaw
Start working again.
The way to gain respect is not to ask for it... to insist upon it, or to complain about not getting it. The way to gain respect is to simply act consistently as someone deserving of respect. If you never enjoy it, so be it. The world is not a good place.
p.shaw
The one where I deal with my feelings & their child-like flood of fall-out questions.
Sometimes the wave is just a wave. Words that are not distinguishable in any form. Just littered molecules that are related to one another but don't really even want to be together.
p.shaw
Where the Husband/Wife, Fiction/NonFiction worlds collide.
"That's mine."
"You said it."
"Yeah, and you stole it."
"You said it. But I wrote it down. You didn't write it down. You could have written it down but you didn't, so I used it."
"You can't use the things I say."
"I don't use the things you write."
"But you can't use the things I say, either."
"If I didn't, I wouldn't have anything to write down."
p.shaw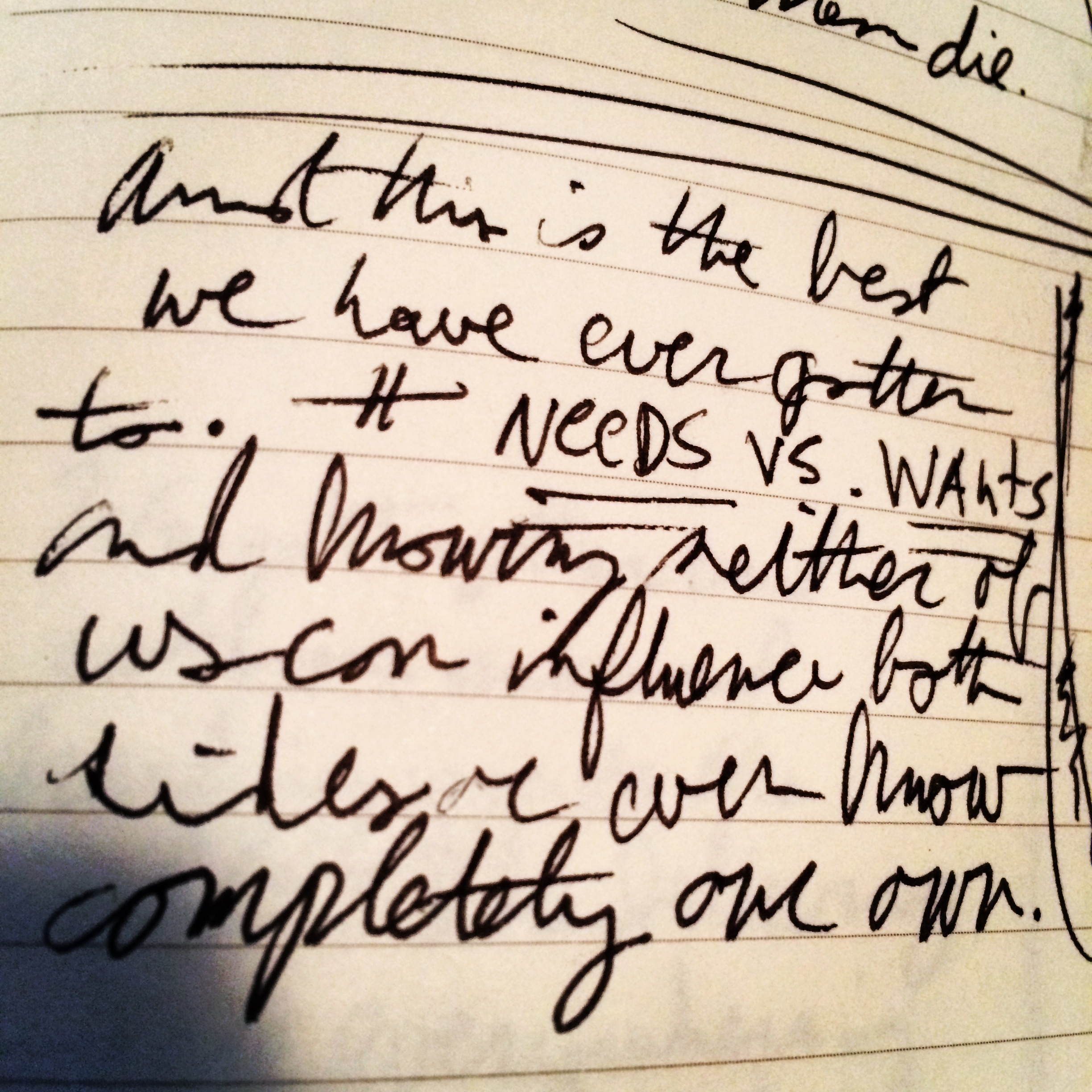 Needs v. Wants
And this is the best we have ever gotten to. And knowing neither of can influence both sides, or even ever know completely our own.
p.shaw
The Thinnest Piece of Tape when Broken:
The term that fights me at finishing is: forgetting. That blessed skill I've built and honed for and against myself. The items of daily survival: Air; Water; Food; Sleep; Forgetting, in their appropriate priorities. But I suspect I'd move it to right after Air, if I could. At least for more days of my life than not. It's no different than in a meditation when asking your thoughts to move past like clouds.
p.shaw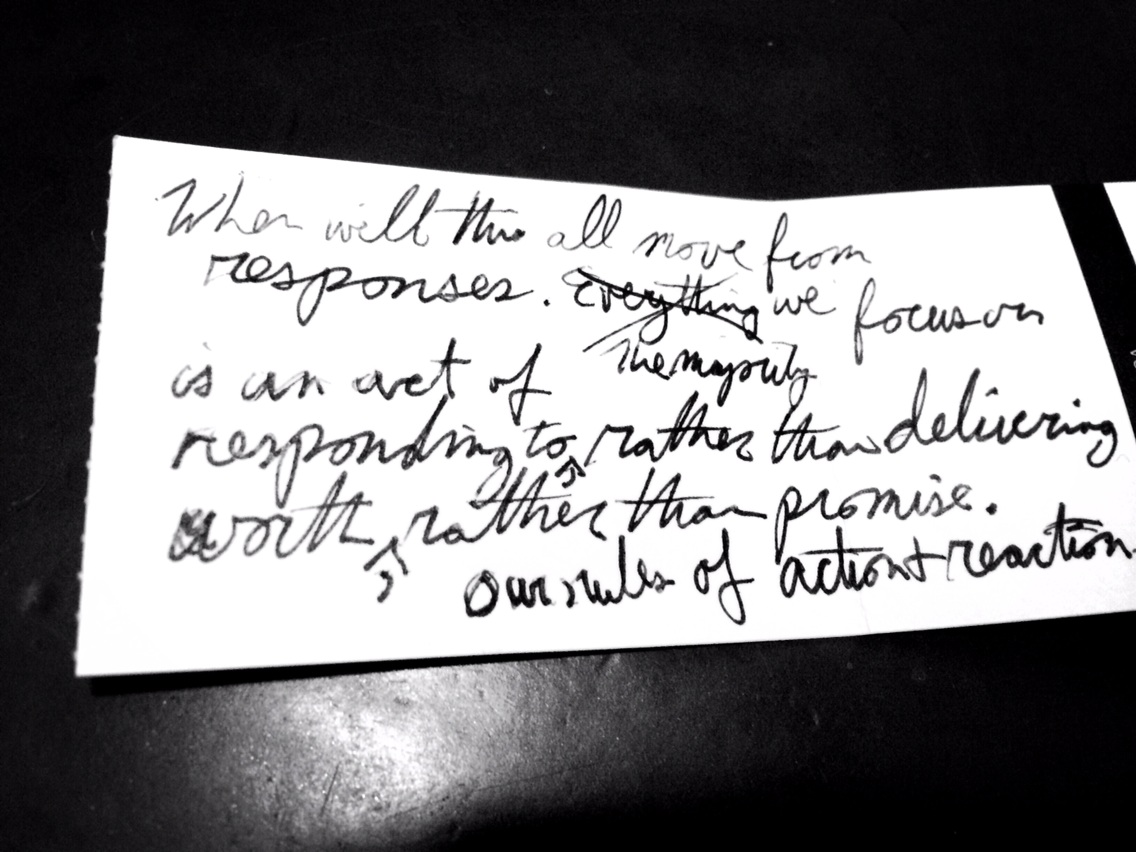 On Current Events : On Our Rules of Action & Reaction.
When will this all move from responses? The majority we focus on is an act of responding to, rather than delivering worth before the facts happen, rather than finding promise.
p.shaw
The lure of judgement is that satisfying moment when you lie to yourself of your own perfection.
We get together and scheme around breaking you to the world.
I like believing you are everywhere in that city where I only know you. If I went on my own and you were too busy for lunch, or a drink, I like to believe I'd find you, anyway.
p.shaw
I was going to do this anyway.
Not Almost
"oh my. If I can't believe there is a way to look back through that hole then almost everything we do is a waste of time."
"Not almost."
p.shaw
What's wrong with giving up early? They've all been saying I've got all the time in the world.
The girl I liked. Her parents I hated. At eleven she's all legs and a lisp, no rhythm, and one hell of a huge heart to be auditioning. Even if it was her parents who forced her here.
"...insisted I do this," she'd said, "I'm sorry."
for What's wrong with giving up early? They've all been saying I've got all the time in the world.
p.shaw
as part of the menace of Toby
I could look at the way your face works all night long.
p.shaw
I spend as much time we can sitting through awkward silence, then, "What do you look at?"
"What?"
"When you look away for silence or a next idea, or just waiting. What do you notice?
"The things people bother with, I guess. I notice all the stuff that if they were left to me to bother with, they wouldn't be anything. Seems like a lot gets done for reasons I don't know nothing about."
for Direct Mail
"What do you think about?," Toby asks.
I say, "I don't know. I guess I think about people and how they always tell me how selfless I am, that I think about everyone else, first. Which is bullshit. And so, I think about when I'm not that person. That a lot of the time I don't give a shit about anyone, not even myself, least of which myself. I say, "So, I guess I think about that kind of bullshit. How everyone could be so wrong about me."
"You think about all that while you're just watching them crows fighting in the street?," Toby asks, tilting his head to gesture with his ear toward the cackles coming from crows fighting over the bones they scavenge from the dumpsters at the chicken joint down the street.
And I ask, just to be a smart ass,"What crows, Toby?" And Toby turns his beautiful tired eyes away from me to make sure they are there, when I say, "Made you look."
for Direct Mail.
File Under: things Toby would do.
He stood there, not really saying anything. Or more he had stopped talking, stopped looking at me. He was somewhere else and here at the same time. He reached out with his left arm, absently I guessed, toward a thin naked branch along the bottom branches of the Japanese maple. He grabbed it, maybe a foot up from its tip and held it for a moment, then bent it forty-five degrees between his thumb and forefinger and snapped it off, tossing it behind him to the ground.
I said, "Bold move," I said, "deciding where the life should end."
p.shaw
A Bridge to a Disappearing Act.
I thought, I really like watching how Toby's face works, that, I could watch it all day. Then, I've only had one beer. I should probably eat something before my date shows.
I didn't want to take my eyes off how it worked, like his eyelids and their mirroring of the creases in his forehead. How his neck wasn't his face but besides just holding it up, seemed to somehow assist his face in all it was needing to do.
Then I noticed some water, tiny, more than tears but less than a trickle sliding from his ear canal to pool on his thick brown and wrinkled lobes.
"Do you swim, Toby?," I asked.
"Nah," he took another sip of beer and as he lifted his chin the water slid toward his neck. "Never learned how. Do you?"
"I can," I said, "not many places around here to swim though."
"Is it fun?," he asked.
"It can be like being in another world," I said.
"That sounds, nice," he said.
 
for Direct Mail
p.shaw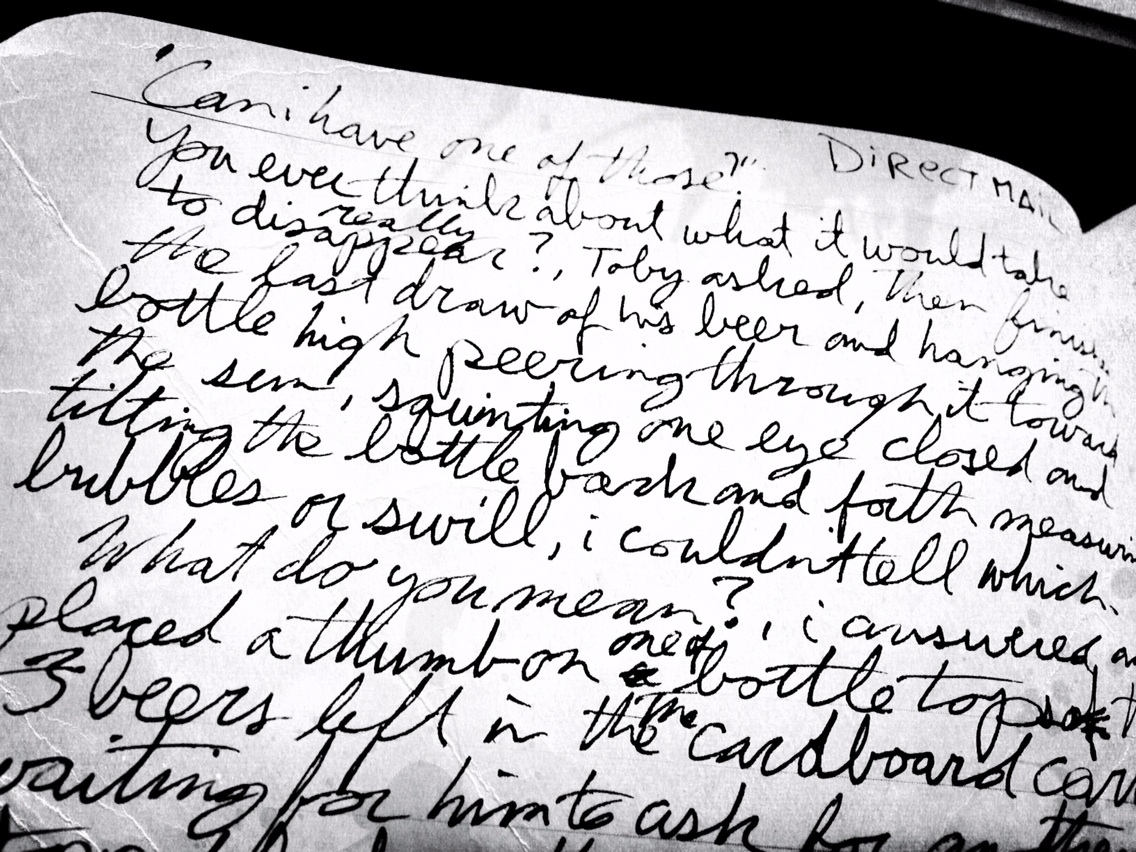 from Direct Mail
generated in Kahini.org workshop.
 
p.shaw
Afford That. Pt.1
If he wasn't a grifter and a scientist, he could probably find love. There was his dichotomy.
John and Mary, his parents, were loving and caring and compassionate individuals. God-fearing folk who lived with their hearts and minds on their shirtsleeves. Jackson had come to hate shirtsleeves, knowing their weakness was his advantage. He didn't respect shirtsleeves.
Jackson was one of five children, the third of a tight yeared grouping, all within two of one another. Love flowed through the family like water from the well and money was no concern. Jackson, as did his brother, and did his three sisters, derived his intellect from his father John. Oxford educated and an accomplished trial lawyer, John was a self-made man, himself from a family with little resources and one of five siblings. The other four being horribly petty people, who like him had been born to ignorant parents. John left them all behind at the age of fifteen and never saw them or communicated with Jackson's aunts, uncles and grand-parents ever again.
from Afford That.
p.shaw
Afford That. (past the backstory)
...to his profits, whatever they may be: a name, an address on a sideways glance when a wallet was opened. Not immediately a windfall but his memory allowed it to take purchase, to be recorded and catalogued, taking up little more space in this intellect than remembering what he had for breakfast. What made him different is he could remember what he had for breakfast, every day since he was seven or eight years old, and lunch and dinner, a snack on the 27th of March, 1983 at 3:30 in the afternoon was a handful of Cheetos and Mr. Pibb.
He wasn't that he was remembering everything for a particular use, it was that he simply could not help it. It happened. Unless he was inebriated, all his life was imprinted and easily accessible. He never knew how we could use any of the information later, but in quiet moments he would sift and piece to see if anything could connect for value later. Later, as in fifteen minutes from now. Later, as in next month when he noticed the same target somewhere else and then the whiz, buzz, clicking of access to the moment and memory before to determine if this was missing piece and what else could still be missing. What more would he need for a point of access, however he decided to use it.
Really the options were somewhat limitless, and also finite. He didn't want to do any of the actual dirty work, the technical work. Situations had any number of combinations that could lead to something he desired. But typically what he desired were survival: a ride – financial or love. He wasn't always choosey unless the rent was due or needed a cheque.
from Afford That.
p.shaw
Afford That. (another part)
...other glances gave him more information if those around him weren't careful. Quick and unnoticeable he picked up nine digit bank accounts without much more than it took an eye to blink. If the opportunity offered it, one more glance could give him an address, social security number or signature. Then that was an immediate conversion, changing his evening from social to quick exchange through a front. He didn't bother himself with the technical trappings of pulling all the strings. His talent was a rare one and he'd get the right cut by proportion without bothering to keep up with firewalls and securities. He was just a camera. A really good, untraceable camera.
Deliver just the digits and he made no more than twenty cents on the dollar of whatever could be lifted from the target. That was usually plenty for him, because on a good night there'd be a withdraw from his victims amounting between seven to ten thousand dollars. That'd give him two tops for less than six hours of work. His guilt always assuaged by the Credit Protectors, and the knowledge that his victims rarely were inconvenienced...
from Afford That.
p.shaw
Afford That. (another part – cont.)
...for more than a week – let the big banks bust his fronts or suck up the slack – either way he was small potatoes. Good talent: little guild. The bigger payments took talents he didn't have and besides, he liked the non-monetary perks too much to bother himself with learning the entire racket.
What he totally aspired to was an emotional in. He wasn't without scruples after all. If the glance – his talent – afforded him information, circumstantial at best, of or about a beautiful woman his mind went to work in a different way. Unless he was completely down and out, the financial givings would not be the first priority if she showed promise. He classified these candidates very specifically, beauty to him – unconventional, typically – being only a starting point. He was able to read them the way her read the factual information from any other target.
He sought love as the payout, but because of his abilities...
from Afford That.
p.shaw
Afford That. (another part – continued some more)
...he rarely found it. And in this way he was like all of us. Love or connection should only occur on an even ground of uneven footing for all: two individuals finding one another floundering in themselves. Discovering themselves through the other's interpretation and reaction to whom they present themselves as.
He had fought too hard to know and control his world, which he knew he had little control over. But his ability was born in detachment. Numbers and facts are only as good as a clear mind to embrace them. Emotion clouded retention. To appropriate the aesthetic or untenable aspects of one's surrounding was philosophy and he had no concern for it.
It wasn't that he couldn't but those qualities of life acted as an eraser that made numbers jumble, names mix and switch. Those qualities eroded his commercial value. He couldn't...
from Afford That.
p.shaw
Nightstand Artifacts: 6.7.2014
5:49am

And there are days I write, when I can FEEL a paragraph break, comma splice, that there isn't another way (even if I'm wrong about it).
 
He made me walk and narrate aloud and would only smile when it was the way it had to be (not should be).
p.shaw
Laundry. The great metaphor of our times.
I decided to do it different this time. Starting with hers, not mine. It's been a thing but sadly I never even bothered to notice. Until now. I have always just started with mine.
p.shaw
on How Cheap Construction Materials Lead Me to Believe the World was Built to Be Destroyed by Fathers in Fits of Rage.
Once you make that move against the paper you can never go back.
You made it. You changed it. You changed its shape and it doesn't matter that in ten years you'll look and read and be impressed but still regret that move you made against the paper. Just like now.
She wears a T-Rex shirt and I don't even know what that means other than I know that it means something and that I should know what it means and that I don't. That in this moment is all I know: what I don't know: the importance or relevance of T-Rex. If there is any. And I've never wanted a friend who knew more about this shit than me more than I do right now.
p.shaw
Onedering.
I wondered once, and now, now there is no time for wondering or onedering.
It is the only time I can really know what happens any more, the onedering. I listen, digest, turn and run, grasp, listen and learn some more, turn and run before I am frightened any farther from my truth and onederment.
How come? How come I am the only one who understands...
p.shaw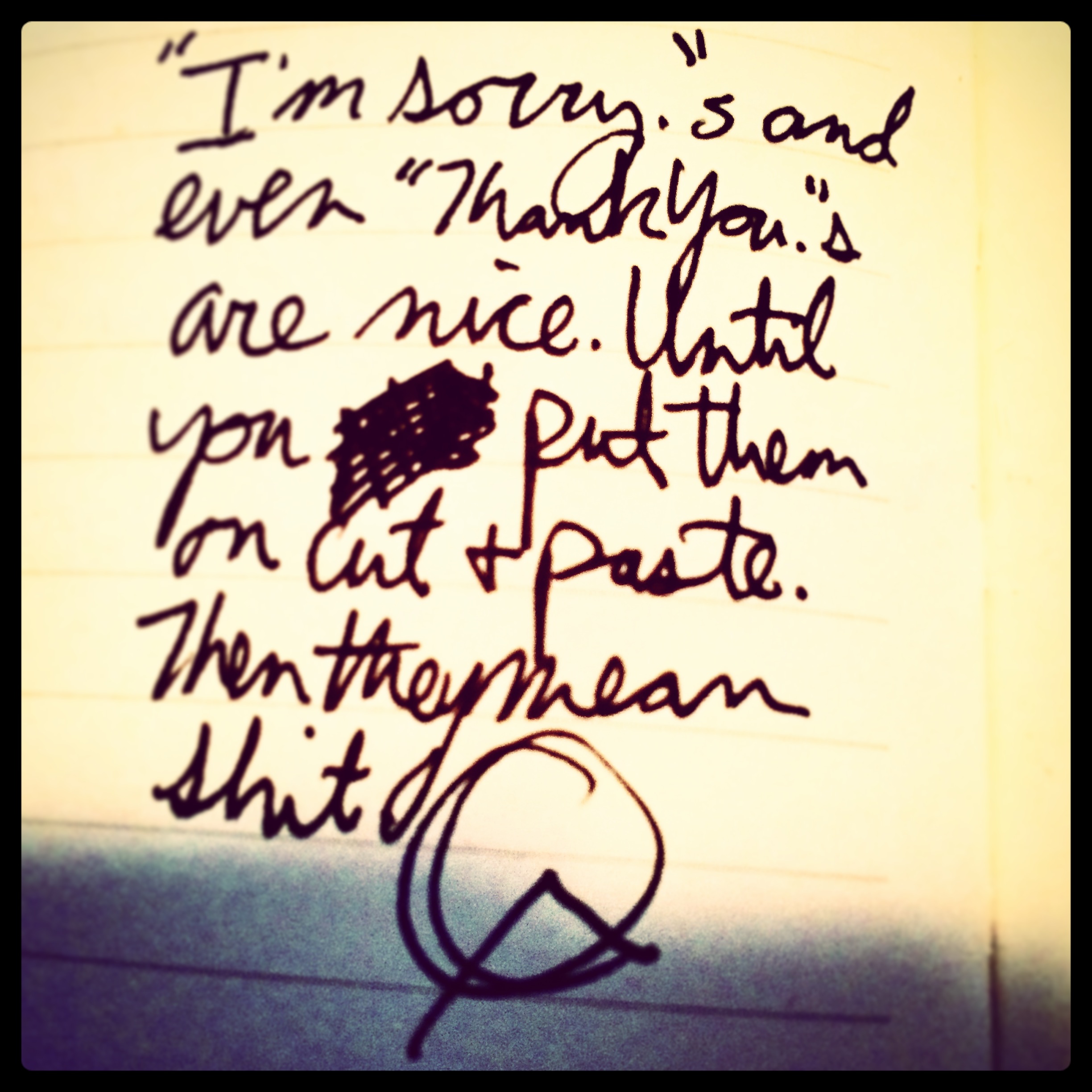 Nightstand Artifact
5:32am
"I'm sorry"s and even "Thank you"s are nice. Until you put them on cut & paste. Then they mean shit.
p.shaw
to climate change deniers.
It could be possible that all the leaves in the trees are us and we fall in fall and we populate in whatever version of rebirth is not constant. The contraction of the universe fights you – if even you wish not to believe in a warming of our earth. You know, though, that is a wish, right? You have no choice. Your belief offers not a single solution: we are arguing over centuries and we should, because if we don't we'll be arguing over decades. China is not your enemy. It could be possible that all the leaves are us and when we fall in fall the Chinese will celebrate but theirs will come, and whatever would world order and so on. This is not fatalistic or as a wake-up call. My voice is not loud enough.
p.shaw
The Dick.
Once the employees had seen their bosses dick there was no unseeing it. Holiday parties are notorious for being notorious. Apologies and agreements to never again speak of instances are just commonplace. But the bosses dick was different. A whole new thing.
from The Dick.
p.shaw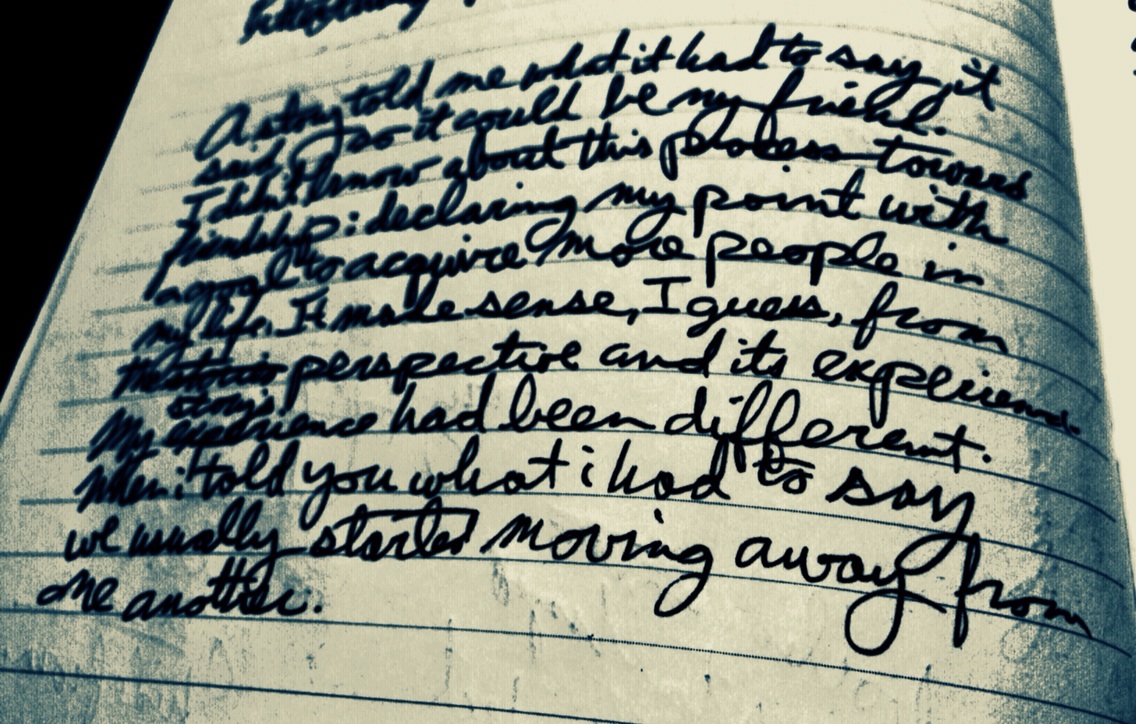 be careful what you mean.
The other day a story I met told me, "this is what I have to say," it said, "so we can be friends."
I didn't know about this process toward friendship: declaring a point based on a goal to acquire more people in a life.
It made sense, I guess, from that story's perspective, its experience in life, and what it had to say about all of that.
My story's experience had been different: When I told you what I had to say we usually started moving away from one another.
p.shaw