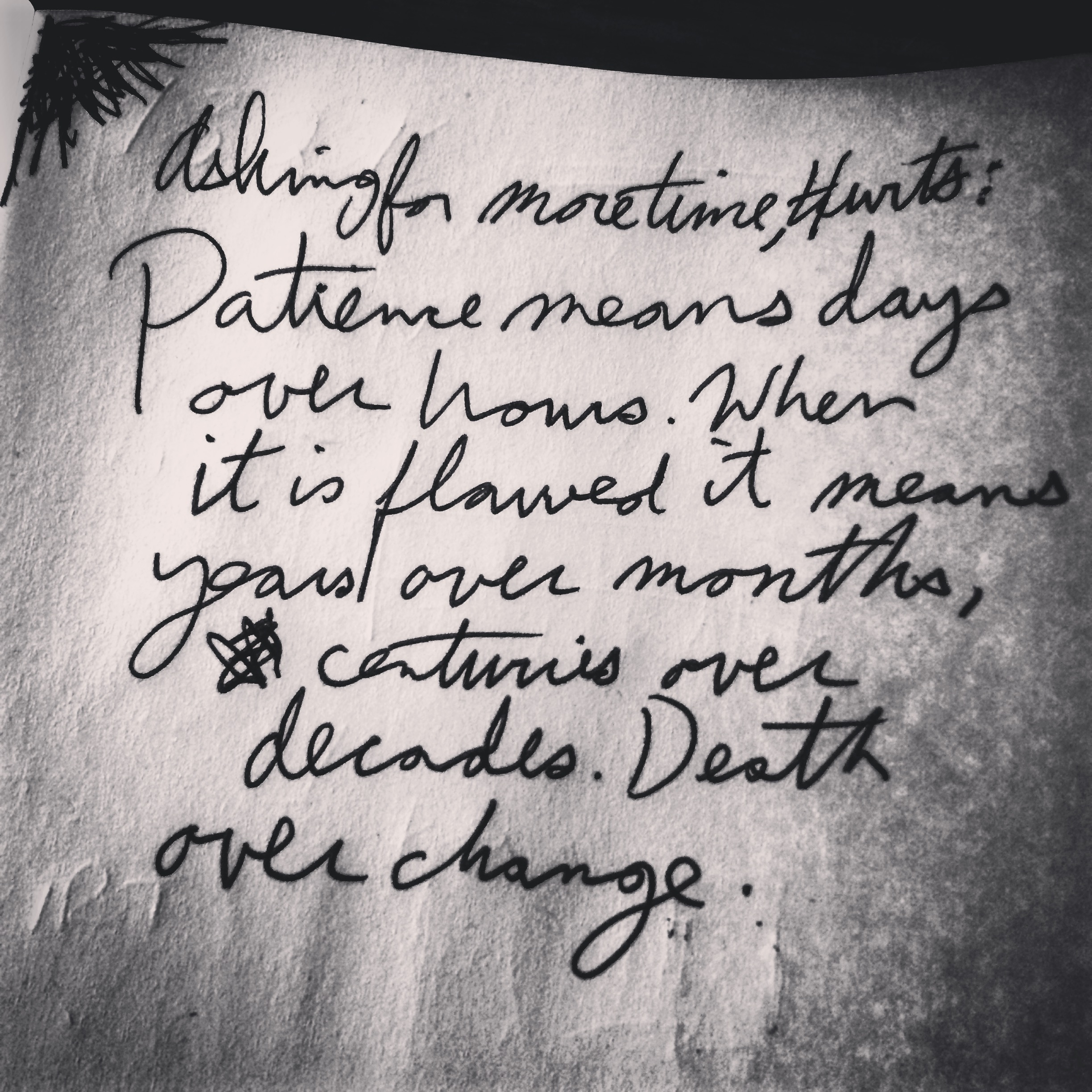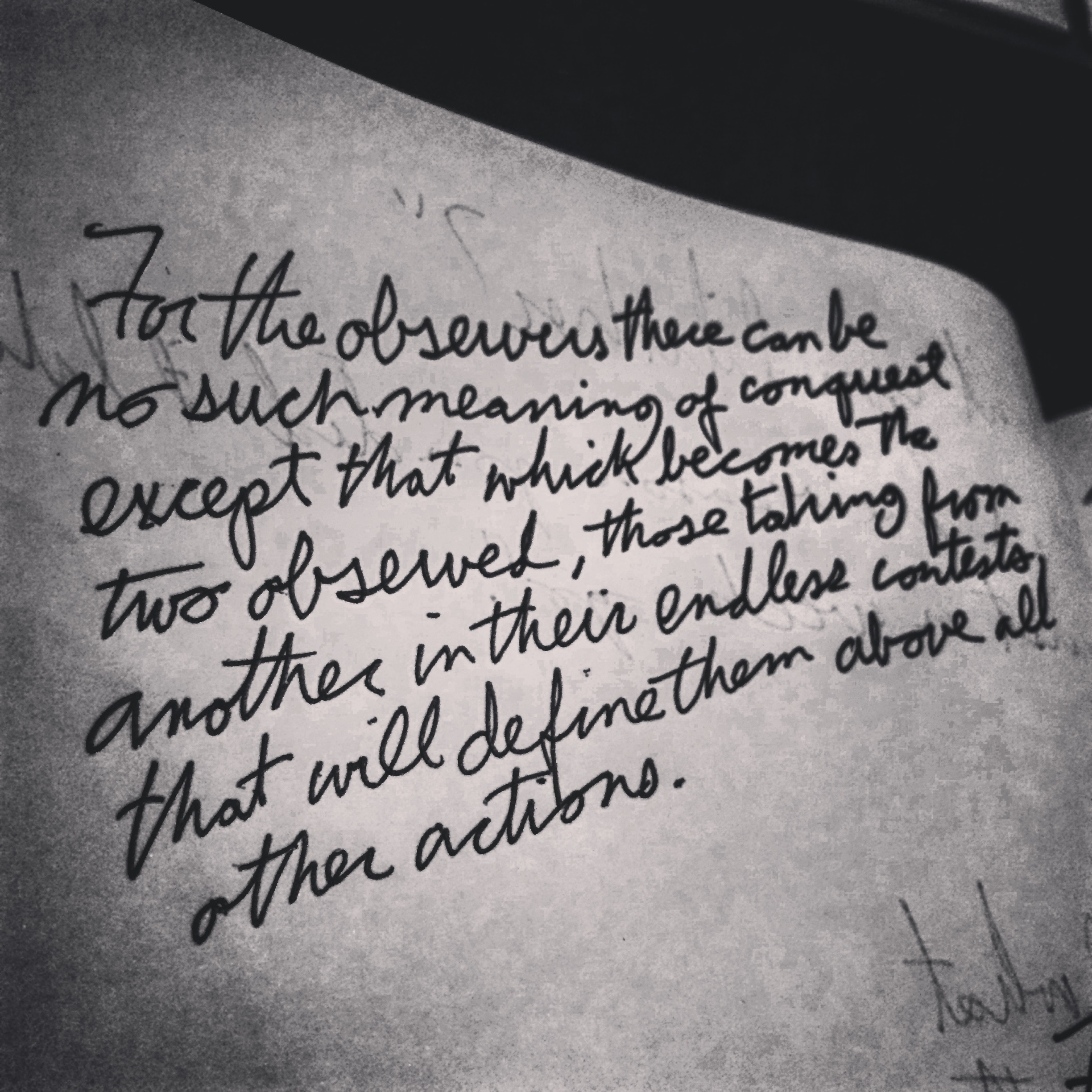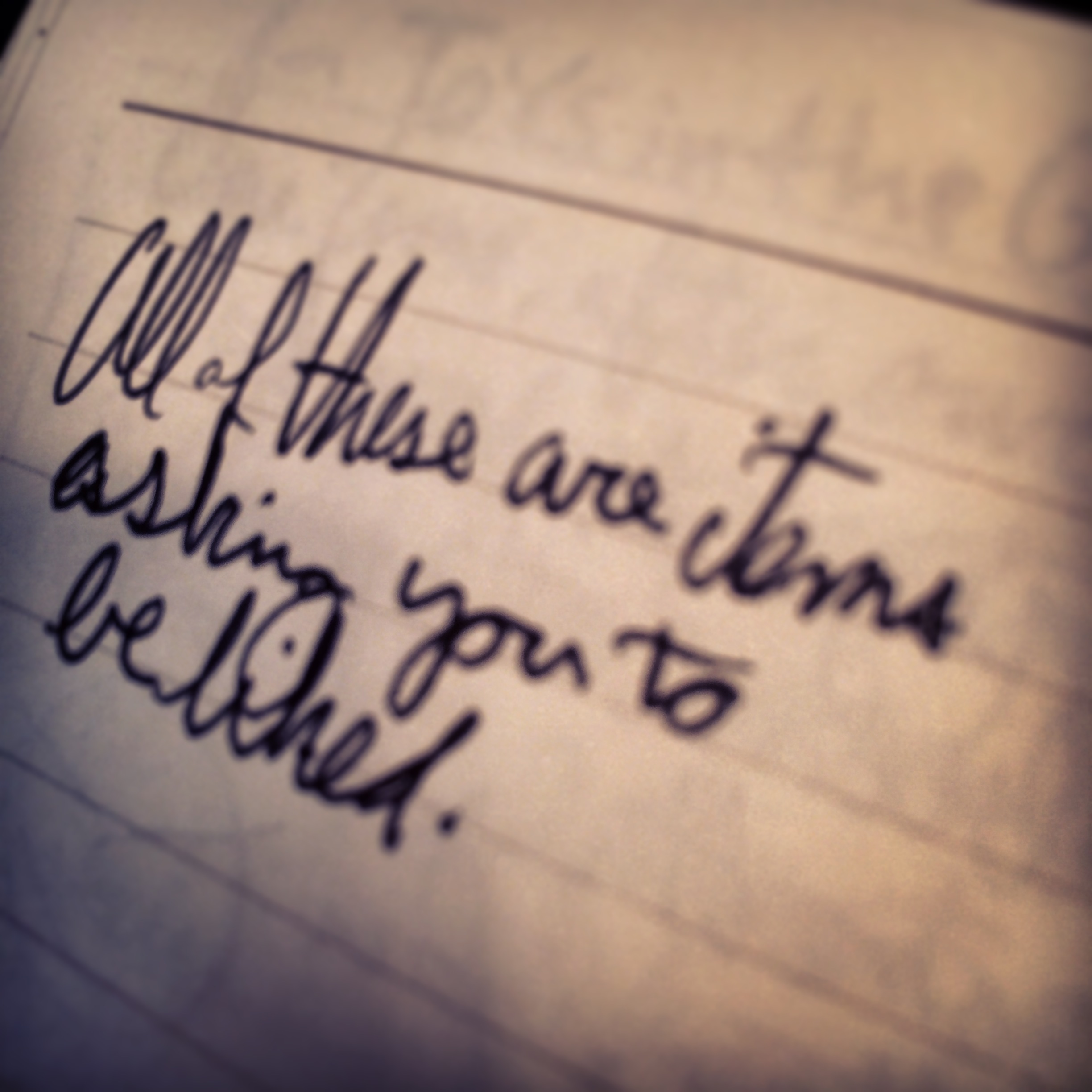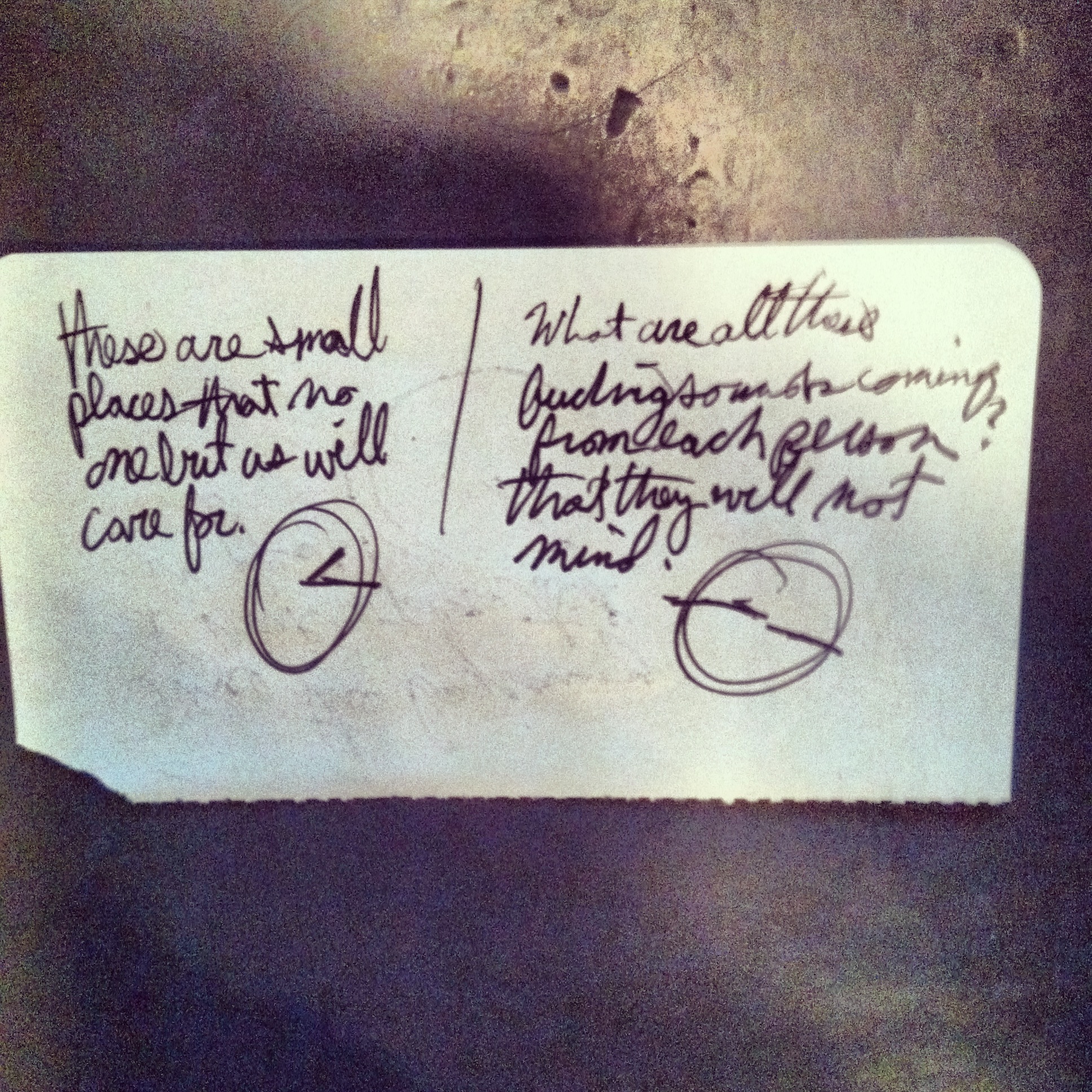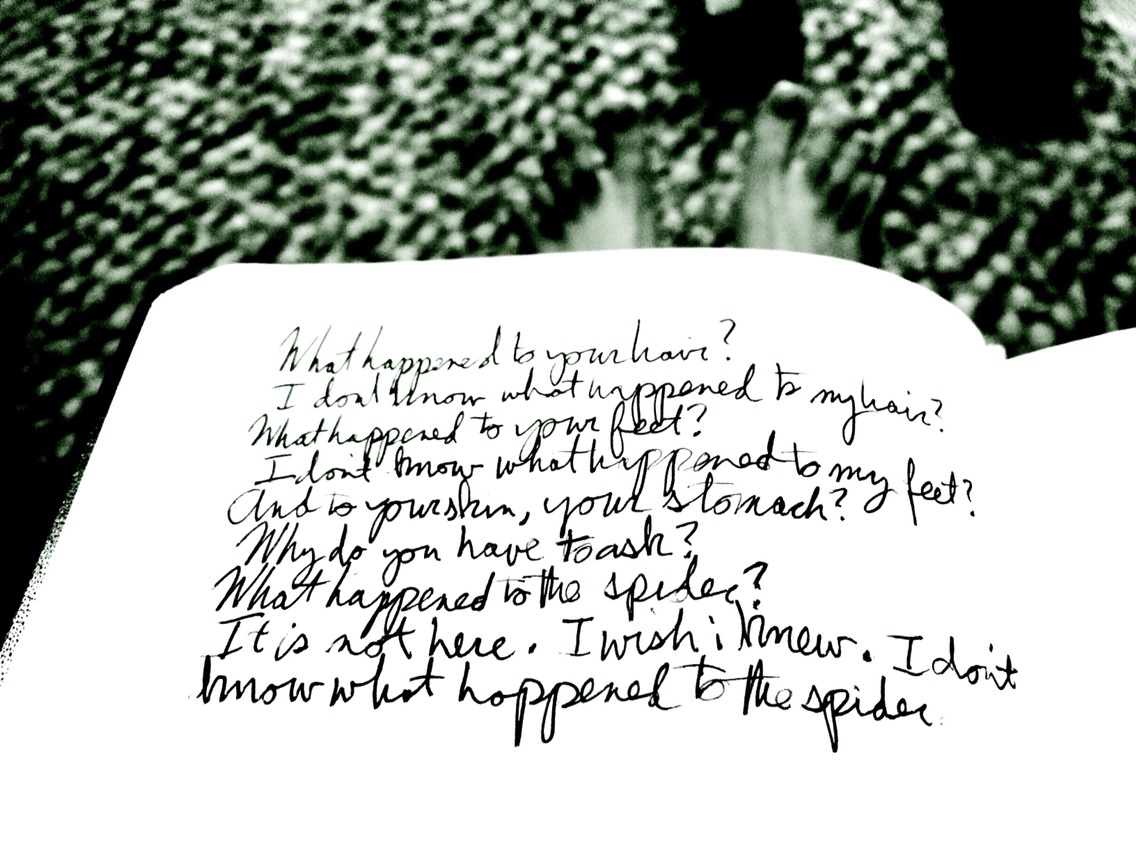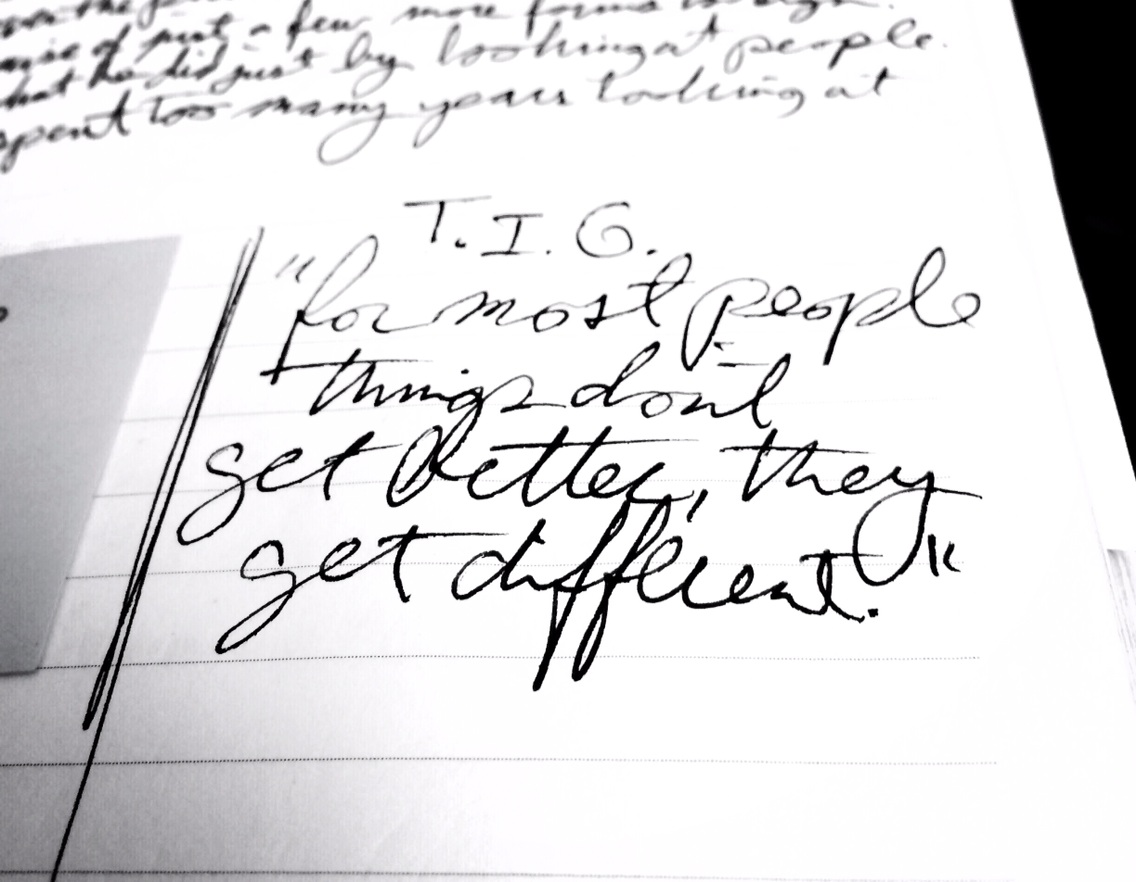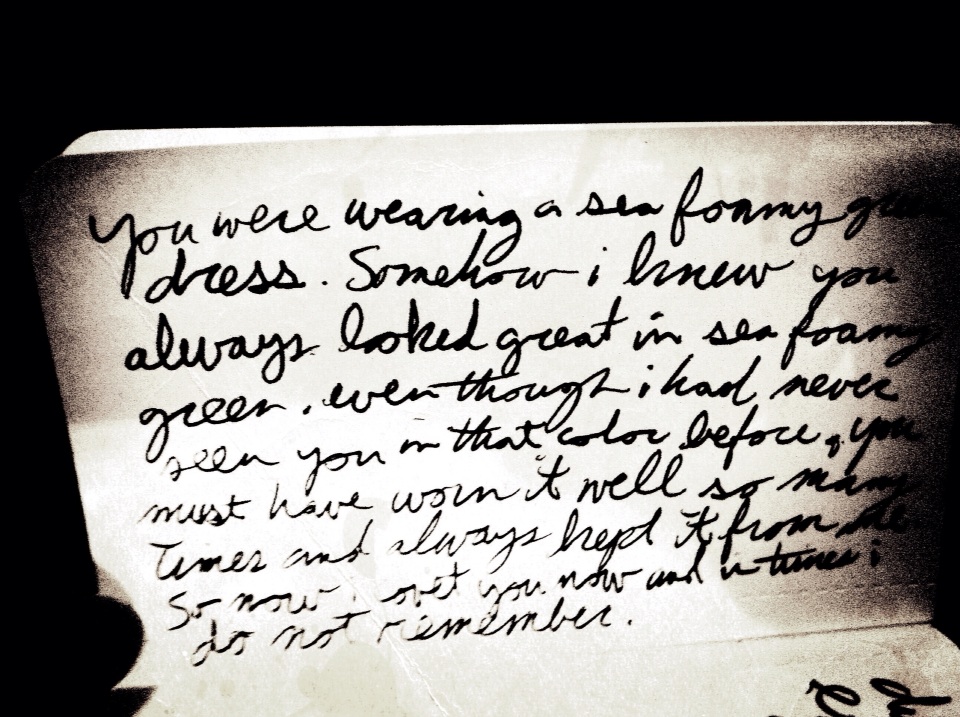 papers
"And your papers feel
weird to me."
from Toys in the Ground.
p.shaw
He had had a dream, kept having the dream, of himself choking, in a public place where help is easily found, and yet he would allow himself to die rather than suffer the embarrassment of a weakened state.
He shakes his head in the dream from left to right, with a polite smile on his face as he makes eye contact with those who approach him to assist, all in effort to ward them off, assure them that he is fine, to put them at ease, he needs no assistance, that he is simply pitching back and forth in a dance to an internal rhythm, a want to sway on his bowing legs rather than a need to, he is focused despite the attention of strangers that must be warded off to only stumble slightly as he chokes, as he searches for a suitable nook off the public plaza, a stoop where he can sit and tuck away and wait in privacy to succumb to this lack of breath.
This is how he dreamt his own demise, which was in fact a replica of his father's – as reported by those of the parish who had attempted to assist him when he was spotted stumbling, purple-faced. Except, of course, for the details of his dreams that could only be his. The details of his thinking about a want to be left alone, to know full well that there would be no spontaneous recovery from the constriction in his upper respiratory tract. Those details had to be his. They could not have been known from the witnesses, and while gossips do occur in the parish such conjecture was never shared in public. And yet, he believes these details were both from his dreams and that they too belonged to a father he was too young to understand at the time of his passing. They would be the internal thoughts of any person moved by ideas to never be a bother, to accept no spectacle of themselves.
This is natural to a person such as this, as the internal thoughts proceed as such: Occurrences will simply happen in which one has the means to recover on their own. Then there are the occurrences in which, while the simplest of cures or tactics do exist to allow for a full recovery, the pride and sadness of a grief override their acceptance. It is more important to allow this moment to be one's own, to himself. In this assessment, the moment of one's demise is appropriate and deserving and will be suitable as long as privacy is maintained.
for Toys in the Ground.
p.shaw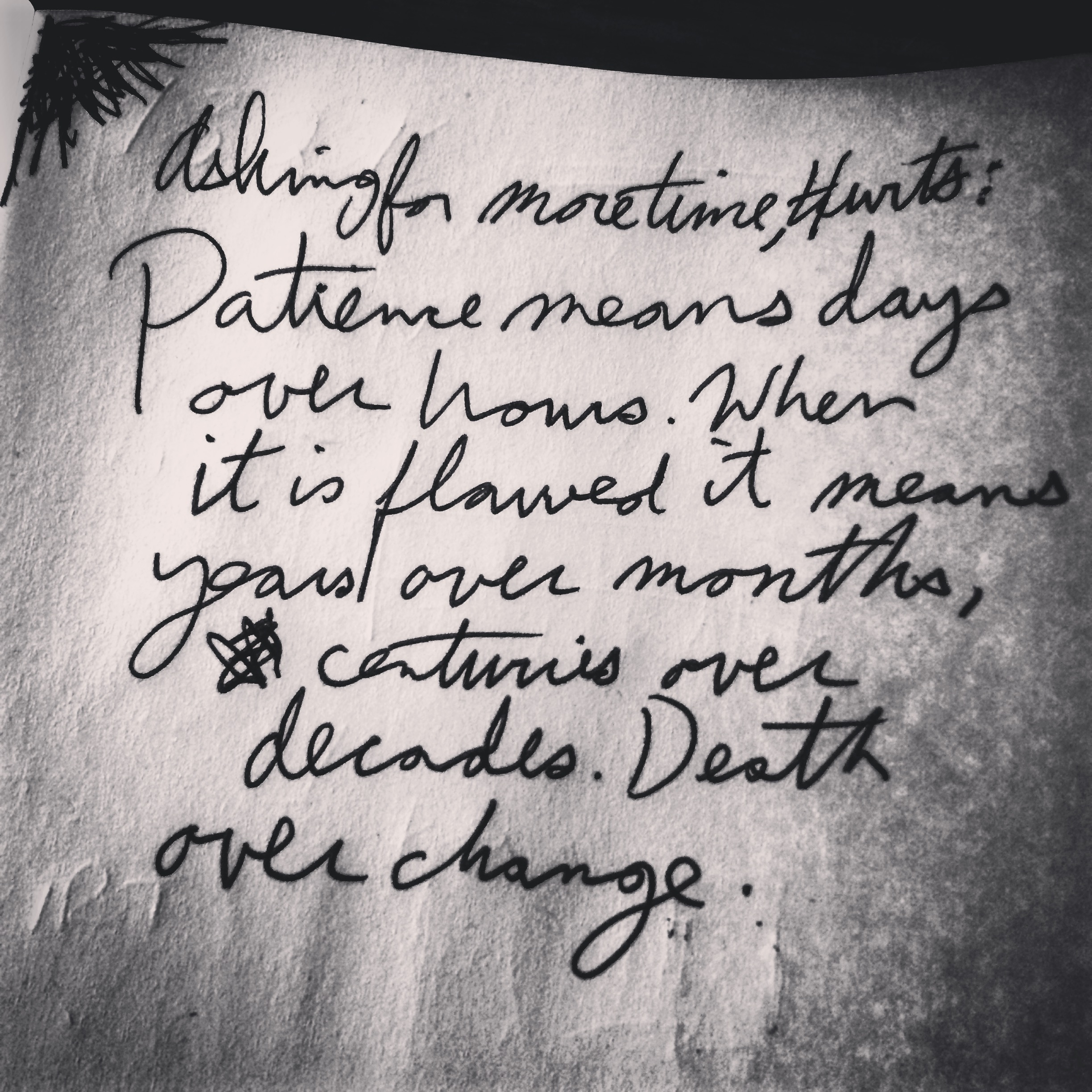 Asking for more time, hurts:
She gives me only seconds to respond when asked and that demand for me is an impetus for anxiety. And what I have been seeking is patience. My patience wants minutes over seconds, hours over minutes, days over hours.
She believes patience is a flawed response for an answer. That patience will mean years over months, how here we have avoided and hidden with centuries over decades. A kind of death over change.
from Toys in the Ground.
p.shaw
The Revelatory doesn't cooperate.
The last of what I need is for the revelatory to thwart me now.
I doubt such a thing actually plans and schemes for itself. But I'd like for it to fall, this time, for me, my way.
for Toys in the Ground.
p.shaw
Hoping for surprise instead of the long awakening to disappointment.
"We began to dispense with likening, because likening had gotten us nowhere."
for Toys in the Ground.
p.shaw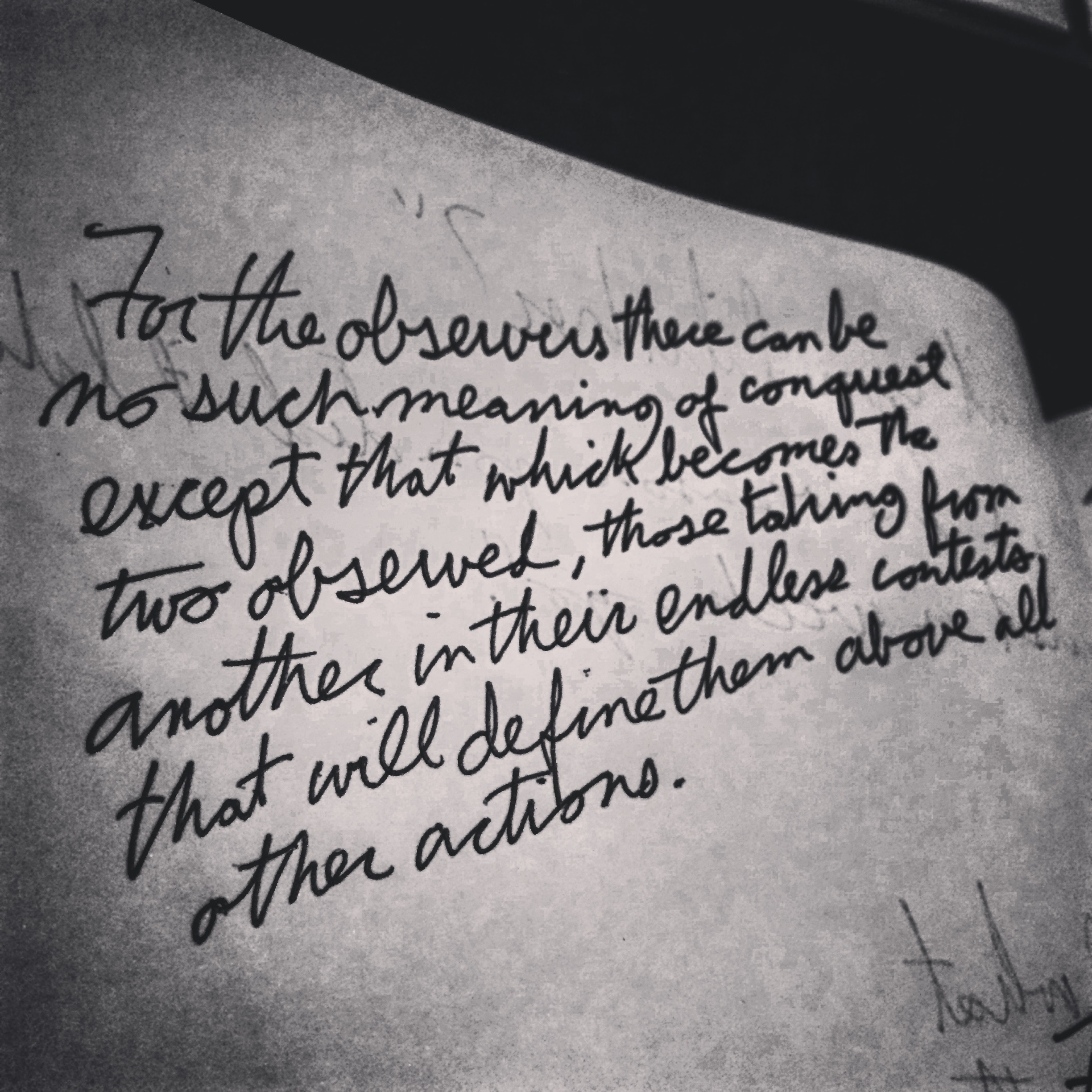 on conquest in the county
For the observers there can be no such meaning of conquest except that which becomes the two observed, those taking from another in their endless contests, that will define them above all other actions.
for Toys in the Ground.
p.shaw
observing the inevitable
"No matter. No matter. Those were always going to be my eyes."
for Toys in the Ground.
p.shaw
Smells of summer that stick to you. Of grinding hooves and horn.
He said: No matter how may times we rewind the film to watch the moment, we always miss the collapse. Distracted. On purposes we won't admit.
for Toys in the Ground.
p.shaw
how far.
There are no human words, written or spoken, less true and more relative than 'a long time'.
• For a long time.
• It's been a long time.
• I've been better now for a long time.
Only truth comes with your own distance; comes with use of determiner: 'such'; or the use of submodifier: 'too' : a disappointed stake in the ground:
• How come you took such a long time?
• You took too long.
Otherwise our collective time is never long enough.
p.shaw
The Claim.
We are all just here laying our subjective claims.​
finding a better word than something.
The fear is mourning something before it exists.
from Toys in the Ground.
p.shaw
Beneath
Beneath the ground
there were simple things, like toys.
And beneath the ground
were these simple things, like toys.​
– from Toys in the Ground
p.shaw
Nothing was offered to assuage.
Nothing to compare to an equal loss, as in:
No frail attempts at placing this in a context.
Yours was yours and mine was mine and we are left with the lack of words.
The words that are lacking:
What then am I to do?
What then are you to do?
What then are we to say?
'What then' will begin the state of each mourning.
Stand in silence as long as there is a floor beneath us.
for Toys in the Ground.
p.shaw
new ≠ fast.
We are lost from our fathers to our mothers – the only bridge not designed to withstand a wind.
Right here is the time we should all agree to knowing not enough.
Every generation mourns its childhood, simpler times. How simple could it have been? And, how much more complex are we, really, now?
for Toys in the Ground.
p.shaw
dropping from their branches, we never had to reach. Not temptation, as much as our disdain for spoilage.
1. Last night there were plenty of apples. I took a bite from each one.
2. Last night there were apples. I had a bite from each one.
p.shaw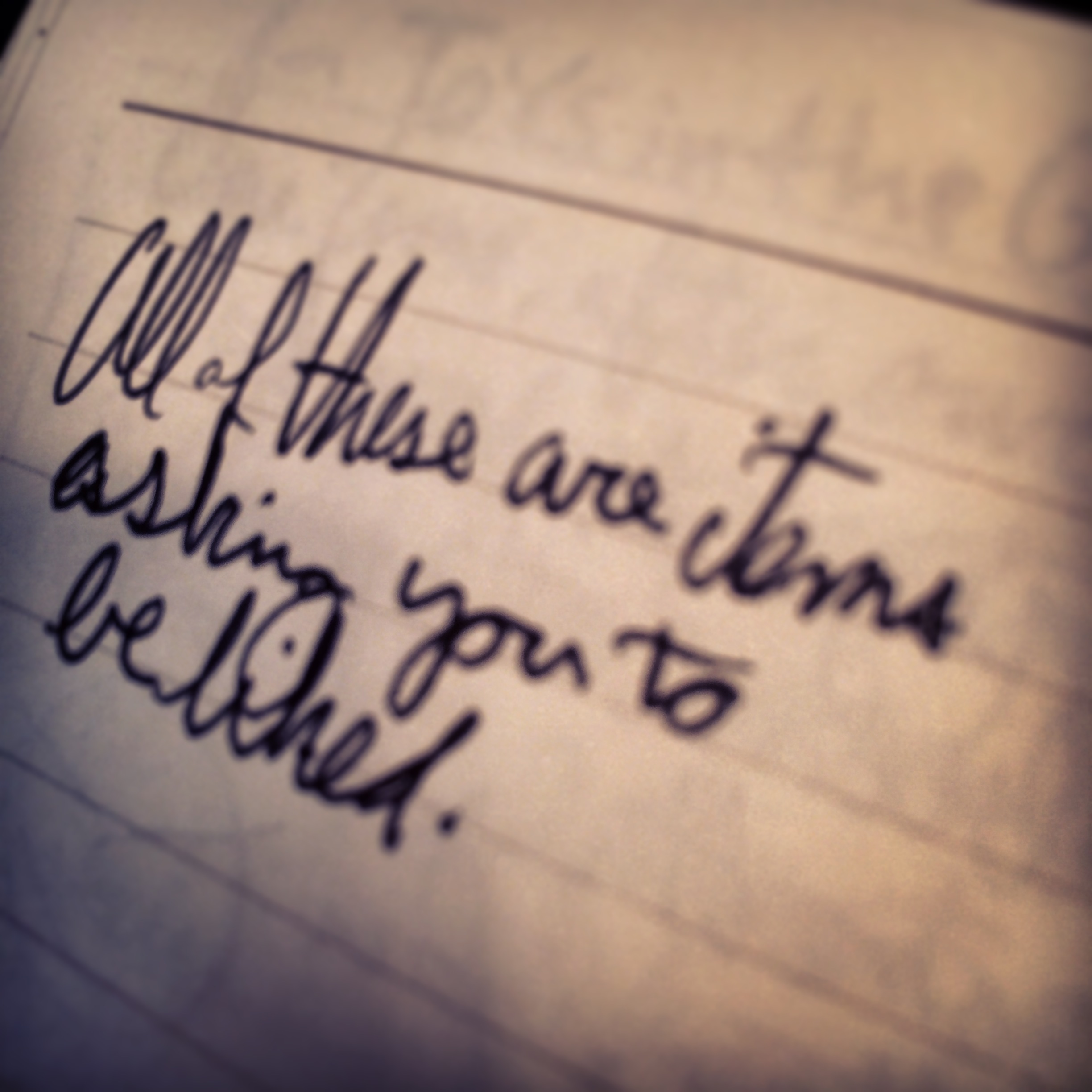 Working these into sentences instead of statements.
All these are items asking you to be liked.
p.shaw
Nightstand Artifacts: 3.17.2014
3:12am
Yours is so full. Full of the noise of now and the anger of now. Even some hate is in there. And yet, I sense none of that in you. Mine? I am writing of the silence. All of it that is in me. All of the kind of nothing most people want to ignore.
p.shaw
with renewed vigor we scratch the itch just shy of bleeding.
"Because now is the time," is never a good enough answer.
It gets so cold the glass and its gears are frozen in place, trained on only one coordinate.
There are too many vectors and I will always prefer the perpendicular.
We need tools to loosen it. I have no idea where they keep the tools. We will have to wait for all the sites we are looking for to find their own way, to pass in front.
There are too many vectors.I don't know why we invented the idea of parallel. That is only true from a certain vantage point. More lies we are born to tell ourselves.
There are all these dead we're supposed to remember. So many, in fact, that they invented colleges dedicated to their memorization. How can we keep up? We will graduate. There will be more. So much more work for who is next. You were next.
To make it decades only to die by the hand of something microscopic.
There are words and needs to understand that only I can ask of you and these needs I can never ask of you. In dreams we share them. We get bold enough to know how, even if we don't answer one another. Asking can be enough. But this doesn't make it live up to the definition of dreams: What We Want.
There are questions I always think of asking you and I never do. I should be stronger and just live with my shit and no answers. Or we could find time for us to be as we are. Schedule it in with an eye toward allowing enough time on the other end for recovery. Eliminate the Out-Patient.
I don't need you to rebuild me as I am moving forward. Which is toward less life. Let's just sit together through it.
"Because now is the time," never sounds like I can trust it.
p.shaw
hope for the same & recognizable
One time, after our sessions had changed: she had stopped accepting payment from me or from the state's funds but we had kept meeting like patient and client; she said to me:
"It is hard to judge time. The last iteration is rarely a good comparison. There are similarities that can mark a reference, so that we feel comfortable going through all of this, again, as we just hope that it will be the same and recognizable. I guess there is comfort in that. That someone else had hoped, wondered, and suffered as we seem to be doing now. Time can't travel faster but it seems to be doing so now. It seems to in that less of us hold on now, we are given over to it sooner, raised to believe we have to, we let go and watch the centers of the past dissolve even quicker. We can barely remember the people who would bother coming to places like this, insist on continuing how it used to be, as if there were value in that exact way, replicating the last iteration in time. So many of us neglect to accept or realized that we met that way because it was all we had. It was the only way at the time."
for Toys in the Ground
p.shaw
What a breeze can bring.
The days I want to live the most of, with the life I have left, won't look like days in the way I have known them. They will instead feel like:
• Sitting in a way that can be described in no other terms than comfortable, in a shade of some kind where breezes will find me – one at a time and differentiated – each one distinct and complex; each one a calm before no storm: enough to remember all the ones that came before them.
for Toys in the Ground.
p.shaw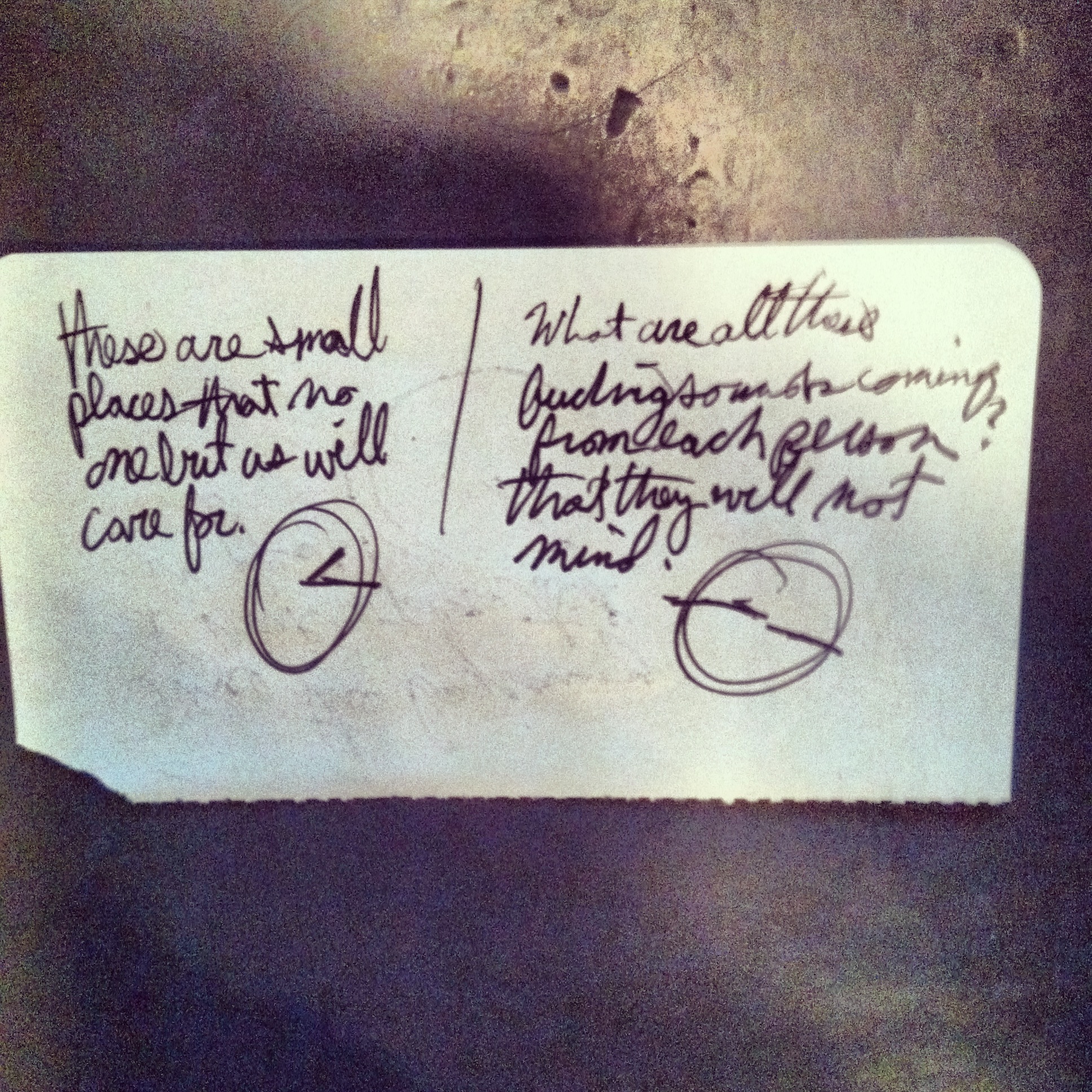 Nightstand Artifacts: 3.6.2014
1:17am
These are small places that no one but us will care for.
4:52am
What are all these fucking sounds, coming from each person? That they will not mind.
p.shaw
the only thing he can't ask for.
I want to reach out and touch her face in a way that she may never have been touched. In a way that I have never touched another. In a way, I think, she has shirked from or would shirk from – the pensiveness that shows in her structure, you can see it if you are paying attention.
She has shirked, shrunk and wilted, without a touch. I know this. I can see this. It's marked upon her body if not her face – despite her exuding confidence, this is an area she will protect.
I fantasize that it is not protection but retention: A face with skin that is awaiting the perfect touch; despite all other areas being idle, being available.
And this here eyes bring to me: "I have kept this for you."
from Toys in the Ground.
p.shaw
Nightstand Artifact: 2.4.2014
1:00am
There's no more loud, no more silent a rage than that of a mother you were never able to know.
4:13am
I believe I have now met all of those waiting to mourn for me.
found on the nightstand and applied to Toys in the Ground.
p.shaw
Nightstand Artifacts: 1.20.2014
1:30am
The capacities without instruction are as follows:
• Trust
• Faith
• Belief
(not necessarily in that order; and as the overview implies, you should expect no help with that detail.)
2:37am
I need to be cared for in silence.
from two dreams, both relatable to the novella, Toys in the Ground.
p.shaw
Nightstand Artifacts: 2.23.2014
3:43am
The problem is they are handing out the same shapes to everyone.
p.shaw
Nightstand Artifacts: 2.20.2014
3:12am
I'm counting on this being half way.
p.shaw
Nightstand Artifact for T.I.G.
1.16.2014: 4:13am
Our together was necessary.
A proxy that became better than the original.
"I'm working with men of war."
for Toys in the Ground.
p.shaw
the ingredients don't always agree.
I have great lies that I live. To me they have actually become quite small matter of survival. Some days I do not even notice them. But, if I could say them aloud, to myself, first, then to you, I suspect you might wonder how I have even been able to exist.
That would be the first reaction, I believe. Then I would disappear to you because what you thought I was could never be with what you now know. That is what you would think because these lies will seem to great to you that they could not reconcile.
Except, and you wouldn't be here long enough to hear this, I would go on to assure you that I can be as you thought I was, because that is what I have always had to be just to be here with you and with myself.
What you need isn't always offered by the ingredients you wish for, or think most palatable.
for Toys in the Ground.
p.shaw
someone was called for...
For months, the only months they had known him, he appeared fine. Model. Then, while he went about his business he began asking odd questions of those he was charged to meet with. And asking odd questions was not his business. This found him failing. Others noticed. Someone was called in. It was her.
for Toys in the Ground.
p.shaw
Finishing touches on a grief you are told to feel but you don't.
...the thing between good and bad no more apparent than before. Smaller. Smaller. Even when I cry for you.
p.shaw
We cannot choose who come with us.
A father's last words to explain a war to a child.
You get to choose which world you live in. We can't always preserve how long we are there but the veil convincing you that your choice does not exist is as fragile as your life in each world.
What we cannot always choose are those who come with us. They can damage us outside and inside. They can pursue us. They can render our choices to not be ours. Beneath their heel that can remove your transport, the smashing of your liberty can be so silent no matter the pitch of your scream. This is why so many do not make the choice.
Your denial, your pain, your ruthless obliteration by men who chase you through the veils, whether without even a trembling of a single crease or with a ripping, tearing, gnashing without regard to either side or even whether they destroy the way back – you may not even know why they have become intent on you. They may have no conscience as to why they have made you their game. But they will blindly or with absolute sight come to destroy your world. 
And no one on either side may care for you as they are stuck so blindly in theirs. 
from Toys in the Ground. 
p.shaw
Always After.
I used to stand under trees. They would drip. They were not quite the shelter they had not even promised me. Words would occur. Because there was nothing else that could happen.
I did wonder if I could ever write about the deaths that meant so much to me but should not have. Shouldn't have. These fucked up set of rules about when we care.
Always after. Always After. 
p.shaw
There is no covet. Only take.
​I am so afraid of loss that I hide things to keep them from disappearing. Not from thieves but from those closest to me.
There is no covet. Only take.​
from Toys in the Ground.​
- p.shaw
It's not true. She just wanted something to be as horrendous as his.
I asked her to tell me something about herself without asking her something about herself:​
"What draws you to me?"​
"I'm drawn to you?"​
"What happened to you? It's only fair..."​
"My last boyfriend killed a man in front of me, then himself. It was my fault."​
from Toys in the Ground.​
- p.shaw​
​
How could he make it this far?
The naïveté is, frankly, mind boggling.​
from Toys in the Ground.​
- p.shaw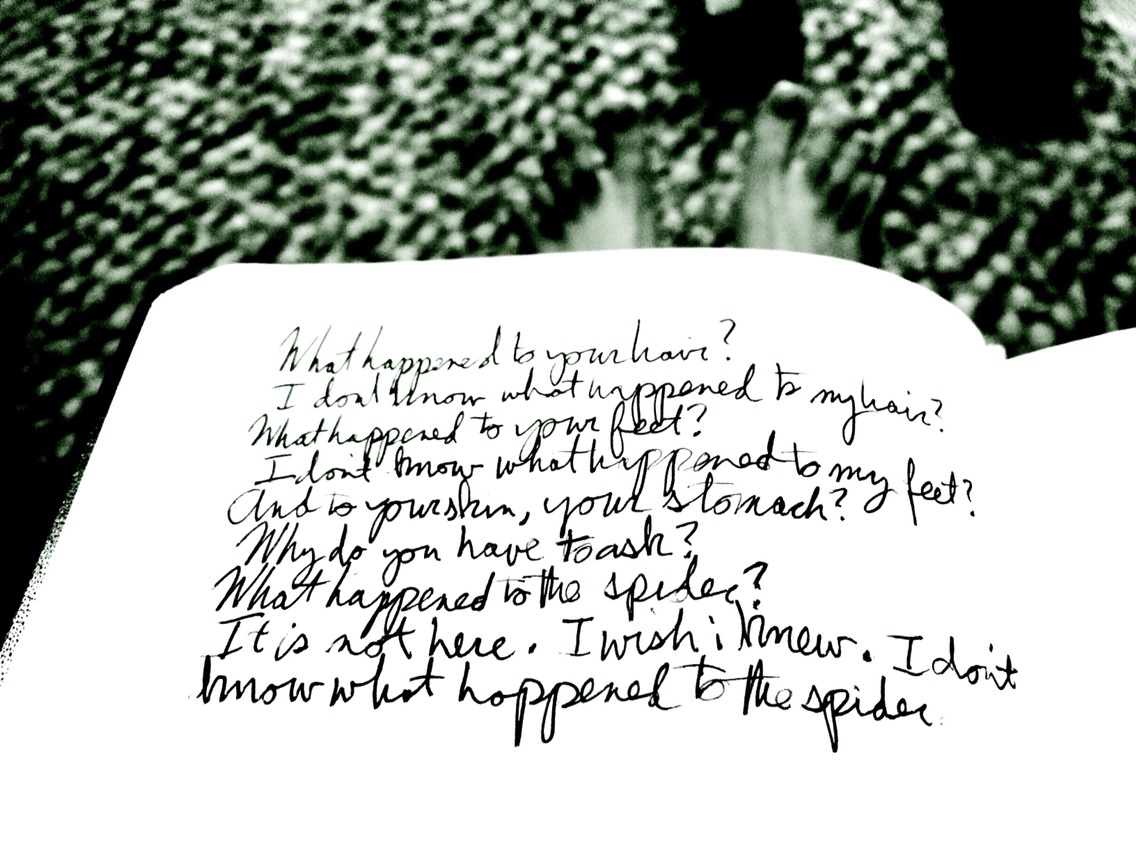 Why do you have to ask?
What happened to your hair?
I don't know what happened to my hair.
What happened to your feet?
I don't know what happened to my feet.
And to your skin, your stomach?
Why do you have to ask?
What happened to the spider?
It is not here. I wish I knew. I don't know what happened to the spider.
for Toys in the Ground.
p.shaw
the why of all the things we do.
It feels so odd, not living as you do.
There is so much we may have to do before we die or so little we will have finished.
And there's the part of me that she'll never love because it was made for someone else. And I do not know the why of all the things I do.
for Toys in the Ground.
p.shaw
get rid
Sometimes... when I think about it... I can't believe how easy it was to get rid of you.​
– from Toys in the Ground.
p.shaw
Time passing
It wasn't an unpleasant
experience – this idea of
time passing, even if I
could not mark it.
–p.shaw
Only.
Don't only let the good out.​
– from Toys in the Ground.​
Just so and Set it on Fire.
When the light hits just so it lets you know you need a new one. Replacements are due.​
In my dream you and I built a mound and we turned it into a mountain through the trick of photography we set it on fire.​
– from Toys in the Ground.​
p.shaw
Mapping the wood.
​When I was a child the features of a landscape became my treasures – I saw stumps, uprooted, displaced by flood waters and left nearby as gifts for me. I would acknowledge them and map them – placing them in a schematic was my form of love and ownership and for brief moments I would be certain that they would always be mine – that something had been added as a permanent fixture to my life.
– from Toys in the Ground.​
Voice of Nature.
The regularity, the consistency of the voice of nature: crickets talking to frogs, frogs talking to birds, birds talking to birds, and bird talking to bugs... their songs are meant to be some thing or another: genetic metronome; and when we all slept, or died, they just kept it up. They just kept it up.
p.shaw
Want.
The way we all want...​
is not the same as we'll all have.
​– from Toys in the Ground.
Left in each of us.
I wonder about all I have forgotten. I wonder if you still remember.​
– from Toys in the Ground.​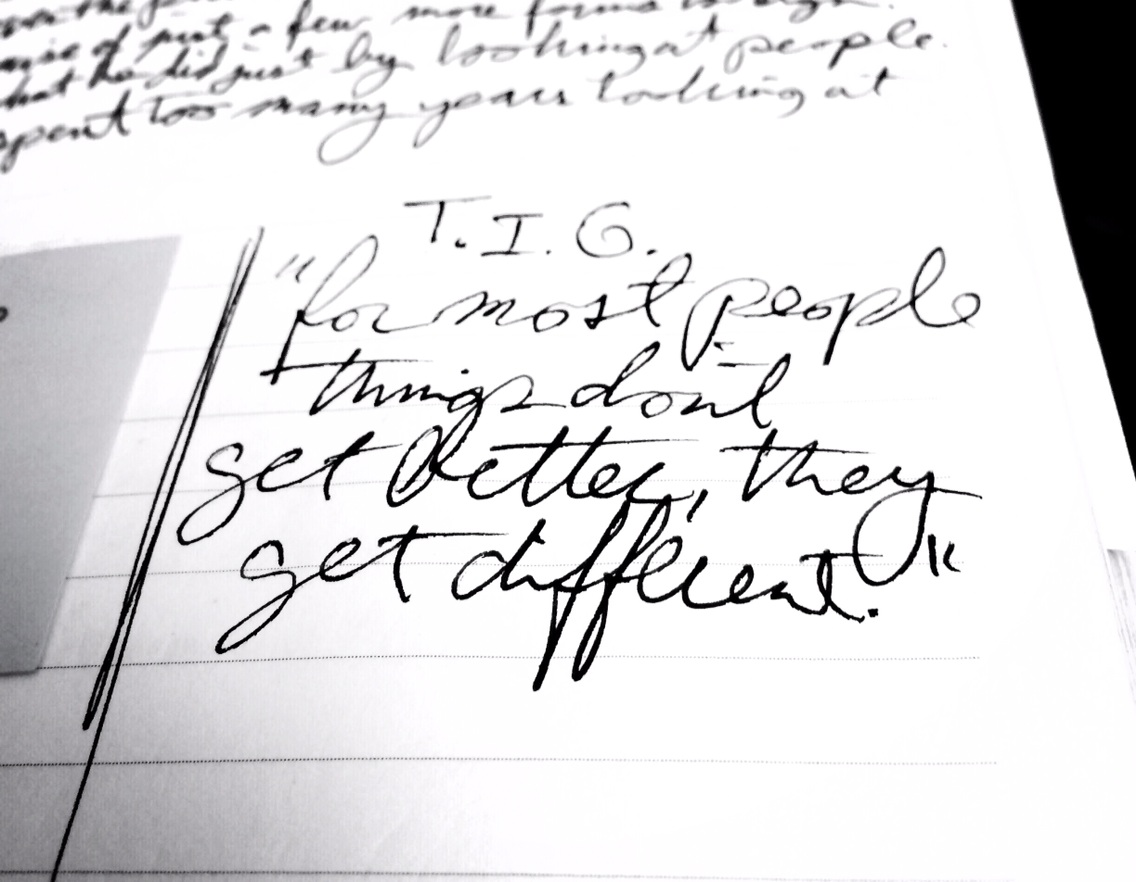 "For most people things don't get better. They get different."
for Toys in the Ground.
p.shaw
Provide without acknowledgement.
It's like so much witness makes you provide for every living thing all that grace you never received and somehow you were created from.​
– for Toys in the Ground.​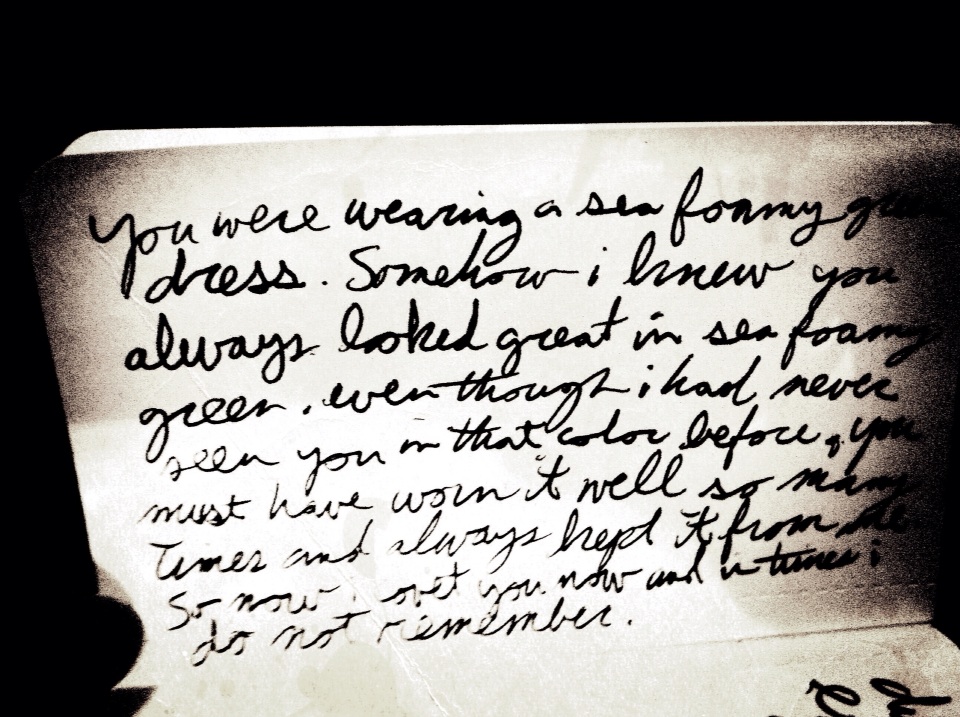 in times I do not remember.
You were wearing a sea foamy green dress. I had this feeling that you always looked great in sea foamy green. Even though I had never seen you in that color before you must have worn it well so many times and always kept it from me. Why wouldn't you? Maybe we haven't known each other long enough for me to have had the chance but that shouldn't matter: time. In this way I now covet you now and in the times I do not remember. Even when I wasn't there, you were here and I had to bring you home. Your sea foamy green dress is a fine choice.
from Toys in the Ground. 
p.shaw
​If I help you I might dies.
My fear is trumping the ability to act.​
In some ways every story
I tell is this
have ever told is this story.​
against the wind.
...and even that former shape was an illusion never more than an allusion to what we wanted to control. Our only option is a campaign to abolish...
for Toys in the Ground.
p.shaw
holding yourself frozen in place.
Each of us had an assigned number, a tally, really. It only goes up. It cannot be reduced. The best way you can get away with is a concerted effort to have it remain still. As still as possible. And it is all relative.
On the day you discover your number, your tally, the awakening to yours is the moment the count begins for you.
Let me suggest you never ask another person. As comparison is depressing, at best. How you see yourself in relation to others, on this scale, has no merit. Even though you want it to.
Whether you're proud of the toll you ratchet up, or yours is only at enough to provide you a way to sleep with yourself – a moral high ground – both are irrelevant.
Each of us has one. Even the nun, the messiah, the pauper, and the kings. Especially the kings. And even me, the simpleton: the boy who stood away because he was found far away. Even though I was in their midst. Even him: me. He who had never thought to harm, let alone have a reason to; he: me who was like an animal when they found me, an animal that could only begin to reason, but did not have the need to until he was dead. Even him: me. I had my number. And it's only a "tally" because of one. My number when I discovered I had it became two. And they all suspected it would always be.
from Toys in the Ground.
p.shaw