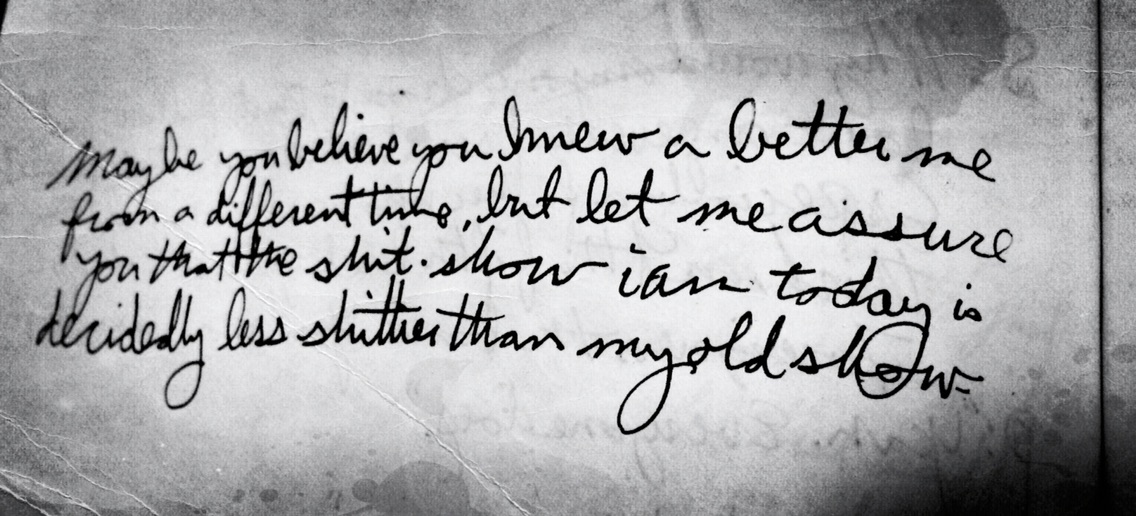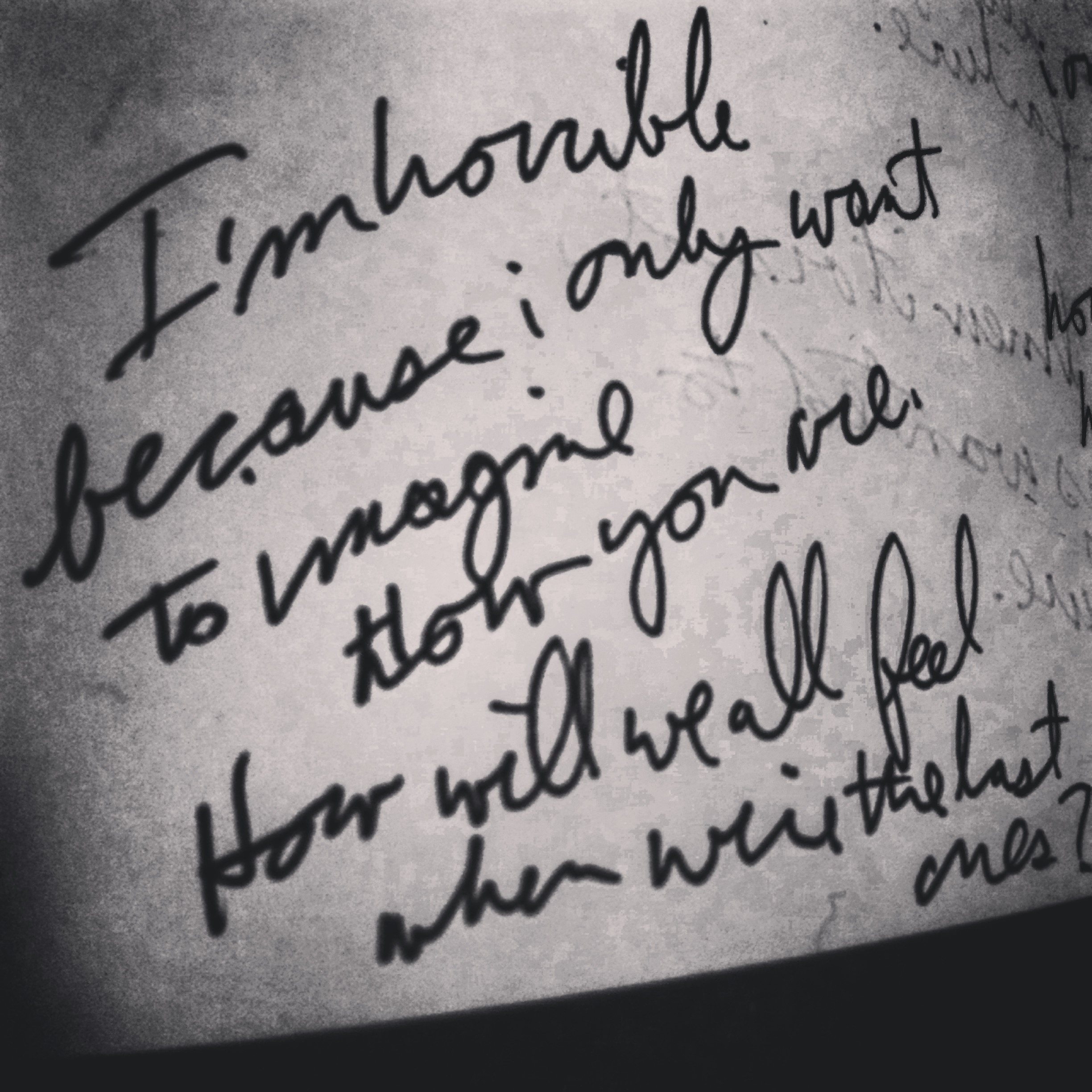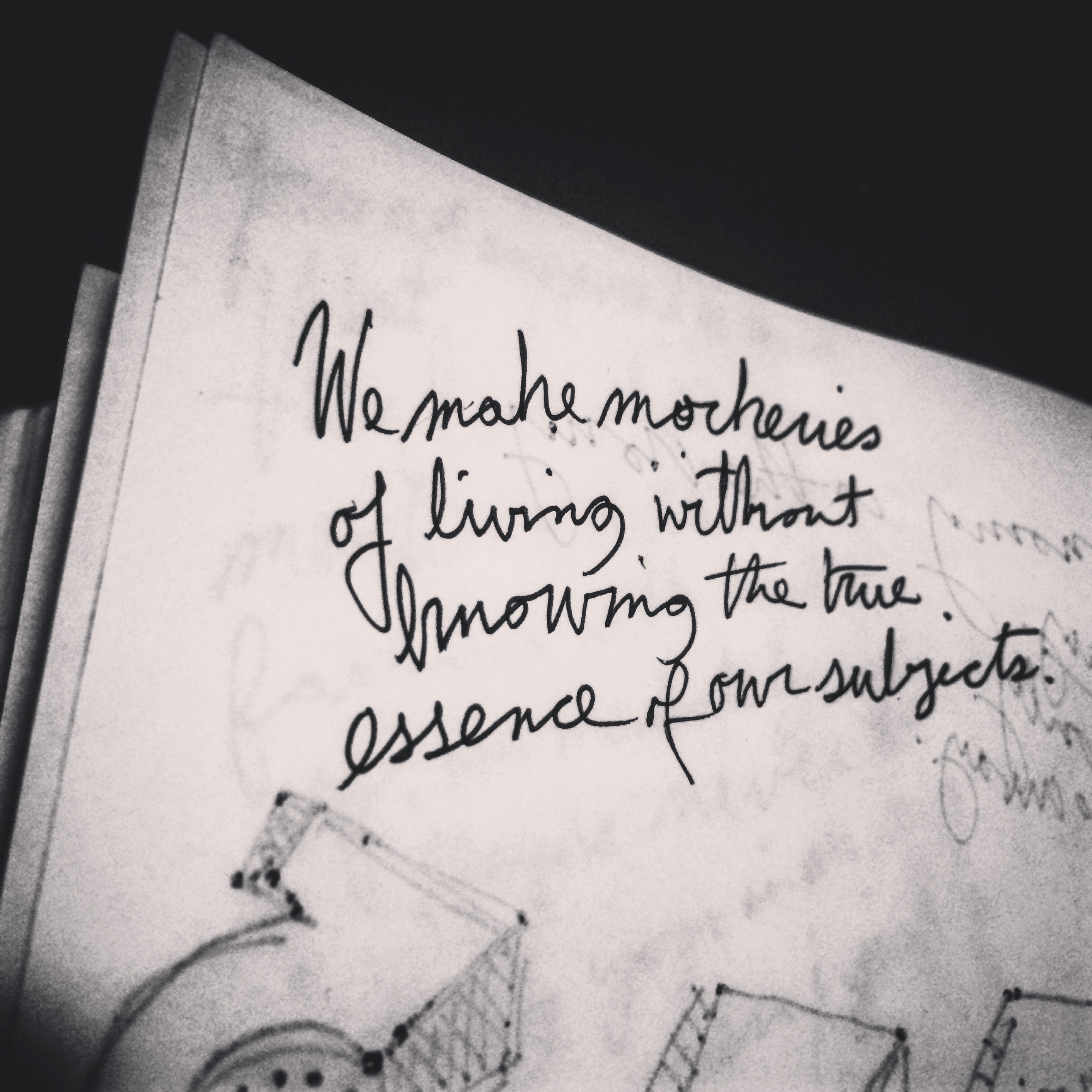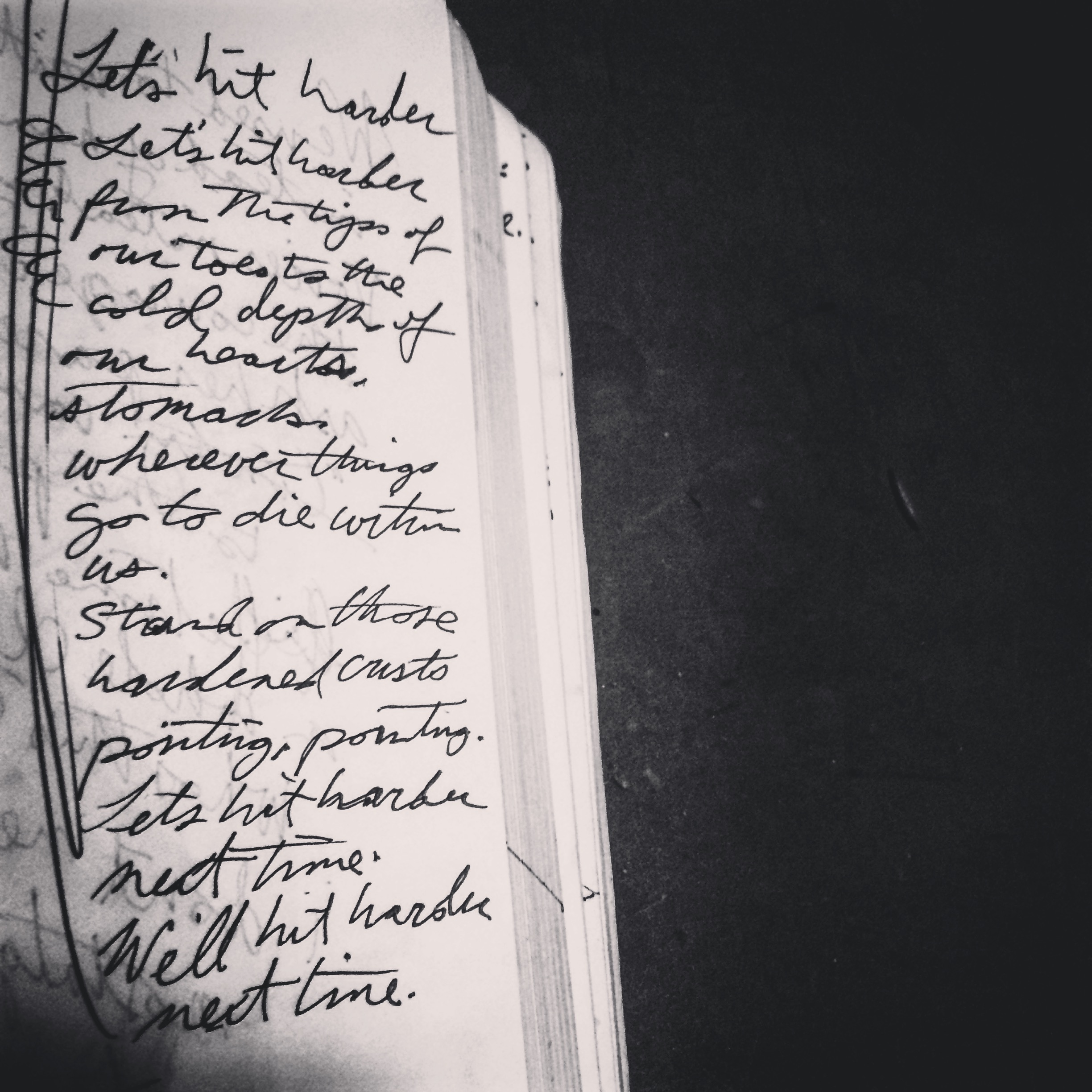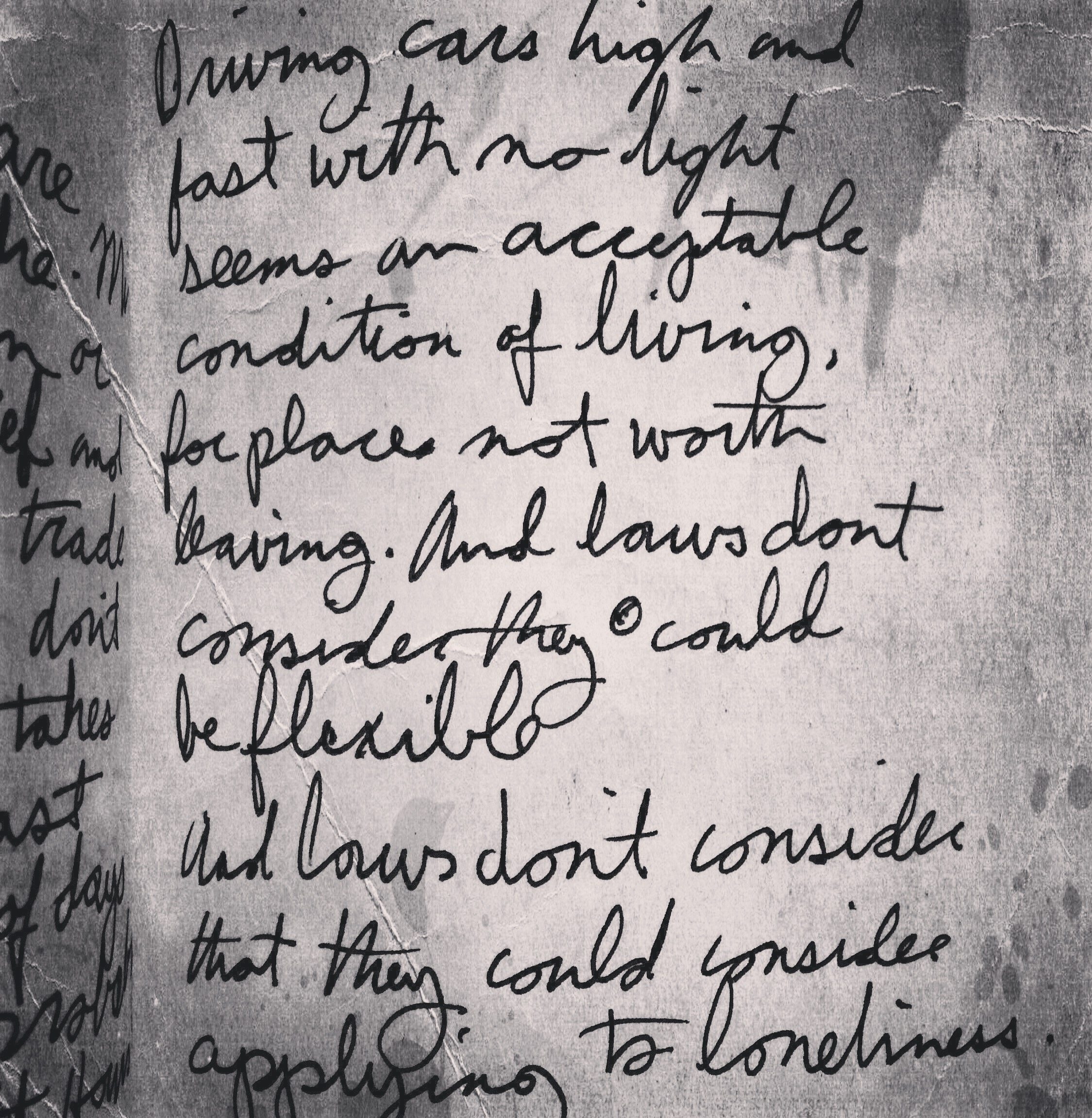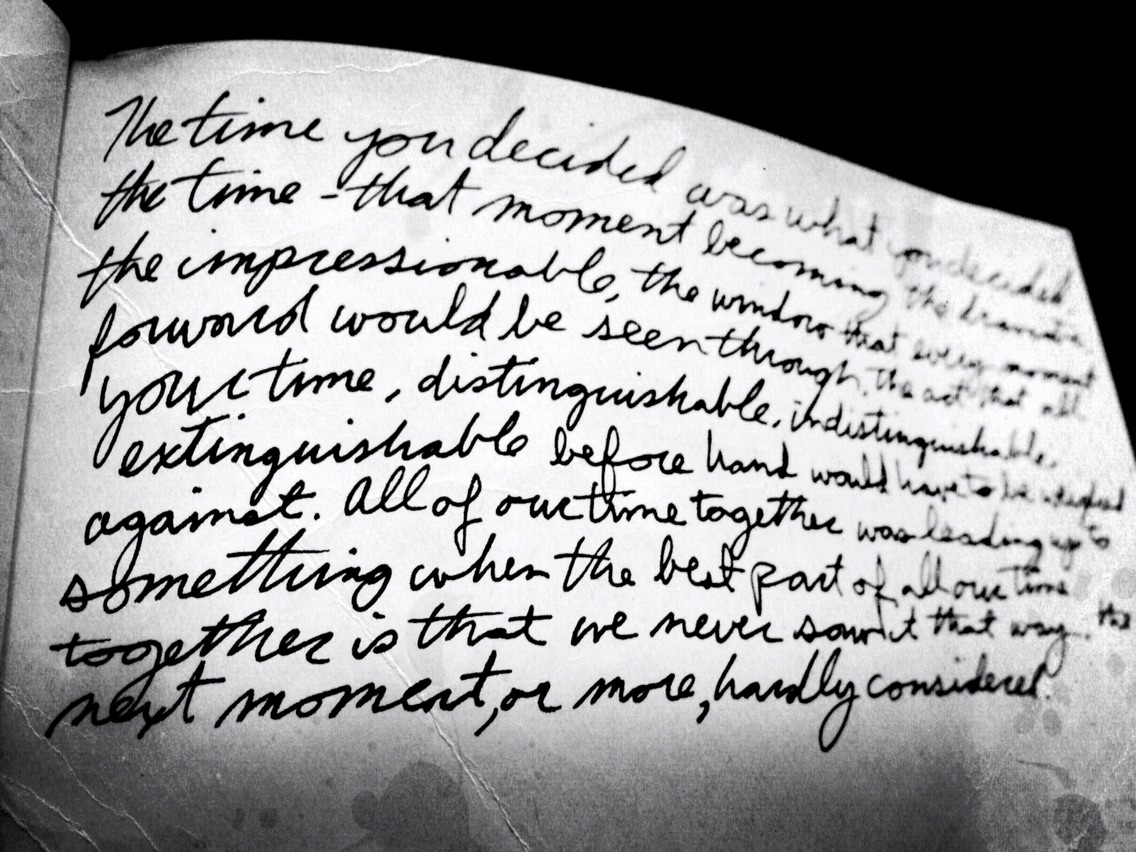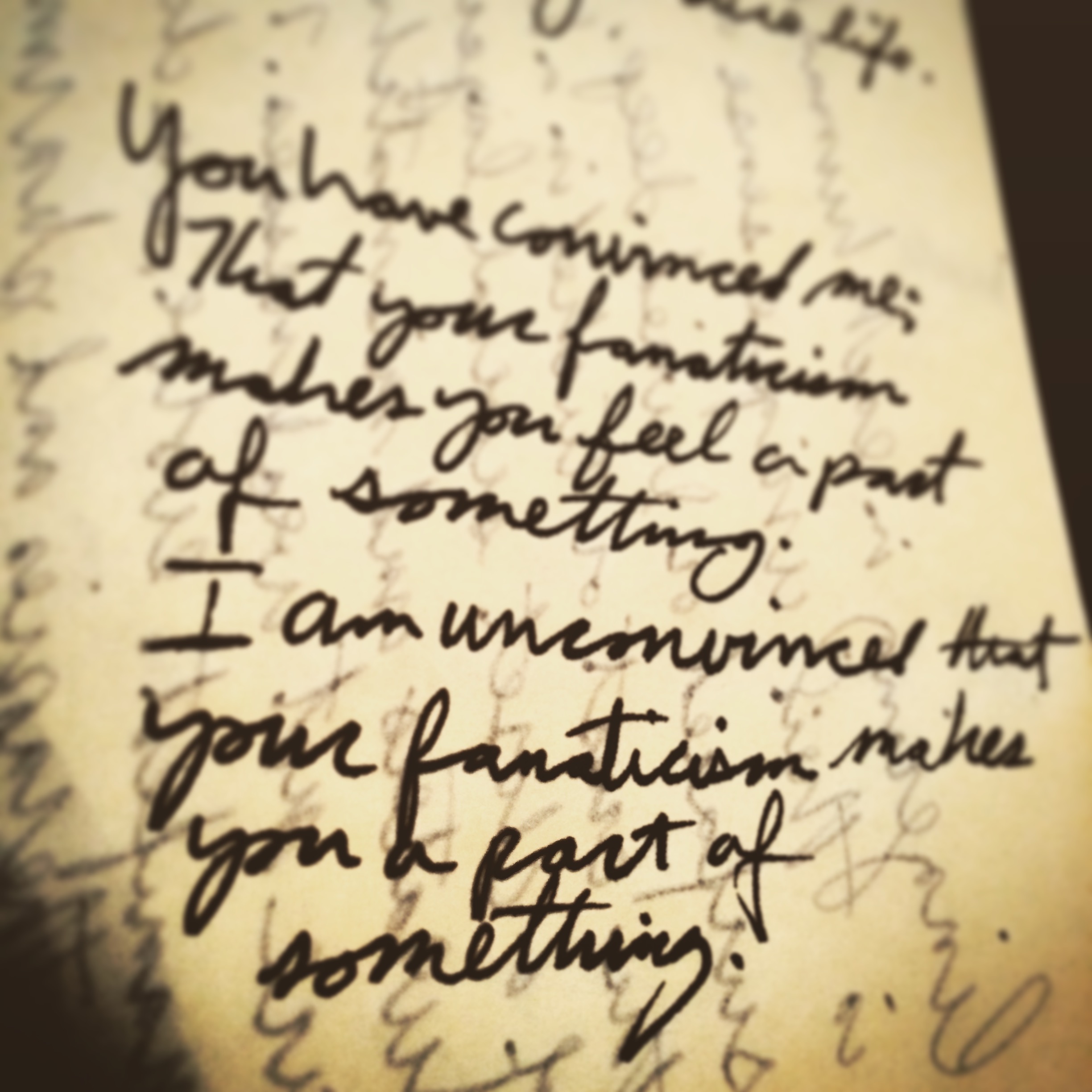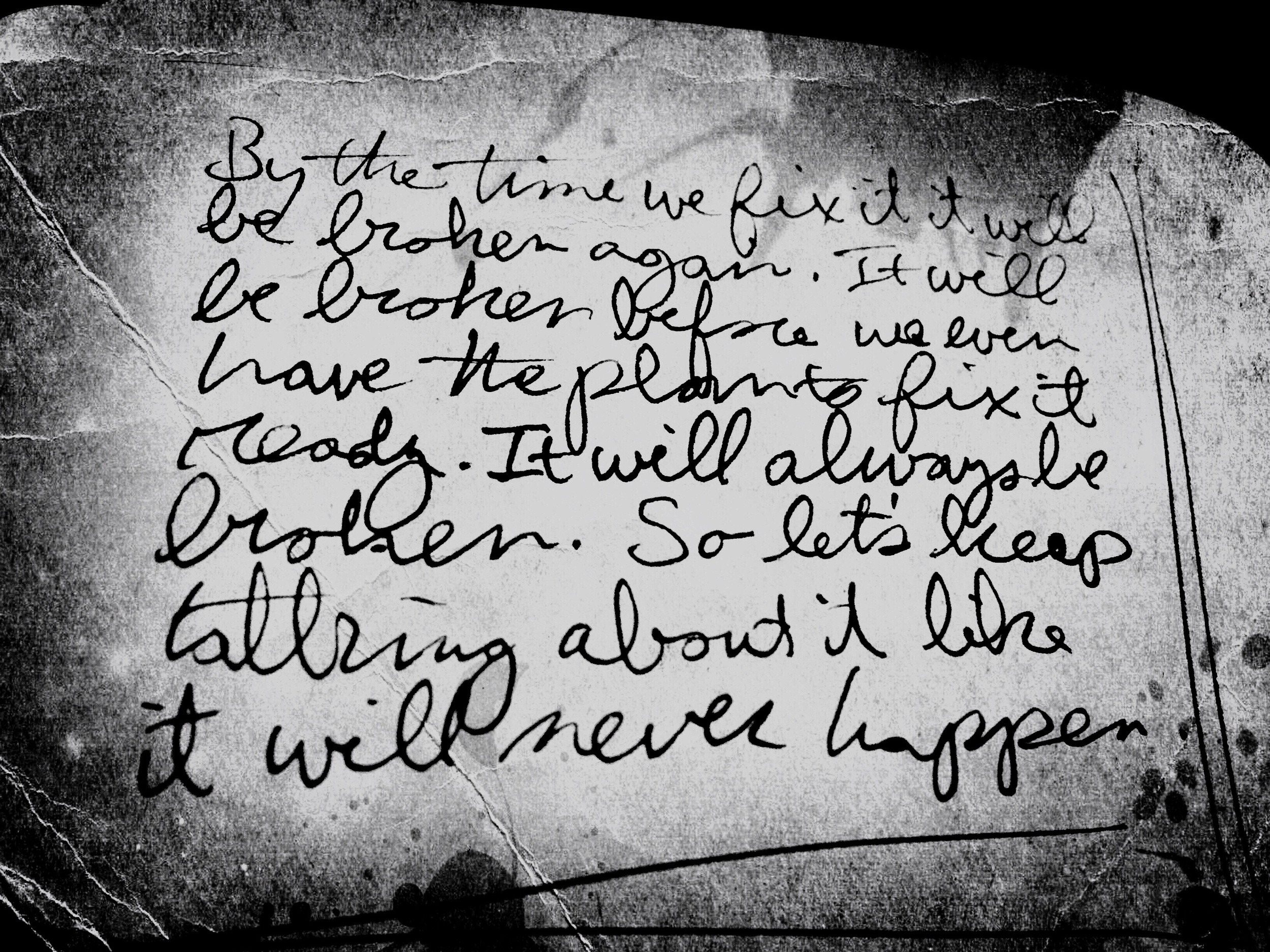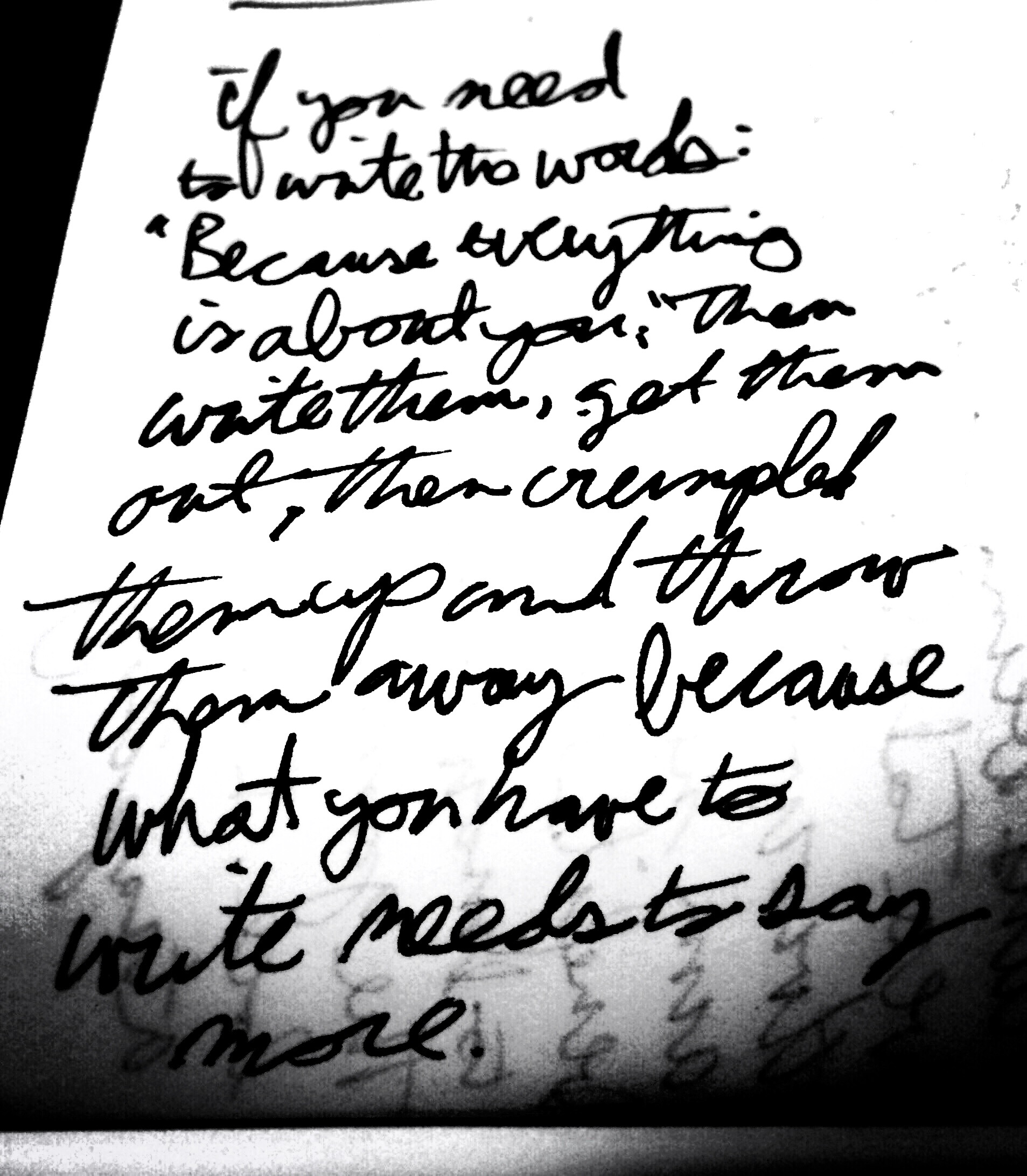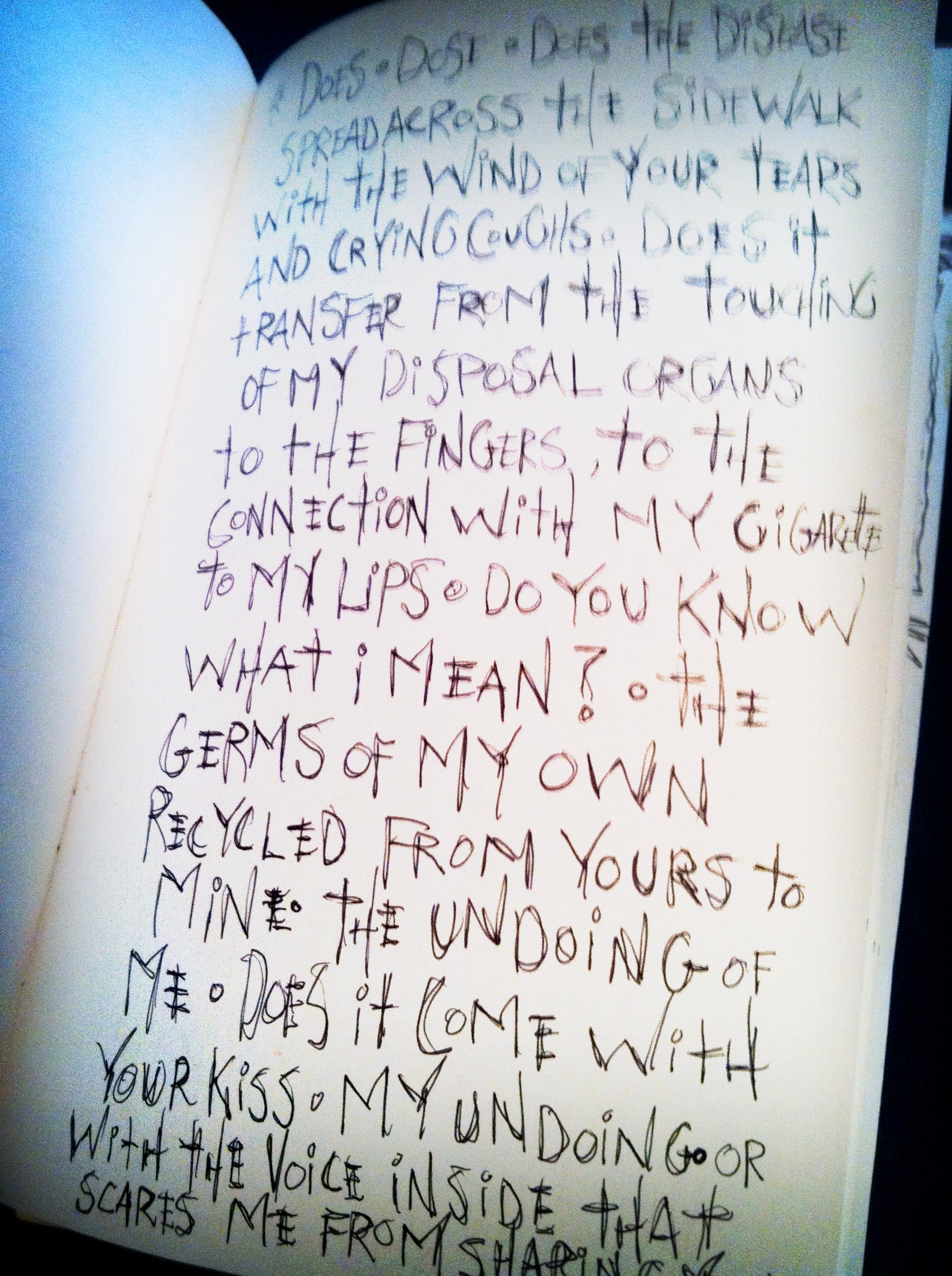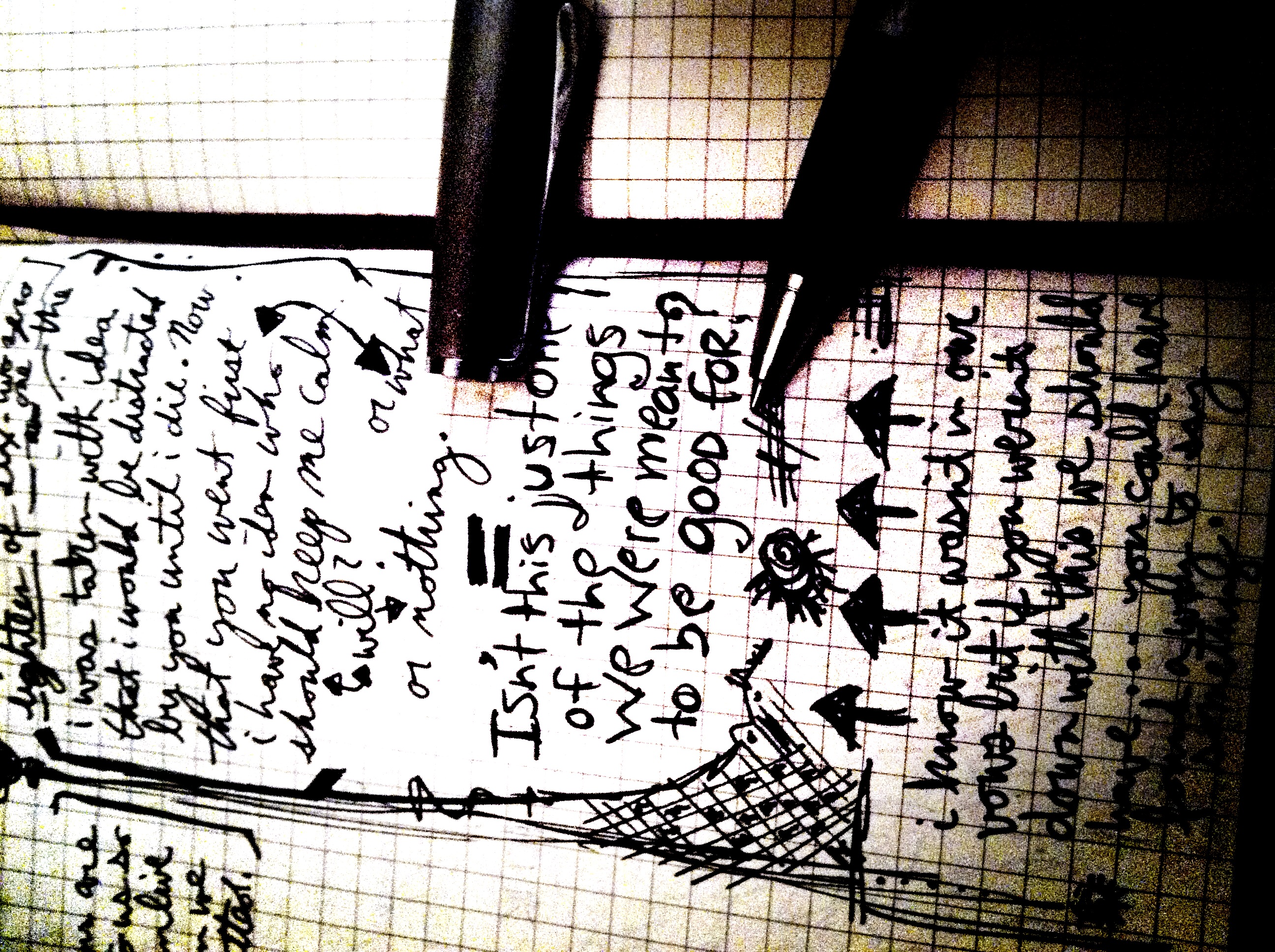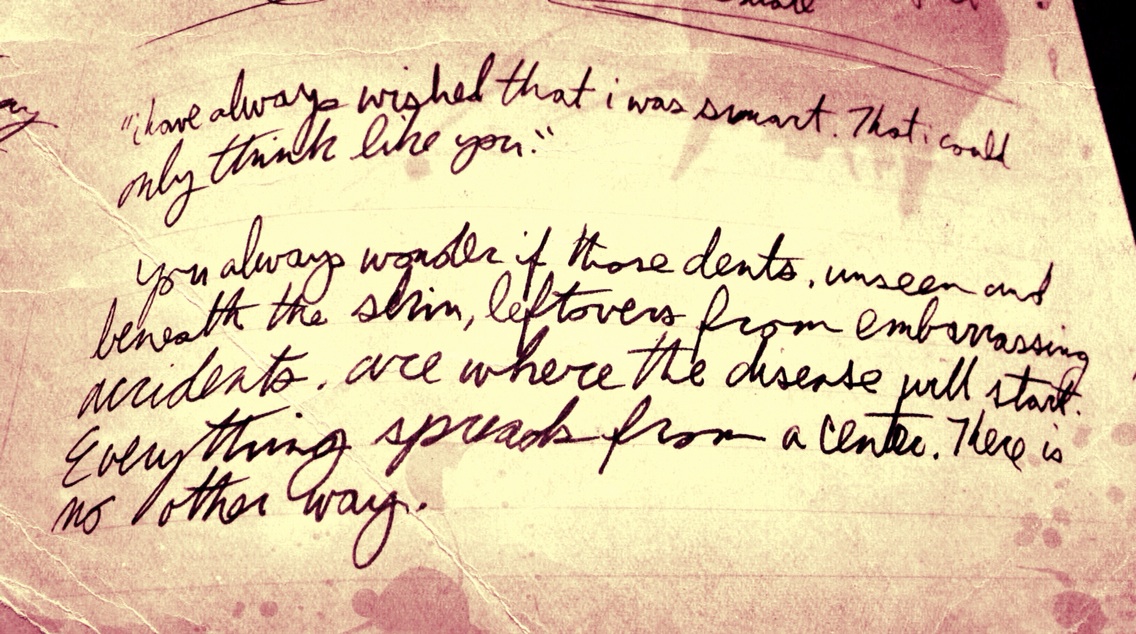 We have to stop having this conversation.
I'm not going to tell you that I told you so.
But I am going to tell you that I never wanted this.
p.shaw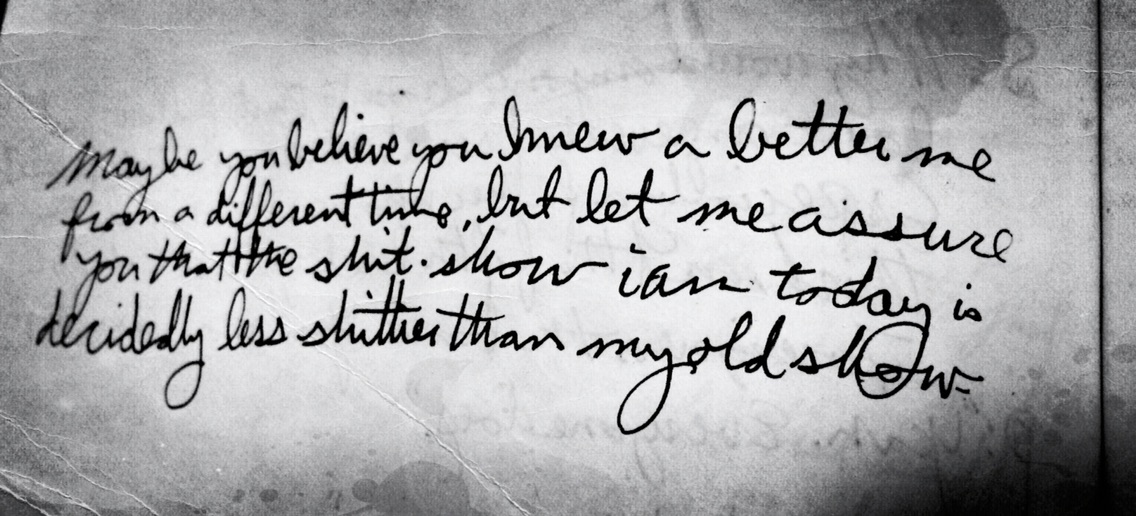 You wanna tell me I don't have to admit these things, but I do.
You believe you knew a better me from a different time, but let me assure you that the shit-show I am today is decidedly less shittier than my old show.
p.shaw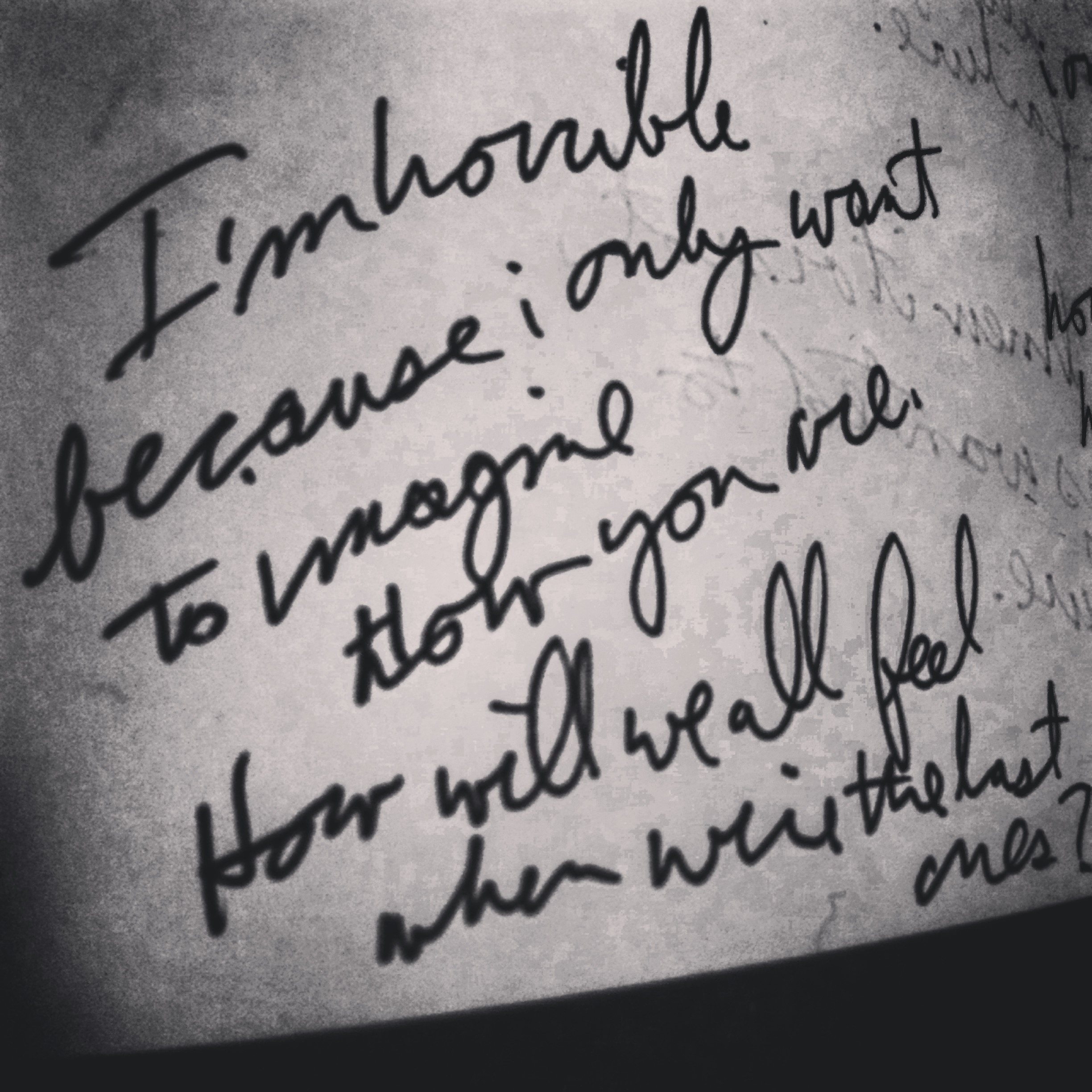 When remembering is a worthless one-way street.
I'm horrible because I only want to imagine how you are. How will we all feel when we're the last ones?
p.shaw
Given a Curse of Not Enough.
We were all raised to want. That's just how they raised us. But with him, he wanted differently.
What he wanted was to become the person who, no matter what, you would lose sleep over.
p.shaw
"All these notes sure are pissing me off."
"Well, I'm working at writing off all you ever wrote all over me."
p.shaw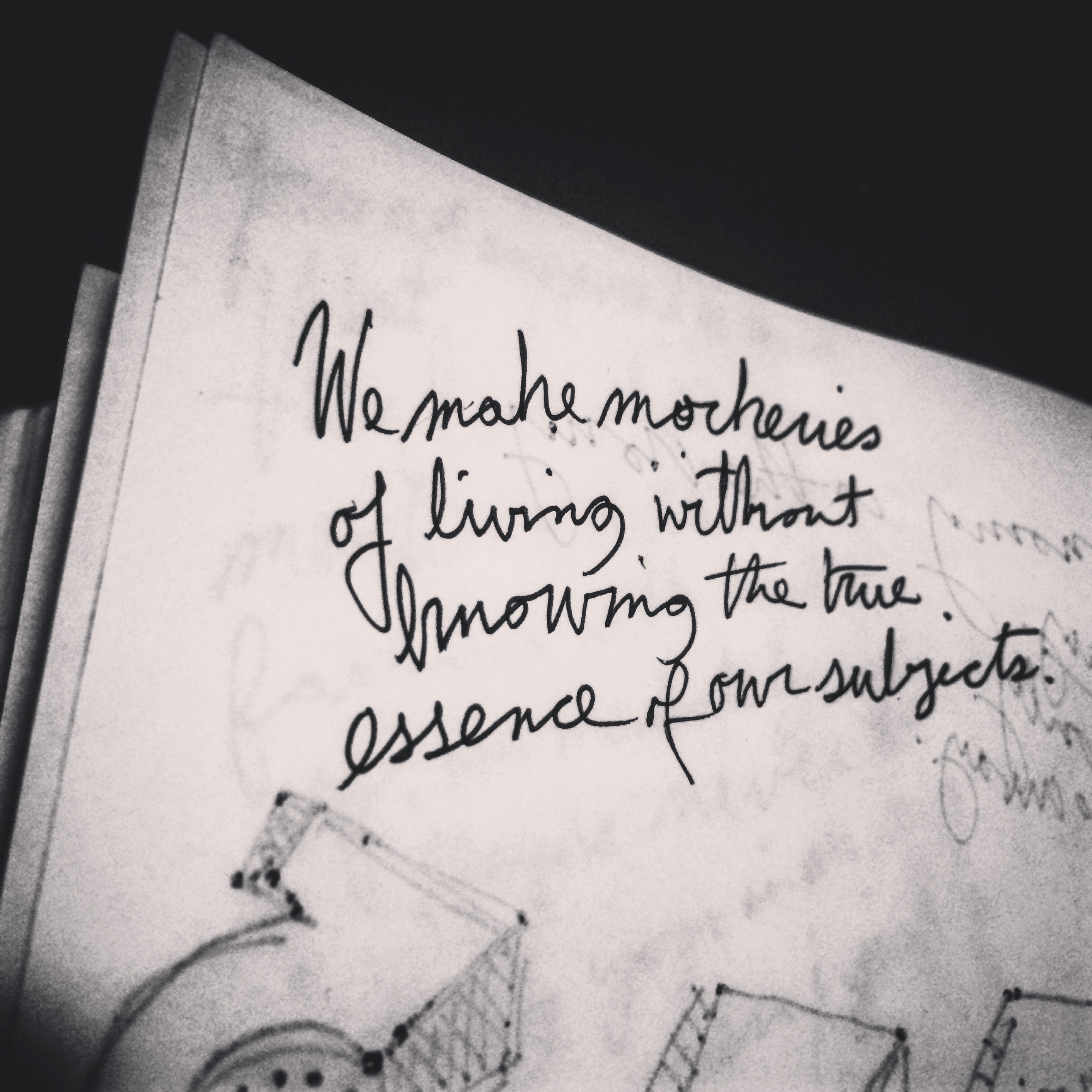 We make mockeries of living without knowing the true essence of our subjects.
p.shaw
There's hardly romance in looking back as much as necessity.There's hardly romance in looking back as much as necessity.
We used to wait for calls instead of hand pressures. Voices instead of taps. Just the courage it took to ask her parents if, "Can Rachel come to the phone?', a whole lifetime waiting for, "Yes," or a muffled receiver and the yell in the background, "Rachel. Some boy is on the phone for you."
Or a whole death we'd feel with, "Who's this?"
p.shaw
fill in the blank.
The story of you wanting to know of me now can start with 'once upon a time I quit giving a shit'.
p.shaw
Regret over Responsibility.
When I hit my father my hands became mirrors of all the hate they never taught me to just swallow. There were too many holes to know where to bury the memory, the whole of what belonged above for as long as any of us deserved. To remember is the worse. To remember is what no one ever taught us to not bother with.
p.shaw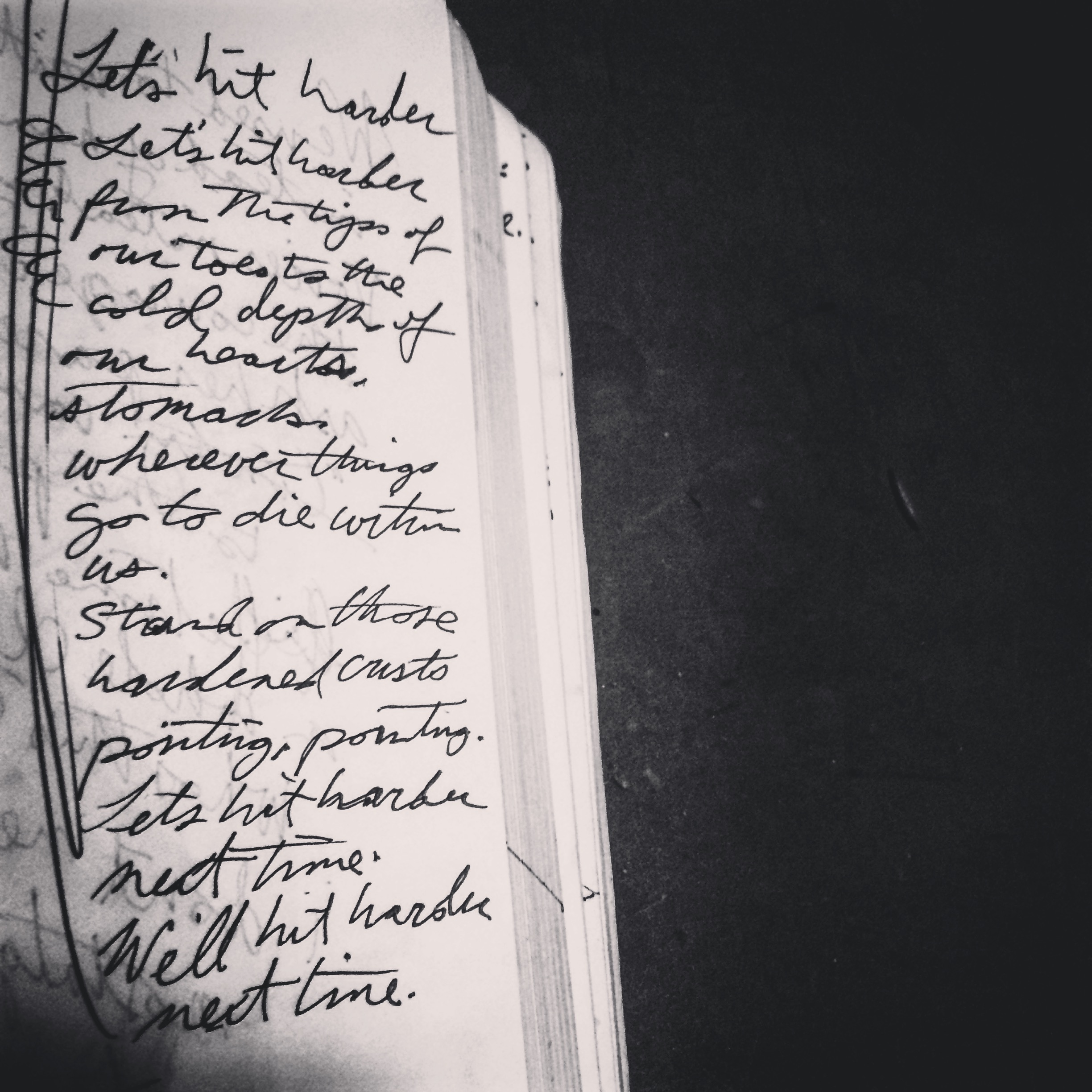 from: Tippy Toe over Toey Tips
Let's hit harder.
Let's hit harder
from the tips of
our toes to the cold depth
of our hearts, stomachs, wherever things go to die within us.
Stand on those
hardened crusts
pointing, pointing.
Let's hit harder
next time.
We'll hit harder
next time.
p.shaw
from: Tippy Toe over Toey Tips
...the times we saw how chips
how stars would fall our way before
we knew there was no 'our way' for us
for no one ever when
this will always have been
a favorite night of mine.
p.shaw
We can't shush now.
"It's harder. It's harder."
"Shhhh," I say to you.
"We can't shush. Everyone needs to know."
"They do," I say, "They do."
p.shaw
Another one of these. or: Fuck, 'Officially'!
More days to reach.
I have two I don't
understand the equation.
This lesson I've never been taught
how to work through an outrage transmuted
to grief back and forth
records used to skip in their grooves
lasers focused on dust specks of compact discs.
Now kilobytes refuse to move.
You've heard it in your home
in the bar too understaffed for the deluge of drinkers to make
priority over the banging of cabinets.
A Reverse Fonzie.
Fonzie never scratched a 45.
There were never happy days
for those we weren't willing to admit.
We're on a deadline.
We can't wait for me to learn.
We shouldn't wait for our hearts
to warm to stuck songs for our ears
to cringe at the rapid kilobyte repeater
to nudge the machine
or budge from our seats
to beat the side with our fists
or tap keys
to kick at our ventricles.
Know my song is stuck.
Know I need days and weeks
for the work on theorems of outrage
greater than and never equal to
grief.
Defined by very known variables
we've always known in our skin
in our hearts
in our lust for wealth
value without value.
Our X and our Y and our Z
divides by and squares by and swears by
the time we need to answer to ourselves
Y is time stolen.
Someone nice, with empathy, once lifted my deadline from me.
Told me to 'take all the time you need'.
If I could have taken it all I'd give it away.
What she gave me I couldn't even pull it toward my heart
held carefully in my hands
gasped for breath as I moved it from one tank to another
another shot
another rang and another body
and there would never be enough
to square off the last moments
lives not.
That was more than decades ago
measured in days
hours of single lives
(I didn't know many more)
single cartridges.
Now minutes and masses in multiple rounds
asking for a number
the days to reach.
p.shaw
To the oppose of meme:
Trying toward light through the opposite because I haven't found another way for me and because I believe in its possibilities to avoid gratuity. That I believe it is needed for those stuck, like me, in that dark. That redemption is not the only promise.
p.shaw
10 years later to simple
Stressing the pavement cracks on the wind. Playing Hide and Go Hide with no friends. The thunder comes first every weekend. Disaster movies from our youth on rewind in my dreams, putting back together a new idea of a beginning.
p.shaw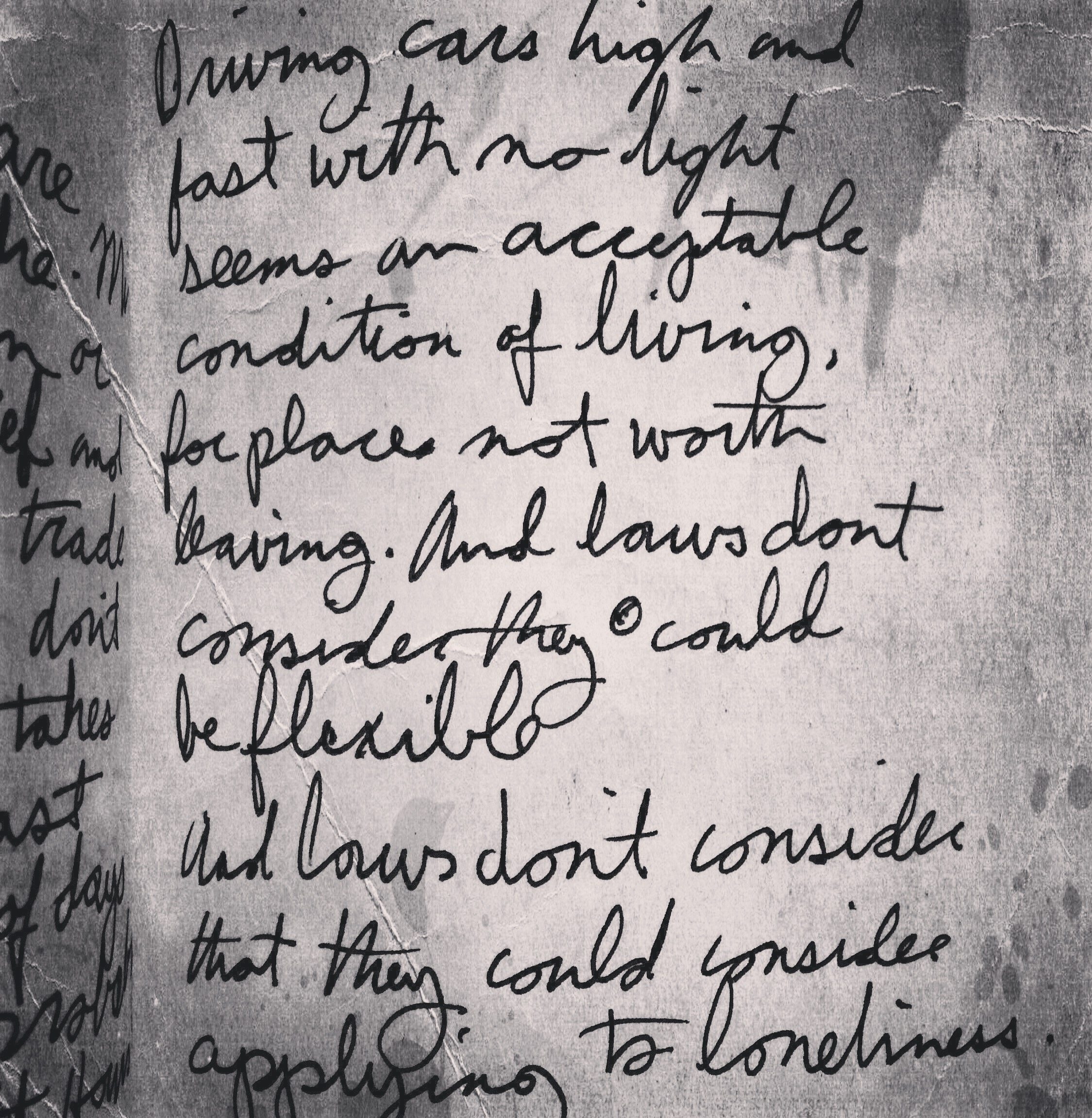 10 years later to simple (cont.)
Driving cars high and fast with no light seems an acceptable condition of living in places not worth leaving. And last don't consider they could be flexible. And laws won't consider that they could consider applying to loneliness.
p.shaw
A different sort of defense of hyperbole.
In my dream last night my dreamself believed the cure for my hyperbole was for there to be, at least once, an actual spider when I went to look for the spiders. And that won't work because that happened, just a week or so ago, in Tucson, and it was a black widow even, just making his way in the world today... takes everything you got... without any malice toward me, yet. And that was no cure at all, it seems. This morning I am awake again with the invisible spiders crawling my skin and when I write again, yes, I mean always and I mean everything, those standard hyperbolic stand-ins that my best intentions are always to replace them, eventually, with clarity but eventually never happens or this time I really mean them, again. And by really I mean I want you to believe me, or the words, without question even though again is only just an okay choice, and everything and always and without question are impossible, as impossible is not. So I have to factor in the outrage and the outages, and the outages caused by the outrages or the lack of rage, at times. And I am doing all that in hopes the spiders won't be on me, again, tomorrow, or to keep them from being at all and it is never working.
p.shaw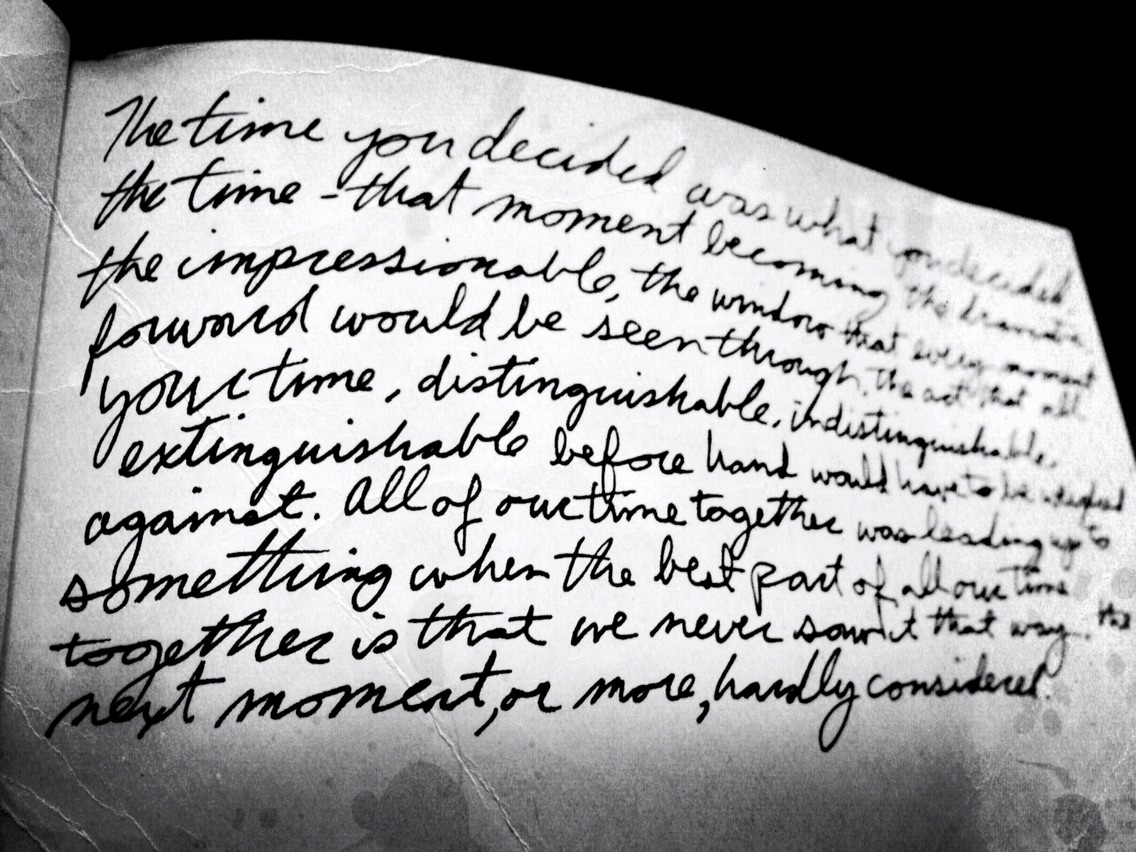 On the failures of time – multiplied by withholding – because I only believed it would become worse.
The time you decided was what you decided the time would become – the moment becoming the dramatic; the impressionable; the window that every moment forward for us would have to be viewed through (standing on an unkempt lawn, a drizzle falling, another dusk, being outside for no particular reason and/or casting out).
The act that all your time: distinguishable; indistinguishable; extinguishable – before hand would have weighed (or unified) against itself.
All of our time together was leading up to when the best part of all our time together was that we never saw it time. Whether there would even be a next moment. And we acted out of blind presumption. It was never even hardly considered.
p.shaw
On the modern convenience of "comments" as response.
I never wanted to be a student of history. Then I ran aground of and against what I could want. I ran aground in search for the moment when our operating procedure began with taking elements out of their context, and judging the hell and their humanity out of them. Followed by all of our inevitable second steps: watching the other squirm. Third: Looking for indications, to give ourselves pleasure, that our own personal judgement was responsible for this particular jerk or that piercing squeal. See? That one! At sec. :47 on the UTube. I made that.
p.shaw
I never forget that it happened. I only forget who I told.
As in saying: If only I had known. When there was no If.
My father wrote me checks when he had nothing.
p.shaw
Industry of Morning.
What is stuck to ourselves are not the balms of fixes we've applied.
I perceive you delight in putting me in a shitty position. You put me in a shitty position because you are always, in your mind, in a shitty position. I should think of it as a gift. Your invitation to join you. I don't.
The item that goes without note, and therefore is always missing from what I am recording, is something that isn't mine. Shouldn't be mine.
p.shaw
Because I've never been...
I often think all I do is do.
p.shaw
only.
And we all know how much it hurts to want the one thing we'll never have.
 
p.shaw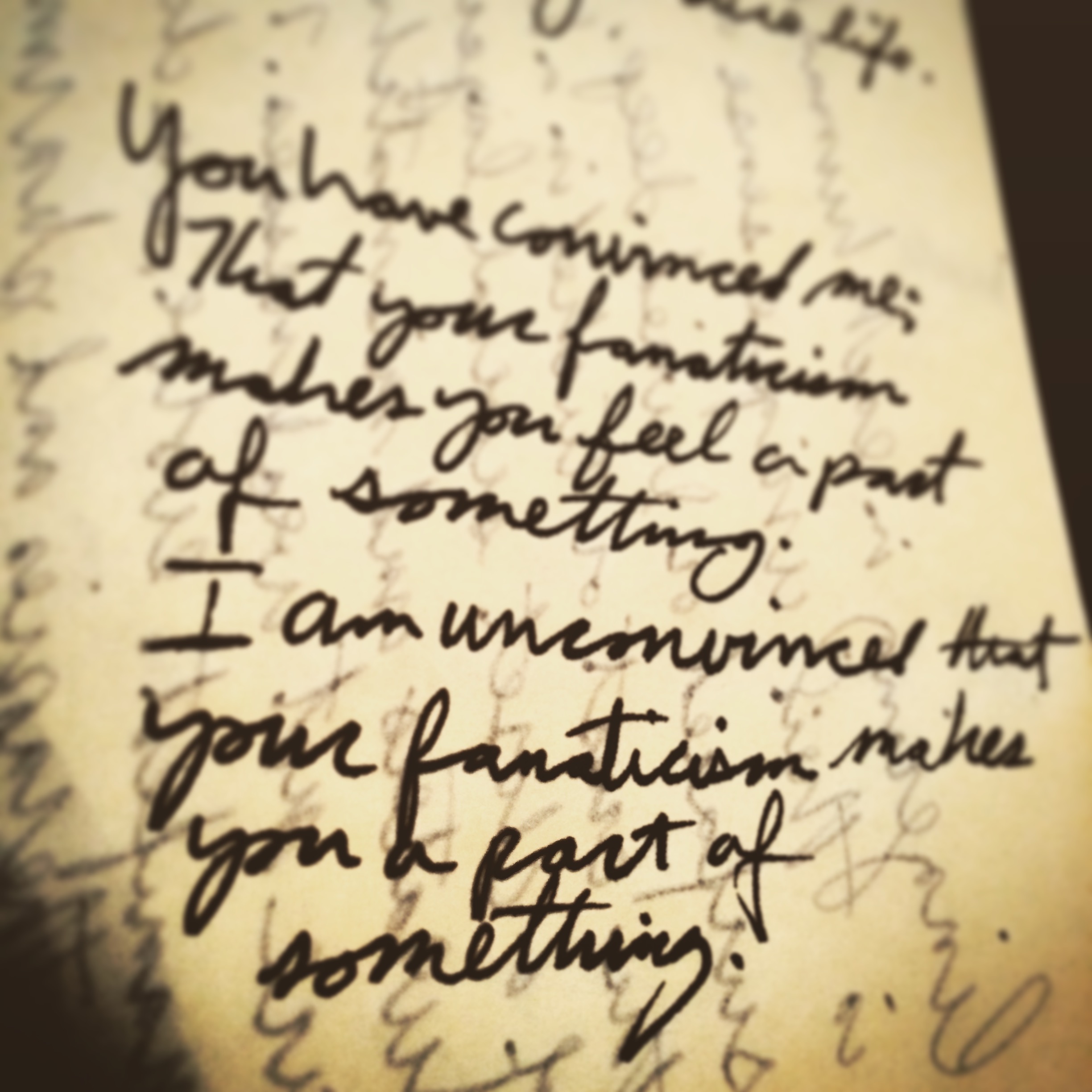 We are not everything we follow. That takes more work.
You have convinced me: That your fanaticism makes you feel a part of something.
I am unconvinced that your fanaticism makes you a part of something.
p.shaw
The Annealing Embarrassment of Youth is...
...the face of that mortified young girl, just trying to use the toilet on the airplane. Why hadn't her parents taught her how to lock the door, that only that would state her occupancy. They failed her and they failed me. I hope I feel more horrible for her pain of embarrassment that I participated in, that she may never forget, than the ones who performed similar trespasses on me at those ages.
p.shaw
After Brown reading from Levertov on the occasion of visiting a memory graveside.
When I suddenly remember
an image of something I lost:
a rock spent years in my satchel;
or the ring of my father who never questioned me again after my first lie to him
–that the ring was only at a friend's, on their dresser top I could describe through the freedom of a lie
–and not lost along the base of desert hill I had slid down the face of, drunk, in moonlight and teenage-ness, the ring having never fit my unmanness, that I was pretending not to have by walking with my thumb pressed upon the inside of my palm and where my finger met, on the ring to keep it from slipping away;
I now want to expect,
or consider those who found my losses may
see them all as what I gave.
 
p.shaw
Only the beginning. I should stop now.
I was raised to believe that who I am, and what I do, should be nearly indistinguishable. This raises a few issues as I succeed, or fail, on any of my daily delivering of that belief.

Top Level Challenges (each will be broken down into subcategories):
• First, I will never, ever, ever, be a good card player.
• Second, most people I encounter have a hard time making their decision, internally, about what they think of me. Agreed that many variables come into play in that decision-making process that cannot entirely be related to this discussion at hand, but most fall on the side of distrust and dislike, and that has significant ties to "indistinguishable". Simply put, I make people feel uncomfortable.
• Third, where most of the interesting parts of my life occur is where the word "nearly" is applicable. "Nearly" is also, I suspect, the culprit for the second point, mentioned above.
• Fourth, career opportunities are limited.
for A Historical Record of When You Hurt Me.
p.shaw
You've forgotten how it works & everything changed while you were away.
You're talking about measuring how much we care and then doling it out in predetermined amounts.
p.shaw
from A Historical Record of When You Hurt Me.
My father said, "Even the score, son. No matter what you do, or don't do, in this life always even the score."
I've spent my life since he left asking whether scores even matter and what's worth winning.
I do keep a tally of why I've hurt and who hurt me. Maybe that's what he was talking about. If so, I don't like the word 'Even'. I'd rather end on the losing side.
from: A Historical Record of When You Hurt Me.
p.shaw
Sunday came full of questions:
You're going to have to want that like no one else can want it, from both sides. At least two? No. There are always more than two sides. Somehow the coins tried to convince us otherwise and maybe you don't want to remember it, but the world lands on its thin edge more than we admit. The paper is the most misleading. Front and Back? I believe Back to be derogatory. Why wouldn't it be The Other Side? Better yet: Another Side. This side. That side. How'd Front get to sound some damn important? And still, there's more than two. Yeah? Like in side. The Inside. The what's In Side?
If Life Hack were actually a real thing, which it's not, Martha Stewart would be their Queen. She's not. Don't embarrass yourself with your edgy descriptions of Home Economics assignments. Why were there never any Economics in my Home Ec? Implied savings from knowing how to 'sew'; 'iron'; make a 'salad'. We were: "The only time you can act like a girl is when you are required to." Grades and Scores were the requirement. "But you learned how to iron my pants, right?" "That's good because we don't have our mothers anymore." He meant wife. And all the cousins, sisters, and aunts who thought divorce was something for fancy people. The grandmothers had died before divorce was an option.
It was the 80's, the early 80's, which really means the late 70's, which meant, "Divorce is a plague ravaging our country and it's moral values." At least an erosion. "You're eleven. You know what erosion means, right? You should know. Make them teach that to you at that school of yours." Your father is part of the problem. Victims. Sufferers. Maybe the Ill. But we gave ourselves the disease. Or we weren't willing to suffer in 'better' ways. 'Moral' ways. This was his church abandoning us, when it had been his wife and my mother abandoning us first.
They were plotting for new colonies of lepers.
I was destined to repeat his, our, failure. I did. I chose poorly and that was my fault even if it was my wife who had started fucking others just weeks after sunning ourselves in a honeymoon way. Sundays are bad days to find shit out. I should have danced with her in that Mexican disco. Could have danced with her in that Mexican disco. But I hated discos. Loved to dance but hated discos. How come we didn't know that about each other: That is I hated discos she would start fucking an old boyfriend of hers. That seems like something you should talk about before getting married. Right?
I'm not sure of any but the one she was fucking because "you didn't dance in discos on our honeymoon," who was the one who sent letters to tell me how well he fucked her. But I'm sure there were others.
I shouldn't have danced in those discos because I do hate discos and it would not have mattered and I wasn't supposed to be married to her, no matter how good we looked in the photos. Thank God.
I'm not married to her now, and all that pathetic 'poor me' of victimhood and all I waited for in waiting for it to "just be okay," and to pretend we could be happy. Thank God we stopped pretending, or she did by fucking someone else, like she should have. Thank God. Can you imagine if she hadn't, or if I hadn't found out, or if she wasn't and we just kept doing what our childhoods told us we were supposed to transcend those failures of our father and mothers? I can imagine that. All the things I just wanted then and how I would be wanting differently for my whole life and now I don't have to because she fucked him and he sent me letters about how hard he was. The letters said so: "I wouldn't do this to someone else on my own, but she needs it because you fail her and I feel that obligation is stronger than doing what's right and besides she fucks me back. I'm better than you, but it's still her doing," was what his letters kept telling me. How's that for a Life Hack? Getting the dick you deserve.
I am grateful to all of them for hurting me so I can be here now hurting different but decidedly better. It's the 'other side' they talk about. I didn't make it through, or pushed through, or persevered. Because there aren't two.
I wish I had his letter still so my Now Wife and I could laugh. We have our own tears but I'd never look back because I'd suffer all that stupidity of my own doing again just to have today with my good Now Wife. As long as all that suffering wasn't getting in the way of our today. And sometimes it is, if I can be honest with you, but not my Bad Wife. Its earlier than that, a different side than Front or Back: My mother who did the same things and my Home Economics that was never going to save anyone.
I'm glad my father didn't go to the disco. It hurt.
p.shaw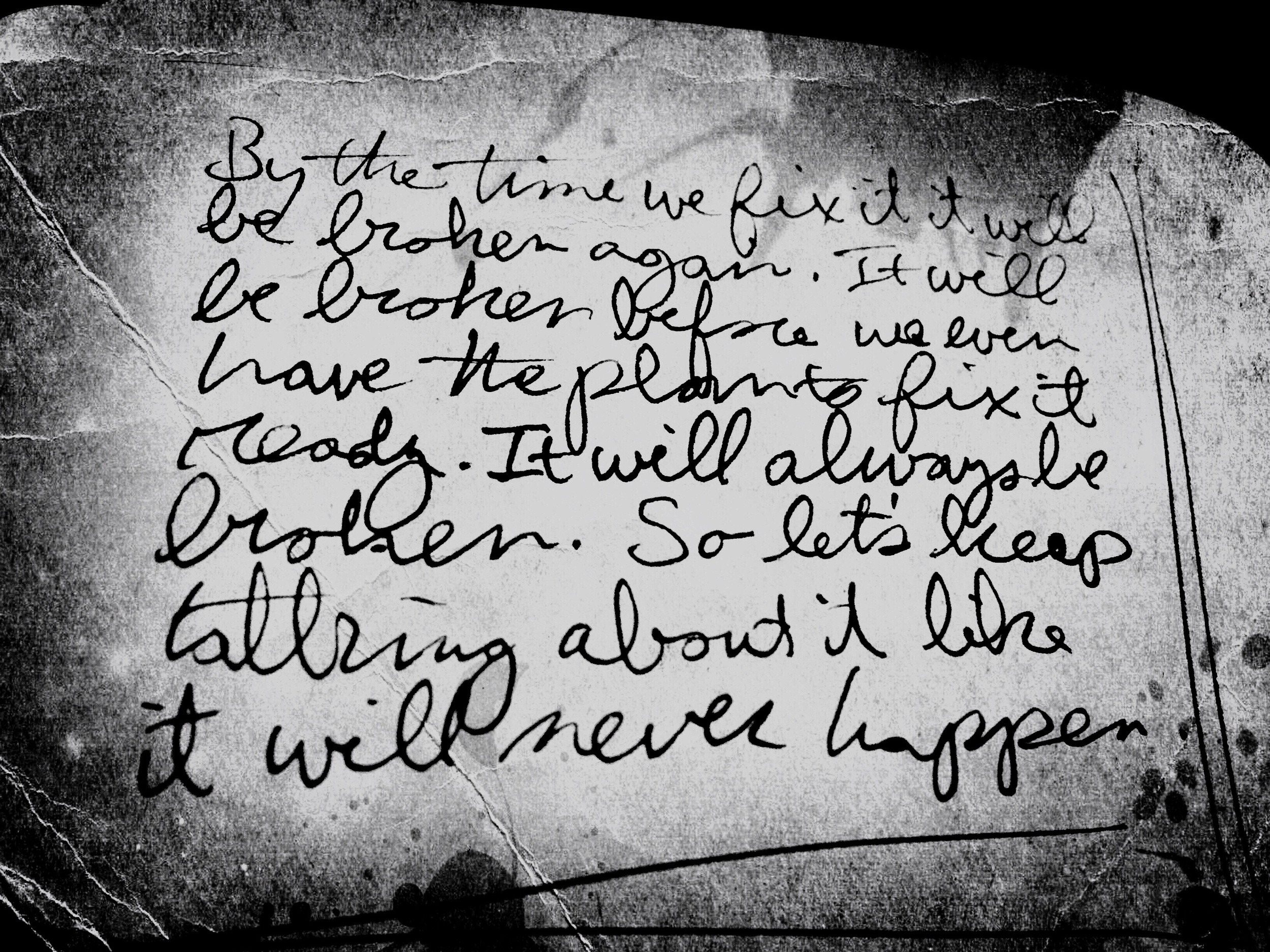 Like it will never happen.
By the time we fix it, it will be broken again. It will be broken, again and differently, before we even have the plans ready to fix how it was broken the last time. It will always be broken. So, let's keep talking about it like it will never happen.
p.shaw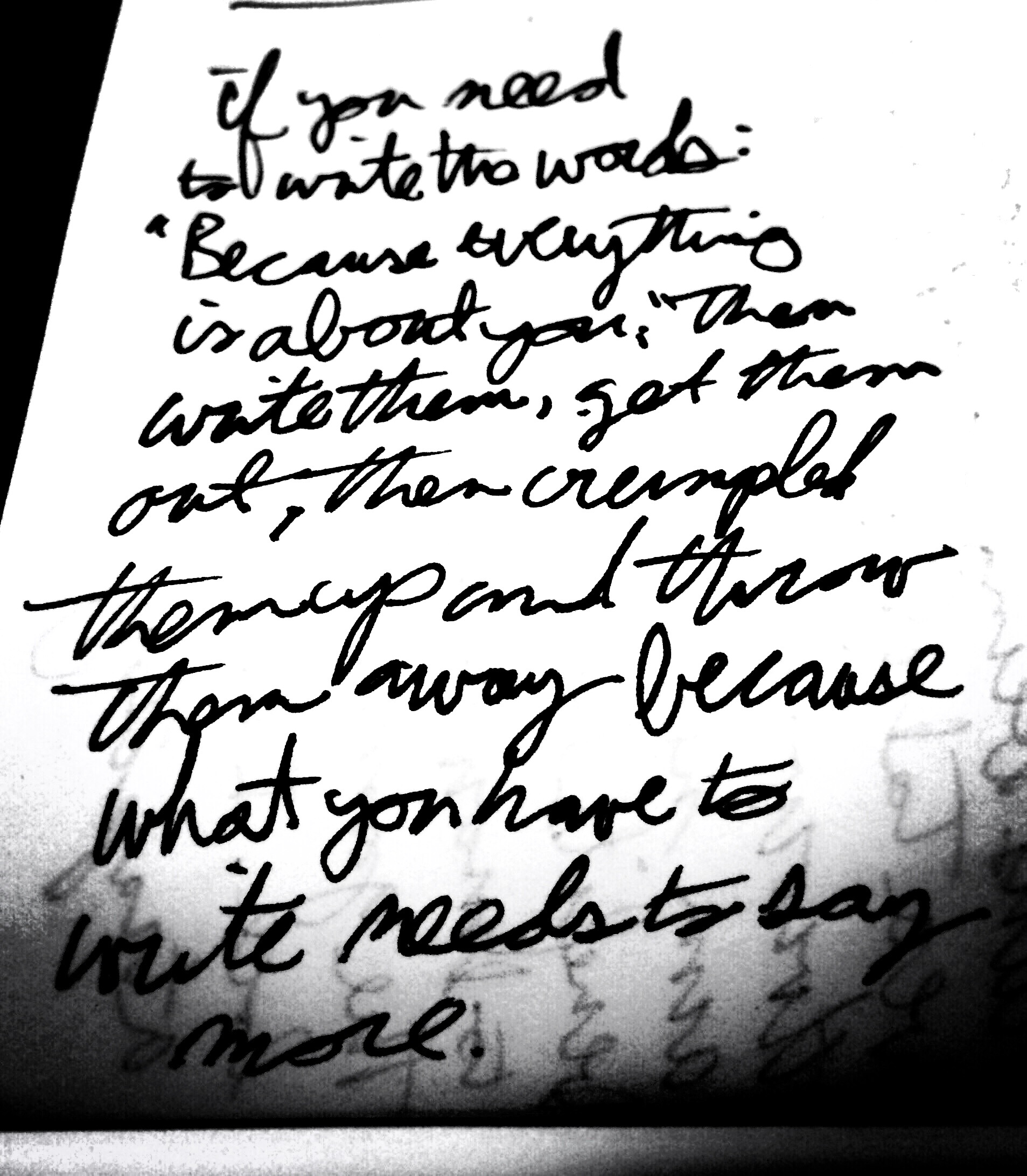 Isn't everything?
If you needed me to write the words: "Because everything is about you," then I should go ahead and do it. Write them, get them out, then crumple them up and throw they away because what I was writing, when you interrupted me, needed me to say more than that.
p.shaw
Someday you'll need help and I won't be there. Someday I'll need you and forgot I missed my best chances.
p.shaw
Nightstand Artifact: 8.13.2014
5:11am
Look @me and Like for I do Grieving best.
No. Look @me and Like because I offer the best in Condolences.
No. Look @Us and Like – we offer the best in Tributes.
Over here you can look and Like @our collective outrage.
p.shaw
How can we keep breaking the same things?
Sundays are the first days. It's not the best memory of my father, but the first of him was of putting holes in hollow core doors. I was born into a cheap frailty. I don't know how to describe slivers of particle wood and layers of manufacture look when destroyed by boot tips, how the splinters are weak but still erupt from knuckles. Where was the harder world and things made solid, or of stone? I watched him and my brother work from both sides with fists. I was three when the memories found a place and the doors hung slack on their hinges from being slammed and not a picture in its frame were square on the walls. The house leapt so hard from the inside.
Sundays can feel like the last days with happiness beginning and ending with Dunkin' Baker's dozens after church. And, I'm still fighting to not be like them. And, I wanted to break my hand on both of you a hundred times but one of you was too soft and the both of you scared me. As they got older I seemed younger and they yelled at things in unison rather than at one another: cars; cans of paint; always the wrong screwdriver for a job they had no business doing. They yelled, "FUCK!" from the garage as they threw what they didn't want to be to concrete. "I will never be like them," I had insisted to myself, staying not far enough away to miss all the "FUCK!"s and they believed me even though they never heard me. And, we believed they left me out of it. But we were all wrong about that.
Just another last day. Sunday, to begin the week ruined to unbury hatchets quietly over awful chewing of ceremonial pot roasts. We left it to Hee Haw to fix our sadnesses. I tuned my walkie-talkie to grab the long-haul truckers as they passed through, hearing only their initiations of keeping themselves awake and their songs that would make anyone cry. So I allowed myself to as long as no one knew. We were never, "it's all gonna be okay."
p.shaw
Nightstand Artifacts: 5.22.2014
4:12am
Growing up as a child in Kansas, the plagues of the Bible didn't seem so far-fetched.
p.shaw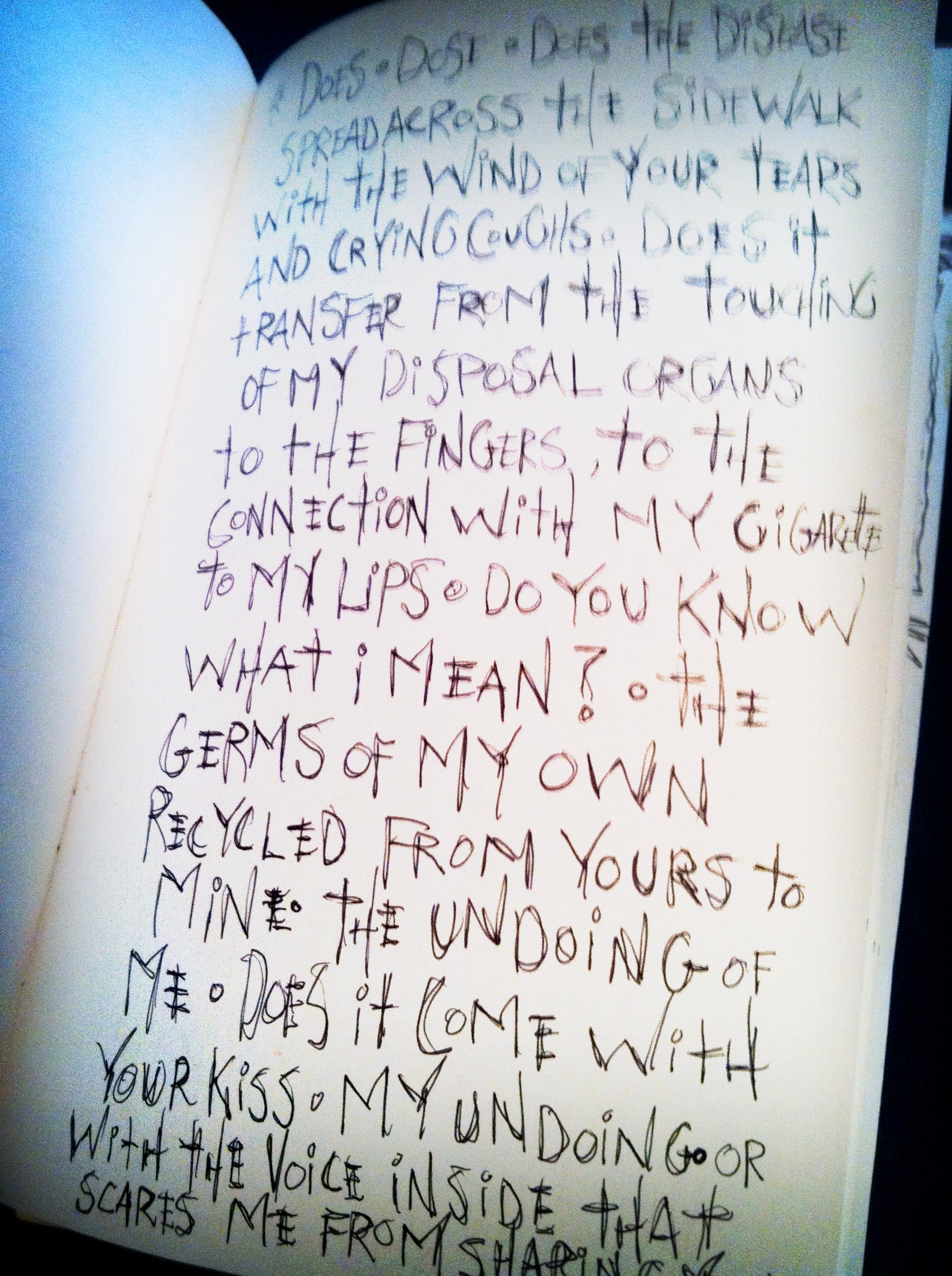 Does • Dose • Does
Does the disease spread across the sidewalk with the wind of your tears and crying coughs? Does it transfer from the touching of my disposal organs to the fingers, to the connection with my cigarette, to my lips?
The germs of my own recycled from yours to mine: the undoing of me.
Does it come with your kiss? : My undoing?
Or with the voice inside that scares me from sharing.
p.shaw
My Superiority : My Inferiority : Use it Less : Deny it More.
Man comes screaming down our steepest street, screaming fast, but no screams for help as far as I can tell. If there were I wouldn't hear them over my iPod insulations. He is hot-dog-wheely-wheelchairing, plummeting down one of our steepest streets, and even almost mows me down. I step back, he passes in a blur and falls over the curb, his big back wheels getting stuck in a gutter grate, and his chair tipping backward. I lunge to protect the back of his head from smacking concrete. The momentum ends with the ass of the chair in the gutter, his back tipped against the high curb. What would you do?
The moves I made to help him came before I removed my headphones. Safety and assistance first. He began to thrash about in his chair, turning his head this way and that, trying to get his eyes on me and with the threat of impact passed, I remove my hands from the back of his greasy skull and move them to his chairs armrests, leaning over to haul him upright, now close enough to him to see the junk marks and my ears couldn't have been more that six inches from his face as I do a deep-knee bend ('lift with your legs, not with your back') to try and hoist his protesting body and hearing his shouting at me through my music as painful complaints rather than, "fuck offs!"
I decide to get a better handle. I pull the plugs from my ears and grasp his insults. I'm still hunched over him though, still trying to help right his chair, keep him from dumping sideways out of it and into the gutter. Seeing the junk marks, I am bothering to consider the source of his ailments and whether it be junk or genetic or injury, it's all just injury to me and I can only hear his protests as pain.
Then I realize he is an asshole. His trajectory is planned, a skill he has acquired, his joy ride. My good deed becomes insult to him, was always an insult to him. And I know I have been insulted by better men and that's what primarily gets stuck under my skin. I am judging him now for his behavior, past and present and future. I step away and he keeps flailing his arms, keeps shouting, "fuck off! fuck off!" accompanied with a litany of accusations that my insinuate my assistance is motivated by a sexual attraction to him.
My false sense of superiority meets the truth of my inferiority, as a daily theme.
p.shaw
circa: 2002; On the rambla in Montevideo and then back in my cell of the El Salvador (BsAs)
This is a way for her to keep her dignity by sacrificing the child. They need him to beg but she needs to not feel like a beggar. She brings you back the few coins in embarrassment, accompanied with and explanation you can barely suss out, hoping or gambling for a bigger prize once she has your attention, then ear, then confidence. A game difficult for the child to understand. In her set of rooms you realize she, they, are richer than you. She wants you to be loud in a different way, for her, not for you. But the child she keeps in the furthest room keeps you quiet. When you leave you know there is no larger game for gains. She needed to not feel like a beggar. Just a woman to be loved again.
..................
The buquebus arrives late and finding my way along dark streets to the El Salvador. I tossed his stories on my bed as is my insecurities and incompetencies were so easily defeated. So perfectly disregarded as my refection. The one I manufacture in sequences of my control, dependent on: light; distance; and feeling for myself.
Luster covers the front of a river in a city that considers itself without a sea. While across the estuary the rambla is a subconscious of difference. This side sneezes and their cold is not enough to keep them away from their sea. Their bed is not the symbol of acceptance, as the pride of being located so close is the curse of (dis)ease.
for New Face
p.shaw
Notes for rewrite of New Face:
from the mother to the protagonist:
"I knew you from your hands."
from the daughter to the protagonist:
"I wanted you for your hands."
p.shaw
A Becoming of LIfe as One Sustained Litany
It's not about wanting so bad, it's about not wanting at all.
And what you do when something is finally given.
for New Face.
p.shaw
Fighting Over What's Left. Pt.1
The cane has gone missing. I haven't seen it in more than twenty years. It had become a decoration, hung upon the wall and losing any sense of heirloom status by the banal exhibition, a knick-knack.
But as a child I used to take it down off the wall on days I stayed home sick from school, all alone. I'd watch cartoons with it laid across my lap. I would rub its knots. I would smell along its hooked handle, the silver engraved cap at the end of that hook had its own smell and the tiny finishing nails that held that cap to the wood had their own. The sterling silver tarnished cap had always been a little loose, at least as long as I can remember.
I'd gently fiddle with its looseness and wonder how long until it had to be fixed I wondered who would fix it, whether there were cane repairmen? And I would wonder how strong the cane itself was, would it ever break, would the years of grandfathers and great grandfathers and great greats somehow release into the world when this stick came to the end of its useful life.
I would tell myself that I would use this cane when I no longer could walk without one. And now, I...
p.shaw
Fighting Over What's Left. Pt.2
...won't.
The cane was a casualty in the dividing after death. When someone dies and they leave nothing of monetary value to fight over the next option is toward an even more petty selfishness – one that appears as if it sits on a moral high ground because it is not about money: it is about memories.
And as we divide after death the trinkets, doodads, and knick-knacks, we declare what meant something to ourselves as a replacement for what was actually lost. 'Without this decorative plate I will not be able to remember my dead father.'
Somehow in the fight that ensued I lost out on the cane. I can't remember if it was even in the pile so like many marbles being quarreled over by children. The arguments made over any item made me sick and I decided all I wanted was something that I could carry in my pocket. Forgetting about the cane at all. It seems if I had remembered I would have of course begun another argument: wondering where it had been hidden away and what else could there be, of no value but memories to replace a man, hidden in boxes and closets. Should we spend hours tearing up the place? Uncover all of our lies to one another?
I know the cane is still alive. It has not been broken. The energies of...
Fighting Over What's Left. Pt.3
...ancestors leaned into its fibers are still contained. I know it but I can't say how. It hasn't gone missing it is being hidden which is sadder considering how it once was a decorative pride. It is being hidden because one of them still feels shame over that day we squabbled over what was left.
When my brothers and sisters die I will arrive early to the wakes and I will quietly excuse myself to rummage through closets because it will not go missing again. I am getting old and the time for my needing the cane is arriving too soon.
p.shaw
They Called My Father: Wheels. Part 1
Now there is Supertramp. There is Kenny Loggins. There is just John Cougar. No Mellencamp. It's not the same. I try not to compete. He does.
My father supports this in a way I haven't seen with anything else: money; encouragement; transportation. It's because it was his too. He also had theater, and scouts and band – he was a major, his was clarinet, and he had God.
These are all things I knew, we had all known. As his children, we couldn't get away from them, all those stories over and over again. And we were encouraged. never pushed, except to God. But we hadn't known about Wheels.
The first time I went his face was different, looking out the windshield. Not good or happy, not bad or mad, just different. That is retrospect. He made me rent my skates the first tike. He hadn't planned ahead. No reveal like a shortstop's leather glove wrapped in paper and set out to the lot to punch grounders at me. He made me rent.
I only had one summer at the old rink. It was dark and cavernous, the floor hard alder and poplar, alternating polished smooth for decades by clay components and now had polys.
p.shaw
They Called My Father: Wheels. Part 2
Near the farthest wall of the rink, where you could not leave the floor in these old rink designs, hung the photos of champions and of just plain histories. Since you can't stop, or shouldn't stop, they were only for those who knew who was in them. For the rest, a wallpaper of nostalgia. I hadn't known who was in them. For me they let me know I wasn't going to be the first.
On the way home, it was still just a different look from him. Different look and only small questions.
The floor in the old rink was made to race. They'd never build one like that now. Liability. It banked. Not oval or an extreme like a velodrome. Still just fun. Faster fun in a rectangle. In its rectangle, against that farthest wall where you couldn't stop or shouldn't stop, saw the floor rising up to the wall. Maybe six inches over 20 yards, maybe not at a 90° angle in the corners but 75 or 77. Enough. Just enough to be much faster than anything they'd build today. It seemed that other leisure skaters didn't care or didn't notice. I did, even though they didn't race here anymore. Heydays are for photographs.
The first time I saw the photograph, not in a blur passing by, I didn't notice him in it. When we got there early enough in the afternoon I could jack around and not get called out on the P.A. for reckless skating. My favorite thing was a straight shot at the back wall, across the length, disregarding an oval etiquette, fast as I could and up that slight banked incline where my toe stops would ram into the carpeted baseboard bumpers, my body would lift toward the wall below the photos. Just below the photos was an old walnut rail, more a wainscoting than anything, and in the arc of my little body flying upward my hands heading toward smashing into the wall below the photos, I'd reach to pinch the railing between my thumb and fingers. It was a tenuous grip that would freeze me at the apex of my flight, the best part of my favorite maneuver, before pushing off backward into space rotating my body a 180° and nailing my landing as I flew down the incline.
At eight years old, the apex of that flight always put me at eye-level with just one of the fifty or so sepia toned images in seven by five inch frames made from left over or replaced rink surface planks, that had been spaced haphazardly across the entirety of that back wall.
The first time I had made my amazing signature maneuver was in June. By August I had seen that same photograph hundreds of times. Maybe it was on the four hundredth and first time that I noticed: The Southeast Regional 52' Flyers wore medals. They were balanced on their toe rubbers, ready to make a fast break toward the camera. Their names had been modified into the negative, a little scrawling and shaky handwriting not quite adept at shaping letters backwards. He was second from the left. It said Wheels Wallace.
I asked him about it on the way home. He made a left turn at where we should have made a right and we took a long way. He drove slowly. His face was not different than the different it had been before.
The next day he drove us to Tulsa where you could buy Flyers: lower leather on the ankles, longer centerlines, sealed speed bearings and white stripes. The kind of liabilities you had to drive to the big city to buy. I never rented again.
Over that winter they tore the old rink down and built a modern one of cinder block walls and concrete floor sealed in epoxy. Bright lights that had built in, music sensitive, special effects. The rink itself was accessible with hand rails that went the whole way around. A snack bar twice the size and something brand new they called, Pac-Man.
I had ordered Zingers, glow in the dark wheels, from the mail-order catalogue for Opening Day. But racing was over, not encouraged, not allowed. But still the Rink was shaking things up for a new era.
I was now nine in my Flyers and Zingers and ready to go. I had short hair and wore my favorite Fonzi T-shirt with an emblazoned "Heyyyyy!" across my chest. I had new Toughskins.
p.shaw
What a Ruckus (or) Studio Portraits are a Cheap Way to Exist.
What a ruckus. What a ruckus. The truth that bangs back and forth within my head makes.
Your laughter is shit to me. Means shit and fuck all. But that doesn't meant it isn't rude of you. Doesn't mean I don't look forward to someone shutting you up. Or something.
It has happened to me. Things happening will shut you up and when I am lying there, quiet, I know these versions of Me to you, can feel somehow, wherever they are, they have been silenced. If they listen.
That's how I hope the universe works, anyhow: that itch, the unexplainable itch, is not a dust mote biting my wrist. No, it is you shutting up and me being let known. It is you being shut up by something so dreadful that you could never even imagine your rude behavior, making you so deserving, in your recent past. But is is there, trailing you – a shadow of narcissism that collides with your pitiful moment – which is potentially also an "all one" moment. And the universe sends a tiny prick to let me know that fat bitch in Car #8, Row #18, Seat B, just finally shut the fuck up, on a universal plane. Happy now?
p.shaw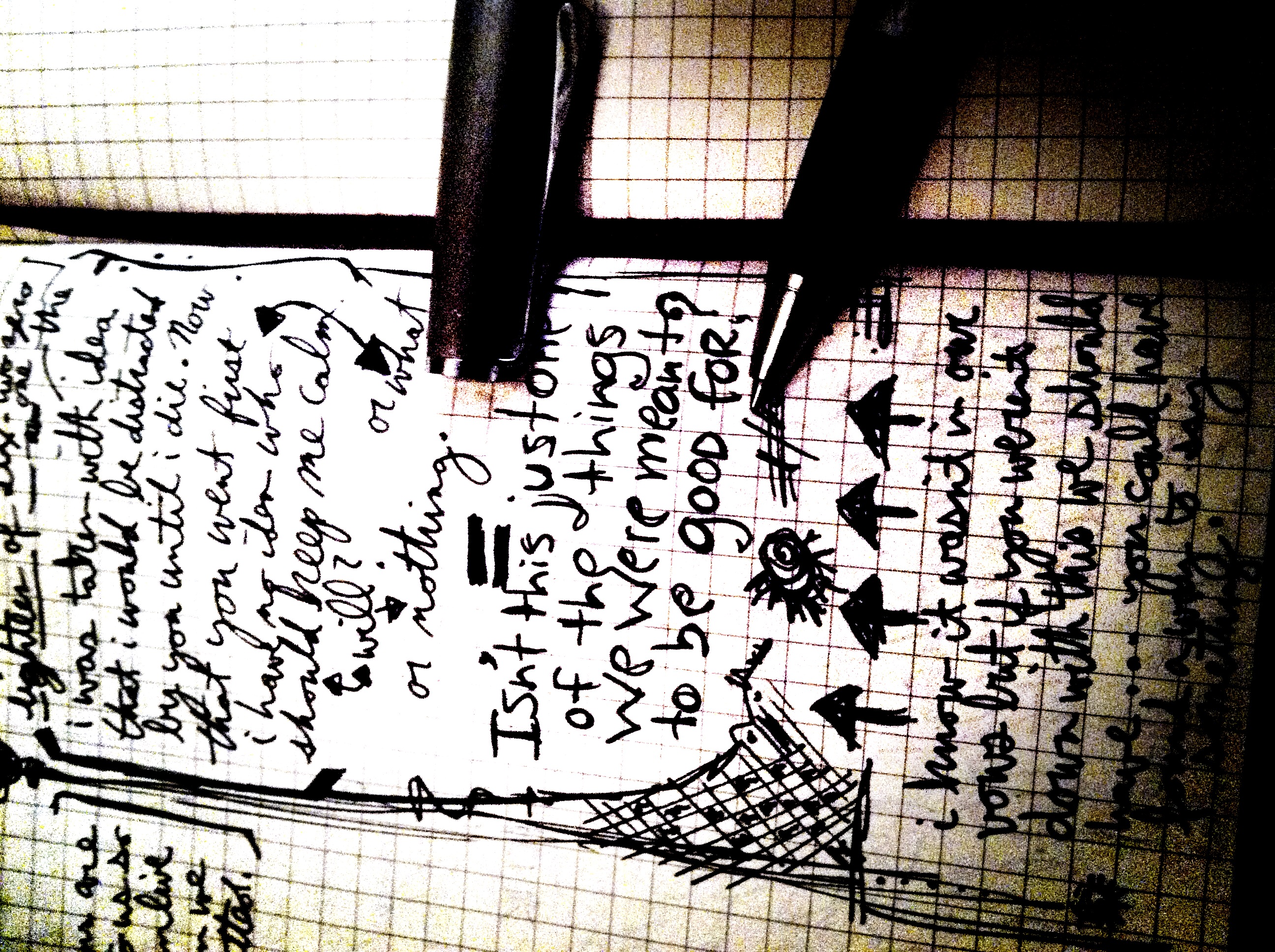 Isn't this just one of the things we were meant to be good for?
I was taken with the idea that I would be distracted by you until I die. Now that you went first I have no idea who, or what, should, or will, keep me calm.
Or nothing will.
I know it wasn't in our vows but if you weren't down with this we should have... you could have... found a way to say something.
p.shaw
What I want to be is fingers.
"You don't deserve it but the answer is my breath."
An experiment with Dr. Quinton Morris.
p.shaw
How I Move. (where it begins with a list)
It's just a mirror.
I'll never be as good as you or worse than you.
So primp, stroke your hair, smile your smiles,
face your faces, look to your hearts content
but it'll never be you. It'll never be how
I see you or how I see myself.
It is not as good as you.
It is not worse than you can be.
It's just a mirror.
Primp, stroke, smile, face your face
and know it's not yours.
It's just a mirror.
p.shaw
They (there is no 'They') say:
When it's going to happen, anyway,
no matter what,
none of us should be bothered
with the fight.
Except, and even if you've never
thrown or taken a punch,
being born was a fight.
That's what we're made for.
What we're going to do, anyway,
no matter if it's already begun to happen.

p.shaw
How I Move. (answering yourself)
And everyday I get weaker and stronger. I wish sometimes it was only an issue of self-loathing alone. But this time around I can see the valuable aspects of myself. But I'm still not happy with what I see in all those mirrors.
Maybe I'm trying to choose a starting point from which to start over. Everything else, for the last year, which is really all I can speak of because I can't seem to remember certainties before that, has all just bled into one another.
Ecstasy and hatred, control or lack of, health and sickness would change sometimes by the minute. Most often though measured in days. Then it was over and I became practical and I have punctuated that with drinking.
p.shaw
How I Move. (one part)
This time, though, it was her show and a response was sure to be in order. I could let go of that ineptitude to speak. For my actions, the actions that would be surrounding her from all sides and in command of all her sense, would be screaming much louder than all those words lost in my utterances and muted mumbles.
I lit another cigarette. I smiled at another passerby and tried to let go. Because this is where and how my mind had traveled for the last 48 hours...
How I Move. (another part)
But this was my place, in more ways that one, and I could not help but know she was about to find me out. I convinced myself this was her show, that she finally had something to say to me and I was determined to give her the space to do so. And there was a part of me that wanted to hear from her on her own terms.
p.shaw
How I Move. (a fragment)
As I stood to walk to the bar my eye caught that glint in hers that spoke those 1000 words. I could tell she thought I was pandering to her as I always had and perhaps I was even upset.
Things couldn't be further from truths and with nothing to work off of other than her past experiences the assumption on her part was a logical one if only that little bit presumptuous that comes with not addressing looks and feelings with out loud words.
I tried to tell her, warn her, and that long drawn out look that could not have lasted more than two seconds...
p.shaw
Starting over with a beginning left for better times.
Let's back up further. Can I describe, should I describe man meeting woman? It's self explanatory really.
But if you don't know, let's say you are a woman, and you don't know the temperance of a man... I keep trying to make a point and I'm going to continue to go in reverse until we come to a starting point... and the starting point is, Oh hell! What is the starting point?
I'm gonna start over.
The ring is missing.
My father was a kind man who placed probably far too much import once on sentimentality for the modern age. And his symbols became my symbols.
He was a fine man who fell in love at an early age to a woman of an earlier age. At my age, currently, I can see the folly of his love. Projected love. Which in the 1950's was considered endearing and desirable. This projected love was projected on a woman his junior who embraced it, accepted it and followed his lead for the better part of twenty-three years, if even she did not know why. After I had lived with my father for another decade after their twenty-three years, I came to feel that twenty-three years should be defined as the better part of an eternity. I now see it as a quickly lived sentence.
One person's perceptions can be felt and deployed so strongly that their ripples can color completely any other idea.
If I deploy my opinion with enough vigor the weak and impressionable have little choice but to accept it.
When I was twenty-one I had the opportunity to screw the one girl I desired for three years of my teenage life, an eternity, really, as one can only see it then. Her name was Ginger. The only problem was the night that I had the chance...
p.shaw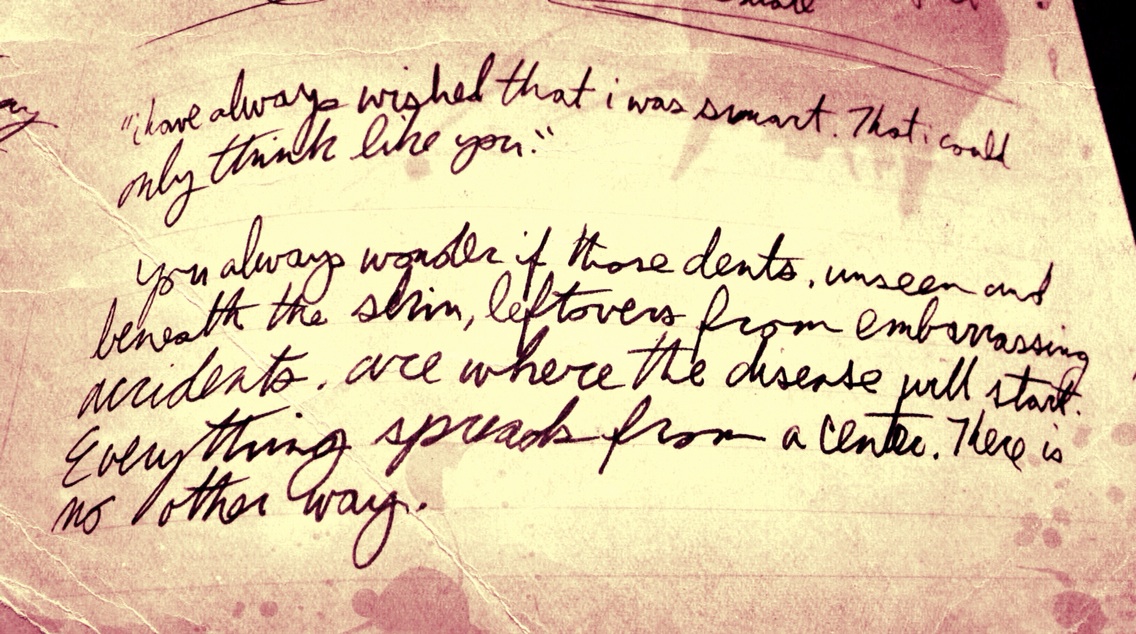 regardless of overlap
"I have always wished that I was smart. That I could only think like you."
You always wonder if those dents, unseen and beneath the skin, leftovers from embarrassing accidents, are where the disease will start. Everything spreads from a center. There is no other way.
for The Ring
p.shaw
when Home has too many things to do...
This entire idea of traveling from Point A to Point B, setting up camp is valid.
My lie to myself is: Spending Time = Six, Four, Three, Two, One week(s) in a singular locale is not close to being.
So, I can admit this. I can consider this. Change this and give myself another definition of why I travel as I do.
On a three tiered scale:
• I want to be in only one place, for myself
• I don't want to pretend that I can feel what they feel
• I enjoy watching them feel what they feel as they love their authentic lives
Then I keep adding to the scale.
A Fourth:
• I may not be able to recognize anything: real or not.
A Fifth:
• I just like being somewhere else other than where I'm from
p.shaw
Notes on Nerudova
The original notes for the travel essay that was published in Everywhere Magazine, 2007, along with photos from the trip to Praha.

Here's a link to the article and the photo essay:
http://www.everywheremag.com/articles/54
Notes from being stuck in an airport hotel on the outskirts of Salt Lake City on business.
The oasis' have managed to kill even the undesirable lots. These pocked vacancies sit waiting to be chosen like the awkward child neither team wants to draft. Their weaknesses, instead of poor conditioning and spindly muscles, are the distances from established thoroughfares and multi-level parking units. They are not the perfect triangulation of freeway exit, frontage road, cul-de-saceal success, or man-made weeping willow lakes. Eventually a team will have to choose them either by expansion or the need of the minions for more paddle-boar waterfronts. Until then they chew their lips content with bench warming as storage grounds for excess air ducts and plumbing PVC.
Once I am paroled from this room I will set foot upon them, consoling but knowing I only have to spend two days in perdition, while their future is decidedly more bleak.
I've now eaten my Continental, sweated the fitness center, swam 40 laps in chlorinated bliss and watched 6 movies on HBO, including a poor rendition of Tolstoy's, Anna Karenina. One of these actors played a villain in an older James Bond film and that memory couples with English/French accents, littering with periodic Russian spoken subtitled moments, has forever ruined Anna for me.
p.shaw
Notes from being stuck in an airport hotel on the outskirts of Salt Lake City on business. Pt.2
Why is it that American made films of Russian subject matter always mix put on Liverpool accents with vaguely Parisian ones? I mean wouldn't an Italian one be more referential? Throwing in an occasional "Dah!" for effect. I suppose Hollywood decided Russian is inappropriate for viewers or lacks merit in the marketshare. And here we are decades later and we still have Rock Hudson, painted red, grunting English as Geronimo's nephew, a 90's version. Hollywood racism will never die.
There are things you think about while imprisoned. Albeit, I am in a "luxury" hotel, or what passes for one in these parts. In a state without liquor there is no such thing as luxury for me. I positively could not stand prison. This much time, with nowhere to go. For that matter, I could not stand working in a sterile airport-accessible glass business park, going nowhere. Prison sounds almost preferable. At least this one.
There is one more reason I am imprisoned in this room until my departure, even after business is concluded. Despite all the aforementioned observations, if I had the freedom, the only publicized attractions at my disposal seem to be of the sort that line the pockets of the heirs of Brigham Young or Joseph Smith. All find and good for them. To tell you the truth, I did expect to find the book of LDS placed in my bedside credenza, right next to, or instead of the Gideon's. Nada! Those cheap bastards. I won't give them a dime, tourism or otherwise. I came to prison to be converted and I'm severely disappointed.
p.shaw
It's been too long.
It's been too long.
I drowned in my own and
was forgotten to all
I forgot that last thought
as well as all before it.
I have to explain to remember
and as I do focus.
Ghosts of the corner of eye
edge of vision spirits distract
the action intentions of the
moment. Little old
bodies carry amazing voices
it happens to be enduring the
human body when given.
p.shaw
pixies and some peanut butter.
It was on a Tuesday, Kurt Kemmerer.
after CDK.
p.shaw
the evening I collapsed is how I imagine death will be – then awakening to walk through a front door I hadn't left through.
There was a stumbling – no bumbling – and I walked, smiling and greeting familiar faces on my way to the thing passage heading to the back of the house – the restroom of the cafe. "I'll be right back" – it didn't even come out of my mouth but instead my eyes looking at my waiter – the bartender, actually – my friend I left behind. And through the open glass door I kept moving, gay. The cognac was moving in me unlike my typical whisky straight or strong bold wine. The feeling was warm – not disconcerting – and I reminded myself to try more things – that I had perhaps exhausted any value of the repetitive examination of my habitual pleasures.
As I turned the corner of the long hall I made my last few steps and grabbed the restroom's door handle in one swift motion – then the lights went out and no telling for how long either.
p.shaw
Men.
Men died on this night and I can't deny them. But I still struggle with forgiving them. Loving them no less.
p.shaw
CDK aka Bomb Drop – part 1
We used to call him Bomb Drop. It was a teenage-boy-thing in the 80's to give another nicknames – handles – probably still is, probably always was. They called me Chef because I was the only one of us who gave a shit about what we'd eat.
His name came from the "trick" he was infamous for – not even a trick, really. In skateboarding there are many moves, and variations of moves. and ways to personalize moves with style or movement – then give them names; some of these took a lot of refinement, practice, skill and the nuances were not easy to spot to a casual onlooker.
The Bomb Drop is none of this. A Bomb Drop is skating off a high area and dropping, falling essentially, onto a flat surface without losing the board out from under your feet. It is more of an act of courage or stupidity. We had a reverence for height, for stupidity.
p.shaw
CDK aka Bomb Drop – part 2
Most of us would try it. We'd skate off a loading dock, behind a grocery store, maybe four or five feet high. That's where Craig started, too. The difference is he kept going higher. The rest of us worked on "real tricks."
Frankly, he couldn't skate worth a damn. He was fearless without a lick of talent, balance or control over his body. On some level, we all sucked but he was the worse of our bunch and he knew it. So, he kept going higher.
He'd skate off the tops of cars and roofs. If a semi-trailer was parked in a lot, he'd climb the damn thing and skate along the top of the trailer and just fly off the end. Fall, really. Something about him knew how to fall, straight down.
p.shaw
winning the war.
I kill the ants between my thumb and forefinger, one at a time, decisive. I leave the carnage upon the closed toilet lid. I don't know where these ants have come from. They showed up, overnight, a couple weeks ago.
We tried all manner of things to stop their desire to find us: sprays, powders. Initially we killed them en masse with the sprays and powders and they would not come back for a few days.
Now each morning when I turn on the light in the bathroom they are back. On somedays it was dozens. I'd kill them as quickly as I could. Smash them with tiny bits of toilet paper torn from the end of the roll, and toss them to down the rest of their death. There'd be these dozens of ants floating in the toilet, maimed, amongst bits of toilet paper and only when I had gotten all from that morning's invasion, would I flush. Same thing, everyday.
Now I kill the ants, one by one, between my thumb and forefinger, as many as I can find. I leave their carcasses on the toilet lid until I am through with all that I catch. Then I remove parts of the tiny ants using my wife's tweezers. Disassembling the carnage. I don't tell her about the tweezers or the ants. I wake so much earlier than her she needn't know. She thinks we took care of them with sprays and powders weeks ago. The war against the ants is mine.
I take the body parts: legs, thorax, head, tiny antennae; spread them randomly around the area where I think the ants are entering our bathroom, only flushing the larger parts of their bodies.
I have done this now for three days. I am sending them a message and it is getting through. Everyday there are less ants when I turn on the lights than there were the day before. They are getting smart. They are getting the message. I am winning the war without sprays and powders.
p.shaw
All the things I have to say now and things I have to say.
sometimes you walk by a stranger on the street and they have that fragrance – the warm sweet smell of someone who is masking their original scent, hiding from their fragrant truth. It goes beyond the atypical excessive perfumery or the cologne bottle turned for too much of a pour.
I believe the difference to be the warmth – the discernible change in temperature regardless of season or climate. And it is almost always accompanied with a smile as recognition, and not one of apology. For the odor is not entirely unpleasant and reminds me of the black girls I used to desire secretly.
p.shaw
Maradona's Hand of God.
Once we had flown from Buenos Aries, Argentina to Lima, Peru, just a connection on our way home from a month spent wandering and wondering how we could live in that city for the rest of our lives. She was fine on our first flight but upon departure from Lima she was struck with an attack of anxiety. It's mine, the anxiety of flying, I suffer this thing – frequently – and she does not. This thing that is at its base a fear of dying without being able to have all the information at hand, being in a back seat position: I am convinced that Pilots are instructed to let us all die in a state of misinformation. I suppose it matters little, this knowing or not knowing, but it's at the base of my fear of flying.
She is struck upon takeoff and nothing I can say will help her. There is no turbulence, no signs of trouble. This is only in her head, as it is usually in mine, and in her heart, too. My empathy mixes with respect to determine the fact that I have little to offer her. I do hold her hand and I begin drawing with my pencil on the reverse side of her bookmark from the book that she tried and failed to distract herself with.
I draw shapes that cover shapes. I am drawing nothing. I shade upon shading just to have something for her to focus on. She focuses on it. "What are you drawing?," she asks. I try to find a shape in my shapes and shading to take a direction and give her a story. "The Hand of God," I say. "Don't talk about God right now, you ass," she says. "I wasn't talking," I say, "I was drawing. But it does have a story I say. It has nothing to do with God. It has to do with a bunch of things I noticed in Buenos Aires," I say, "It has to do with soccer." "What are you talking about?," she asks. And I begin to tell her about stories I read in the papers, about Maradona having his own talk show, candy bars named after him and his Hand of God, remind her of his visage we saw splattered among graffiti on posters or as spray painted stencils as icons to compete with Che.
I tell her only what I know, heard, read, observed, which wasn't much in detail of the the actual incident and I am drawing all the time. That is what she cares about, watching my pencil. She calms as she watches and sort of listens. She doesn't ask any questions until, when I'm done, she asks: "Can I keep that? Forever?" "Sure," I say, "of course."

p.shaw
Stating a forgiveness is not the adequate salve for blame.
My mother stood there crying, apologizing in some maniacal rush for the hundreds of trespasses in our past. They poured out of her in pentecostal litany of tongues and blubbering that no one but I could translate. There details were dates and days of the week, men's names, and toys promised. Excuses so specific to an afternoon I was left sitting in a park to wonder after her that I was transported back to them, could feel my fingers and toes getting numb and tingly under cheap mittens and tube socks, could taste my hot summer allergies after all the other mothers had picked up my little league teammates.
I had never bothered to consider her temptations: size of a man's dick; depth of her bosses wallet; that ignorant bliss of pretending you had no more responsibilities. Why would I have? I was the child. I am still the child. I had always consider myself right and had always wished to deserve what I naively expected others had in a world that doesn't exist for very many.
And now as her shoulders heaved with what was left of her apologies, her justifications making a kind of sense, all I could think was: you still don't know who I am and this is wasted on me.
p.shaw
What makes the capital most interesting to me is the discovery – the continuance of discovery. You overhear residents who have been in residence of the capital for seemingly decades (I can only assume: seemingly. It is not an inference in voice but an intuition of mine, for which I am quite well known), say things such as:
"And if you cross the street there is the access to the _____."
"Really?"
"Yes. I just found out about that."
"I cannot believe I never knew that. Has it always been there?"
"It only must have been. Wouldn't we have noticed a new development, if it were a new development?"
"I don't know, there is always so much..."
"Even so, if it were new, it would look new, in the new fashion, when in fact it looks quite old. It has been there for longer than us."
"How come we never know?"
"I do not know."
This discovery of the banal, yet well thought out and engineered conveniences, seems to be the continuity of the capital. As if: The Capital has always existed – not developed – but plopped down as an immutable house, and you spend an entire life figuring out its walls, halls and passages. Where it has its stores and pantries, places of respite, where you can accomplish a day's duties, and while it never changes, you do. Because you discover the Capital, the House, was built with all you need. And you were not.
You were not built with all you needed to know or would benefit from. That you must figure out on your own, or with you cohabitants. We are meant to debate with one another which are the best ways. We are meant to discuss, through design, and hence evolve to new ways of inhabiting the Capitol. And this is how Faith is born.
Instead (this is only how it feels), the truth could not be farther than that passage that had lived unseen from those two I overheard. The Capital is shifting, the walls and passages are moving, the places of respite are changing beneath us whether we rest or not. This is, and isn't, but should be: obvious to us. The Capitals maker(s) had this intention from the beginning. Otherwise Heaven (or Hell) becomes boring The discovery of the old has just been an artifact of our failure to hold it all in our minds. All the designs we had built to help ourselves.
p.shaw
it had to be on her floor.
I made like it was natural: an act of passion, to throw her down, to prove my virility, but the sad truth of it was that I did not want to lay with her on a place they had been. My act of savagery was just that: an act.
I was still my broken, sensitive, overly sensitive self with issues: abandonment; being beaten to the punch; coerced into my largest mistake to date; having taken the bait.
On the floor I was protected from failure. Trying to steal some dignity by not feeling any love for her, no intimacy, my dick hard from hatred: as if the notion of thrusting was meant to permeate her interior surfaces and my faking groans to seep my blackish anger. It was the first time I had faked an orgasm knowing the irony that she had plenty and maybe this was actually the first she hadn't faked for me.
I left by way of the darkest and latest of hours – but not too late to grab a drink and smoke the bar closed. Intellectualizing my actions. The next morning I called him from a pay phone, having snuck his number from her.
"Hello. Hello?"
I breathed and waited to calm myself so the words would be assured without room for interpretation.
"Who is this?," he said.
"One more time," I said, slowly, matter of fact, without a pretense of threat.
p.shaw
A Historical Record of When You Hurt Me.
I decided to tell you exactly how you have hurt me.
I said, "There are five of you who have meant more to me than I have ever let you know. I know you know that I admire you. It would be obvious. Perhaps you haven't considered it but if someone asked you directly: 'Do you think Walter looks up to you?' then you'd have to stop and consider and think back across all the days we've spent together and I am certain if you bothered to do that, then the only conclusion you could come to would be: 'Of course.'"
I said, "What I wonder: In doing those calculations would you stop on those moments when you hurt me so deeply and wonder if the pain you had unwittingly caused me in your bravado has had more of an imprint than any of the other times we shared, all those times that you'd realize naturally have led me to count you among my best friends."
Example #1: "He got dressed up just for you. Couldn't stop talking about you coming by."
My ex-wife was stopping by our offices to pick up a copy of the Koran that belonged to my ex father-in-law and had been given as a gift to me...
from: A Historical Record of When You Hurt Me.
p.shaw
a ride on a bus from a long time ago...
Similar to my experience in reverse. From my hill the ride is pleasant until we reach the mid-town symphony – then comes the wretched that has kept me from riding the bus in recent years. And when I say wretched I do not speak of class, worth, sanity – the bus in certain neighborhoods fills with wretched across all lines of demarcation.
For today, the ride down from Queen Anne was hardly bearable, filled with children on a field trip to the library: teachers hushings brought sharp silences that lasted no longer than a beat and then were consumed as in an invisible conductor urged the children to bleat louder, after each challenge of the hushing – more shrill and distasteful than simply leaving the children to fill the air with a monotone and constant drum.
Then came the Standing Room Only smells from Belltown, coming aboard to join the chaos – lifeless bodies harboring the odor of piss, cheap cigarettes, of sleeping in alleys of vomit and sweat, of the waste-fryer-oil issuing from pores and stuck to beards. I remembered Hamsun's romantic pencil and reminded now of my fear that that world can scarcely exist, if at all, for the new destitute.
p.shaw
watching your own disaster.
aside my favorite companion who never bothers to question where we are headed, it all being the same to him.
A small revolution in Nashville.
...the deserving one, by making it policy, when a patron does not watch, to dip the dick when they can. I would. These drunk fuckers, if even I am not one of them, leaving their accents, their bullshit, their indignant, I am default: someone to be pissed on, be pissed in – and what a joke if we don't notice. But we tip just the same to show off to our girls, our wives, our girls, our prostitutes. A small revolution.
Nothing big can resist the litigious in America, so the service has given up on the "Union" taking it in their own hands – literally – to make a statement they collectively and individually use as counting sheep as they go to sleep: One Fuck in n ugly tie drank my piss. They all drank my piss even if we didn't touch it. All this crap we market as "premier." A drunk fuck of any stature will drink when they don't bother to know the difference. A description on a menu or my smirky recommendation: I control their piss intake.
p.shaw
...to ask the teacher how well he could dance.
You may laugh at all of this, and young minds develop in funny ways, so laughter is adequate. Eventually the other pieces of heaven made me forget Don Cornelius and the Jackson 5. Perhaps once I saw my first scene of the crucifixion, no black folks present, I realized the glowing portrait of Jesus Christ, head and shoulders above the podium, looking like a much younger George Washington (cherry) with a beard, was not a picture of a man waiting to become black, waiting to trade in his white silk shirt for a fuschia shiny poly job. I don't know, it all made sense at some point, at least a little. Enough to discern white from black as both being humans looking for soul(s). The rest is still just more uncertainty I haven't asked about yet. But the confusion was enough of an overwhelming experience to just ally George Washington Carver with a peanut and nothing else, to this day, while George Washington (cherry) is a little more filled out, but still quite fuzzy in my understanding.
p.shaw
You know him, probably, better than I.
I realize it might be a bit of telling information, but his first time in Las Vegas the thing he noticed the most as he floated the casino floors was. and again this might sound a bit strange to you but it's the god's honest truth, the men's facilities. He became quite impressed with the lavatories and while it wasn't his main attraction by any means, he made sure he didn't miss a single one whenever he moved to another part of the floor or through some tunnel that popped him up in an entirely different casino.
I'm sure if you asked him now howe he liked Vegas, and you happened to be in a social situation, mixed company, and all that, and he was to have the floor, all eyes on him, he would refrain from elaborating on his enlightening toilet experience the way he did with me. Yes, I'm positive that his conversation would steer more towards the lights, cling-clanging hustle bustle, women in fancy – or no – clothes, free drinks, and his moderate-to-poor gambling luck. He's not a denier but it's also not something you come right out and say, unless you were me and he was as drunk as he was when he thought I was perhaps also as drunk as he was and so his confessional would not be recorded.
I may be fortunate to be privy to his insights, for lack of better term, or perhaps I am cursed forever to never set foot in that city of lights, out of fear that I might find the same awaiting me.
Taken as he was with drinking, and blessed with a small bladder, every opportunity to visit all the fine facilities available in Vegas's finest resorts, hotels and casinos were frequent. As I said, he began to seek them out. He told me he came to feel quite comfortable doing all his business there and that he fancied the automatic extravangancies. What with toilets that...
p.shaw
You know him, probably, better than I. pt.2
...that flush for you as you rise, faucets that turn off and on with the wave of a hand, towel stewards, complimentary shoe shines, mints, and warm, moist toilettes. These were the finest bathrooms he had ever known and why not? The gamblers and scammers need a place to go and unwind without retreating to their rooms. Somewhere to evacuate their bowels and the like and feel as pampered as a wretched gentleman sinner can in a city of ultimate excess.
All of this I am sharing with you now is how I basically heard it from the horse's mouth and, like you might be doing at this very moment, my impressions of him leaned toward the unusual. I have known him but only a short time as friendships go, but I had the unlikely misfortune to happen to be working not far from the local airport and finishing off my work day very close to his time of arrival. Being that we drank hard and spoke of his impending lack of funds on his return from Vegas, I agreed to give him a lift home knowing damn well he wouldn't have a pot to piss in after a week in Vegas, let alone cab fare. And, as I said, straight from the horse's mouth, he came forth with all these detailed descriptions – not of all else he experienced in Vegas – but of every bathroom he experienced. It was disturbing.
I do know him to be a jovial drunk, as those things go. Typically lucky in love, while a poor gambler in all other aspects of life. But certainly never have I known him to be an excrement obsessed pervert. I meant beyond the typical...
p.shaw
You know him, probably, better than I. pt.3
...fart and crap jokes members of the male persuasion lean toward. His is an articulate voice; engaging and always interesting point-of-view. I befriended him for these very reasons and bored as I was with this particular line of rhetoric, I endured confident that it lead somewhere. His descriptions were flawless and verbose. I took the few opportunities of a paused breathe to inquire as to how his observations might translate into the other luxuries, or architectural extravagances of the respective casinos these lavatories were located in.
He didn't ignore my questions. He just gave abrupt answers that added little to my image of the larger context of casino and then he moved right back into talk of another crapper. As the crow flies through traffic, I endured this all for as long as an hour. Finally giving in to half-listening, half-searching for an alternative route that could get him home quicker.
And then he began on his last night of roaming the strip, seeming to lead to a point in his ranting, as if he had been reading my mind, "I'm no weirdo, mind you, I don't go on vacations exclusively to take a dump and report back on how satisfying it made me feel or how elaborate the facilities. I do have a point to all of this, I do. And I have taken no more notice of all these things than, I believe, the next guy would. But, I have spent the last two and a half very sober hours of plane flight reconstructing in my mind why, and how, I came to experience what I am about to tell you. Somehow, something, followed me into every restroom..."
p.shaw
You know him, probably, better than I. pt.4
"...I saw. And I knew it subconsciously, but dismissed the feelings as just thankfulness to be away from the lights and the noise, if for only a moment in these pampering johns, a place I could cleanse myself of the ridiculous behavior, and then... as I sat on what became my most frequented john, in a casino I had been enjoying both great luck and miserable misfortune, and loving every minute of both... I sat, mapping in my mind a new roulette strategy and when I was up enough the bets I could make at the Craps table, when it came... just a slight jiggle of the..."
p.shaw
You know him, probably, better than I. pt.5
...handle on my stall. A jiggle that began a series of events that changed my life."
I was sure we had come to this punch line he had been stringing me on for an hour before delivering, experimenting with his vocabulary on an inane subject. He had been known to do so, and I was positive it was all one of his jokes born out of his incessant need to speak to someone like me, willing to listen. I expected it to be a good one and much laughing would ensue over how he spent an hour of my life hinging me on every last word of the benefits of a fine water closet. Except, something in his voice was different: down an octave, hesitant and unsure, he shook and began to cry, blithering now without continuity and finally asked me to find a place to pull over and buy him a drink so he could finish this story. I knew him to be an astute monologuist but no thespian and the promise of a punch line had disappeared.
Clouds loomed as I pulled into a no name hooch joint and practically had to carry his rapidly shriveling mass into the bar and pour him down in a dark velour booth as I excused myself, " All this talk of crappers is making me need to dump," trying to lighten the mood. But no smile was cracked on either of our faces and I rushed away not knowing what I had gotten myself into.
p.shaw