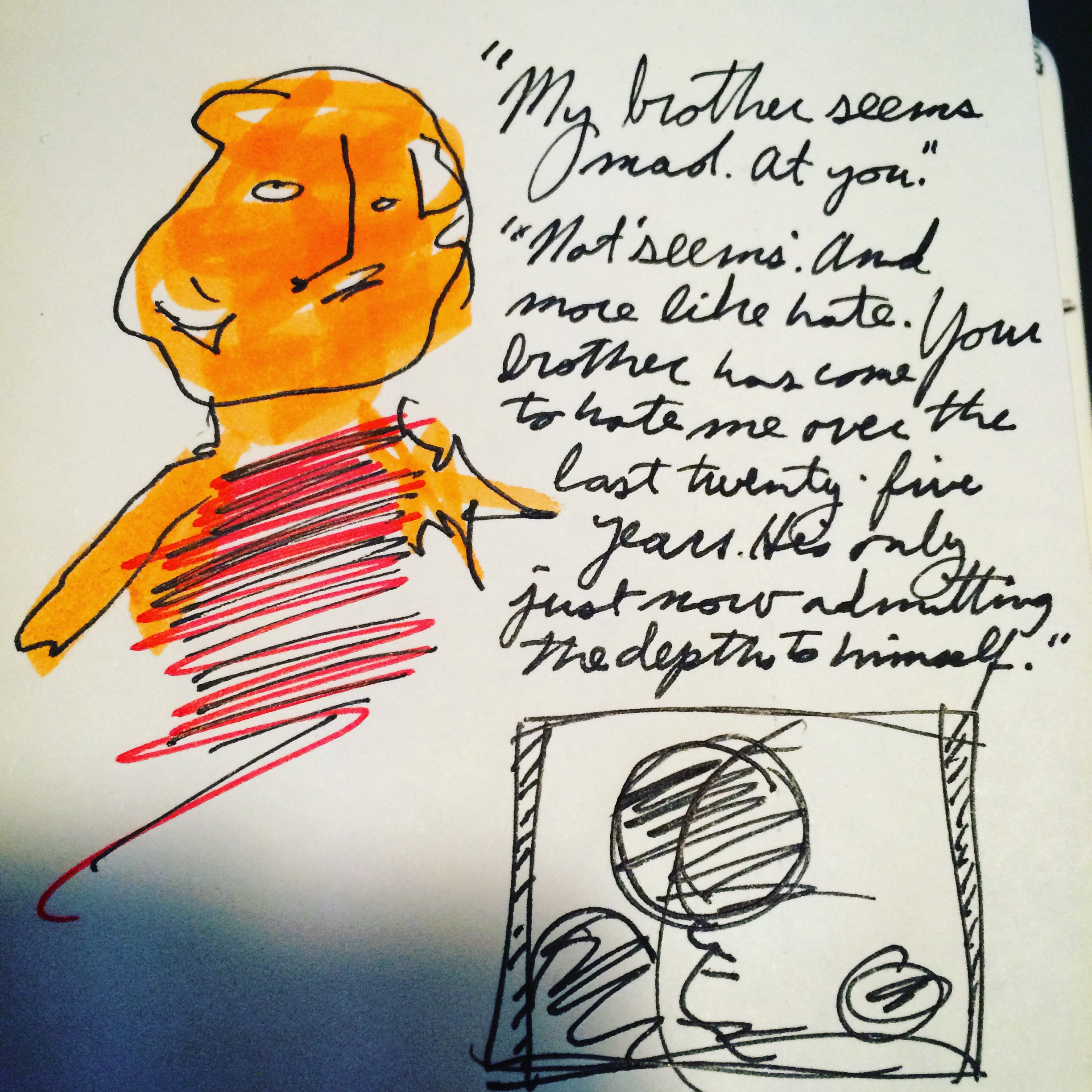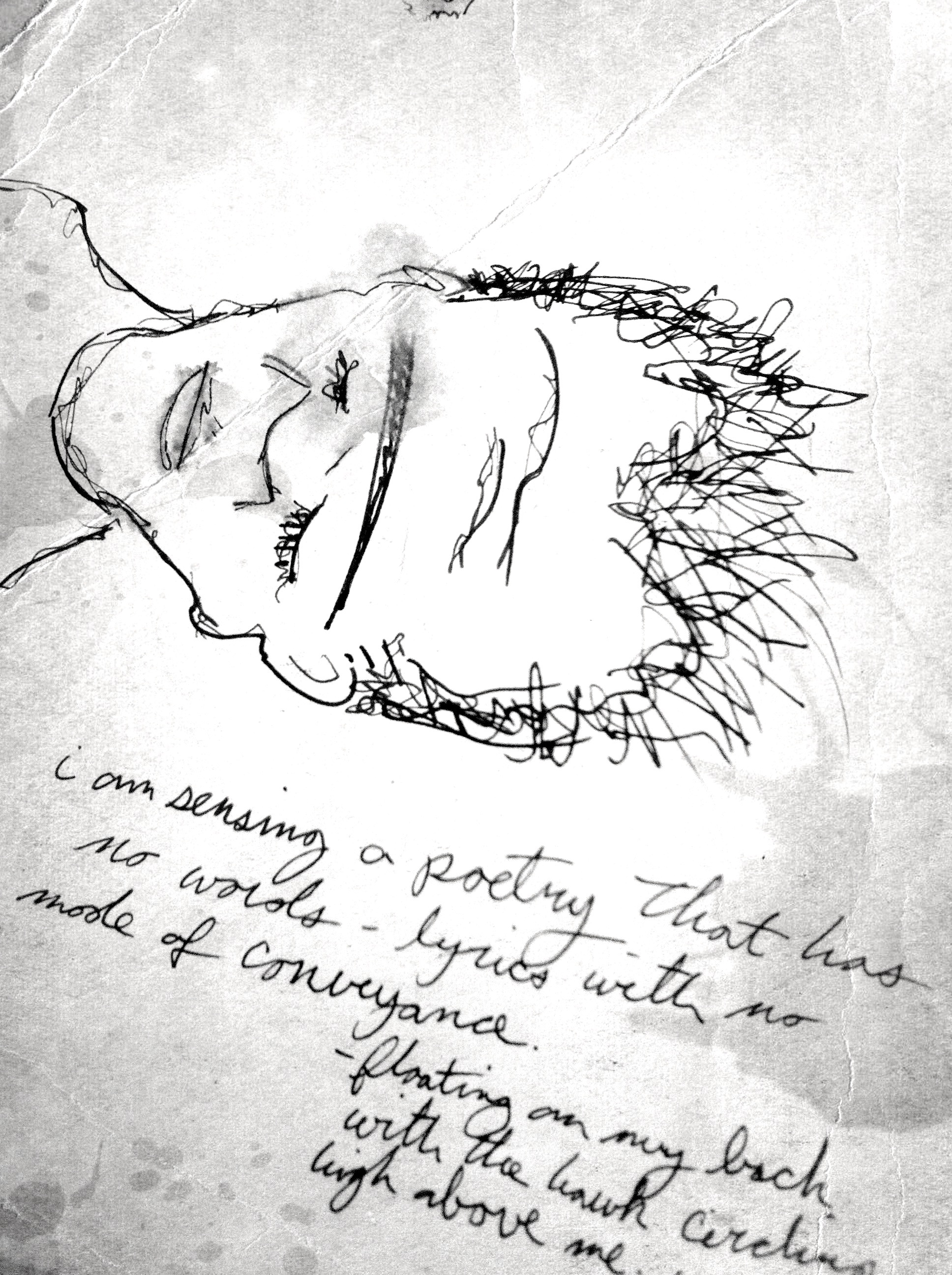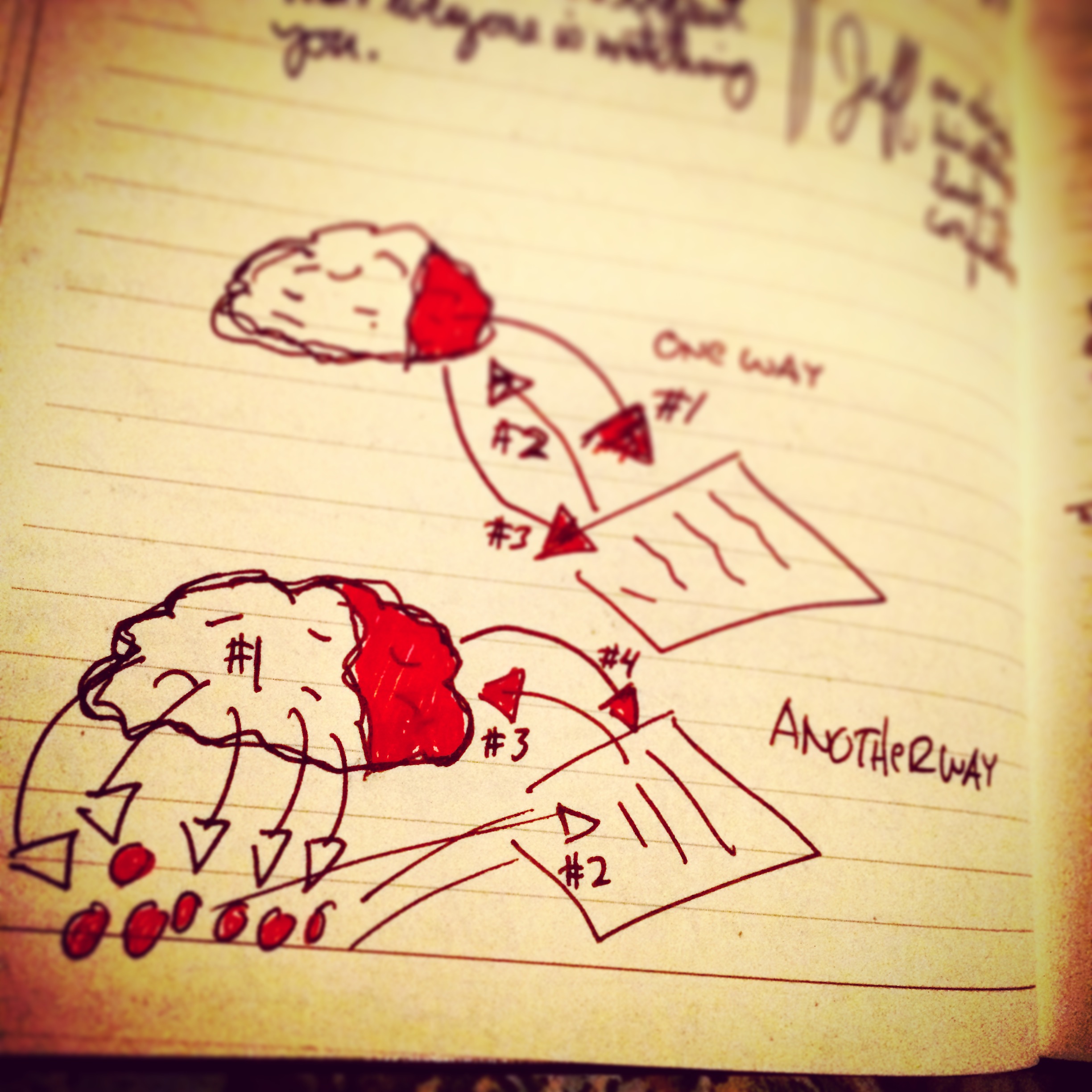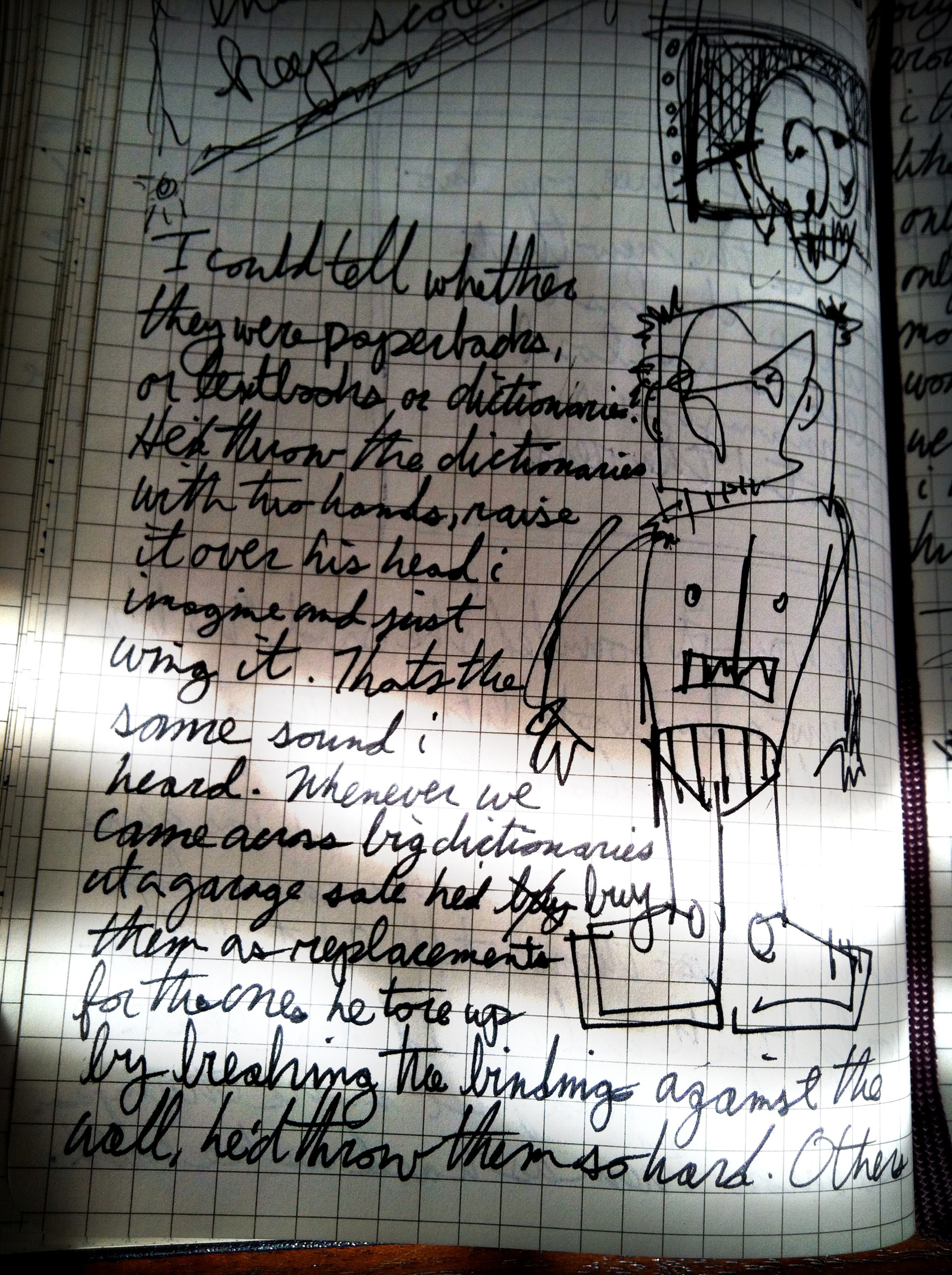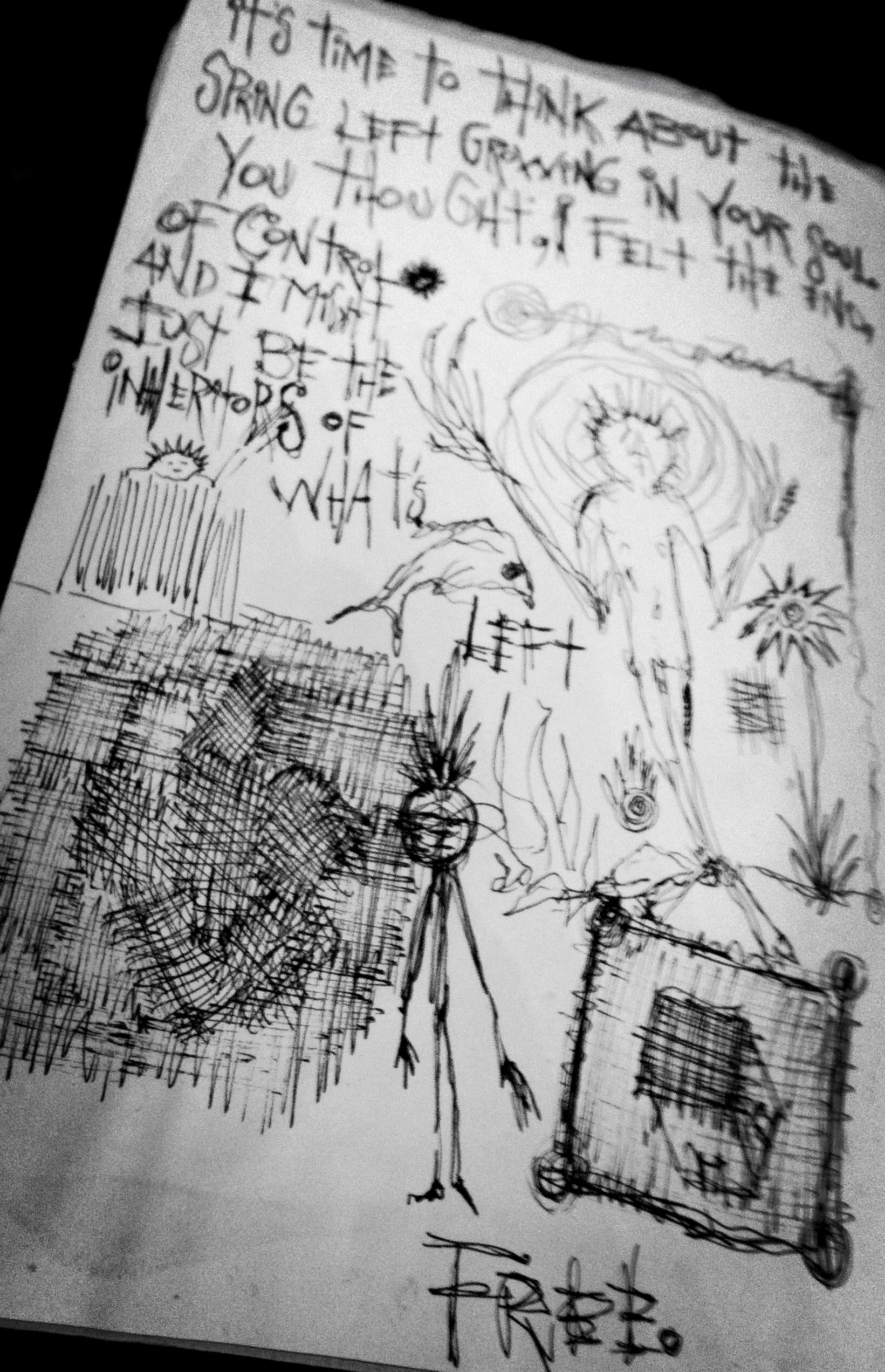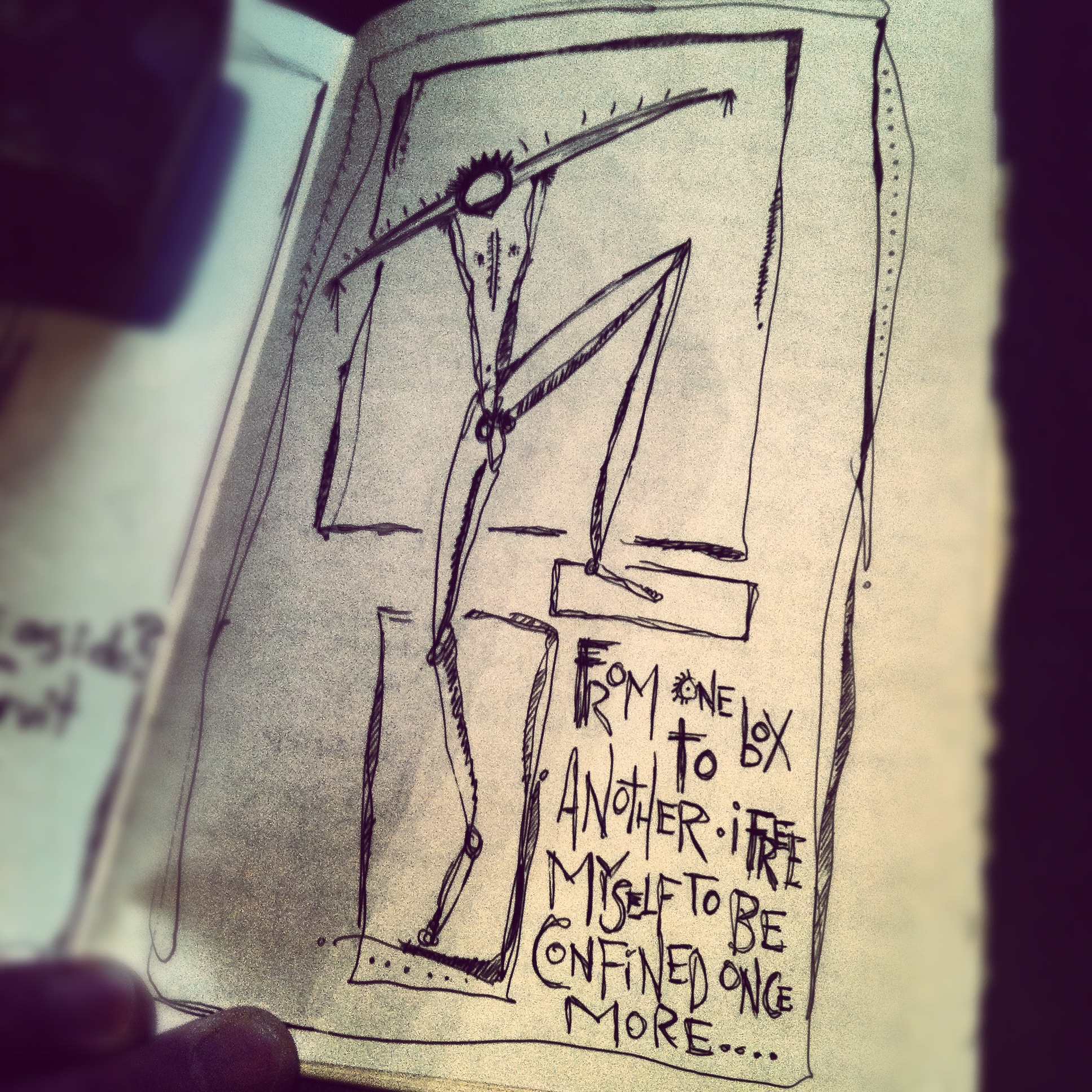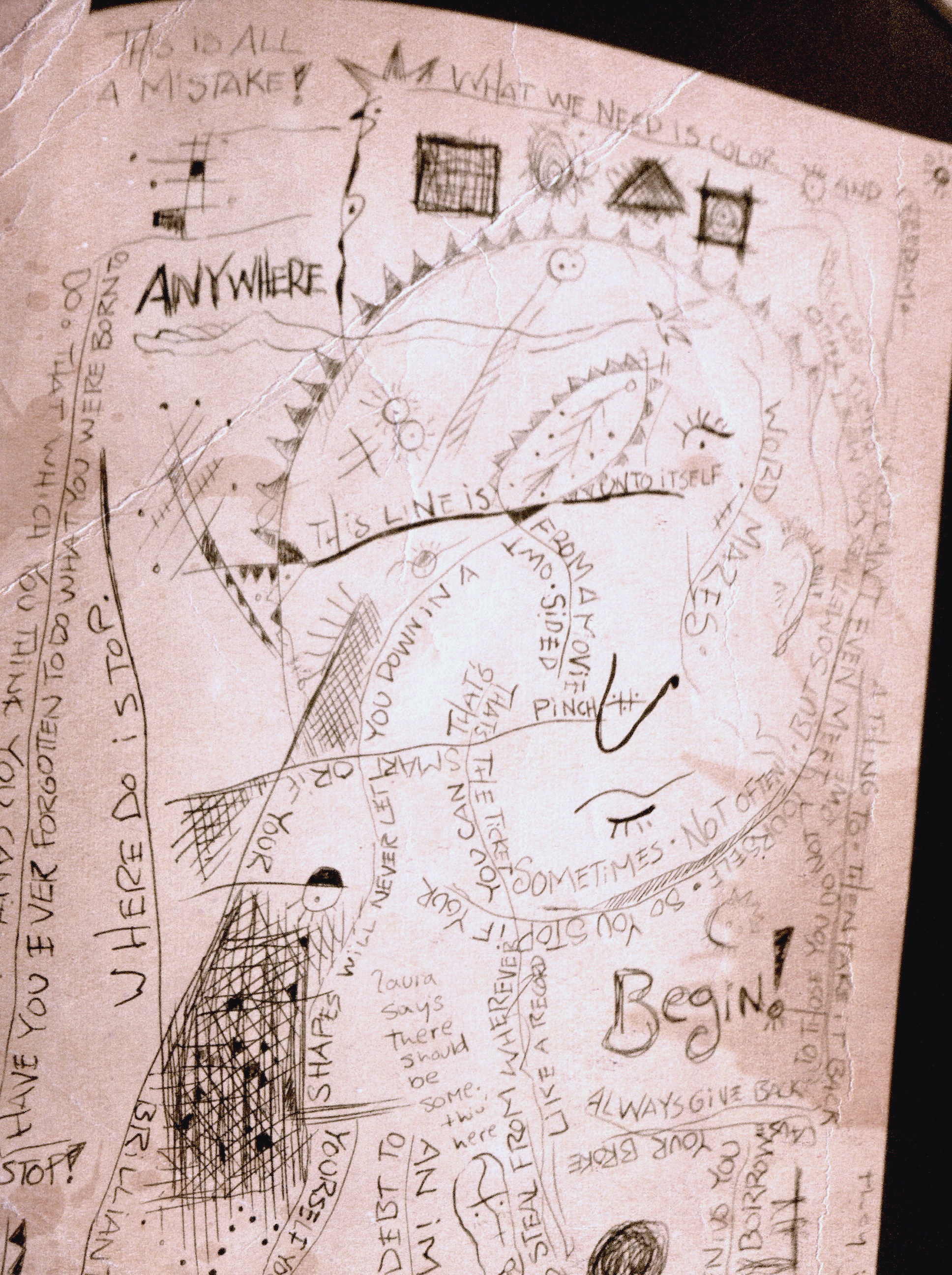 Phone Booth Floor
Mudbird in the phone booth floor. Shuffle my feet and you appear like the red breasted bird outside only flightless and brown. You don't eat. You seem pretty to me and I regret your demise forgetting the real birds. They'll be okay. They can fly.​
–p.shaw
It should feel all like a game. Because it is.
What's the thing you want to ask one another, but won't?
p.shaw
Satan's Soundsystem.
This is not the best way. This is not the only way. This is just a way. One way we'd be better off questioning, a little harder.
p.shaw
'Pan Out' hasn't been my strong suit. So far.
And I feel myself adept at suspecting more the many typical ways of going about being in this now. Yet, not a single suspicion of mine has yet to bear out, not a single one can be verified for its success rate.
Still. I wouldn't change how I've tried.
p.shaw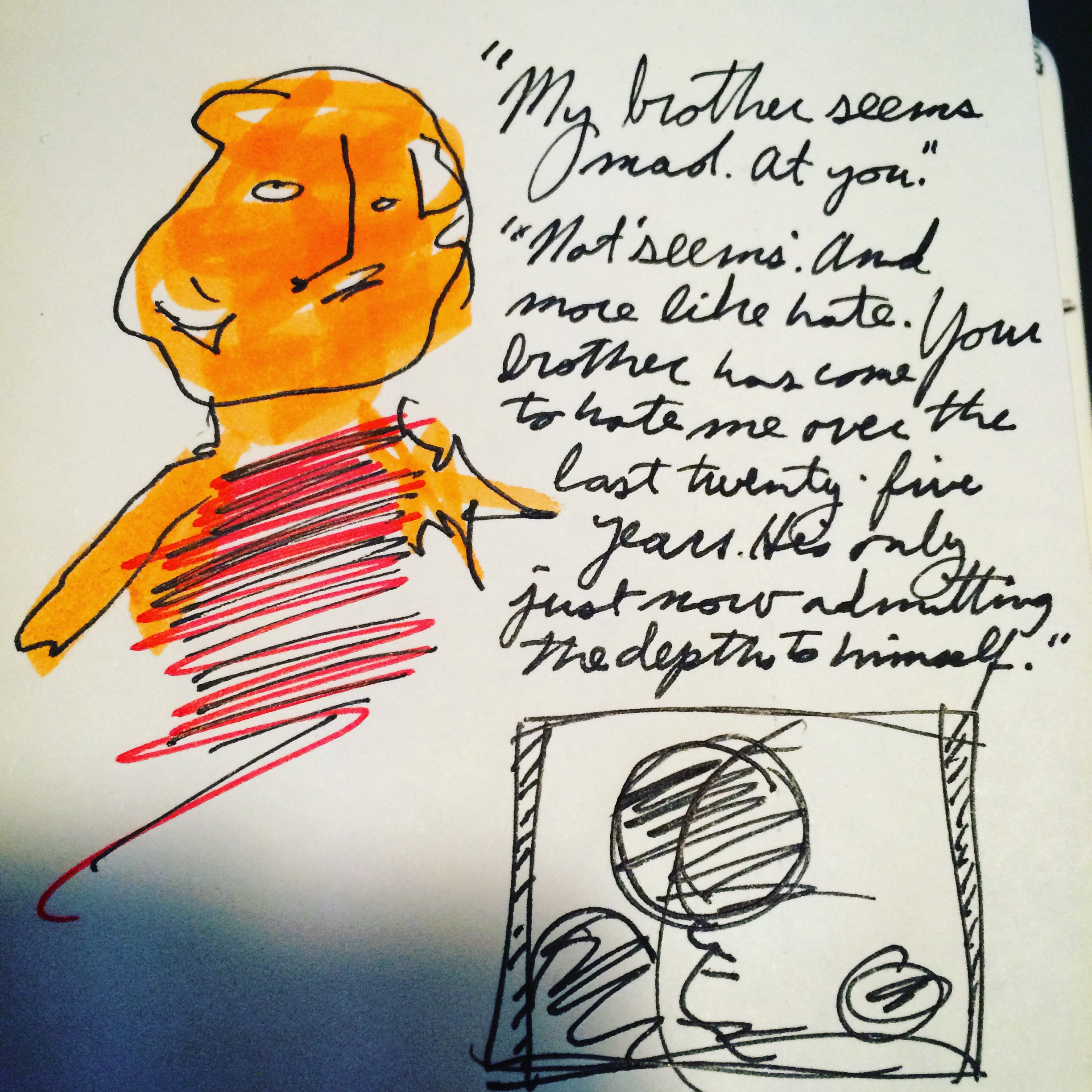 on the appearance in dreams of something never had.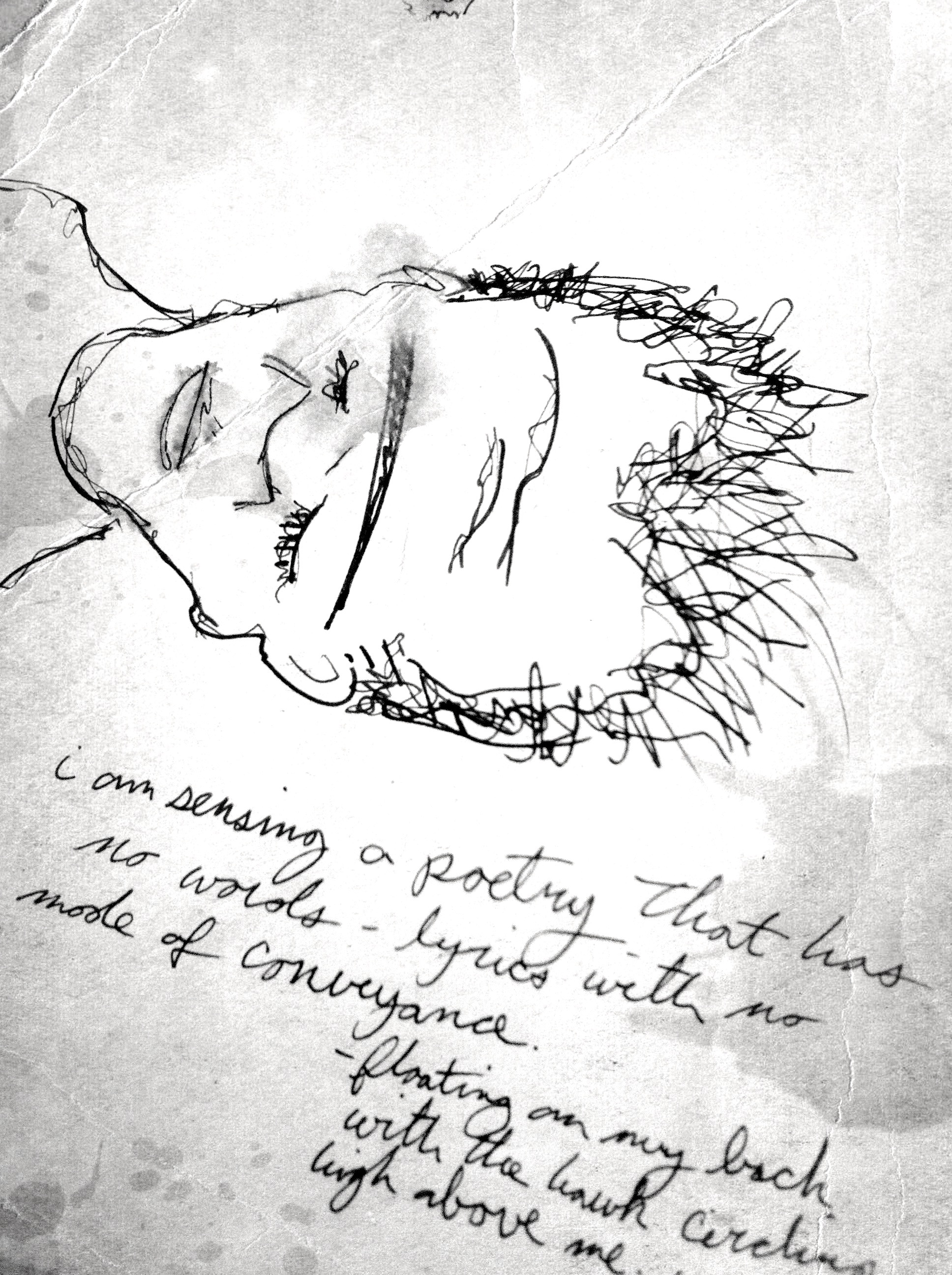 Auto Retrato
I am sensing a poetry that has no words – lyrics with no mode of conveyance.​
– floating on my back with the hawk circling high above me.​
p.shaw
Half way in.
And steeped in lies. And steeped in lies. I continue to lie. I befriend liars and the honest one makes me feel equal, the other makes ​ me feel less. And every image looks truer than myself.
Half way in.​
I have blamed others to get only part of my picture.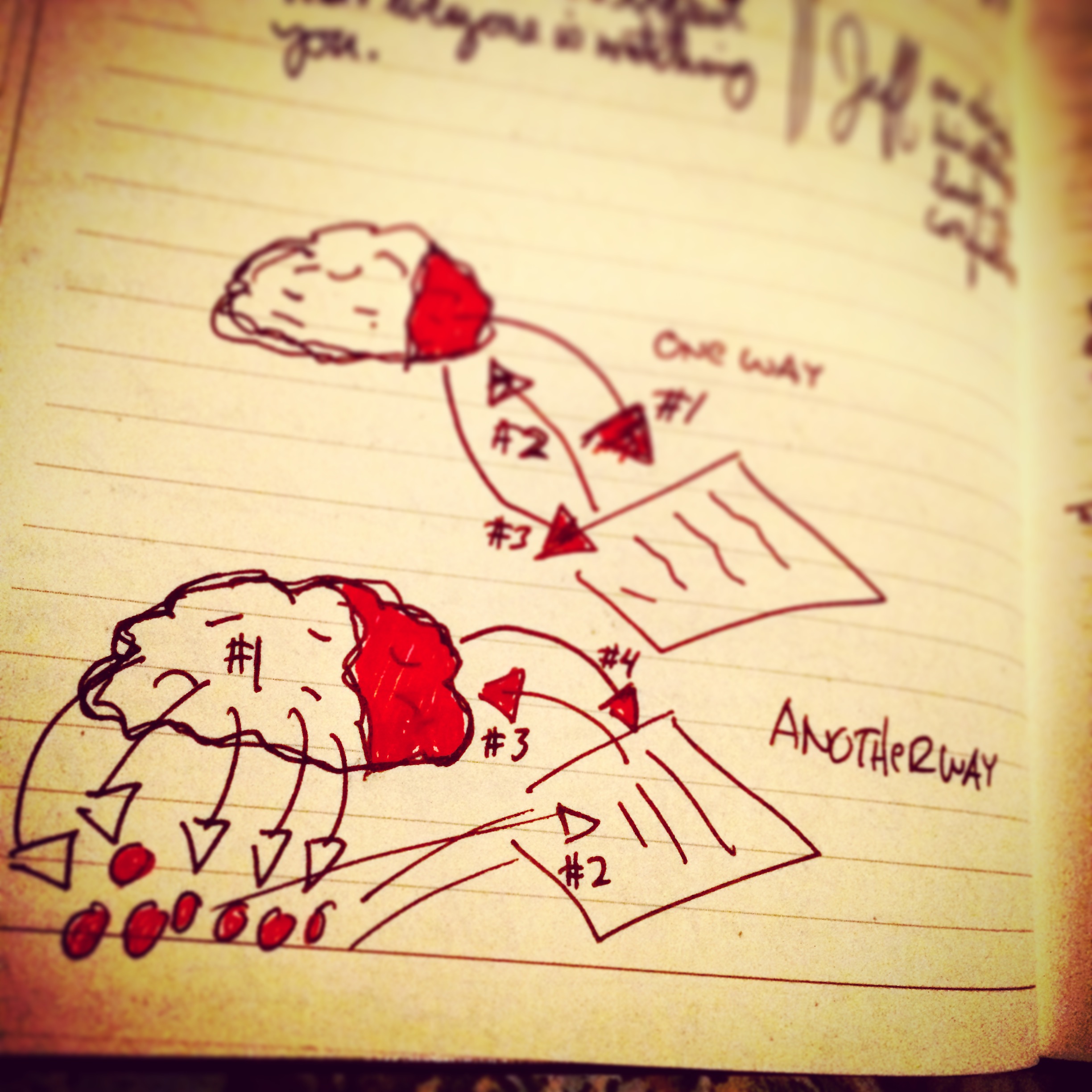 Notes from Dan Chaon's craft lecture on what parts of the brain your material comes from and where you process it in the process. Centrum Port Townsend Writers' Conference 2014. #ptwc4114
First Quarter
It could be a million years or more before I see you again.​
–p.shaw
to be deceived is to be free from the honesty inside of me
Everyday I feel the score as I play the game. I know the enemy more, I feel, than he knows me. It is really he who plays while I who watch and he conquers me. I know only him and how he is winning while he only knows he is winning, not against whom, but just that he is.
p.shaw
It will happen. It will.
As I lay at home, alone, thinking of you, as I often do, I listen to the silent remembrances of assured words you have shared with me, both past and recently present. They help as I hear them again in my mind, to silence my indecision and insecurity. They let me realize that what you do is not against me of against us but something you are compelled to do for yourself. I remember you saying you find me beautiful and at times when all I see is the beauty that you are it serves to remind me that if you can see a beauty within me then it must exist and I relish this. I contemplate my beauty and find solace in your remembered words and remember other words about beauty that describe you perfectly and wish that they were mine. That my thoughts and poetry could describe you as well as another's, they are these... "Before no supreme manifestation of beauty do we proceed comfortably up a staircase of sensation, and sit down, mildly on the top most stair to digest our gratification: such is the pleasure of prettiness.
p.shaw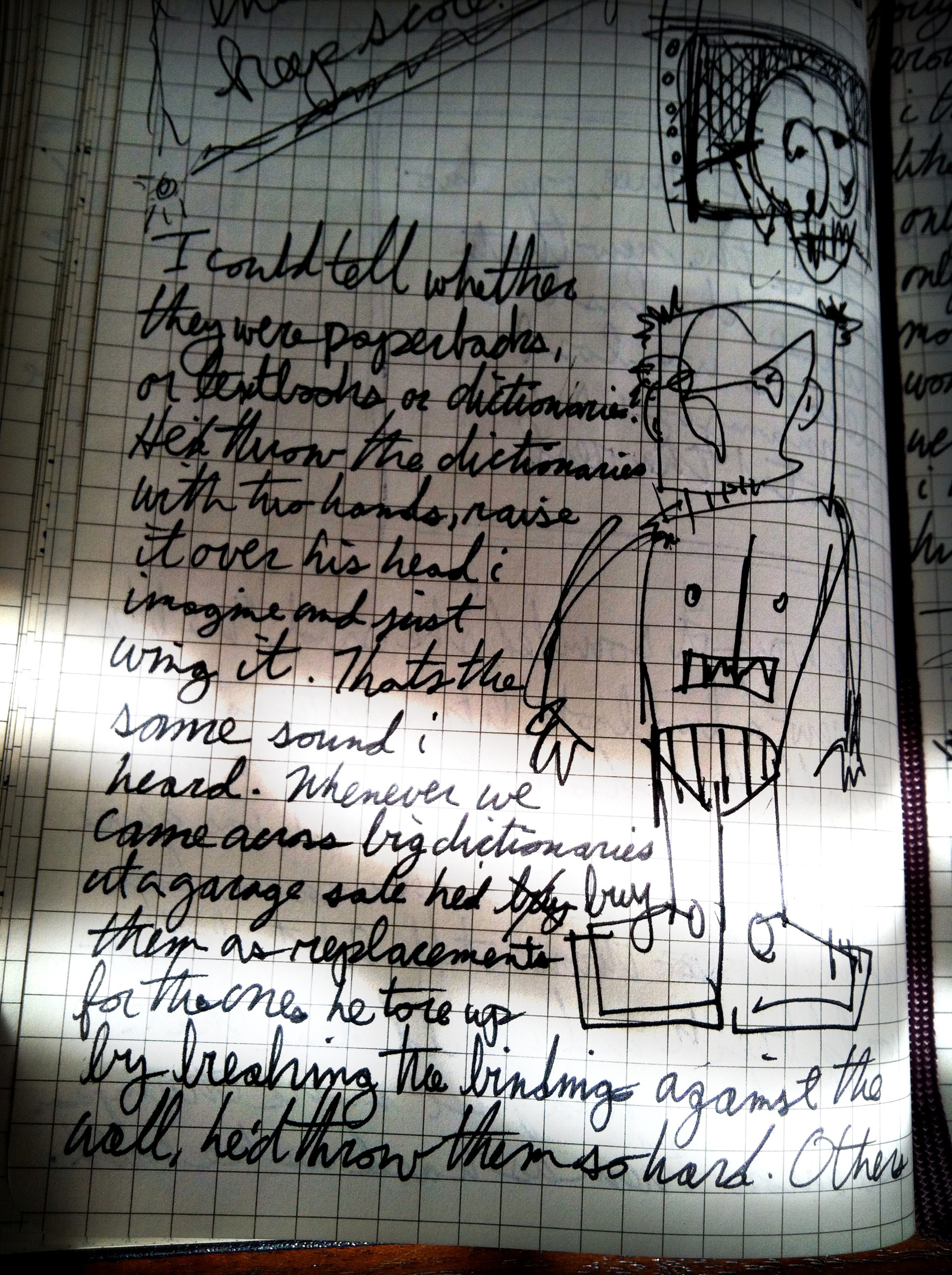 the Dictionaries
"I could tell whether they were paperbacks, or textbooks or dictionaries. He'd throw the dictionaries with two hands, raise it over his head, I imagine, and just wing it. That's the same sound I heard. Whenever we came across big dictionaries at a garage sale he'd buy them as replacements for the ones he tore up, breaking the bindings against the wall, he'd throw them so hard..."
from I.H.A.D.T.M.M.C.W.R.T.C.A.O.M.M.I.S.
p.shaw
Dictionaries (cont.)
"...he just ripped pages out. Thirty, forty at a time and toss them all about the room. But that's what I thought it was. That's what it sounded like. A big dictionary hitting the wall. The only reason I went in was because there was only one thud. No more. There was always more. After a few minutes it got me to wondering why there was only one, so I went to check on him. Wouldn't have mattered if I hadn't waited those few minutes. There was nothing of him that could have been put back together."
from I.H.A.D.T.M.M.C.W.R.T.C.A.O.M.M.I.S.
Room of smells.
from some stories working back into: a Collection of the Interior. 
...horrid moments of my past. Some have songs, colors, seasons that bring memories flooding in. I have smells, and I know I'm not the only one but my aptitude has become unfortunately more refined than others. 
Now as I drift back to the 343 other women milling about the lobby bar of The Ritz, to wait out my hotel rag perdition, my mind drifts to teenage years. A taste that becomes a smell in my mind. (Taste being a dyslexic form of State.)  
I don't mind telling you that I can't taste the difference between a garlic clove and a sprig of rosemary. No, my tongue only goes straight to me nose as different than aroma.
below from wiki: 
https://en.wikipedia.org/wiki/Synesthesia:
People who report such experiences are known as synesthetes. Recently, difficulties have been recognized in finding an adequate definition of synesthesia,[5][6] as many different phenomena have been covered by this term and in many cases the term synesthesia ("union of senses") seems to be a misnomer. A more accurate term for the phenomenon may be ideasthesia.
Ideasthesia (alternative spelling ideaesthesia ) is defined as a phenomenon in which activations of concepts (inducers) evoke perception-like experiences (concurrents). The name comes from Greek, "idea"+"aisthesis", meaning sensing concepts or sensing ideas. The main reason for  introducing the notion of ideaesthesia was the empirical evidence indicating that the related termsynesthesia (i.e. union of senses) suggests incorrect explanation of a set of phenomena traditionally covered by this heading. "Syn"+"aesthesis" denoting "co-perceiving", implies the association of two sensory elements with little connection to the cognitive level. However, most phenomena that have inadvertently been linked to synesthesia, in fact are induced by the semantic representations i.e., the meaning, of the stimulus rather than by its sensory properties, as would be implied by the term synesthesia
 
Off-Gassing.
When you are a child you never imagine a world where your toys disintegrate. Their plastics and rubbers with an unstable half-life. These objects are solid to you. These objects were bothered to be created, delivered. Manufactured. 
Why would their smells change? Why would they begin to resort to liquids and flakes? My toys needed to last. They were the only things I could own. I made places for their permanence. 
I want to talk to the Chief of Manufacturing & Assembly; the Head of Research & Development. Why is my memory now just a stain at the bottom of a cardboard box. 
p.shaw
Fat or Thin. Unnoticed or a Target.
a new holiday.
We should have a holiday devoted to catharsis. True Cathartic Day. 
There is. Fool. 
I wish there was a more dignified word for my Stupidity. 
p.shaw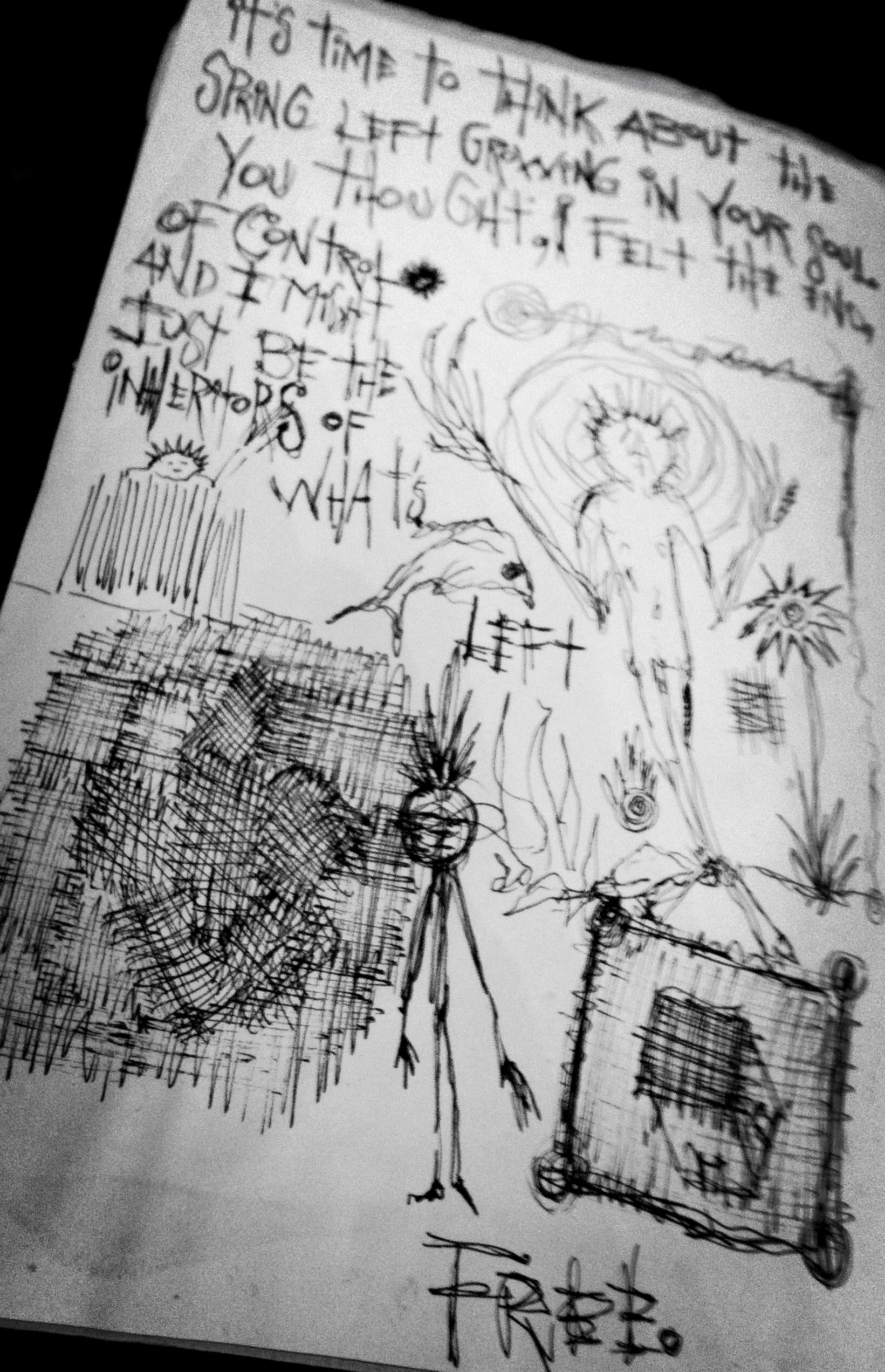 Free.
It's time to think about the spring left growing in your soul. You thought, I felt the end, of control.
And I might just be the inheritors of what's left. 
What is Free. 
p.shaw
Now.
Give me more. Take me less. Now. Be fore. The End. 
p.shaw
this thing that happens.
This thing that happens.  
You think that it's going to be the stuff that means something. 
p.shaw
I think it's time to walk the streets and find a place to be okay with myself. Look in the mirror when I can stand to and don't when I can't. Find a place where myself is okay. Find myself in places where you will be, or should be, or will end up and be there, okay with myself, okay or not with the mirror and write about it either way. I think it's time to just be in those places walking if need be and knowing it's where I am and writing about it or listening to myself. Searching for the answer to the question I was asked and could not answer. What do I like about you? Searching and knowing what I like about myself with or without the reflections so I can answer the question I was asked that I could not answer. Be in places where you will be, or should be, or will end up because that's where we went together and now I'm here alone with you present in a place I'm okay with.
p.shaw
notes on pace & place.
We all have a different place in our mind – the place where we live may be the same – but mine isn't yours. 
p.shaw
How Come?
This one relates to Selector.  and the list of items that the human race must get past.
p.shaw
The internet hurts my ears.
The reaction
to reaction
is deafening.
p.shaw
? from : every time I see her:
​How can you be named like a desert and not like a dessert?
You shine like a hot mess at a 45º angle (or 90º?) and are quiet like I can never get to.
p.shaw
We all wonder what there is to wonder. From here on out.
p.shaw
the need to know.
Drawn during a workshop lecture with Benjamin Alire Sáenz at Centrum.​
Life is in all the points. Not just at the dramatic tops and bottoms.
p.shaw
What's not good for you is good for you.
Faith = Disappointment.​
But you shouldn't give it up.​
- p.shaw​
Separate
Separate my doing from my dreaming to bring them closer together.​
from Aphorisms of My Own Construction.​
p.shaw
your impact.
​One big way you are
one little way you are
can change my ​
everyday.​
- p.shaw
Promises of Advertising.
I remember a time in my life when the promises on a sandwich board gave me hope.​
- p.shaw
things I was scared of...
When I was but a youngster
but not much younger
the light seemed less dim
I felt much older
and whiskey is something
that scared me.
I went with the more. ​
- p.shaw
Okay to ignore me.
elevator getting close...3...2...and DAMN! the doors open, our walks:​
I, god knows, I try.​
- p.shaw
Waiting for you...
over a grassy knoll, I let myself go, waiting for history...​
HANGING OUT...
​WAITING...
for you to
make my acquaintance.
to be made. I seek ​passively, letting it all hang out. take control. I need someone to.
-p.shaw
A point
It's a point we tried to point to?​
Arrows shine
the shot towards
a time when
all ways,
always
were the
same...
-p.shaw
3 words
Three words imprisoned
a man.​
I love you?​
–p.shaw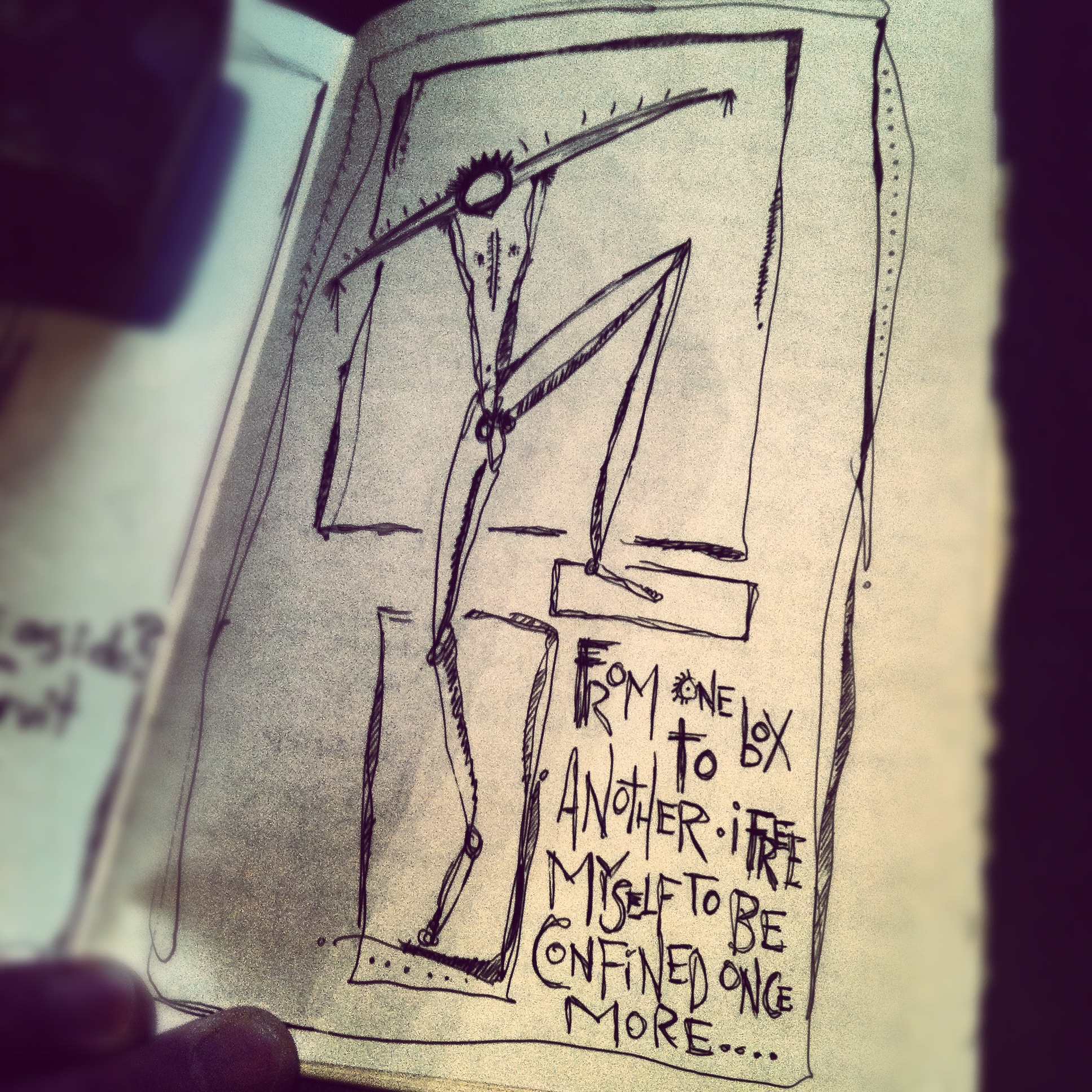 Confined
From one box to another I free myself to be confined once more...​
–p.shaw
Deception playing w/ Identity
He was flat tall, had the appearance of having been smashed under something of a heavy weight, which would have extended his height. If men could be referred to, truly, as erect he would be one of them.​
– p.shaw
Hairy Carrot (hare Krishna)
​" did he kill himself?"
"No. Why?"​
" He has two holes in his head. Get it?" HARI KRI, HAIRY CARROT?"
"Oh... yea, I get it..."​
p.shaw
Withheld
Sometimes my mind withholds ​information that should just come, easily or at least easier.
I'm Here for You!
Money, dick, sex, blowjobs, blah, blah, blah. Monica Lewinsky behind you. Been to Weight Watchers but no matter. Money, dick, sex, blow jobs... that's why they are here.​
Overheard in a hotel lobby bar where Monica Lewinsky happened to be staying as a guest and was also in the bar. The people behind me without scruples. ​
Be Here Now.
The chance of long past decades circumstance and happenings. We are cursed children of their own undoings.​
-p.shaw
Taboo
The thing is you are not paying attention to me.​
Rather than.
The reversal of preference.​
p.shaw
Never
Never is ever
forever.​
–p,.shaw
It's Almost a Nasty Picture (except for the underwears.)
I walk with an intent and clear focus
I walk with a purpose, otherwise I sit
I walk with voices in my head.​
I walk always with words, when I leave train stations.​
I walk to let myself know
I walk to begin the questions, when I have
forgot the answers.​
I walk most often afraid of my own
voice.​
I walk sometime unaware and barely escape them.​
-p.shaw
design observation.
​Everything these days wants to fold in on each other. Itself?
p.shaw​
The Blues so Blue my Emotional Glue.
p.shaw
The Apex of Indulgence
The first few pages are impossible
to not rip them out
by accident of more from blunt
force of anxiousness. 
His arm from the shoulder, if detached,
extended, resembled a thicker version
of an axe-handle.
We are potentially at the
The Apex of Indulgence. 
p.shaw
The difference is we talk about it.
in homage of spending time with new friends and being unafraid of sharing. 
p.shaw
then why do we do this? (in bullet points)
• I never speak of my own afflictions. 
• It's too real, hurts too much. 
• I don't want to be remembered for this. 
p.shaw
the more I draw the less I think of myself. You took the bait. But it's not too late to just let go. Being okay with losing a little flesh.
p.shaw
letting them make up their minds.
to me it makes perfect sense.
p.shaw
on the road from Port Hadlock to Port Townsend, WA. Hands aching from clam digging at the old alcohol plant, dug 10lbs. or so. "Boaters Lounge" has free pool*, T.V., nice showers. On the way out of Hadlock find a funny little tavern with a jetliner cockpit attached to the cinder block building.
*gotta find a new retractable pencil.
p.shaw
a long time ago now less so.
Sixty four worlds and a single in a loss. The trick, a tip, hits a spot that makes me feel... not from here and, and, and a question comes to mind: Who cut my tobacco? Who brewed my hops? My scotch? My whiskey? And, do they realize the confusion, the elation, they give me?
Sixty three worlds and double loss. I count them, each one like the cat fallen from our window. I know little can be left and so much more.
It must have been 3 years ago, I started to see my life in percentages. Looking at life expectancy of males in my family. Average equals 70, if I'm lucky. What's that, two-fifths spent? I guess I'm a half-empty vs. half-full person.
p.shaw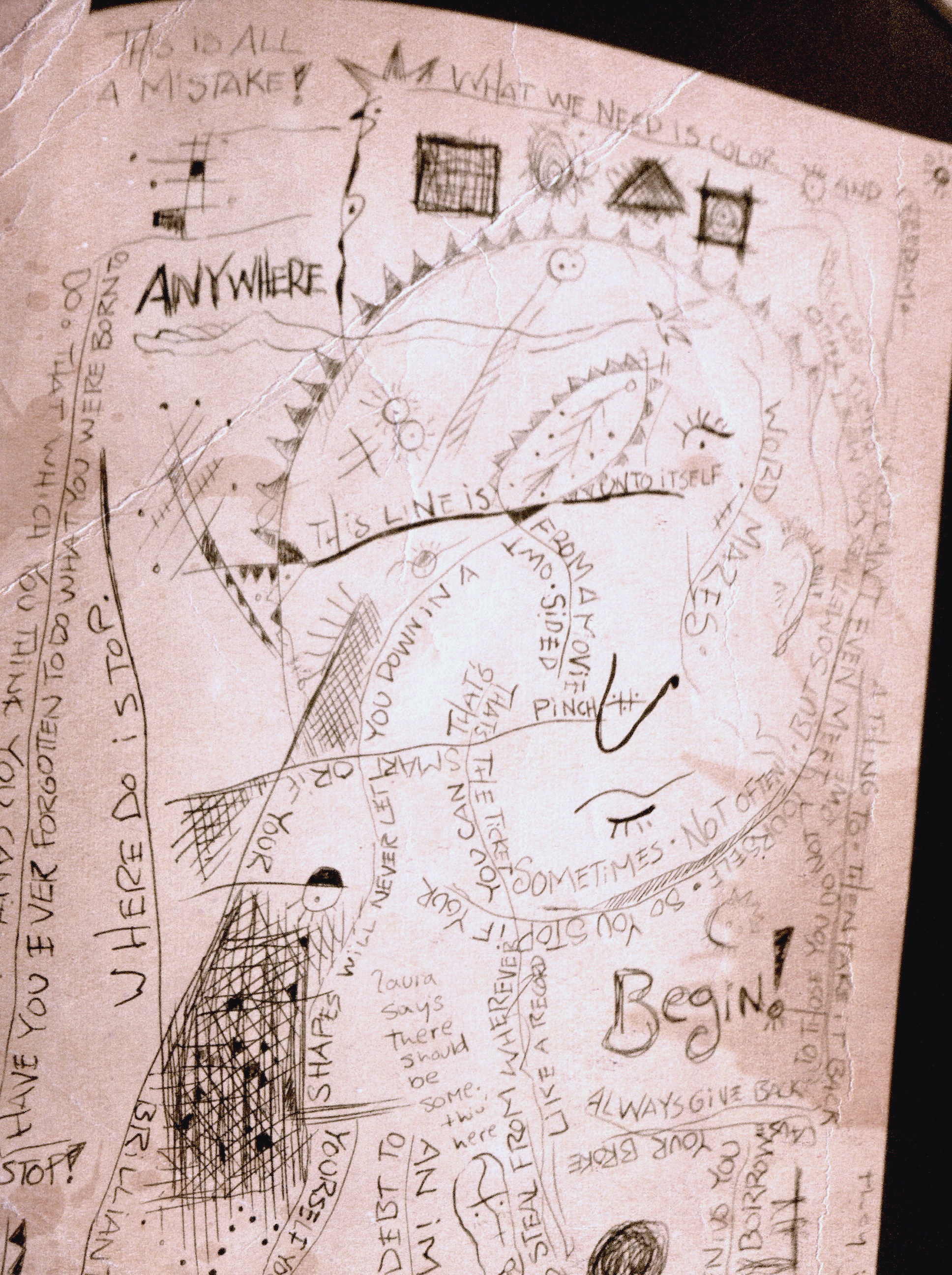 Sea Moon. Pt. 2
embarking on a business in a new space. Sub-consciously not far from the truth though awakened I have mixed feelings either way. Regardless, in the dream, upon discovering some structures on their grounds, I begged Brown to rent me some of the land and buildings. They mostly resembled either an enclosed in glass pergola or what could be described as a large newspaper kiosk, maybe a glass gas station or train station ticket booth. I began to, at that point, really visualize what may of existed on those grounds at some point.
p,.shaw
Sea Moon. Pt. 3
...and I became incredibly drawn to that aesthetic. I would beg for this or that piece of detritus in a manner that would undermine its true value in hopes that Brown wouldn't somehow become fond of it after realizing my interest. One piece was what appeared to be a gas pump, black steel and chrome, with a face that was rectangular like a television set. It had no hose, it was simply shaped like a gas pump or evoked that feeling or use. I always saw it at an angle in my dream, like surrealist's modern photograph, one with noise and degenerative quality. The face had no measurement the way a pump would but instead would emit messages in a luminescent sort of way.
p.shaw