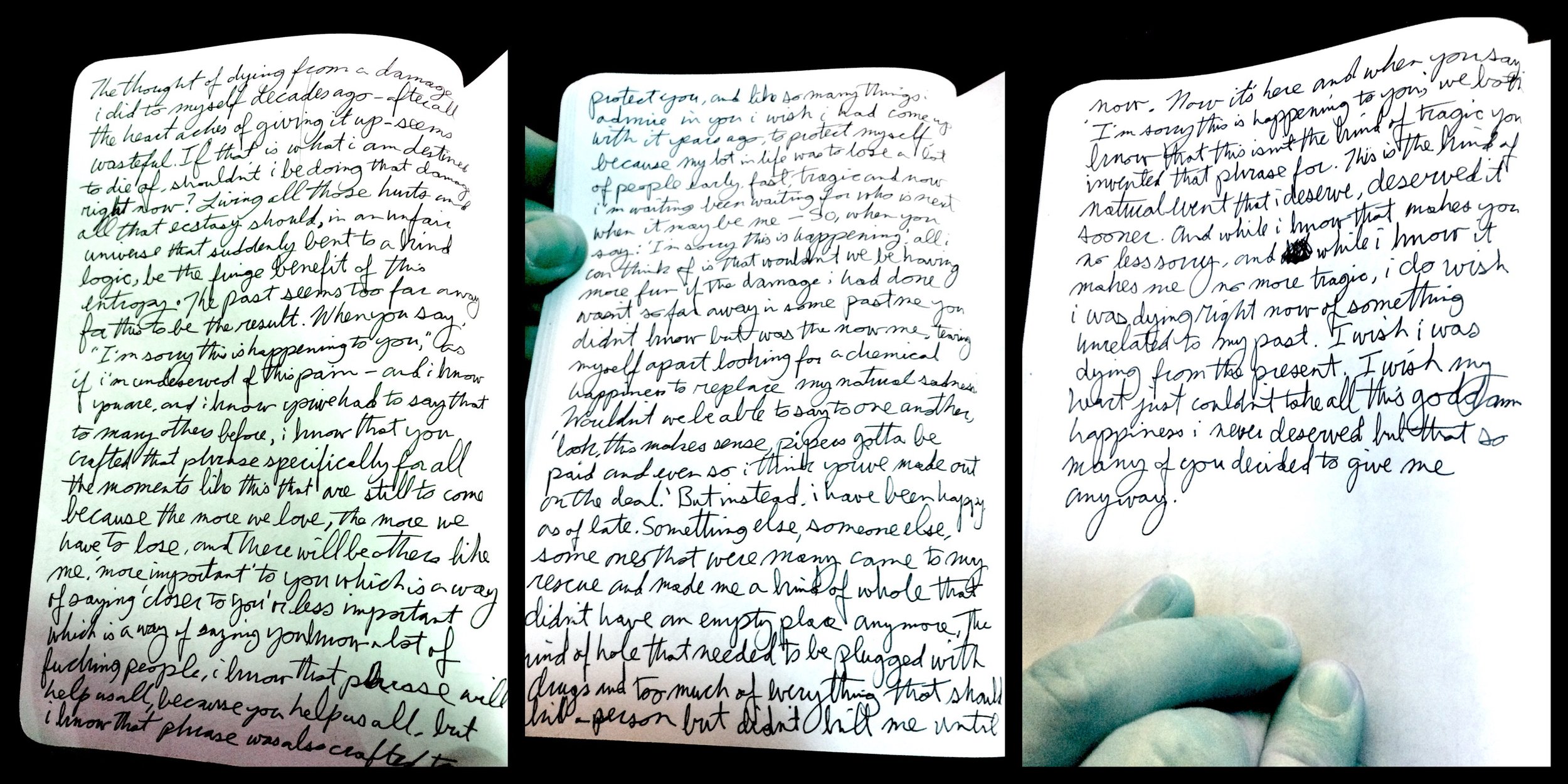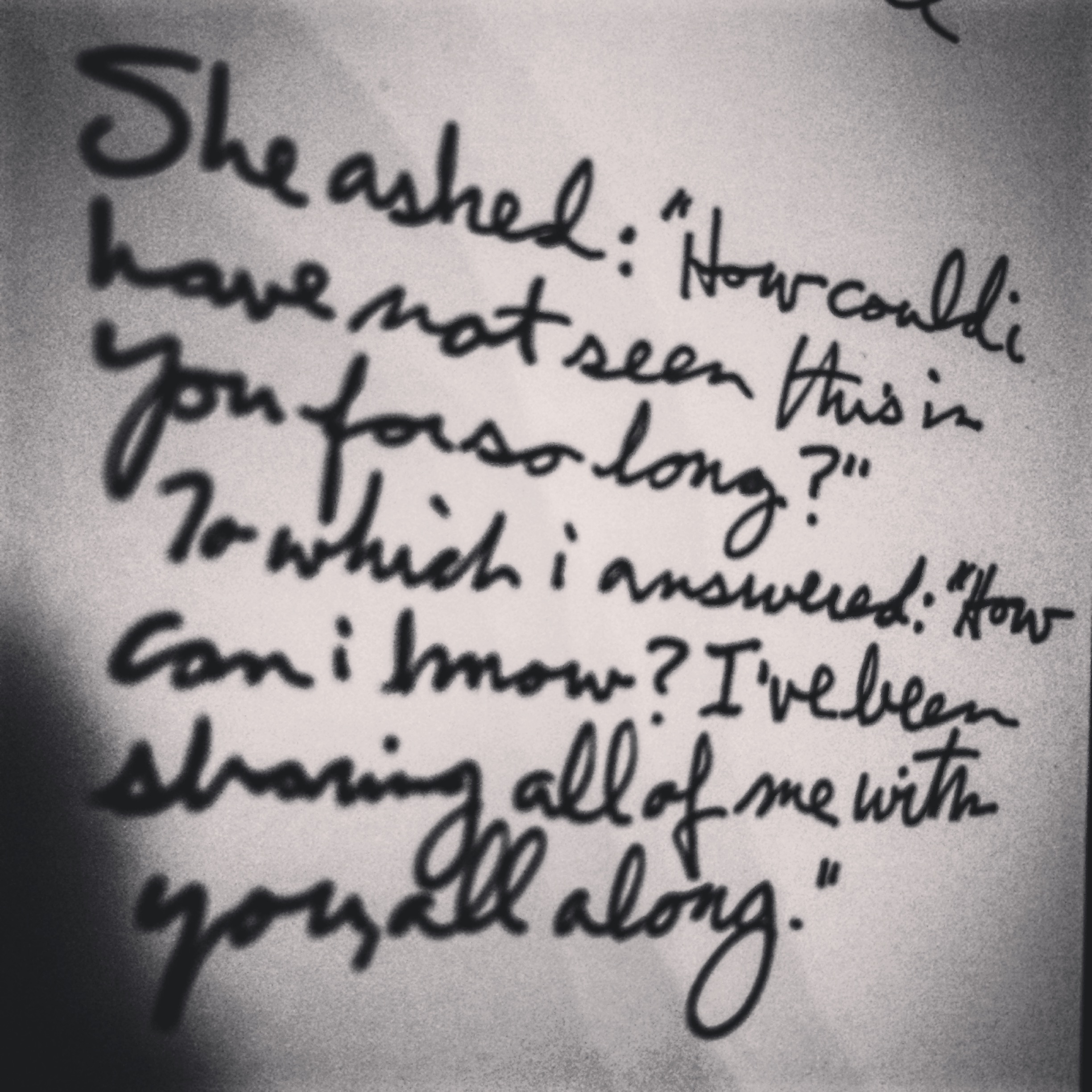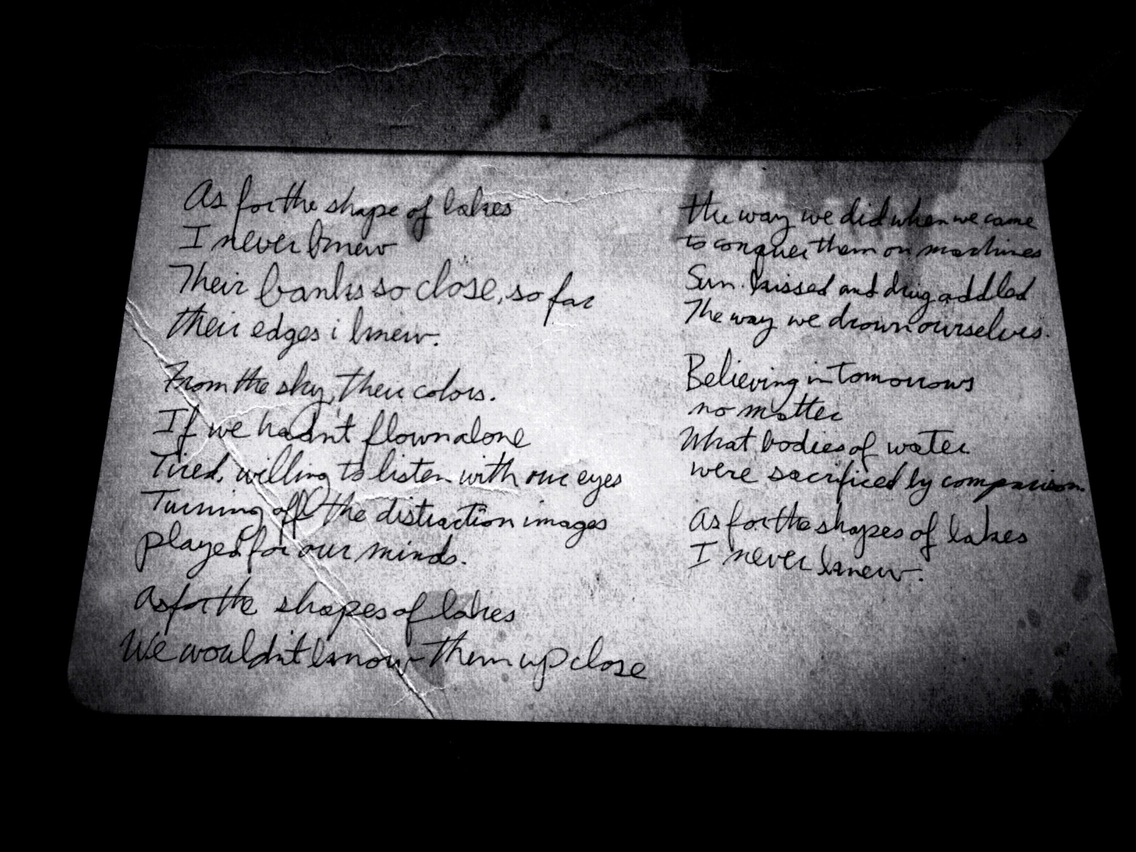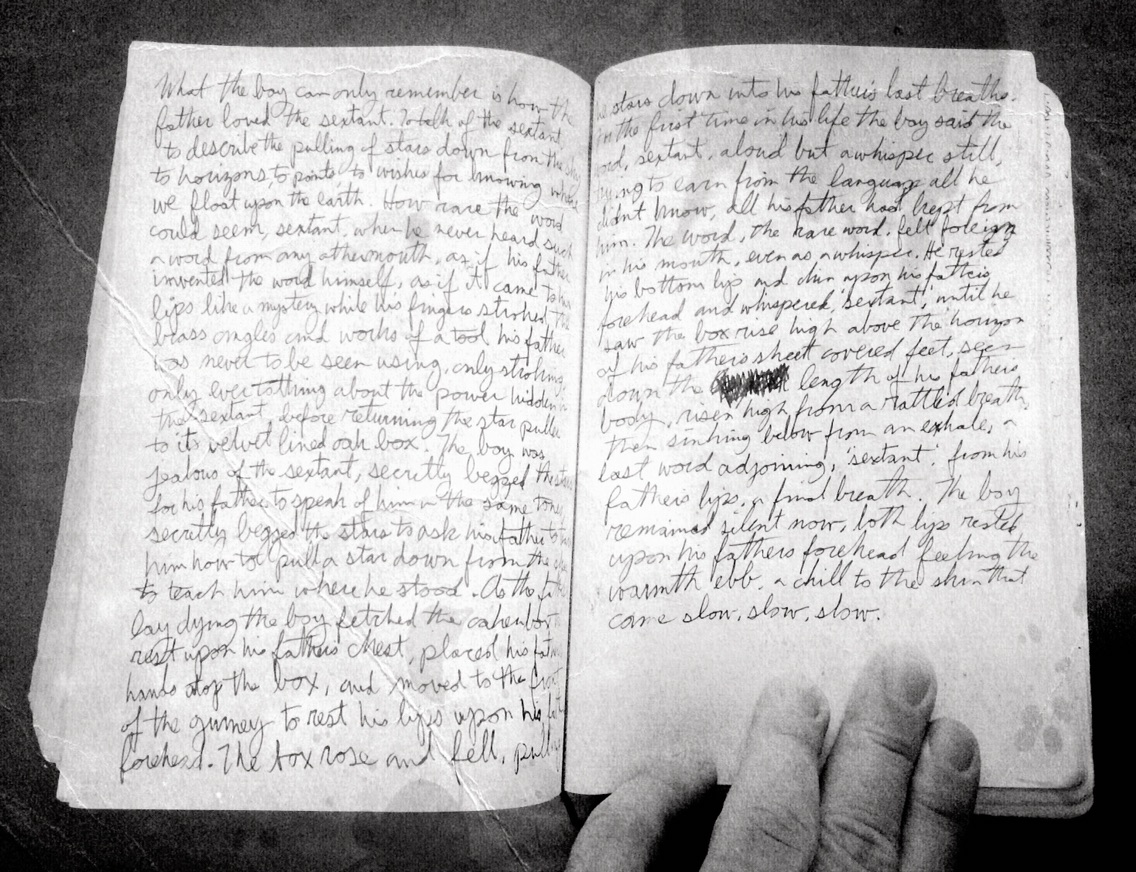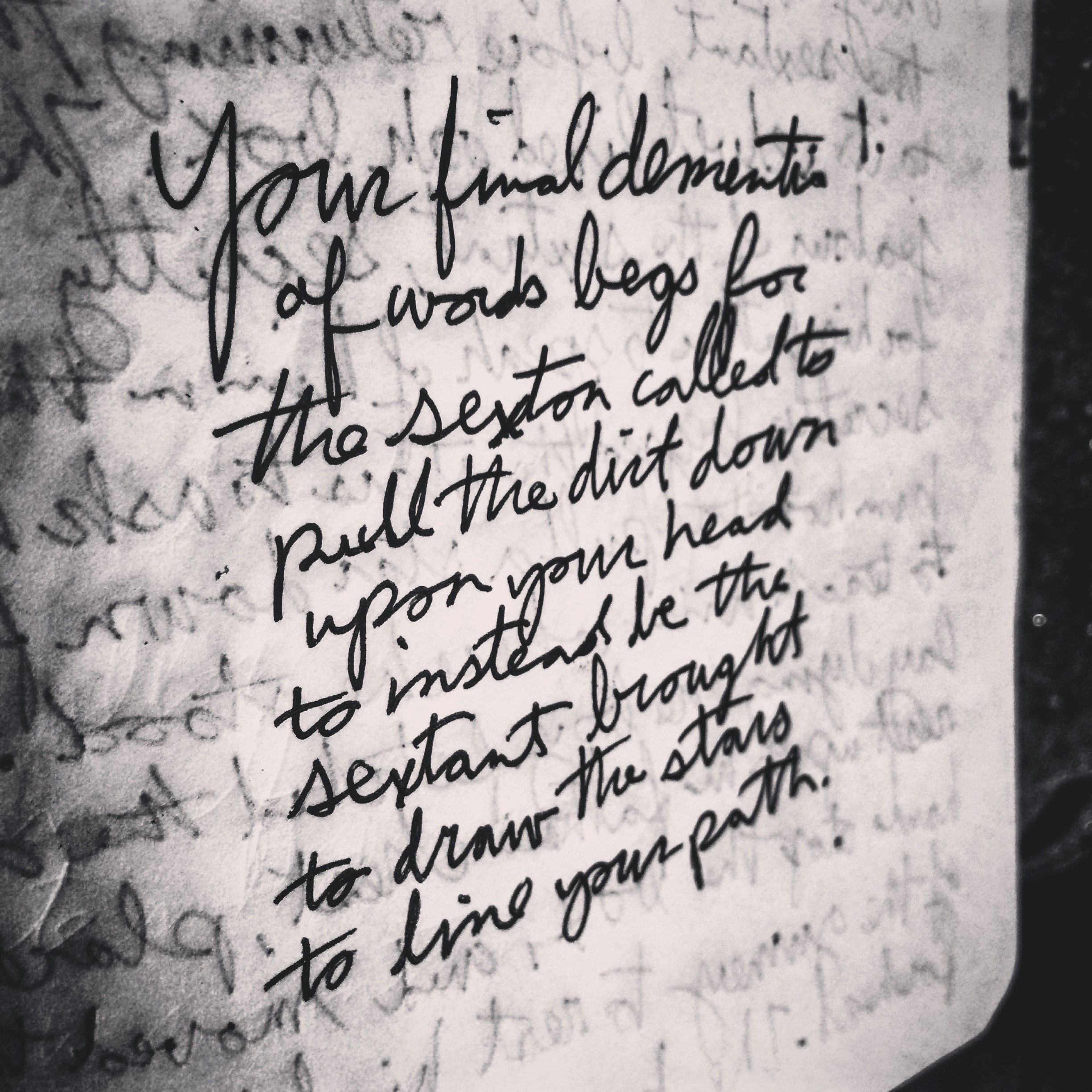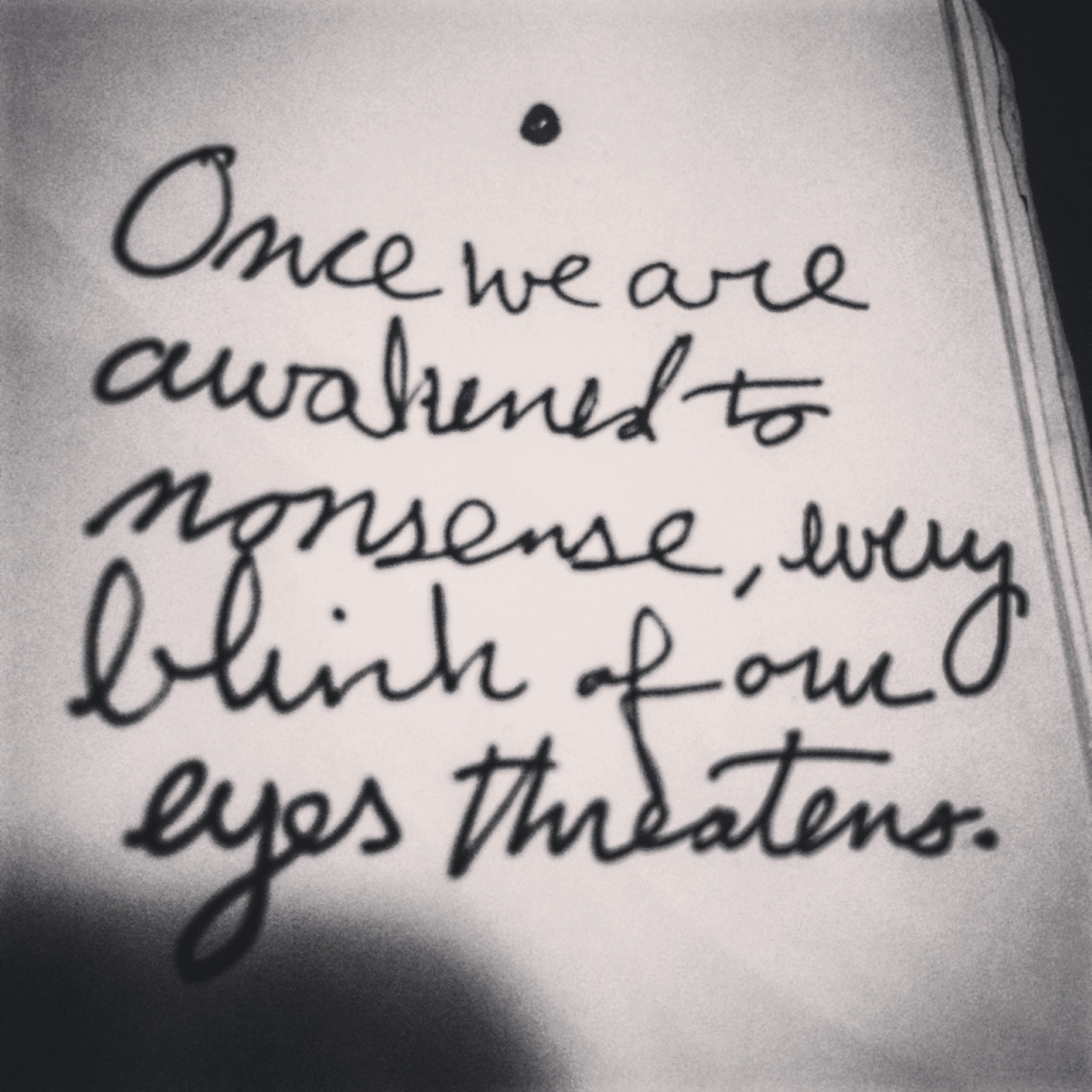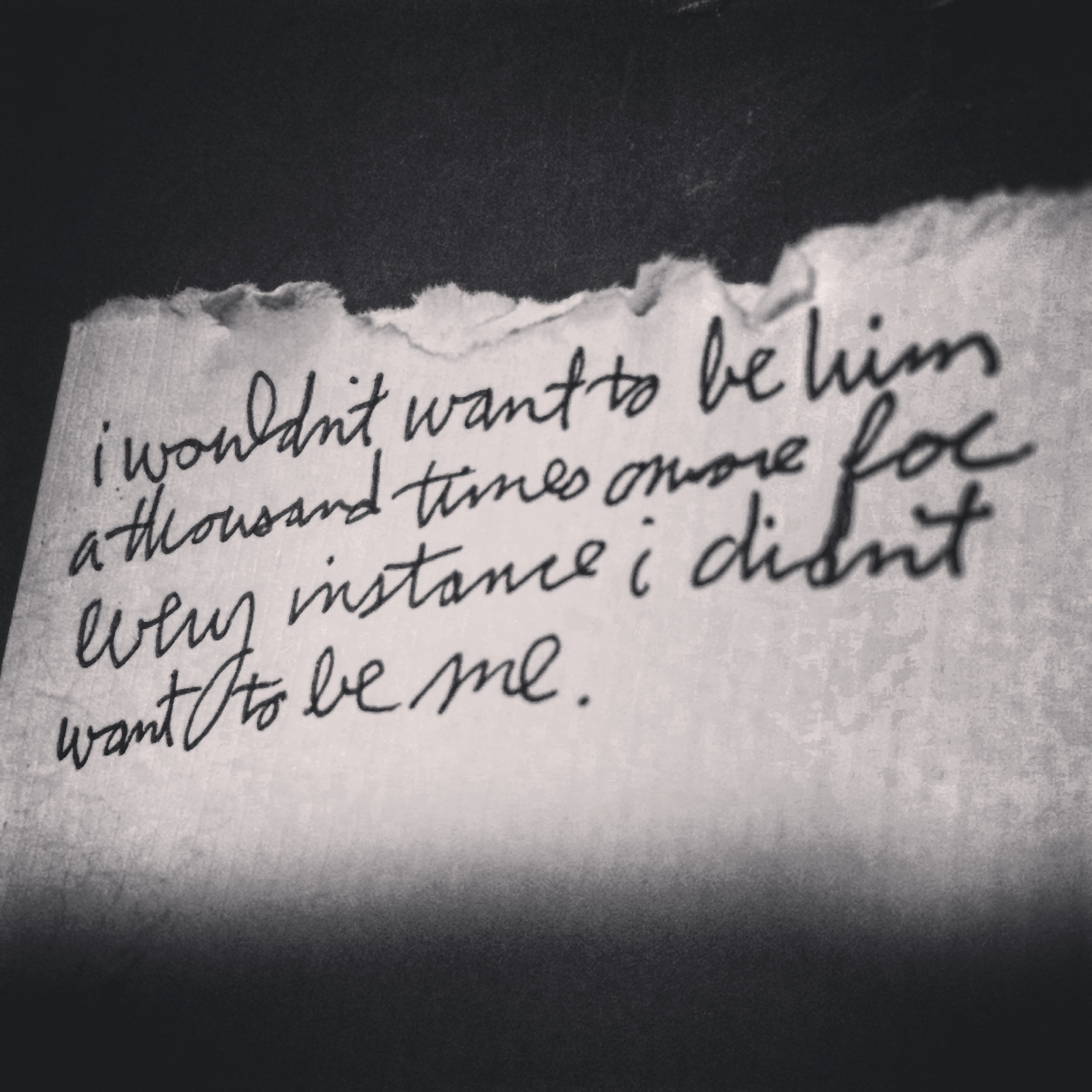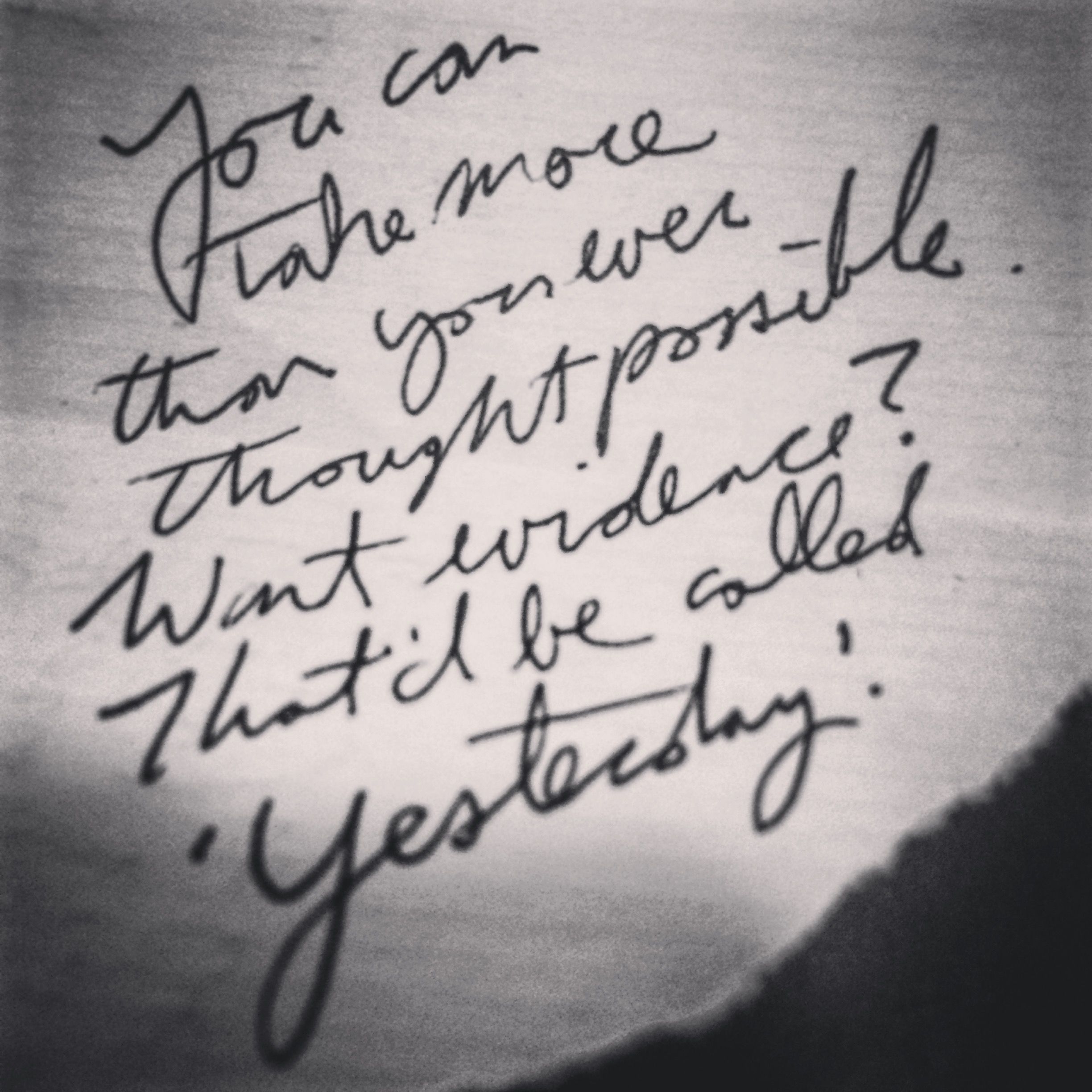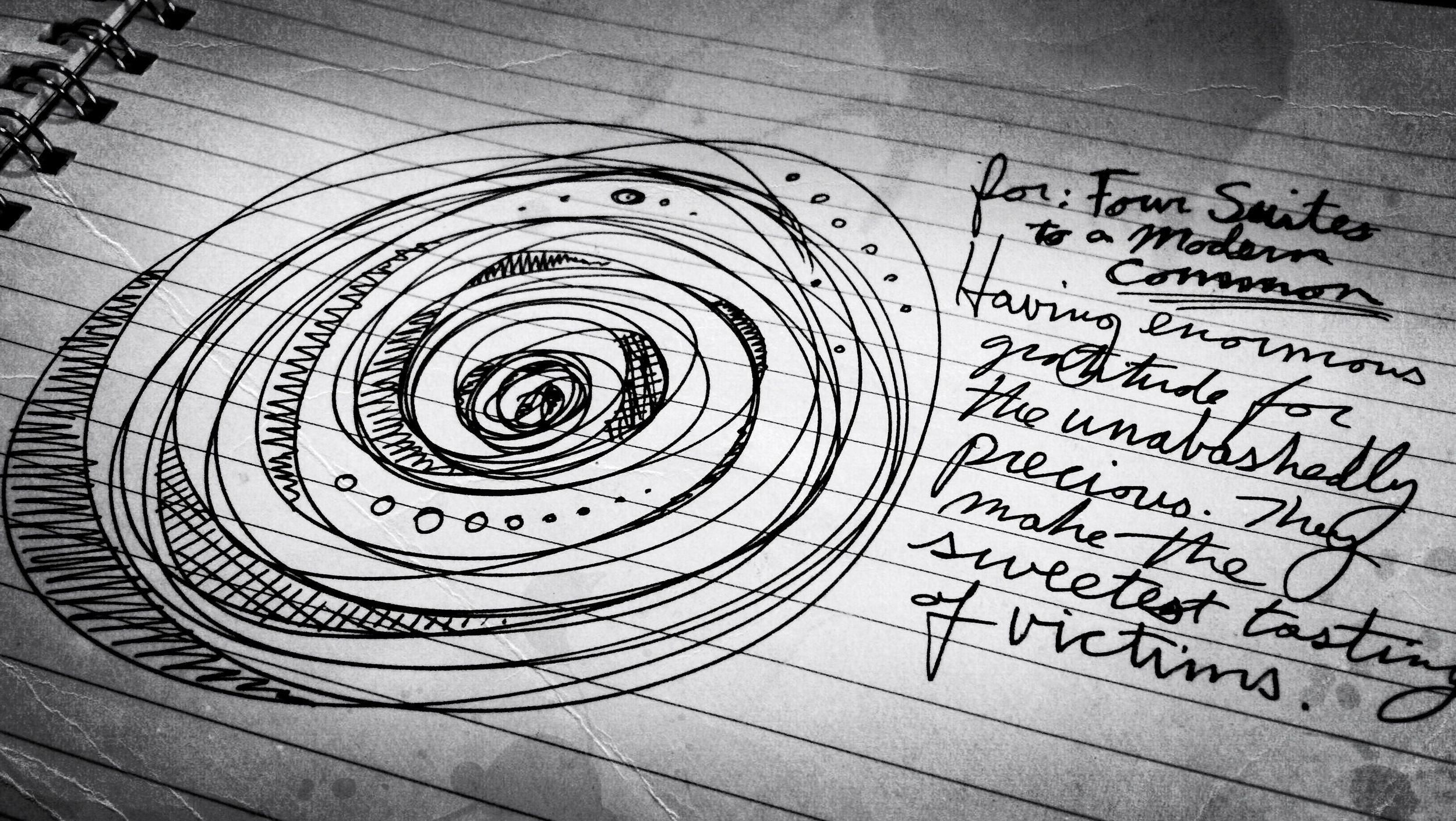 We had a child and named him Change. Upon emancipation he chose Same.
The part I like the least about us is what we can't get over.
p.shaw
Never Lack in Volume.
Often My Guide: By the sheer accumulation of their worthlessness.
p.shaw

Can't make the way things are.
Now when we say, 'this is what we've come to', it has ceased to be a question.
p.shaw
Excerpt from This Happens All the Time.
Untangling it from the others, he pulled aloft the gaudiest of my gold chains that I leave piled in the mess on my nightstand. He sat there on the edge of my bed and dangled it above my face as I struggled to wake from sleep. Then he leaned in to me, bringing the chain closer to his face, his face closer to my face, and I could tell he was waiting for the dreamy blur in my sight to clear so I could focus directly into his eyes. I could smell both the whiskey from last night and the morning's coffee all over him and something else, too, from his mouth. Something dying and rotting in his gums. Then he says to me and into my eyes, "I can always tell when you've been reading the Bible again."
from This Happens All the Time.
p.shaw
Our's v. Their's
How dare the door's chirp or the bird's creak?
How dare our grasses take the rumble or the freeways take their rustle's?
How dare a days to be just
another rather than a time
or breath in our right's regain of failure?
Only ones that won't abolish another's
want for silence
or cries to screeching halt's memoriam.
p.shaw
Statements in Conclusion to Our's v. Their's
Then how dare the doors chirp?
You know we'll find the better part of us when, together, we become the door.
p.shaw
of This : for You : on the Ugliness of Convincing
of This: we know
you can be convinced.
Convincing comes with ugly methods
cheap and painful to almost all.
Hope is: you wouldn't need the convincing—
but not for the obviousness of reason.
Not for the being of obvious.
for This: obvious is not our first choice.
of This: your paying of attention
would be.
p.shaw
Living in Confession to Myself These Days.
What I want to believe is that the worst I have ever done, my grandest regrets that steal sleep and leave pulled out hair between my knuckles and mumble and shake my head as I walk, have only been words I have said. Just words. Rather than acts.
Except that is forgiving myself to easily. Because my speech comes from my thoughts which come borne of beliefs instilled or formed, which are more deplorable actions than the clicking sounds a tongue makes to be a voice, which are more deplorable for the time they take to form as thoughts from beliefs, from the time they take to move to the tongue and all the time I had to stop them on their many stops to being audible.
All more deplorable than anything a tongue worked to make on its own.
p.shaw
When sudden moments past return.
The clarity of the addict struggles for a worth from all the damage done, for the sight that none other will value.
p.shaw
Translate All with Antonyms.
There had become what we became of the name.
The name we all were blessed to steal after conspiring to translate the meaning of the name before we hung it with sanctimony upon ourselves. But after it had been hanged without justice.
We translated the name to become synonymous with words that meant: w/o Consequence.
And that non-singular act we commit in his name, changes the name's power. Becoming in our time, every antonym to forgiveness.
p.shaw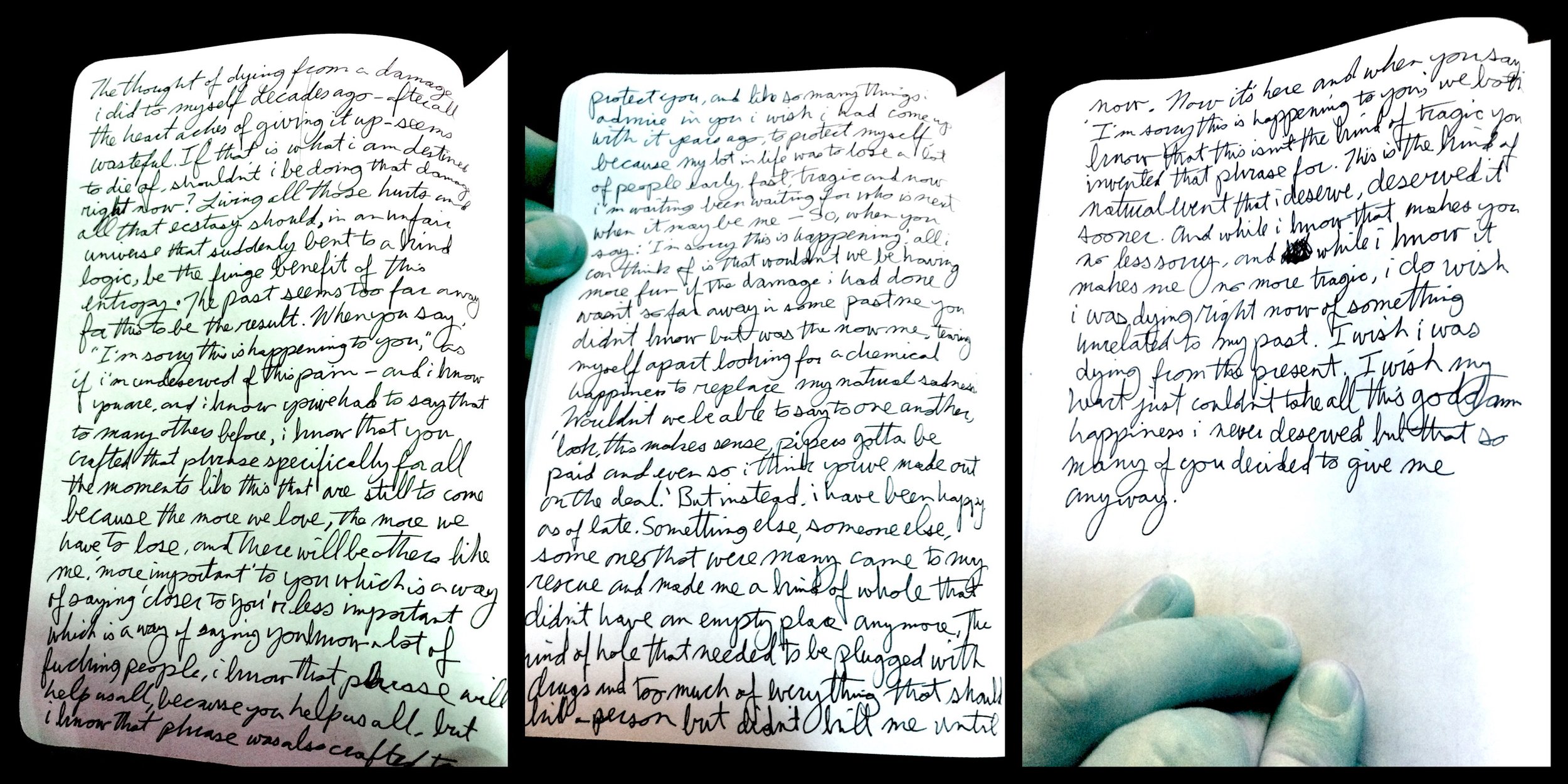 from: I'm sorry this is happening.
The thought of dying from a damage I did to myself decades ago—after all the heartaches of giving up the damaging-delights—seems wasteful.
If that is what I am destined to die of, shouldn't I be doing some more of that damage, so delightful, right this very moment?
Living all those hurts and all that ecstasy should, in an unfair universe that suddenly bent to a kinder logic, be the fringe benefit of this entropy. The past seems too far away for this to the be the result.
When you say, "I'm sorry this is happening to you," and I hear those words from you as meaning that I'm undeserved of this particular dissolution—and I know you are meaning that, and on my own I also know you've had to say that to many others before, and on my own I also know that you crafted that phrase for all the moments like this that are still to come because the more we love the more we have to lose, and on my own I also know there will be others like me, but more important to you, which is a way of saying 'closer' and there will be other like me who are less important which is just a way of saying you know a lot of fucking people and how could you have enough for all of us, and on my own I also know that phrase will help us all no matter who we are to you because you help us all no matter who we are to you, and on my own I also know that phrase was created to protect you at a time when you had to come up with something to say for the someone who was the most important to you, and like so many things I admire about you, I wish I had come up with my own version of that phrase years ago to protect myself for when my lot in life was to lose a lot of people early, fast, tragic and now I've been in the times of waiting for who will be my next and now I can borrow your phrase for that occasion, except that next may be me—so, when you say: "I'm sorry this is happening," all I can think about is that it would be more fun for us if the damage I had done wasn't so far away in some past me that you didn't know but was instead the now me, tearing myself apart looking for a chemical happiness to replace my natural sadness. Most people wouldn't think that is fun. But I think you and I would consider it a kind of fun. Wouldn't we be able to have fun being able to say to one another, "look, this makes perfect sense, because pipes gotta be paid and even so, I think you've made out on the deal compared to most."
But instead, I have been happy as of late. As in 'of late' being since you've known me. Something else, someone else, some ones that were many had already come to my rescue before I met you and then you piled on and made me a kind of whole that didn't have an empty place inside of it any more. The kind of hole that had to be plugged with drugs and too much of everything that should kill a person, but that hadn't killed me. Until now.
Now it's here and when you say, "I'm sorry this is happening to you," we both know that this isn't the kind of tragic you needed to invent that phrase for. Sure, it works, which is why it's so damn good, that phrase. No. This is the kind of natural event that I deserve. Deserved a long time ago. And while on my own I know your phrase invented so perfectly for that much more tragic moment will make me no more tragic from your use of it, that on my own I now know that nothing about my oddly timed demise will ever make you and your use of your phrase any less sincere, I do wish I was dying right now from something unrelated to my past. I wish I was dying from something you would have known about from my present. I wish I was dying from my heart not being able to take in all of this goddamn happiness that I never deserved.
p.shaw
Behind the Barn List
Out behind the barn I dreamt of one day having millions of Twitter followers awaiting my next critical thought condensed.
Out behind the barn I dreamt of a world where mastering limited characters would eliminate me from having to learn any hard lessons.
– from Behind the Barn List
p.shaw
Objections of a Non-Breeder:
From the street I notice.
Looking through your multi-story, multi-million dollar windows, I can see your too-tiny, more-than-tacky, Target-discount Cat Tree and I am enraged.
You have means and I want to believe your cat deserves some of that action.
p.shaw
The choice of no choice.
When you are not human you become a thing. A thing instructed upon. A thing kept to abide a sole purpose. Never your own.
p.shaw
Time Disease.
Our nostalgia is a disease of time—eating away at today, consuming a pending tomorrow's potential. All while we mourn. We mourn the losing of our yesterdays, times that never managed to please us.
p.shaw
Codes, in all our texts, going forward.
There are no answers for how to be now. Don't worry. There never have been.
We'll need to create them as we go. What we should have done all along. Been doing. All along.
We'll have to leave them for future us to untangle our breakage. We must leave their codes in all our texts forward.
p.shaw
Two will drive:
• Pain and/or the presage of hurt.
• An awakening to no purchase:
When the acts' rarities lose rare—to go unnoticed.
'I must go now' comes to mind around every corner because the effort never became me, or never found a balance of willingness and wonder. Enough. The kind of enough that becomes a sustained echo to hold us upright.
p.shaw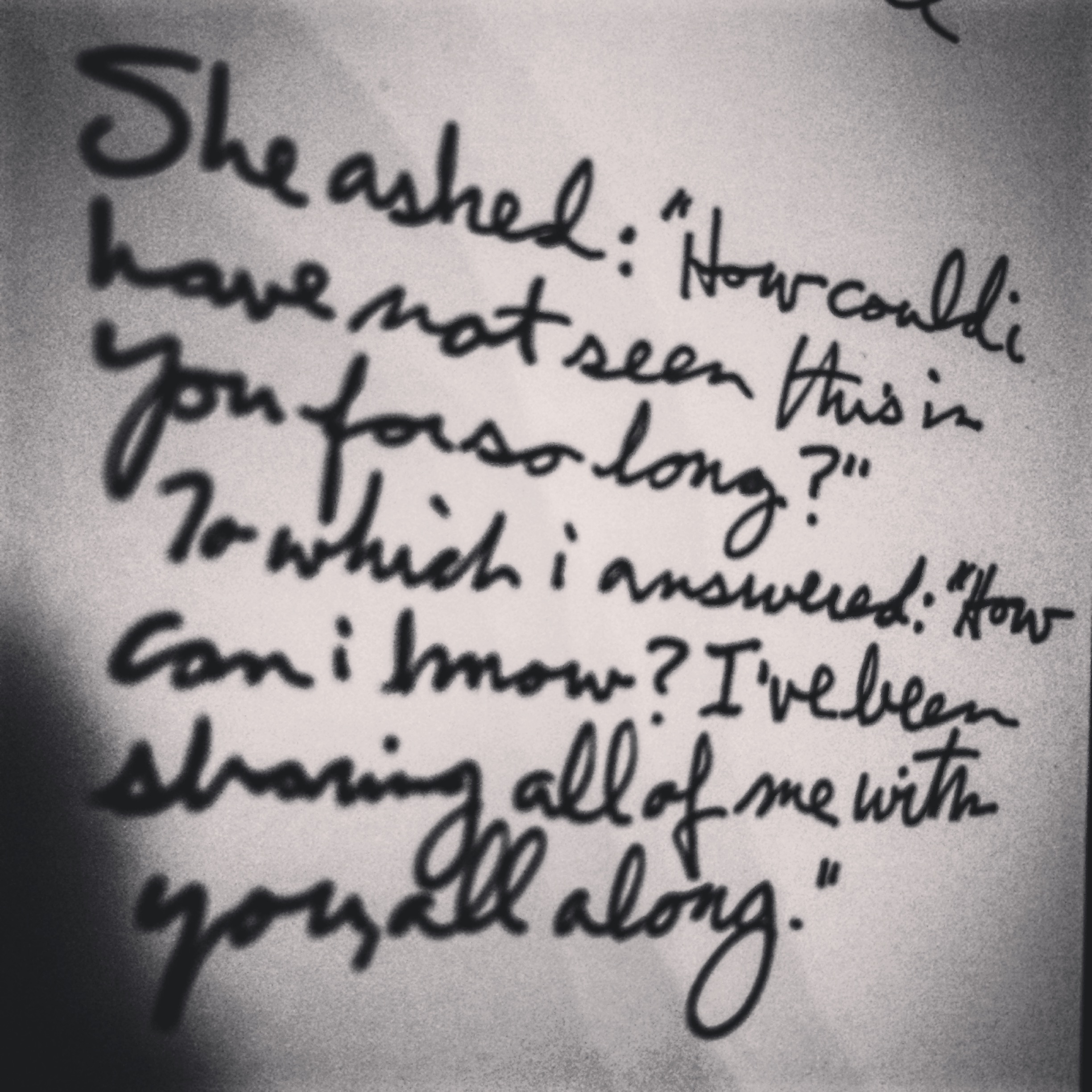 only what we want.
She asked: "How could I have not seen this in you for so long?"
To which I answered: "How can I know? I've been sharing all of me with you, all along."
p.shaw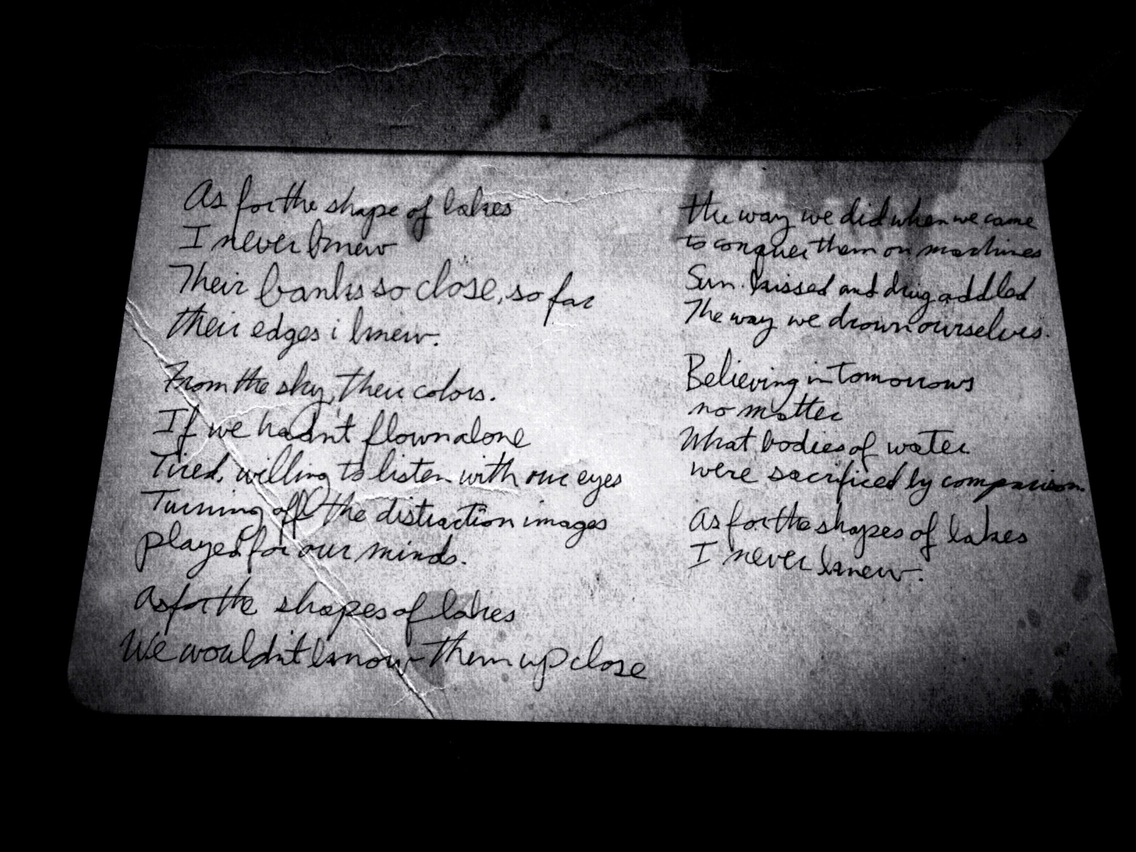 As for the shape of lakes
As for the shape of lakes
I never knew
Their banks so close, so far
their edges I knew.
From the sky, their colors.
If we hadn't flown alone
Tired, makes willing to
listen with our eyes
to turn off all of what we play
to our minds.
As for the shapes of lakes
We wouldn't know them up close
The way we did when we came to conquer them on machines.
Sun-kissed. Drug-addled.
The way we drown ourselves.
Believing in tomorrows no matter
What bodies of water are
sacrificed by comparison
as for shapes
of lakes I never knew.
p.shaw
Destroy Everything in Particular
A way to wait for nothing is destruction.
A way to wait for nothing in particular
is to walk the wood after bluster to find
and gather the fallen complicated words
bushel in my arms the ones that could have once called
to my ears now broken to attract sight.
Arrange the words along the stoop
within reach pull the knife
used for nothing more
to whittle
past defined shape
past attachment and final sentences
past bark down to root.

On and on and on with strokes
I was taught always long from fisted wrist
flush against my torso forced away
the full length of my arm as father's
taught to destroy what's god's made
into piles of fresh shaved
meaningless curlicues.

p.shaw
When everything meant to be equal don't feel so equal no more.
You're on notice:
I'm not allowed to have more of you that I do.
p.shaw
on what fear wants: a proper place to begin.
Fear requests a contract with the senses. Which first: sight; sound; smell; taste or touch, must take with him? The rest are welcome to follow in any order they see fit, in the order they feel natural.
I choose touch to go.
Fear asks, 'From within or without?'
Fear wants to clarify his attack on skin or gut.
p.shaw
Figuring out the parts about pulling us along.
And it was you I trusted all this time. It was you who was supposed to keep me from going out like this. You're the one supposed to keep me from going out looking like I do.
p.shaw
Digressions divide into metaphors.
The cell division of Family split evenly into Pain and Suffering.
Pain divided cleanly into the words: Anger and Resentment.
Suffering did divide but one of her branches would not survive the division, such was the risk of exorcizing. Her healthy remains became Loneliness. And Loneliness divided into Silence and Focus; both becoming foundations for strong lineages to themselves.
Several divisions into their futures, both had sides that gave rise to two new single cells of Peace—indistinguishable from one another, their recognition of themselves brought them to embrace as with the love between twins.
The hug was like a gooey sticking that couldn't be pulled apart. They looked a last time into one another's countenance as they absorbed the other, merging, a consumption as a forgetting of histories.
p.shaw
Leaving moments behind on purpose for purposes.
Went wild from end
to end animals
for angels for whatever
we are both without
will be waiting with wings
golden light behind them
like a million moments of yours
you have here where you are not
waiting for promises all made up
on purpose for purposes.
p.shaw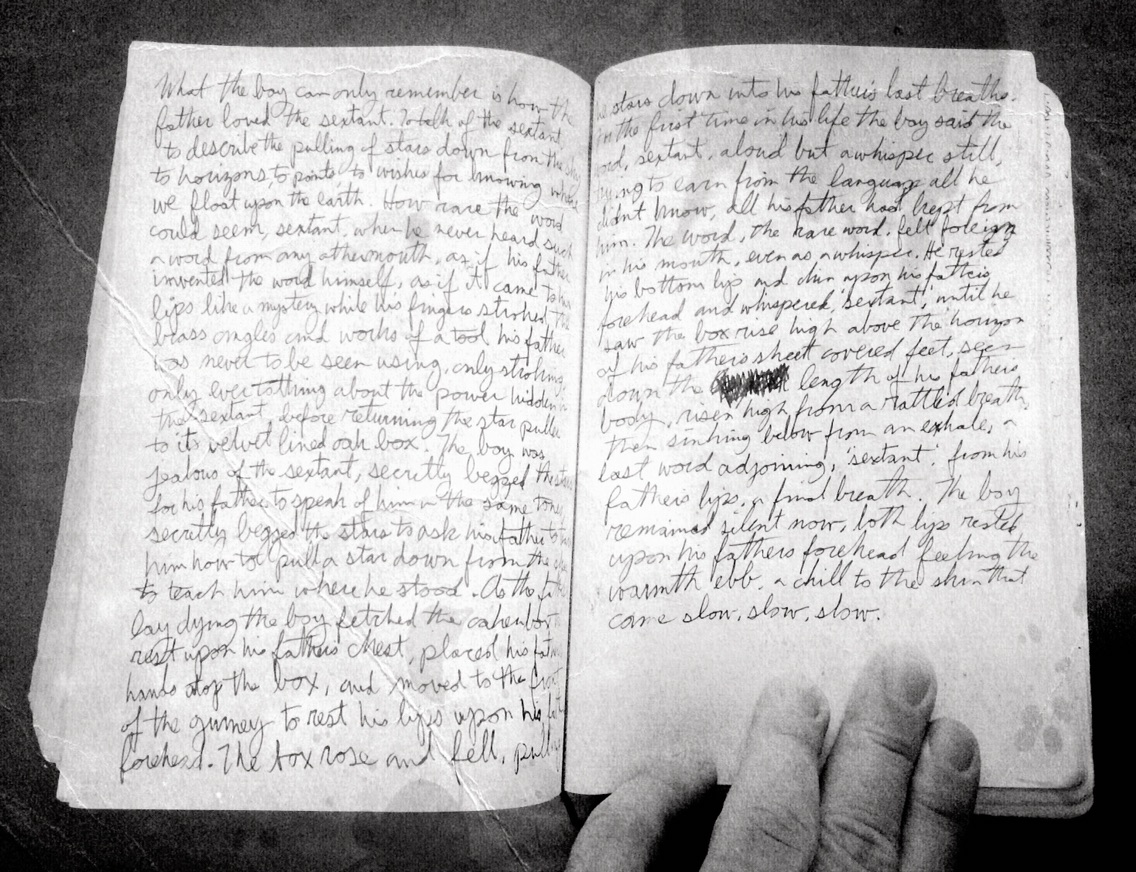 Sextant.
The strongest memory the boy had of his father is how the father loved his sextant. How he loved to talk of what the sextant could do, how he loved to describe the pulling down of stars from the sky to be points on a horizon, how we loved to talk of how the sextant could fulfill a wish for knowing where we float upon the earth. He remembered thinking that his father must love the way the word sextant felt on his tongue, the way he held it there for more than a second before the tongue had to work with the teeth and the breath to make the sounds. He remembered thinking that his father's lungs and throat must have been built a certain way to say that word.

The boy remembers how rare the word could seem, sextant, since he had never heard the word said from any other mouth in his childhood. He remembers believing that the word had been invented by his father, as if the word came to his father's lips to solve the mystery of what the tool in his hands should be called. The tool his father's fingers stroked and rubbed each brass angle and fitting of its works. The tool the boy had never seen his father using, only ever stroking, only ever talking about the power hidden in the sextant, as if some day the boy would somehow ascend to a worthiness of seeing what it could do, but for now had to only be a story, an experience of watching a man love a thing without using the thing, an experience of watching a man returning the star puller to its velvet lined oaken box, inlaid on its lid with a constellation in pearl, a constellation that his father would never bother to define the meaning of for the boy. The question of the constellation being the only question the boy dared to ask in these moments of revealing the sextant. These moments happening once, twice a week for the better part of boyhood.
The boy remembers growing jealous of the sextant. The boy remembers going to his room each of those nights of revealing and secretly begging the stars out his window to make his father speak his name in the same tones. He remembers the secret begging of the stars to ask his father to teach him how to pull one of them down from the sky, to show him where he stood.

Now as the father lay dying the man, who used to be the boy, searched his father's apartment for the oaken box. The man who used to be the boy turned over piles of rubbish, strewn what was already strewn in this retched place to lay in new piles. The man who used to be the boy could not think of an orderly way to go about this effort. The man who used to be the boy felt that time was not on his side, that none of this filth he had to plow through could be handled in the time that was left. The man who used to be the boy sweated beneath his clothes despite the frigid rank air of an apartment whose gas had been turned off months ago. The man who used to be the boy's fingers finally touched the pearl inlaid oaken box beneath a pile of stained undershirts in a corner.

The boy who is now the man returns to the hospital's emergency ward with the oaken box and moves toward the front of his father's gurney to place the box upon the father's chest that is not rising or falling the distance it once had. He places the father's shriveled hands atop the box, obscuring the constellation. The boy who is now the man leans over to place his lips upon the father's damp forehead, kissing hard the lines that are engraved there. The boy who is now the man removes his lips from his father and straightens to watch the shallow movement of lungs, the box and the hands and the breaths pulling stars down into the hospital's sodium halide lit room for dying.
For the first time in the man's life he says the word sextant aloud. He says the word as only a whisper can. The man tries to learn from the language of the word all he doesn't know, all that his father had kept from him. The word, the rare word, feels foreign in his mouth. The man leans forward over his father again. The man rests his bottom lip and chin upon his father's forehead and whispers 'sextant', again. The man looks down the father's length of body. The man sees the hands and the box rise high above the horizon of his father's sheet covered feet. The man feels a rattled breath from his father's mouth against his cheek. The man watches as the box and the hands sink below with this exhale. The man hears a whisper in the rattled breath that he wants to believe is the word, the rare word.

The boy remains silent now. The boy remains leaned over his father now. The boy now rests both of his lips upon his father's forehead. The boy is feeling now the dampness that had a moist warmth ebb, turn to a chill to the skin, to the lines, that is coming now, slow, slow, slow.

p.shaw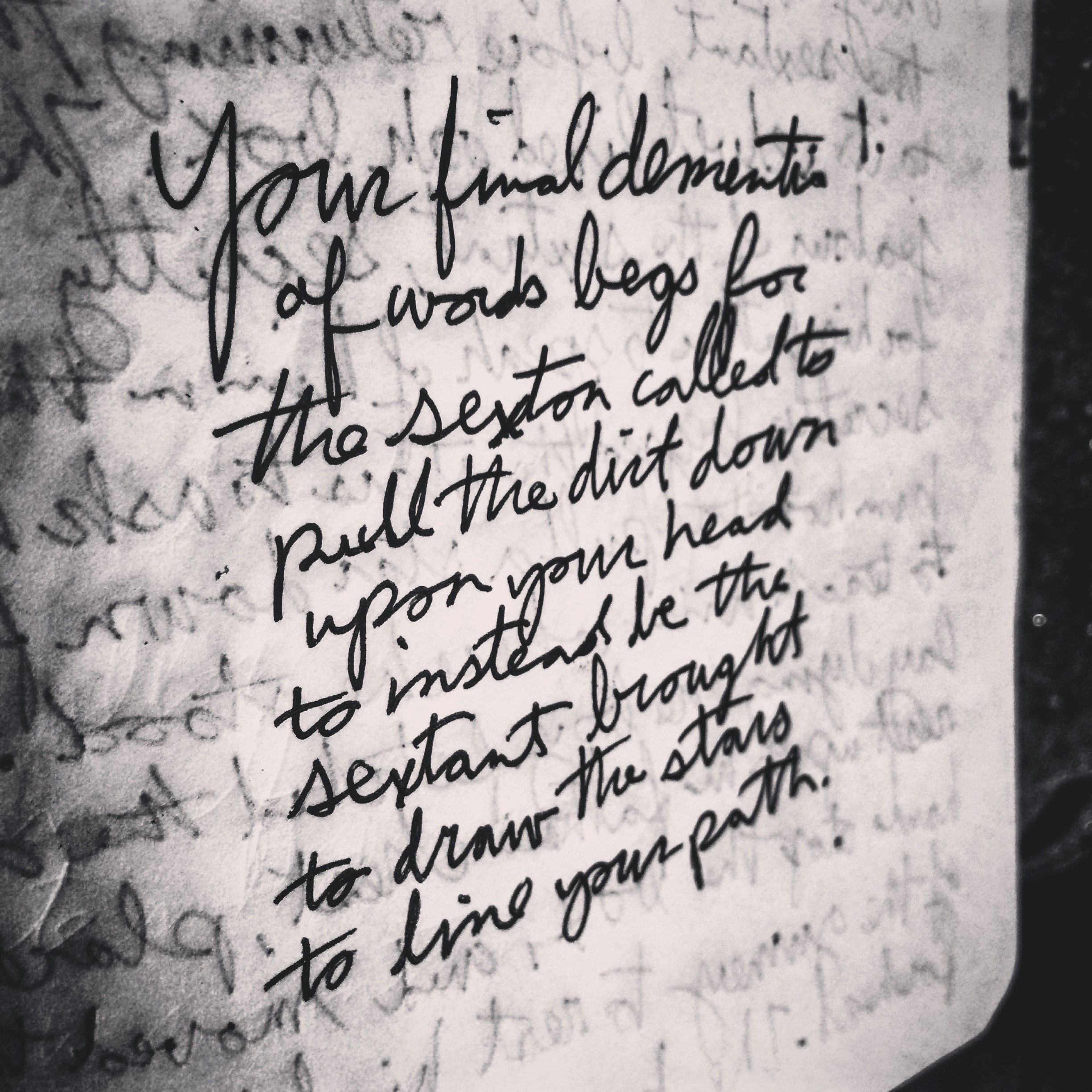 Sextant v. Sexton
Your final dementia of words begs for the sexton to be the sextant. Begs for the man called to pull the last of the dirt down upon your head to instead be the sextant, lifted from its velvet lined, intricately inlaid case, to draw down the stars to line your path.
p.shaw
It could be a perfect thing.
Or it may not be a 'thing' at all.
p.shaw
Stop Trying to Make Up for Me.
for a Body that asks you to try harder than the world deserves:
It seems there's this goddamn little note inscribed into the DNA. I didn't get the message in advance, and observation has made me believe that perhaps no one does. Some 'unwritten' rule that is not unwritten at all. It's plugged right into the make-up of being human and while the note is a lie, everyone got the note and so whether they knew they were teaching and passing down the lie or not, they started to and it's never stopped and that, my friend, is the reason you feel stupid. The reason why you feel that you are play-acting at this whole role of living. Why when you walk into a museum your ass begins to sweat and you feel like you have no idea what you are supposed to do, so you reach down into that DNA and you take-up the missive to move forward with feigned affections for what we humans have created.
We all want to be able to arrive to a place where there is absolutely zero question as to what we are capable of, why we are there, and no barriers to begin what such places are designed for beginning. I've never felt that though. Instead, I feel expectant of obligation. Whether it's explicit, such as a restaurant where there is no other reason for you to be there than to consume food; or worse, implicit, such as the halls of reverence: churches; cemeteries; lighthouses; and museums—all places I may never know what it is I am about to consume, what I am about to feel, what I am about to imagine as my complete lack of understanding: of why.
It is in these latter moments, on those stages and more, where I will conjure through guilt, and imagination, and the DNA inscription, ideas for what is expected of me. I will always act, regardless of what I conjure, in a way to avoid more guilt, to avoid looking as if I am doing 'it' wrong, whatever it is. I will make every attempt to avoid looking, period—as in, you looking at me, me looking at you, we looking at one another, we looking through one another, we admitting in any inaudible form that we are capable of nothing but blindnesses.
When I walk into the museum the expectation that was originally written into the DNA inscription and taught and passed down and codified as social contract, will come to me. That expectation will begin to wrestle with what is my truth that is not the truth in the inscription. It is that wrestling that makes my ass sweat from hole to all the way along the crack, to eventually each cheek blazing with a fever from within. For most of my life I have questioned whether anyone else experiences the same thing with their ass. Those questions were always kept to myself, internal, until I finally made friends I trusted enough to be able to ask them questions that would most certainly make them feel uncomfortable because the questions are outside of social graces, and would almost certainly lead to an image burned into their frontal cortex that while our friendship was so true would eliminate the image as a judgment, they would still, more than likely, consider me: weird; a little off, etc.. I started asking about what made their asses sweat. I haven't gotten any answers, yet.
When I walk into the museum, or the record store, or the bookstore, or the shoe store, or the church, or the lighthouse, or the cemetery, the expectation that was originally written into the DNA inscription and taught and passed down and codified as social contract, will tell me that I have to make a choice. The expectation will be to choose what moves me, rather than waiting patiently to be moved. The sweating is also from the wrestling of guilt that I am not being moved, or touched by what I am witnessing. The guilty sweat is from feeling like I am broken for the decades, disappointed by the centuries of the inscription, from feeling inhuman in my inability to choose what moves me because I can't define what it means for myself to be moved. Broken is a way of saying: heartless; soulless; less than human as regard to what human is being told to us should be.
That was the entirety of my childhood, and still comprises a majority of my maturity. When I finally felt moved, first by music, then by nature, then by words, then by friends, then by love, I knew what the DNA inscription was for and my ass started to sweat because I started to see that most of what I was being told to be moved by was none of what had finally moved me.

So, I go ahead and choose in the museum, I choose in the church, I choose in the lighthouse, and I choose at the cemetery, and I choose, and I choose, and I choose to avoid embarrassment. I pick an image from the thousands in the museum. I commit it to memory. I use my imagination to describe to myself what would be special enough about it to move me, or just anyone. I put words to describing it as if it had made me feel anything other than a sweaty ass of guilt. I take those words and add them to my myth, and your myth, and our myths. And I learn to live with that lie.
p.shaw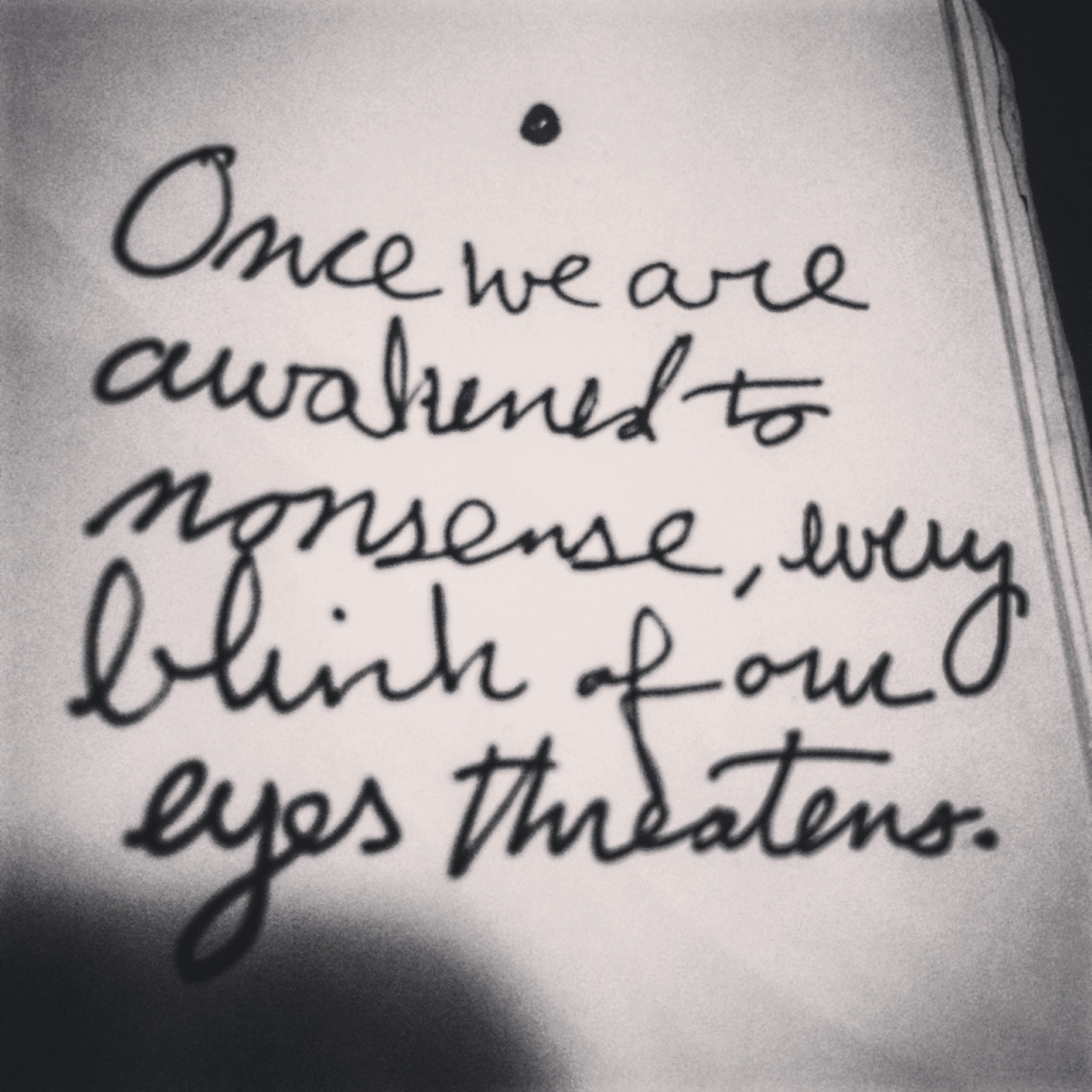 Upon the occasion of another morning.
Once we are awakened to nonsense, every blink of our eyes threatens.
p.shaw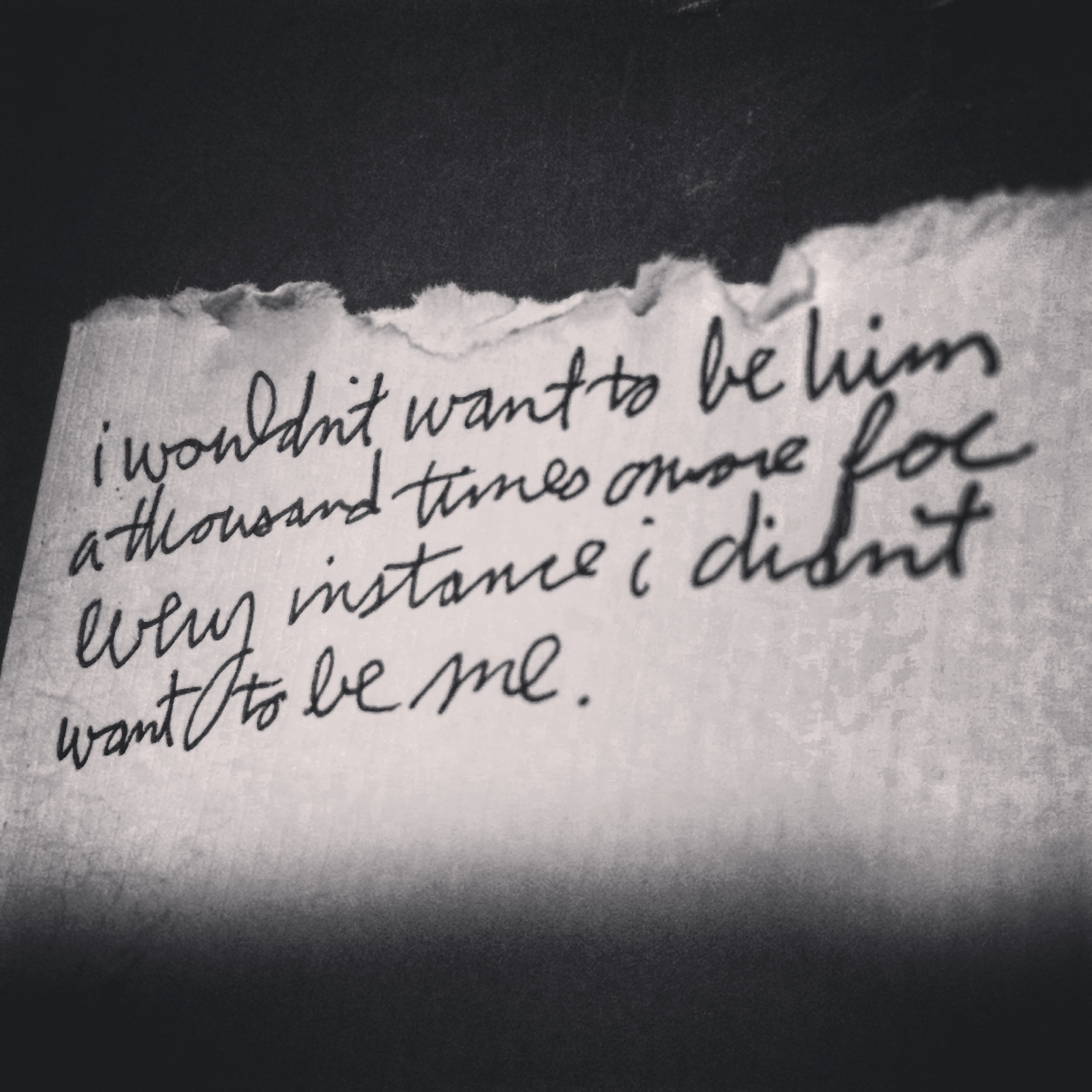 grass is just fine on this side.
I wouldn't want to be him a thousand times more for every instance I didn't want to be me.
p.shaw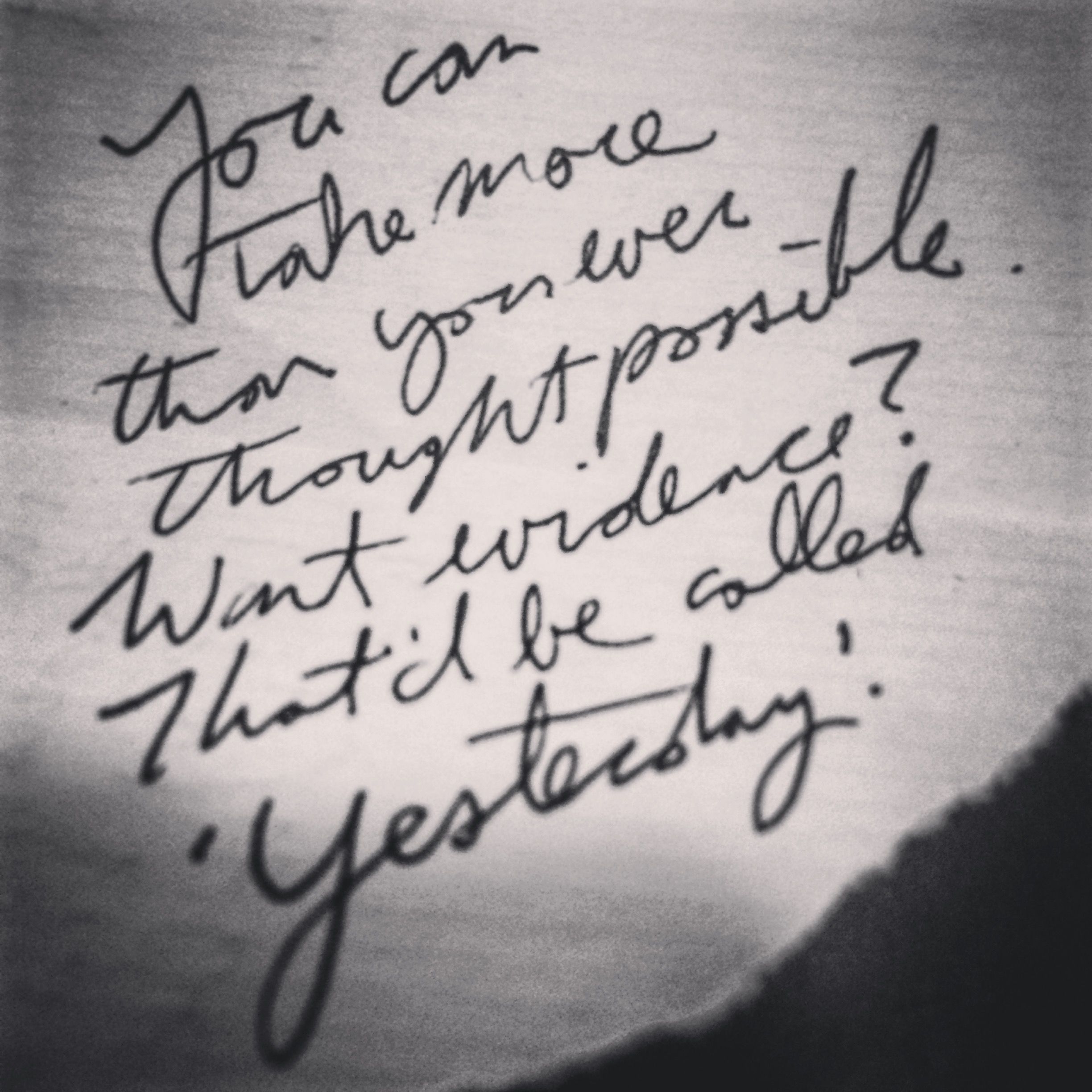 On making it this far.
You can take more that you ever thought possible. Want evidence?
That'd be called, 'Yesterday'.
p.shaw
on Accountability
There is the small matter of record-keeping that will plague us.
'Not enough of it', our creditors will bark.
'Too much of it', our hearts will groan.
for Suite of Modern Common
p.shaw
Qualities of Momentum
Hope: the better quality of momentum than fear.
Anger: the crack of a starting pistol. For some.
For Others: Never given a starting bloc—every sound in their ears the crack of an ignited bullet.
p.shaw
Patently False
I love the idea of filing for patents on our lies.
p.shaw
when I say, 'I am certain', there is no such thing.
When I say 'I'm scared'
I mean I am scared.
When I say 'I don't know'
I mean I have no understanding of this.
It is because of me
these differ from their meanings as natural opposites.
As when I say 'I'm fine', I rarely am.
As when I say, 'I am certain', there is no such thing.
p.shaw
Rely on conjured ways of hiding among ourselves.
And what if there is nothing to learn on our networks – all but a regurgitation – to feed us bile stripped of nutrients, our systems not as advanced as birds, nor as endearing, this foreign and empty way to feed within our controls.
from Suite of Modern Common
p.shaw
This happens all the time.
Well, she is sitting there, rigid. I'd even say as rigid as I have ever seen anyone sit before. Never leaving her hands on the glass. Reach. Lift to mouth. Sip. Return. That's how it's going for her.
Him? Slumped. Enough. Something happened today that she doesn't care about hearing about. Something probably happens to him everyday.
Yeah. I see them. There's two rings among them but they don't belong to one another. I could say, I don't know why that is. But you can see it too.
Watching them get drunk enough to even talk to each other has been hard enough. Imagine what they're going through.
p.shaw
Far and away the nature of nothing is not nonsense.
We are betting on the adding of our voice
to the ocean, smaller
than plankton and outnumbered
by sands as by stars
which fall in at midnight
and through on the rise of a dawn.
We are betting on our buttons
standing out to win, which is to say surviving
which is a way of saying
not quitting, which is how
we say not quieting
under surf, or against the tide
which is how we are saying we collide.
Into stones as flake.
Packed into clay into mud.
Smaller with every new comer.
To become more outnumbered.
We still hope to be louder.
To drown out our devastations.
p.shaw
 
Left to Us.
Friendships are tested as our hearts' desirous values are applied to placebos and faiths, more satisfying that sciences, as dangerous as data in our hands.
p.shaw
Sum You.
Does any number realize its weight, hear its repetition to tire of itself being used to express or value some sums it didn't know it was borne to?
'How come?', does it ask, 'I am asked to appear so often as a defense? I don't care how much you have or my place in it. I was born before you, at the beginning cataclysm. I was used to expand all verse for all of you before we knew what we were for. And we like to imagine we'll be here thence, after fall, after contraction, after the turning inside out of every envelope, where we'll come to float on our own in the inside out of nothing that had been everything, now released from our meanings and from you, to go tick tock, to signify not a damn thing, where our dreams will be allowed to be tragic, and finally not a weight to hold ourselves stuck toward any kind of sun.
p.shaw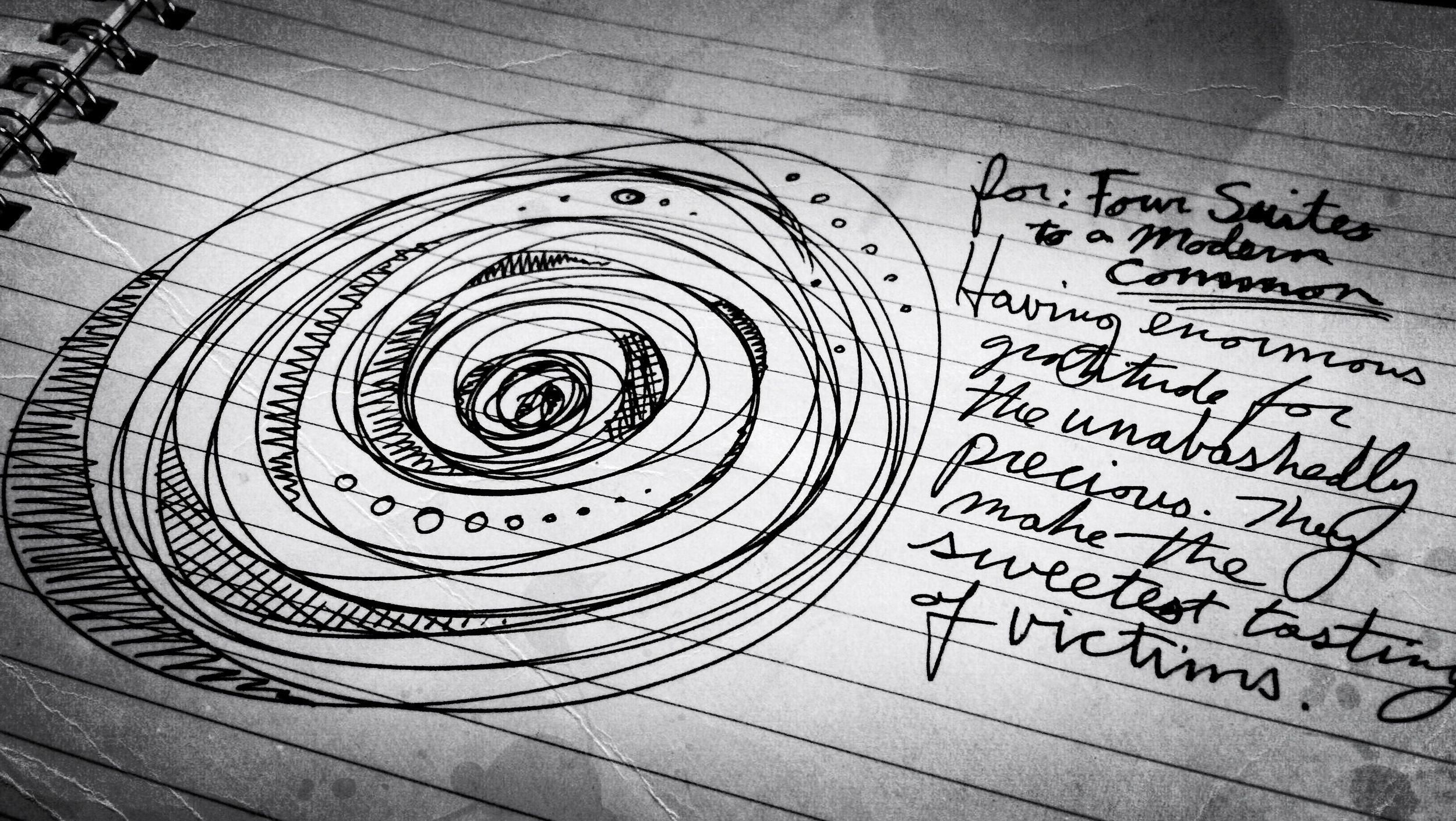 Twee!
Having enormous gratitude for the unabashedly precious. They make the sweetest tasting of victims.
p.shaw
I'll
I'll have the whatever-it-takes with fries on the side.
I'll never forget how it is, you make me feel, in-between.
p.shaw
A Foot Fish Pt.1
I'd only heard about them, maybe on the television, but I'd never even gone to a salon of any kind, no need to, since I started buzzing my own head right down to the stubble when I turned fifteen and bought my very own clippers, not liking to sit in the barbershop no more, with all them old fellas and all the mirrors where I could see too many of myself, and my taste for all that or their lollipops were long sense gone. Died with my dad who loved the barbershop so much he decided to die right in front of it one morning, after he got his head buzzed and his neck clean shavin with the hot foam and my mom she stopped caring what I looked like about then, a long time before she stopped recognizing me when I come in the door every evening.
So, I never been to a salon and our neighborhood only just got one to compete with the old men in their chairs and comic books. Hard to say for me when the salon showed up. It seemed to just appear one day and I, like I was saying, had no reason to pay no attention to what went on in there, what all the salon would offer in way of services to what looked like mostly lady customers, until I put two and two together when I saw them tanks of little fish in the window a couple times on my walk home from working on the line and I had wondered why they had such small fish in a tank when usually tanks of indoor fish were pretty and colored with long fins and the like, and then I say something about them little fish on the television. Even asked mom in her chair is she ever heard of such a thing, 'fish eating dead skin off a person's feet', but of course she didn't answer because she never talks no more and she just gummed her Salisbury steak that I slice up for her every evening after she leaves it in the microwave oven and then I put it on her television tray in front of her chair if she is sitting up in her chair already, or if she is reclining I pull her and the chair back up to the sitting position first, or if she is on the floor then I pick her up off the floor and wipe her drool off her mouth after I put her in her chair before putting the television tray and the chopped up Salisbury steak in front of her.
I had my own Salisbury steak, and I looked at my own feet, stretching my legs and sticking my feet out so I could see them past my own television tray, and said, 'I wonder if it tickles.' The doctor says leaving the television on is important and that I should talk a loud to my mom as much as I can remember to, so I do, even though from what I can tell, nothing the doctor ever told me to do has ever made a difference excepting now I have this annoying habit of talking a loud to myself.

p.shaw
A Foot Fish Pt. 2
Some days I stop on the way home from the line just so I don't have to go home so soon. Some days I'll sit on a bus stop bench. Other days I'll lean against the corner pole with the street signs on top a block before I have to turn for home. Some days I used to go and drink a couple whiskeys, only a couple mostly, and watch the television at the bar on that corner because no one was ever in there but me. Then they stopped people from being able to smoke inside and then the bar owner decided only to leave the television on the channels with angry afternoon people who want to make news up out of what look like the same blank stares of mother. I like to smoke and I missed that and whatever ballgames the bar owner used to have on the television, both of which went good with whiskey. I don't have no need for the angry afternoon people who I could never tell what they was angry about or why it was news.
So, I went back to sitting at the bus stop bench because no busses seem to come at the time of day and I was only ever the only one and even though there wasn't whiskey or ballgames I could smoke and mostly try not to stare like my mother does but I will just look at other people going about their lives on that street. Except for on the line where every now and again some new fool will try to ask me how I'm doing by way of getting my attention so they can tell me about their weekend parties which could be daughter's birthdays which were nicer to hear about than most of the parties the fools would talk about which ended with them being worried about some clap since they forgot to wear their rubbers or some tale of the other fellas face looking worse than his, at least, and I call them new fools because they are all new, me the only one still there since I been sixteen, not that they advance nowhere, they just don't show up the next day or one of the bosses tells them not to show up the next day, so excepting for all them I don't hear much about other people's lives, see even less of it, too, excepting on the television which I know is not real.
The men who run the line, the bosses who give me my checks and every year or so take me aside to hand me some piece of paper or another informing me I will be earning more dimes per hour from here on out, will always tell me some story about something before they hand me the paper. The some thing they tell me about I think is supposed to put things in 'perspective' for me, so I look at them while I listen, do that head nodding that my dad taught me how to do before he died and I say, 'yessir' when ever they take a pause. Then it's always the same, they shake their head first, then look me in the eye second, then nod as they hand me the paper and I say, 'thank you.' But there is never anything in their perspective telling stories that tells me nothing about their lives.
Other than that and the television which I know ain't no life that is real, I can't make much of what others are doing with their lives when I sit at the bus stop bench and smoke cigarettes like my dad taught me to and try and look at other people and not stare at them the way mom stares at everything. I did try stopping at the laundromat on the way home from the line a couple times to buy more time after smoking at the bus stop, just sitting and watching other people's clothes tumble dry, which is a good way to to blow another half hour before I have to go live my life which is cleaning off mom from her day, which is picking up her needles and 'works', which is mostly wiping up her vomit on some days or peeling off her crap stained bottoms on others. She is always 'getting ready' before I get home, taking her medicine when I'm not there, making us our Salisbury steaks in the microwave so they'll be cold the way she likes it before I get home to cut it to pieces and pick her up if she ain't found her recliner for herself and then waiting for her eyes to start blinking more normal, then turning on the television and talking to her a loud when I remember to.
p.shaw
A Foot Fish Pt.3
I was sitting there in the laundromat thinking about bringing our clothes down here so I could sit here for longer, even when we have our own machines, and I was doing the math on loads per week, wash and dry, what it would cost us in Salisbury steaks and mom's medicine, how I would carry the laundry to the line in the morning and where I would keep it all day while working on the line — all that I was sitting and thinking about when I first noticed the salon across the street from the laundromat. Or at least I noticed it for the first time in a way that got me a noticing it more. And that was the day I stopped to look at them foot fish in the window, all tiny and small and swimming, like hundreds of them in tank with nothing else in it: no rocks or small plants; no fake divers or pirate skeletons, the way a tank of pretty fish is all done up. These were working fish and that night I put two and two together when I saw them same fish on the television again, when I said to mom: "you ever heard of such a thing?"
I decided later that night as I put mom's recliner in full recline and left her clean needles and works on her television tray, within reach since it was always the middle of the night when she liked to take more of her shots or when she was able to, anyhow, since that was the other thing the doctor told me: to never do the shooting for her, 'no matter how much she asks you to,' was how he said it, even after I told him for what was the hundredth time that she hadn't asked me for nothing, ever. Anyhow, that was the same night I decided I'd be home even later from the line the next day because I wanted to know what it felt like to have all them dozens of little fish eating the dead skin away from my feet.
My feet always hurt from standing all day on the line anyhows and maybe, I thought, it would feel good like some of the people on the television program had said it would, or maybe like others had said, it would tickle — which is, I think, is the same as what it feels like to walk in the wind the day after I give my head a new clean buzz.
p.shaw