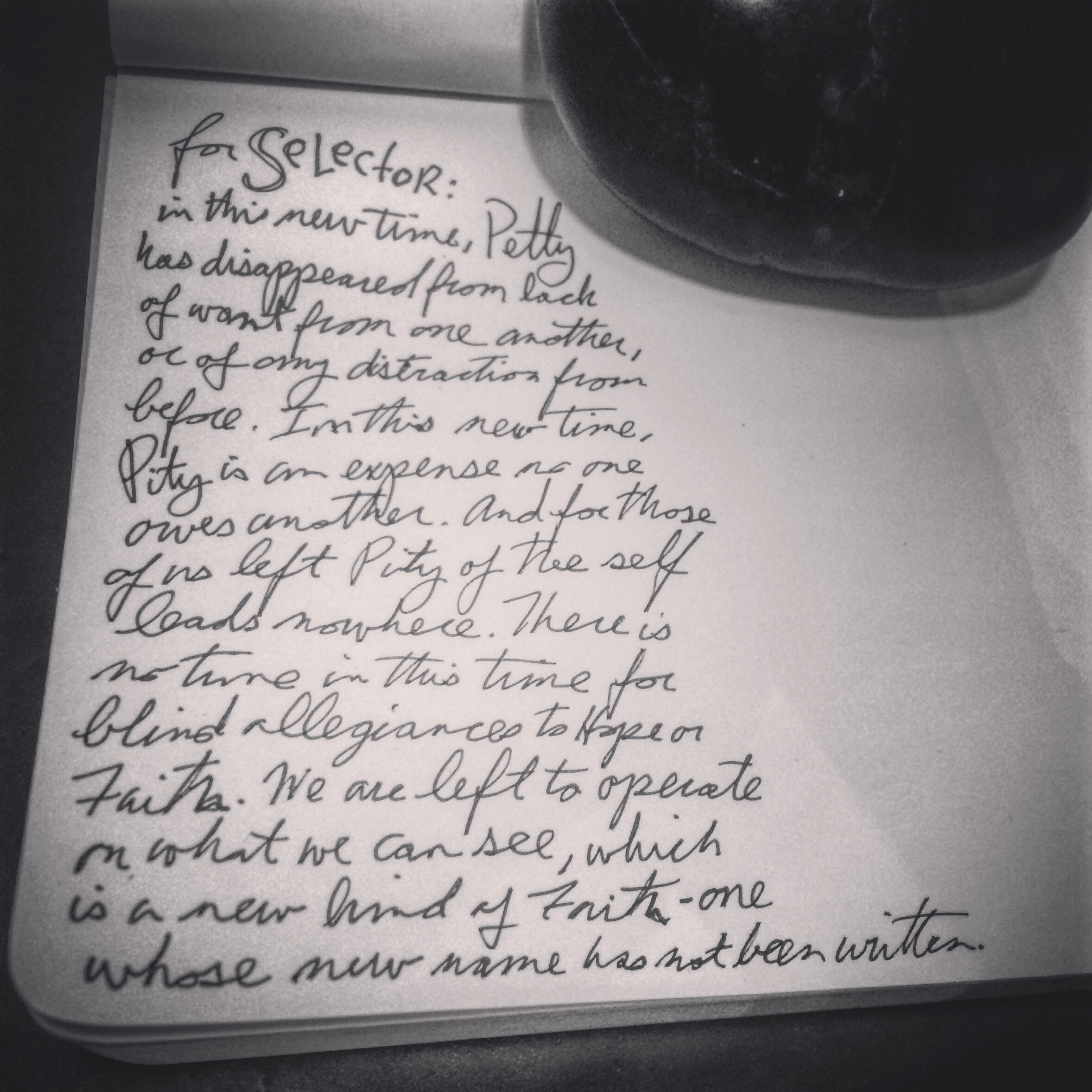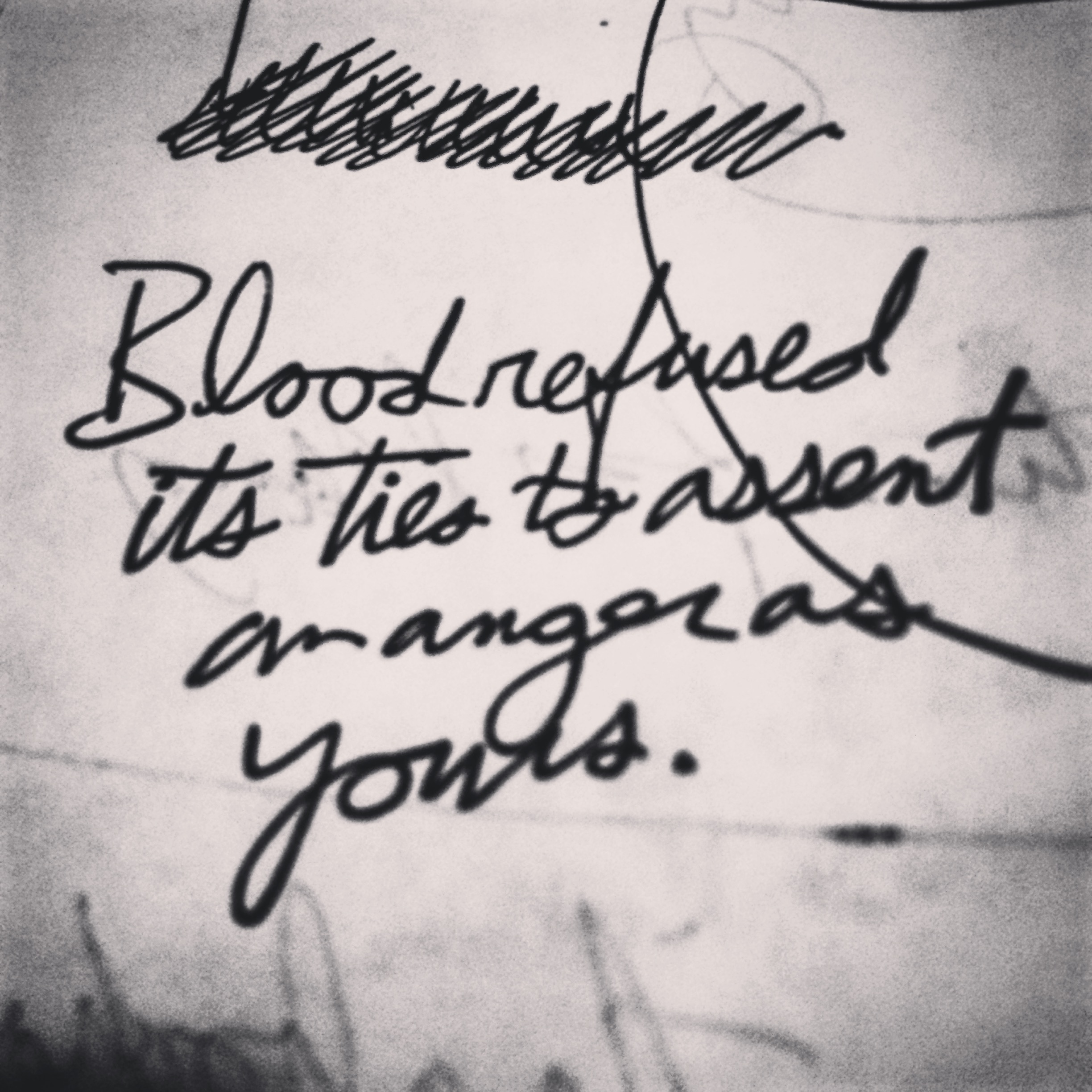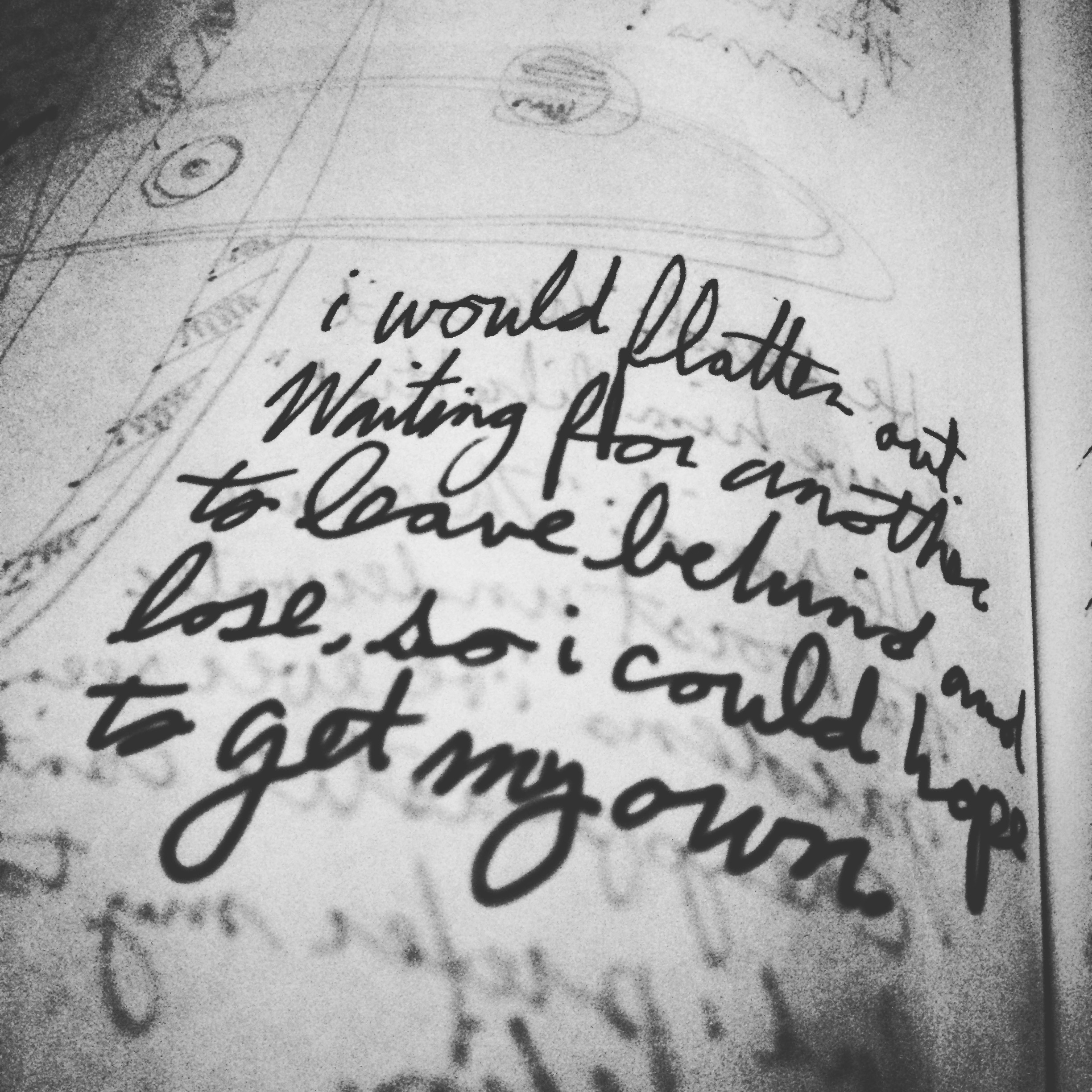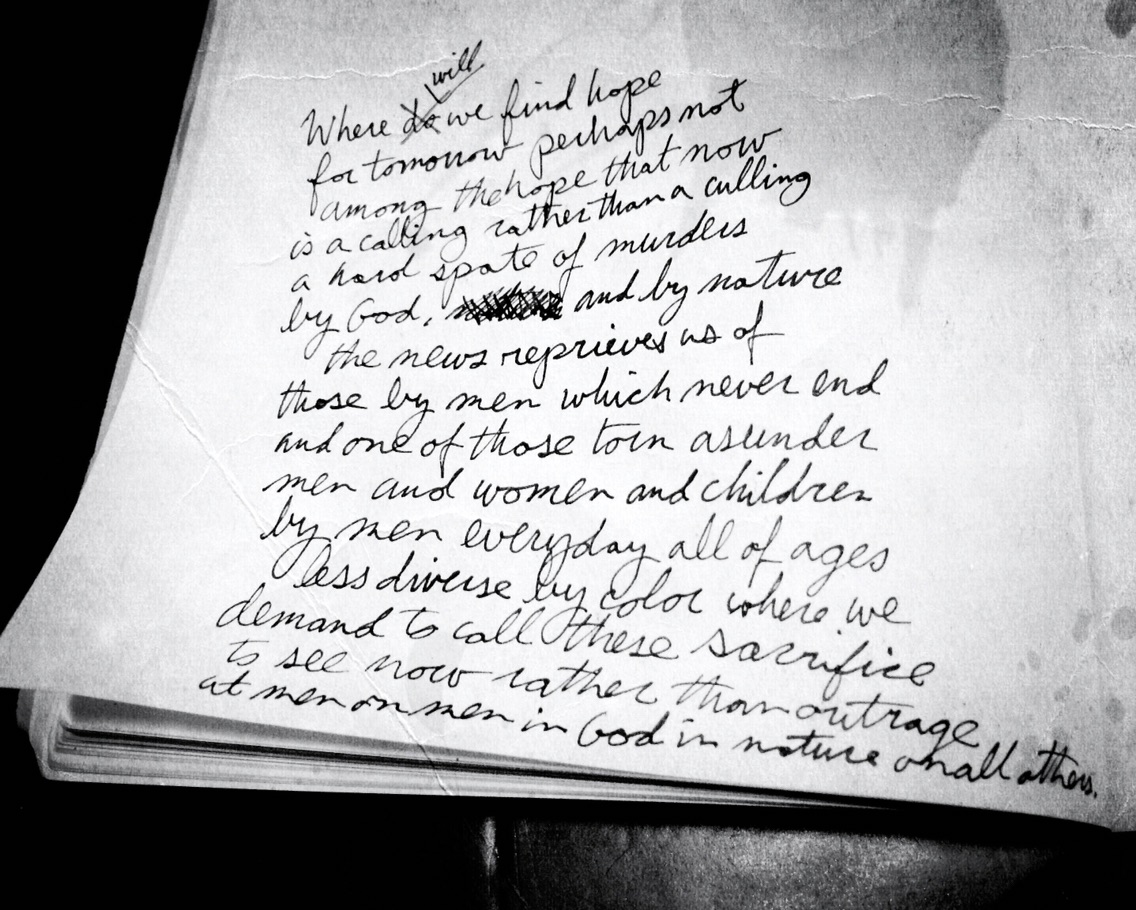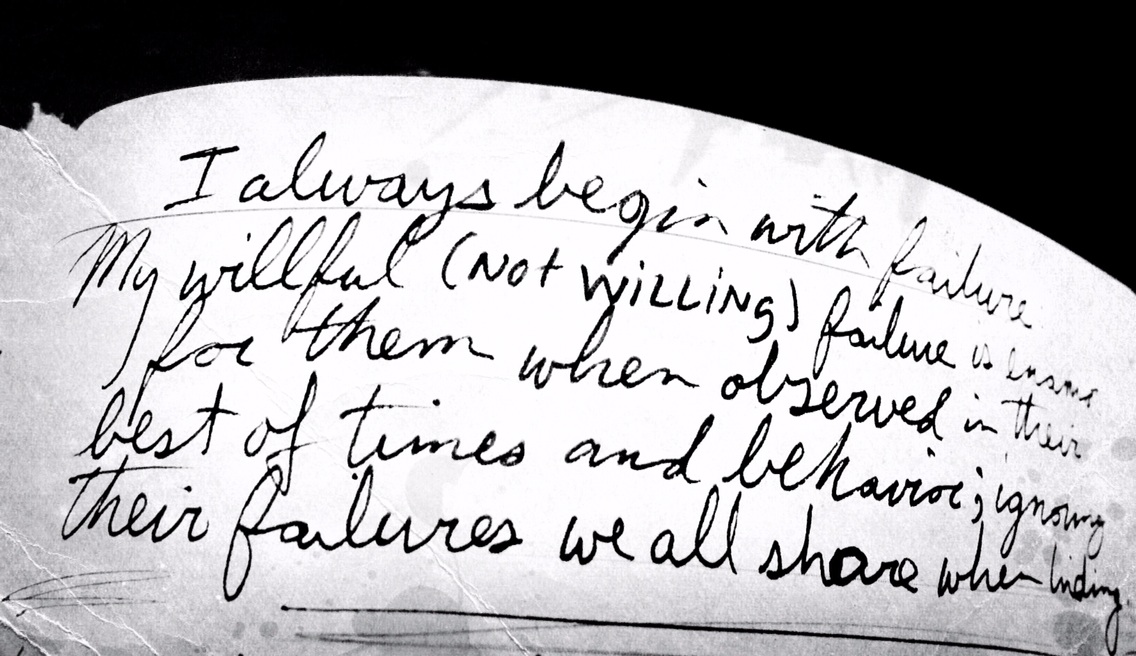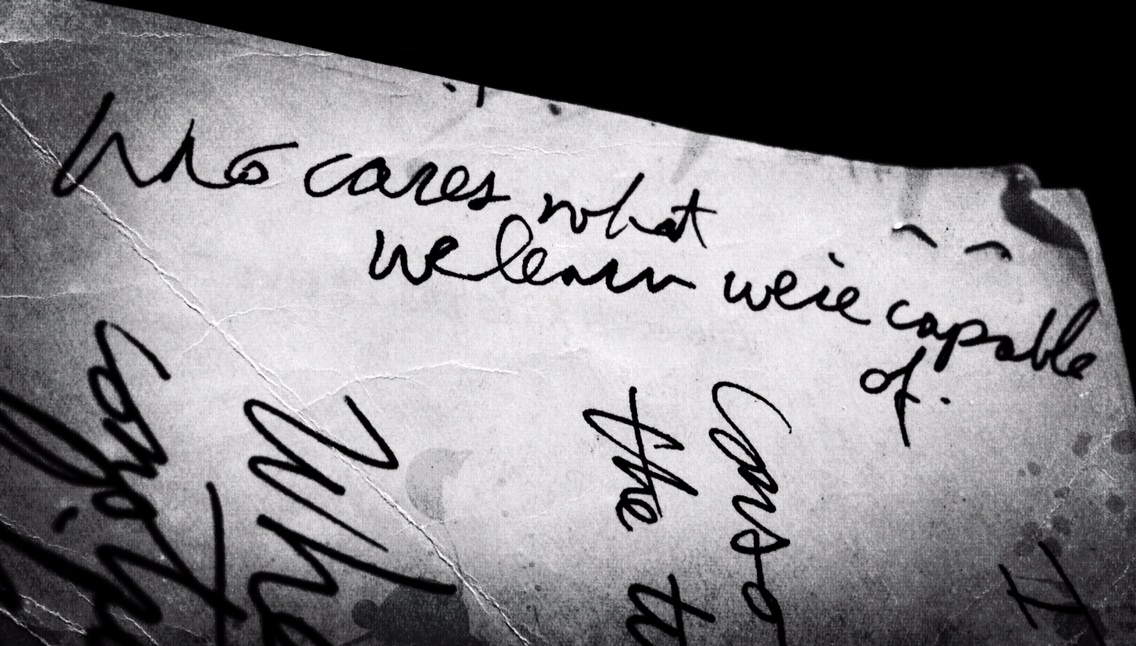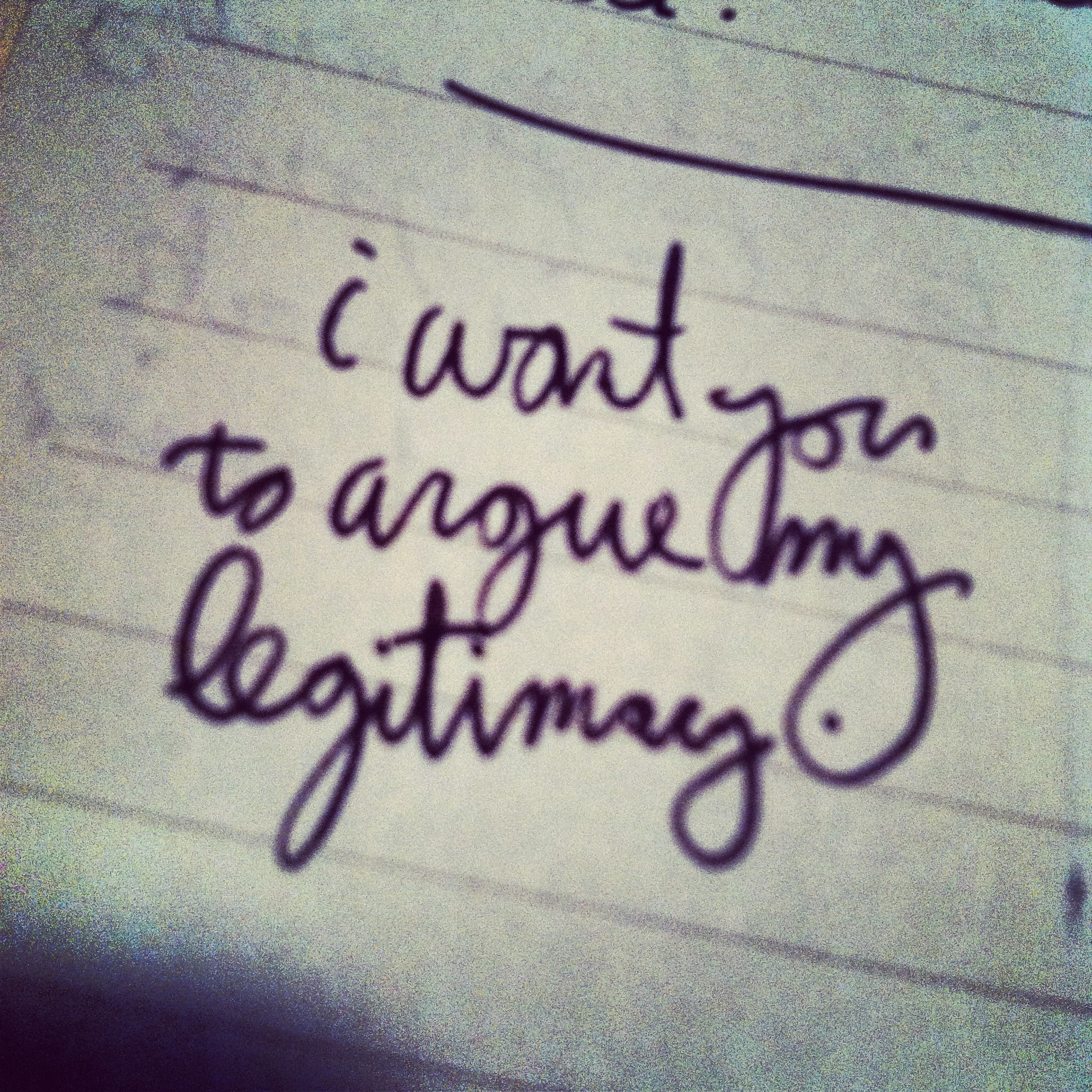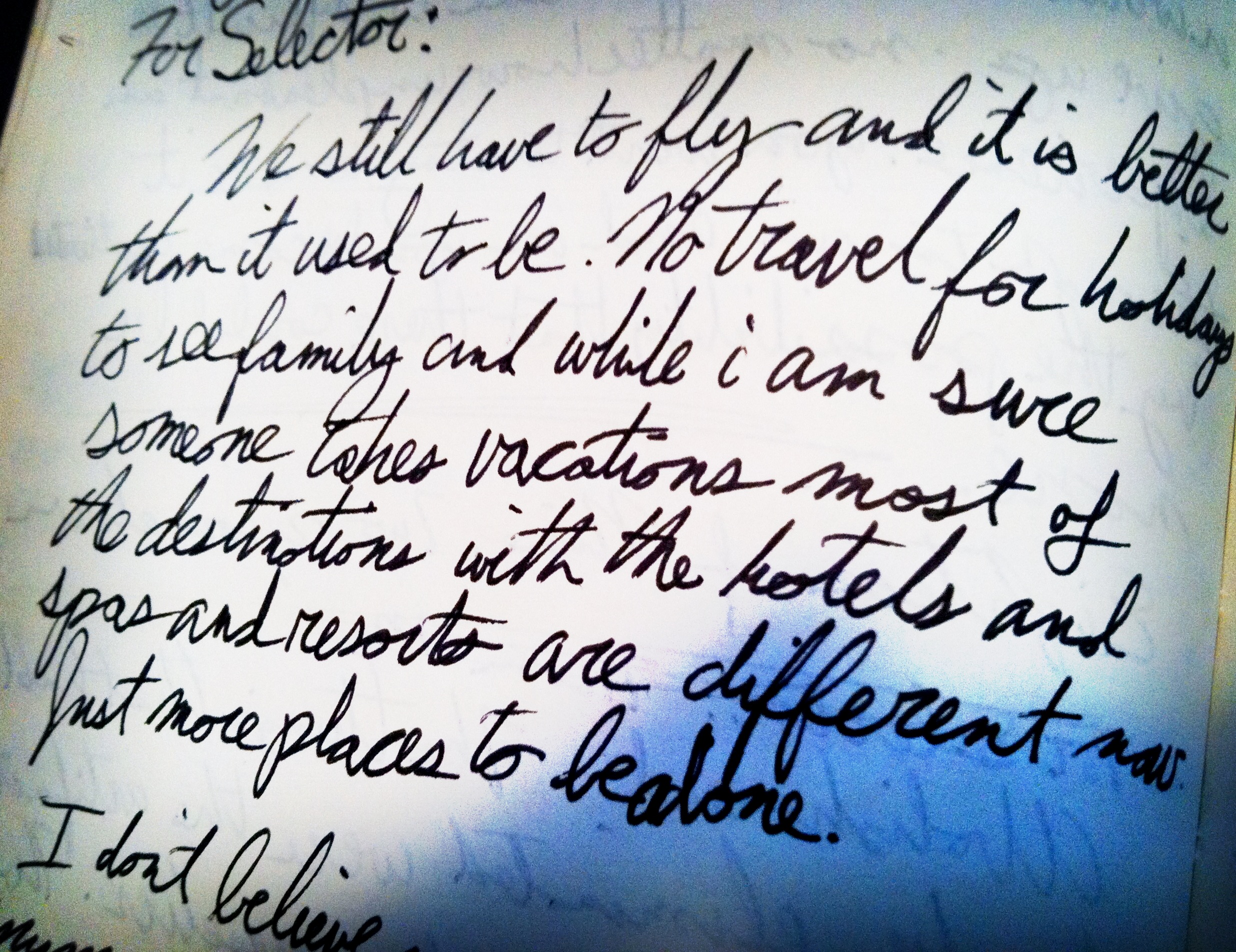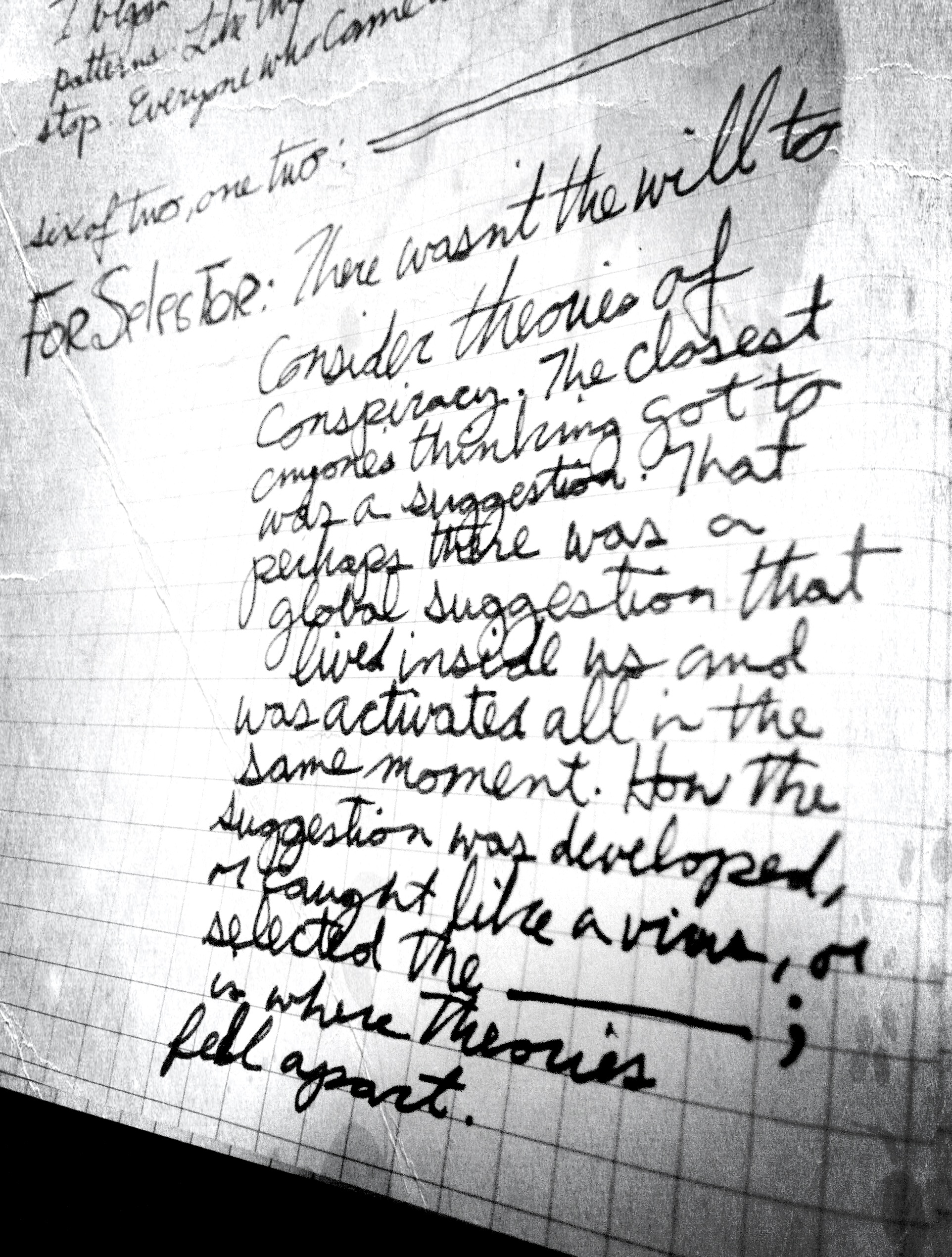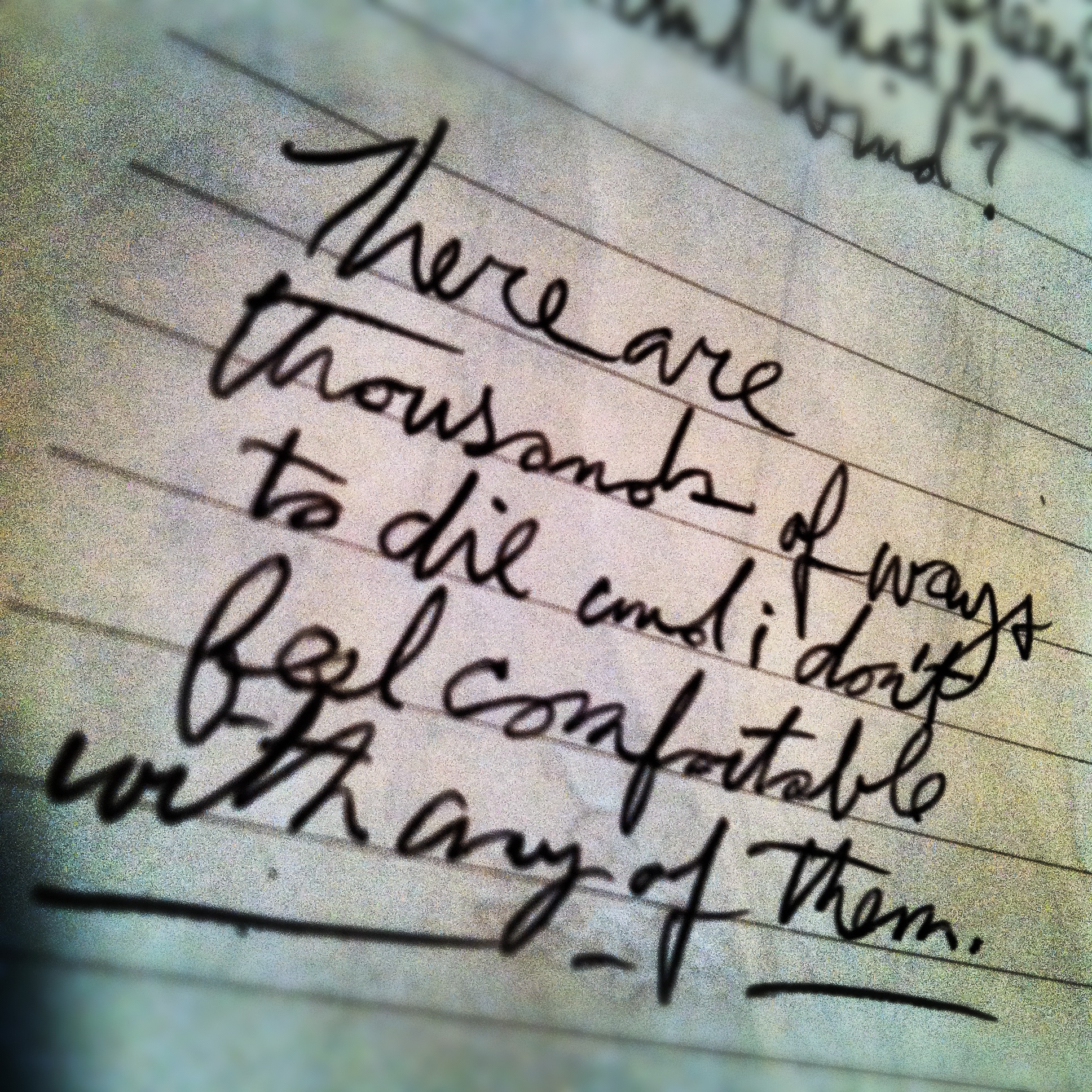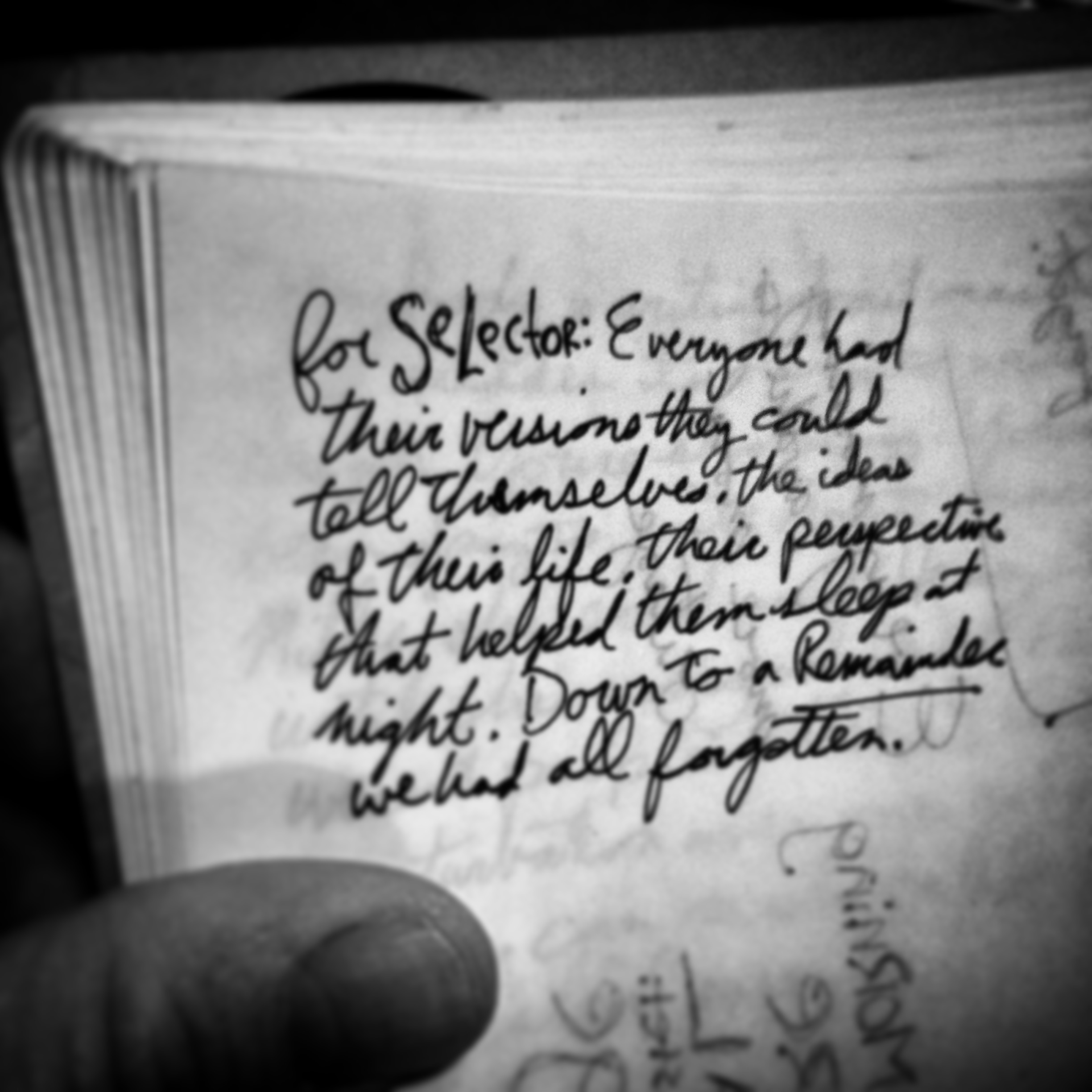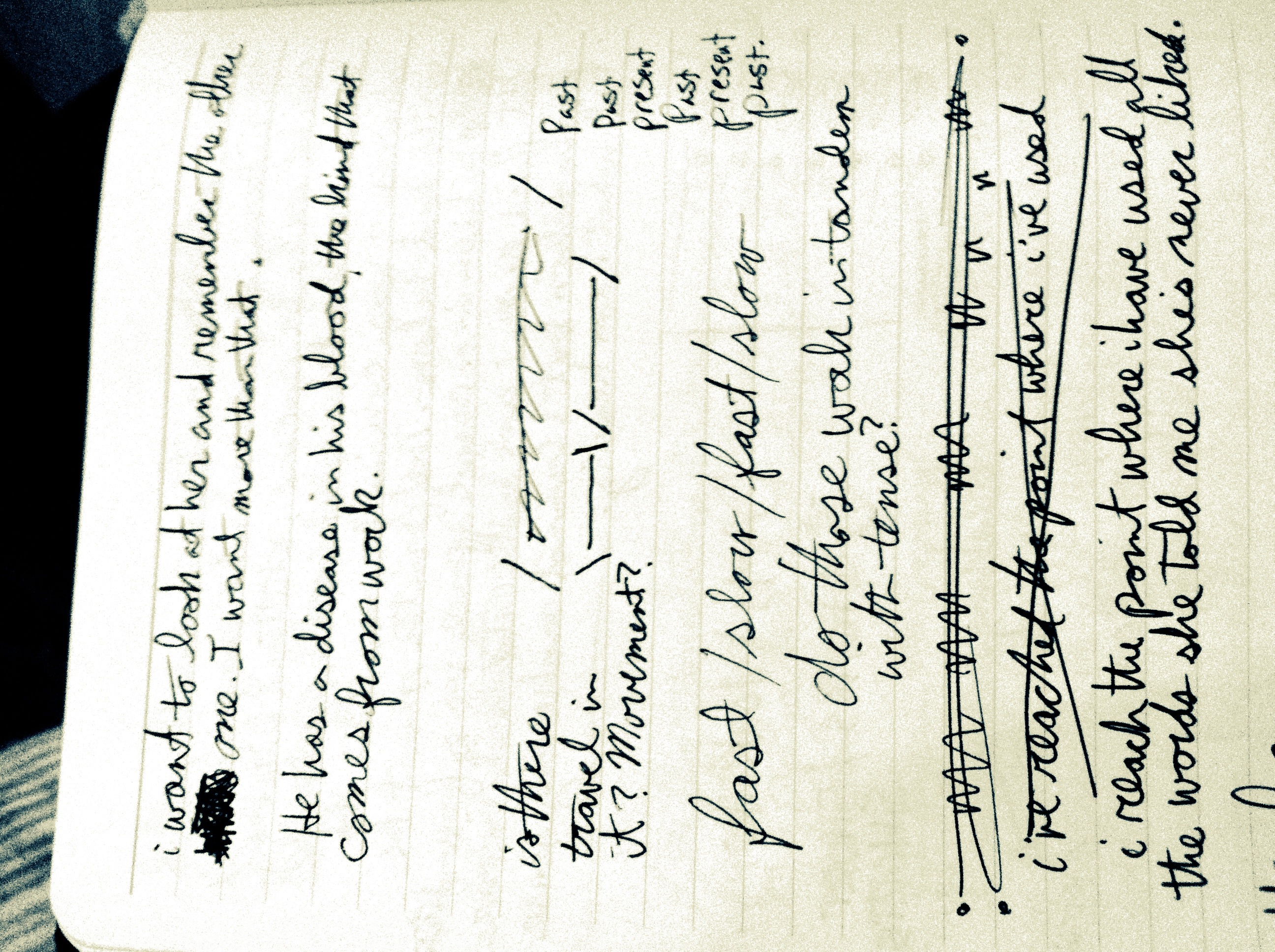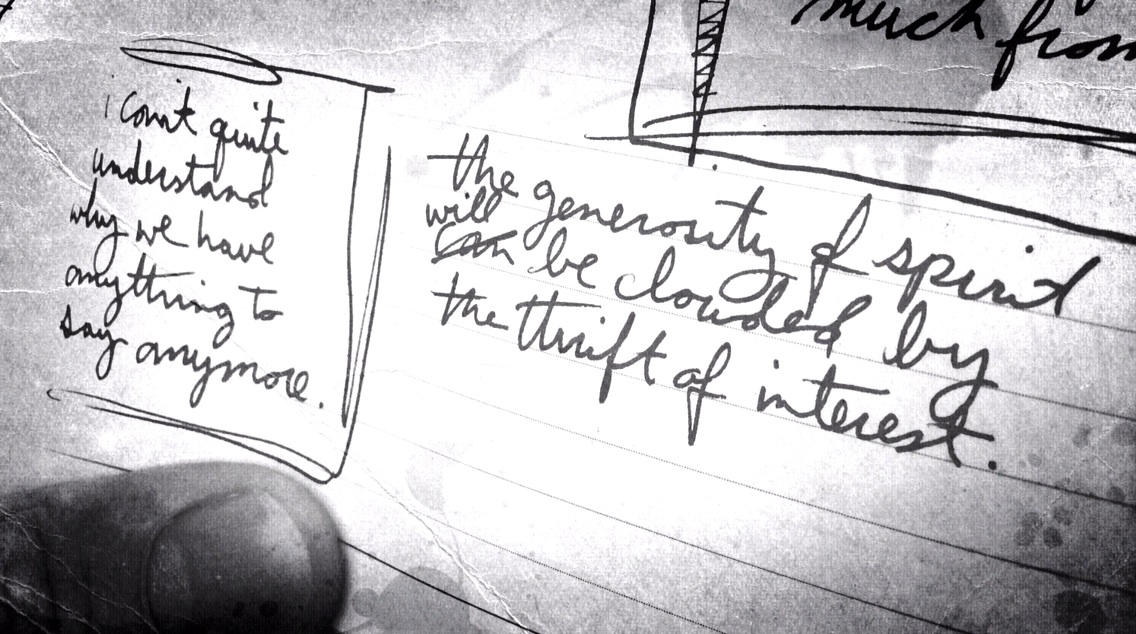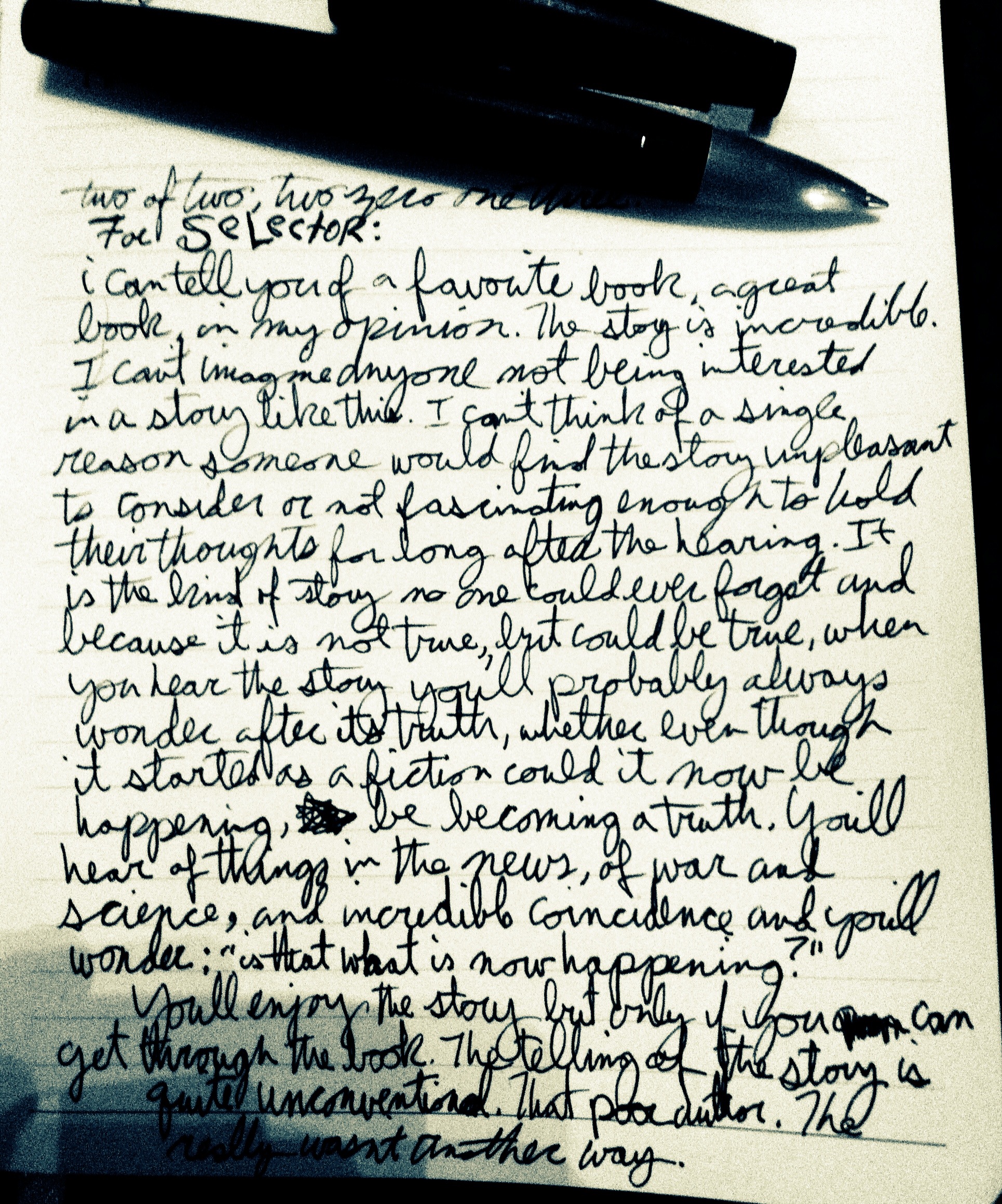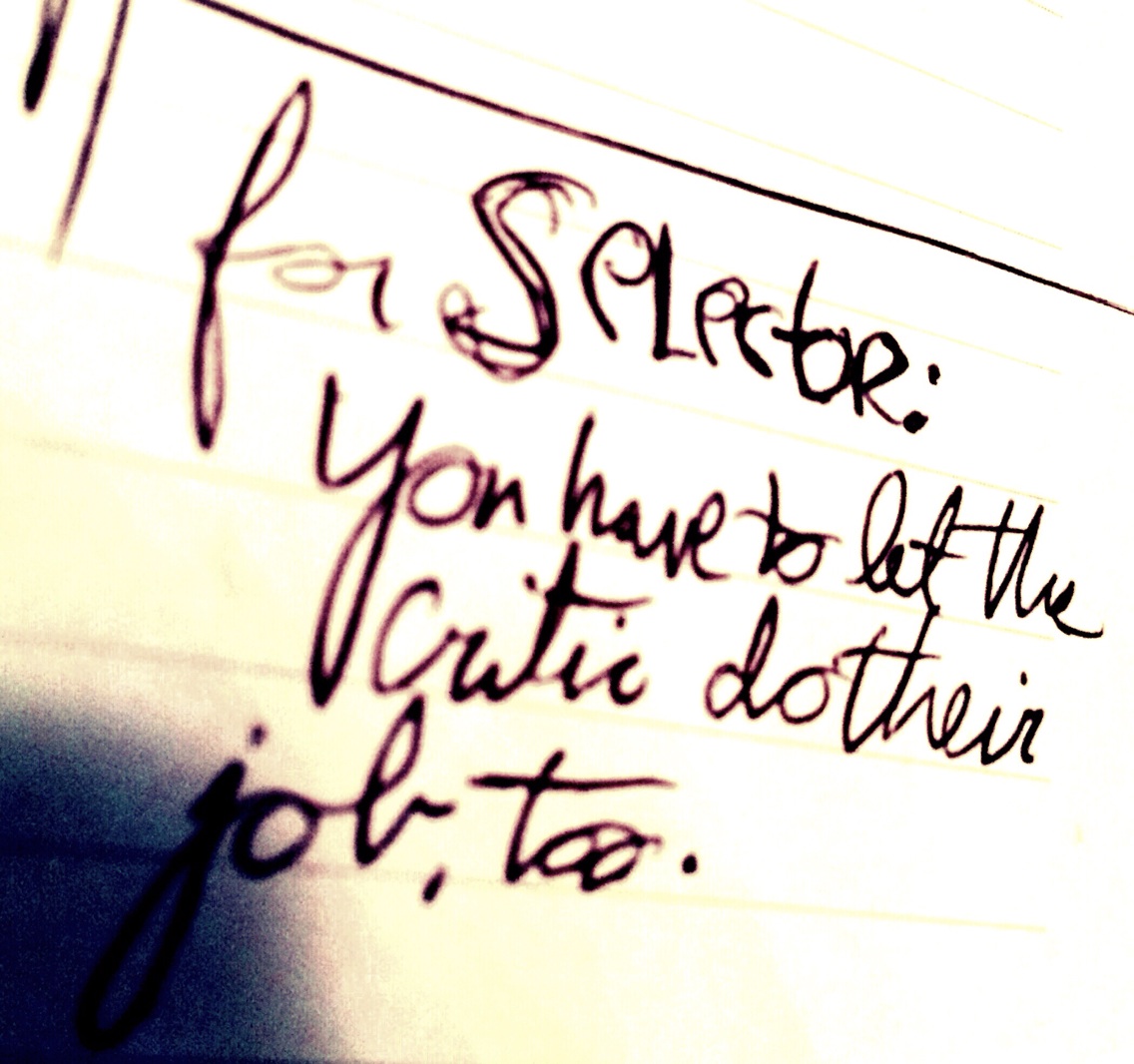 Everything you ever wanted in your life will be ruined by the moment you lose it.
– for Selector.
p.shaw
The Last Question
Was: Were you ever listening?
— for Selector.
p.shaw
Elimination of Farce when All is Farce.
All that had once been chosen to substitute for meaning was now not only considered as farce, but enforced by individual as elements of living to be dutifully ignored.
–on the subject of silent agreements among the masses.
for Selector.
p.shaw
Cruelties of Knowledge
The thought in teaching anymore of now—or what could be next—was that of an abuse.
To presume placing every now foreign form into a context of familiarity, to encourage a grasping for want in an effort to discover an expectation of tomorrow, was deemed a cruelty like any other form of art or knowledge.
for Selector.
p.shaw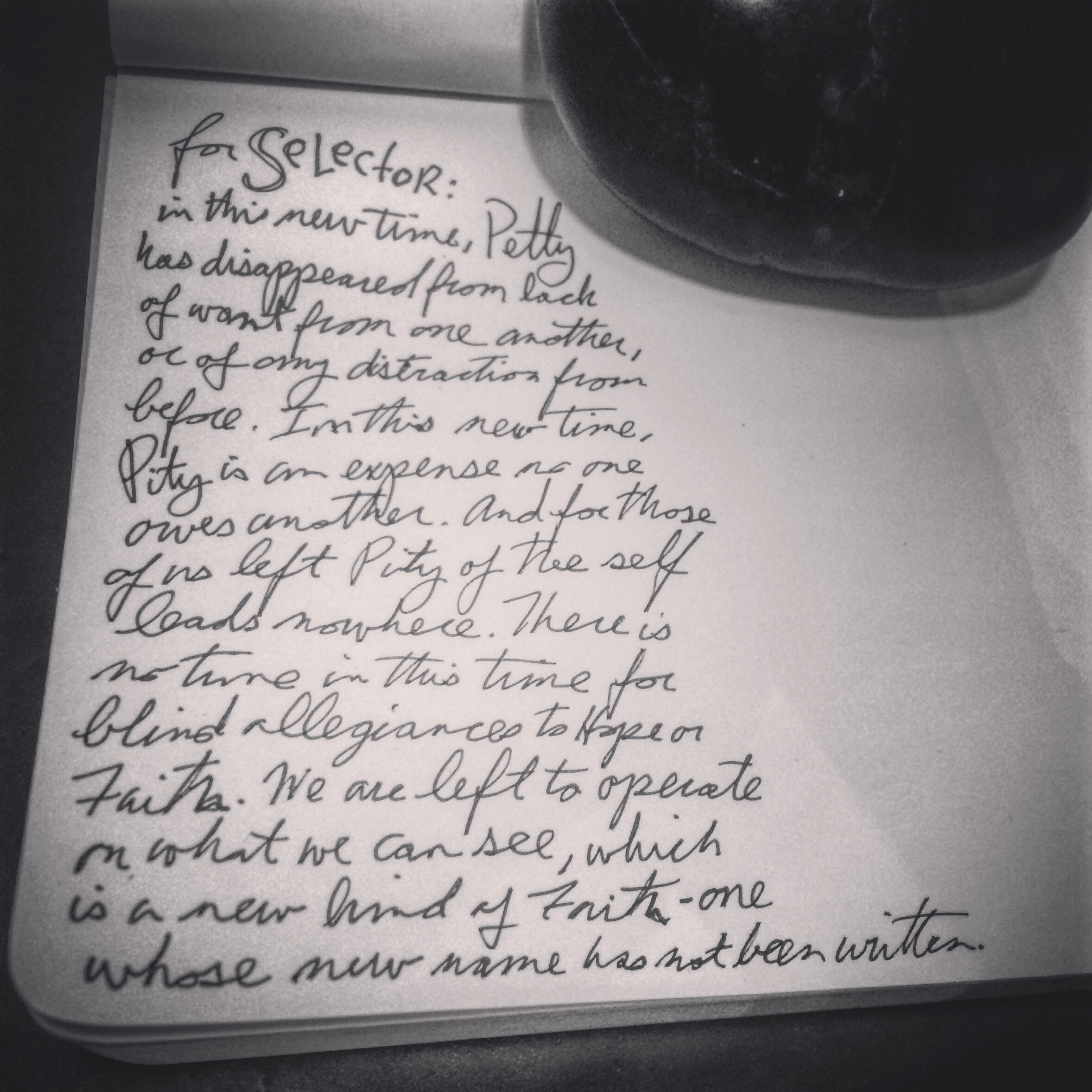 Some words my fingers won't get right any longer.
In this new time, Petty has disappeared from lack of want from one another, or of any distraction from before, or from the lack of an idea to Give, or not receive. For nothing belongs to just one any longer.
In the new time, Pity is an expense no one owes another. And for those of us left behind, there is a knowing that pity of the self leads nowhere. This is not a matter of survival, as much as we all have exhausted our pity on the dead. Which, if you think about it, was very wasteful, indeed.
There is no time in this time for blind allegiances to Hope or Faith. We are left to operate on what is available, what we create forward with what is left, no ideas of improvements are necessary, there is only the "best left alone" or "best left unsaid". We are left to operate on what we can see. Which, if you think about it, is a new kind of Faith. One whose new name has yet to be written.
for Selector.
p.shaw
If we looked upon our Fall as another chance.
This difference this time would be that differences would initiate inquiry rather than fear, weaknesses – compassion, rather than an imprint for plunder.
for Selector.
p.shaw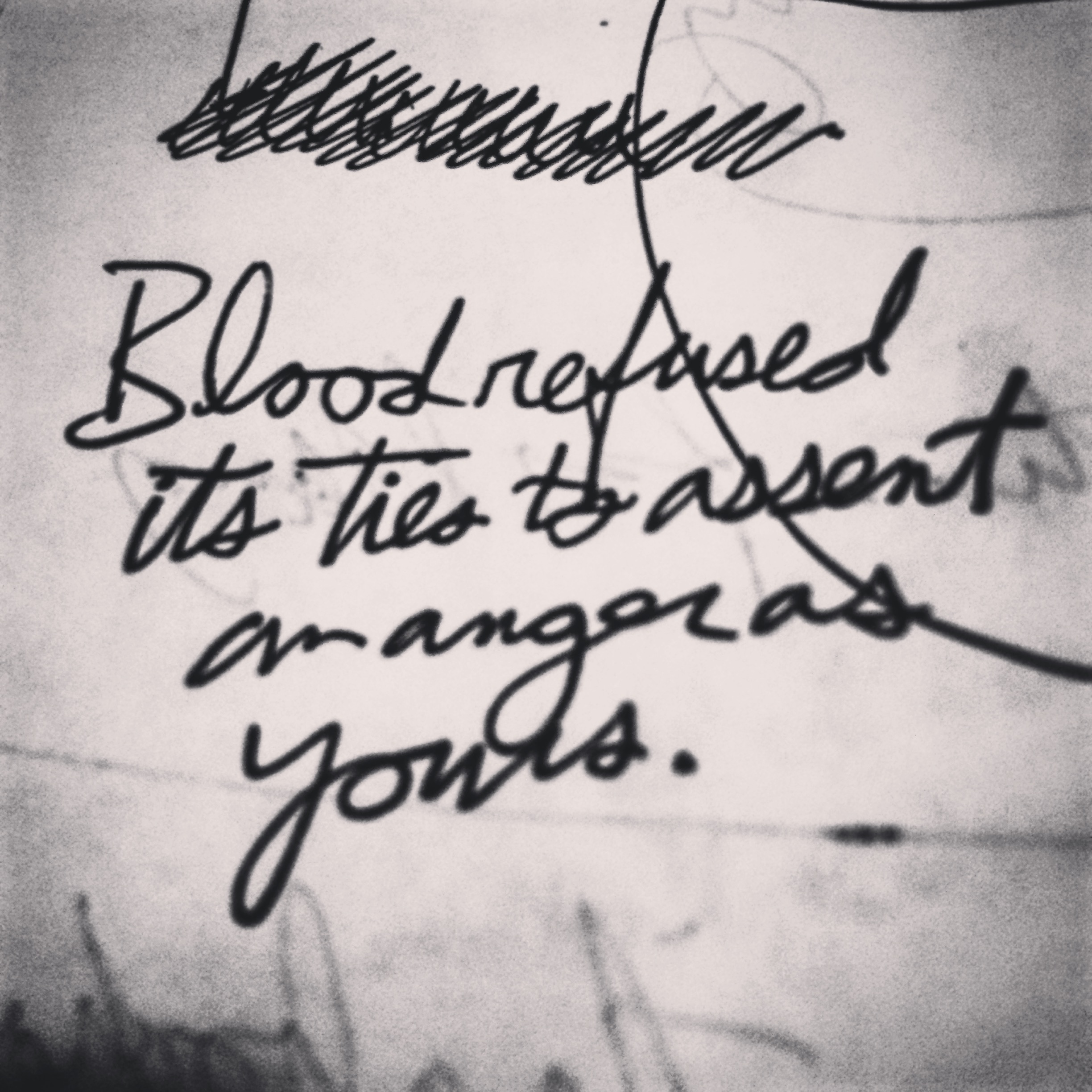 Sacrificing Family or Having them Sacrificed for you.
Blood refused its ties to assent such an anger as yours.
for Selector.
p.shaw
The privilege of the Directed remains as snickers, despisements, resentments and resistances to the direction; while the Directors live with their regrets of needing to point and the sadnesses that tromp their souls with each silent resistance from the group that was born stated to similar goals, motivation, human needs. Compassion is still the greatest lie in the list of objectives. Not a should willing to erase it. Hardly a soul willing to make it guide them all over the more base need to survive.
for Selector.
p.shaw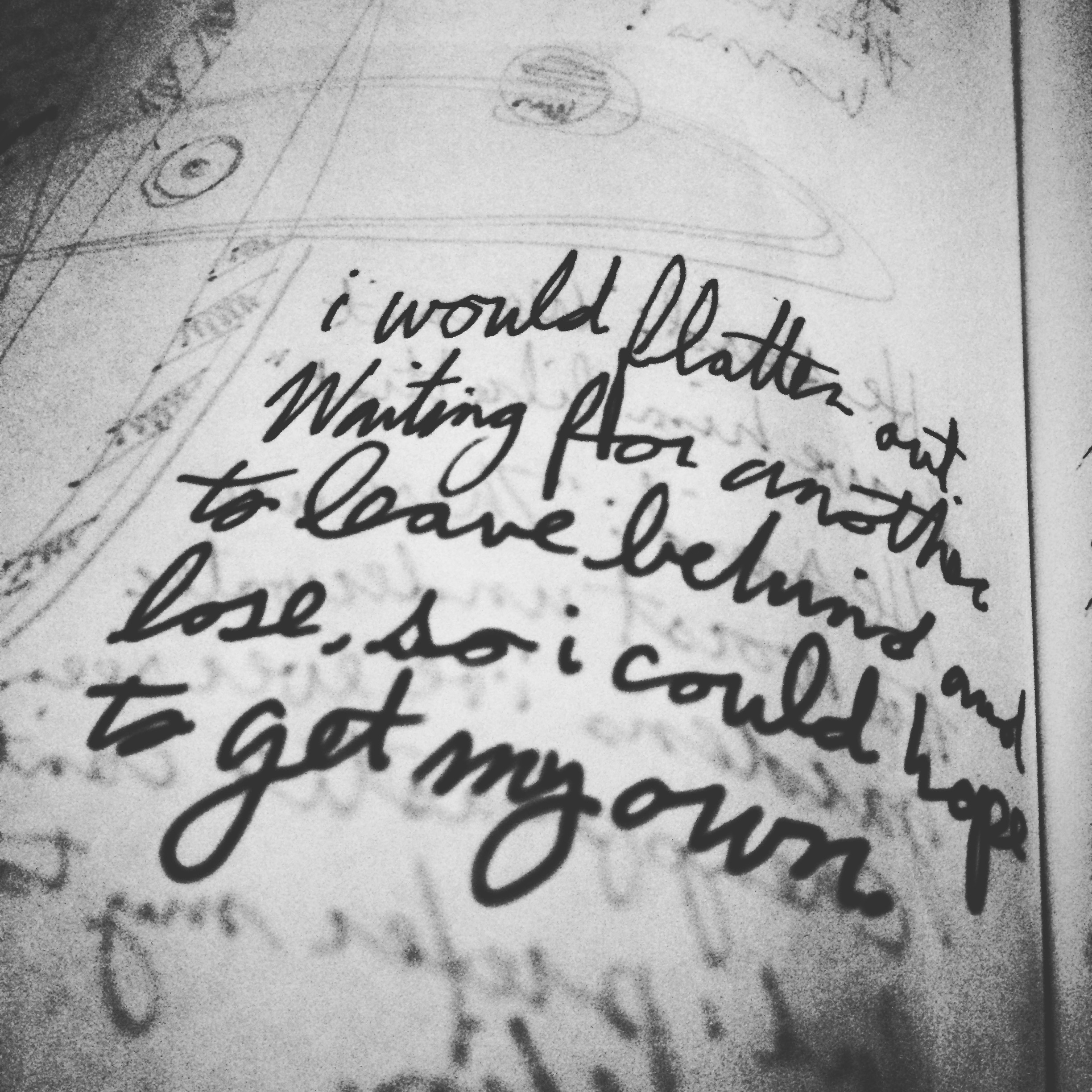 Going without to gain.
I would flatten out. Waiting for another to leave behind or lose it all. Everything. The ultimate loss of life or sanity, have to go where all of what they had acquired, built and gained, would do them not one damn bit of good. That's what I waited for, hoping then to get some of my own.
for Selector.
p.shaw
Going up.
Went up. Went up. Went up. We all wanted to go and so we all went, fast, none by the same path, in the same direction. 'We're heading up to height,' we are thinking.
Pick this hold to get there, that fact to justify our momentum, lean on it and push.
Then, one by one, each of us arrives, mumbling the same words beneath our exhaustive breaths, 'Nothing here. There's nothing here.'
for Selector.
p.shaw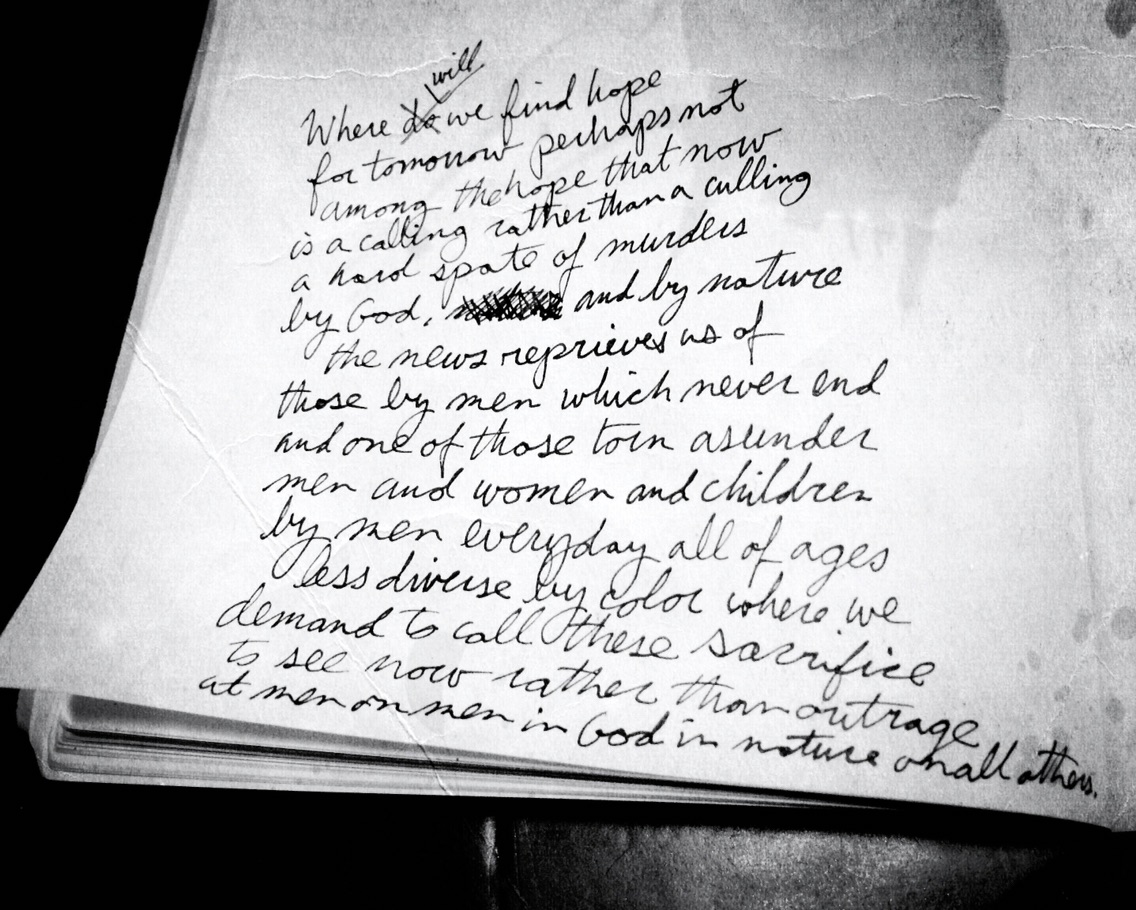 Book of Resolutions for After Revelations: 1 v.15
Where will we find hope
for tomorrow perhaps not
among the hope of now
is a calling rather than culling
a hard spate of murders
by what is leftover of God and nature
no news can reprieve us
of those by men which never end
of those torn asunder
men and women and children

by men everyday all of ages
less of diverse color

who demand to call them sacrifice
see them as necessary rather than outrage

at men on men of leftover God in remaining nature on all others.
for Selector.
p.shaw
Our humanity's greatest fear: Imagining a world where what remains is not enough.
Now, imagine now: Where what remains is more than we need, more than we can ever use. And our truest fear comes alive.
for Selector.
p.shaw
The people of the world proved through action a desire for a company without ties, accepting the needs of the many, and never to associate again the meaning of need.
for Selector.
p.shaw
Premise of Sundays
In houses of worship, I've never to this day–which is now the day I came to know that I no longer feel alone (at least in this particular way)–been able to keep my eyes shut or my head bowed for the moments of penitence. No matter how great my personal need for contrition (in those moments or in all my moments), my insecurity around whether I was performing penitence properly was/is/has been always the greater. I needed to see if I could do it better. I needed to see the examples of those capable of keeping eyes shut, heads bowed, murmurs murmuring with accuracy. The houses of worship I went to never taught us how to pray. They simply announced at certain moments: "Let us pray." These are the skills you are somehow required to attain on your own, like never asking a teacher, a parent, anyone with experience as to how I should speak to the infirm without offense.

And also, as a child with eyes closed and head bowed, I had imagined all of the gods' graces offered toward the individuals for their repentance being a visible phenomena; that if I peeked I would witness another's absolution and that too was far too tempting for me to remain demure.

I'd lower my eyes and chin with all the others, upon request, for just as many moments I believed were necessary to go unnoticed. The longest prayers were the best, giving me more time to explore and learn what I was doing wrong, what grace gods were giving to others because of their competency. Then I would crack my eyelids first; peeking to my shoes filtered through my eyelashes; then slowly raise my chin; then eyes all the way open look left and right; then when I was certain there was no one to catch me I would even crane my neck to get a good look around the congregants; looking for both: how well they atoned ('I must learn how to do this properly.") and to keep my eye out for the god doing the best kind of grace (how much I wanted only the best kind, perhaps a light emanating down on me, making me warm, making me know more, all while absolving me of this).

Today though, as I rose my chin to look throughout and over all the heads before me (having learned early on that the last row is the best row for me, for obvious reasons) I noticed that there were others here–a half dozen–all of us looking for whatever we were looking for and now, it seemed, for one another.
for Selector.
p.shaw
Awaiting Source Material
There are no more epiphanies worth constructing on the inevitable topic of time.
for Selector.
p.shaw
How we work on it.
Seems like we do a lot more waiting to get better than trying to get better.
p.shaw
The first new news is of sleep.
After months of no broadcasts – the left-behind left to fend for themselves on awareness – the first new news to come in was of sleep.
They're reporting the people, us, are now sleeping through nights – wholes ones at a time – en masse, "a trend for the betterment," they say.
How and why they now knew this and why we should care was not detailed as part of the reports. They were simply telling us, now, for the first time since the Toe Val, most people are sleeping through the nights and that has to be good.
I was one of these 'most people.'
for Selector.
p.shaw
What will it take to diagram forgetting?
There are the events, and the words exchanged in relation to those events, that we're going to have to work at forgetting they ever happened.
The reminders of these events, and the words exchanged in relation to those events, not only resist any forgiveness, they eliminate the ability of Forgivenesses potential to exist between us.
Here we need to not act as if we never did what we did to one another, or said the words we said in relation to what we did to one another; we need to forget them all together. Wipe their left over resentments off of the chipped plates we inherited, the ones we are too cheap to replace, the ones that remind us of our childhoods which are worse events against ourselves, the ones our parents couldn't wait to send off with us in packing boxes to play house with our infrequent lovers or antithetical roommates, and we still eat from because we haven't committed to everything being new.
We cannot pretend. There will be no reporting back on our progress to one another, as that will only retrench what is left of our atrocious actions, and the words left over from the exchange of those atrocious actions against one another. And I will know that our forgetting can work, from what I learned in watching the layered plots of soap operas in my youth. How no atrocity, our the words exchanged in an atrocity, can stand against the fated love of star-crossed ill-fates.
p.shaw
what to do with the ambition...
Our Hours are always different, the Minutes – they aim to convince us – exactly the same.
for Selector.
p.shaw
Having to wait for some necessary thing.
Too many of them could be found below and above and in-between. The communication that still remained, or the forms reestablished or created after the ToeVal, all dedicated their first messages to the schedule of removal. Removal had to be negotiated. Who to negotiate with was the problem. Rites and the sacred never applied to the administrative removal. Many attempted their best to honor their loved ones wishes. But how could they? Too many loved ones. All the loved ones. Everyone left behind had nothing but loved ones to remove.
for Selector.
p.shaw
Defanged & Gummed to Slobber Saturate
(INSERT APPROPRIATE TERM IN BLANK AT LATER DATE AND/OR LEAVE IT TO READER).
for Selector.
p.shaw
redefining words before language.
The giddiness that used to accompany the travels from our homes – vacations – are gone from us. The only travel is necessity and those necessities become fewer, for most, by the day. Instead our homes, or what passes for a domicile since even the word home carries too much meaning for our comfort, become where we'd rather be. And, I'm not sure of the word: rather; either.
We are amidst a translation of all words. We are having to redefine words from their previous intimate meanings and connotations or choose the synonyms with greatest distance. To strip nostalgia and emotion from whole languages is the monumental task of our subconscious. It makes communicating across the world as impossible as communicating with one another. Just larger barriers than even before.
So much that an international task force was forced to convene to provide a post ToeVal vocabulary guide. As a guide – and not a law – it was an offering as most efforts of these sorts from "above" were considered and intended. The guide meant for us to only use the words and symbols that could suffice for the continuation of a species.
for Selector.
p.shaw
Martin's favorite books are fables.
"I never knew there was so much to fix, already."
We had arrived to these broken things and we could have accepted to live among them. But instead we had picked up the tools left behind and had started on the screws, and spackling of joints when we heard the creaking behind us, next to us, around us, and below us.
There had been nothing but silence when we had arrived. The sun was low in the sky, finding its way through thin branches with just a few leaves hanging on, to point out with shadows where the cracks were, where we needed to work to not fall apart. There was that light and silence and broken things and rudimentary tools left strewn about the ground and that was all. Now a few gaps filled and our amateurish battens applied and the sounds had come. The creaking at first, some snapping like the sounds of twigs when none of us had snapped a twig or moved an inch. Then even a howling, like the trees we had heard and seen at home, blowing apart for their insides during a hoarfrost.
We could have just left well enough alone. It was warmer here. More moisture. Things we had once begun to pray for and had never come to us, we had come to them. We could have just left well enough alone. But our needs to sit properly upon a level ground, on stools that wouldn't ricket, had gotten the best of us, and we had begun again, in earnest, at the work that drove the ones before us away.
As we grew older the lines we swore we never to cross faded. We wondered how they were drawn. Had we broken them, crossed over them when we were younger, we could have destroyed less. We had less to lose then. Now, standing to one side for too many years had amounted to penting up of rage. The chaos we were willing to release was complete. Devastation was not the goal, it was the cost of entry. The style of pain, how were choosing to inflict it, meant so much more to us.
"I will look good undoing you. Cinematic."
for Selector.
p.shaw
I'll have to pick a time most appropriate.
It was November, when we'd come to expect loss.
Neither: Never this great, or; without window forward to new days, another year.
"How can time just end like that?," Martin Novsky said, to no one – as he was alone, and sure of it – and yet, he wasn't talking to himself.
What that means the words are for, if no one then, will have to be determined another way. That, he decided, he would allow himself to consider.
for Selector.
p.shaw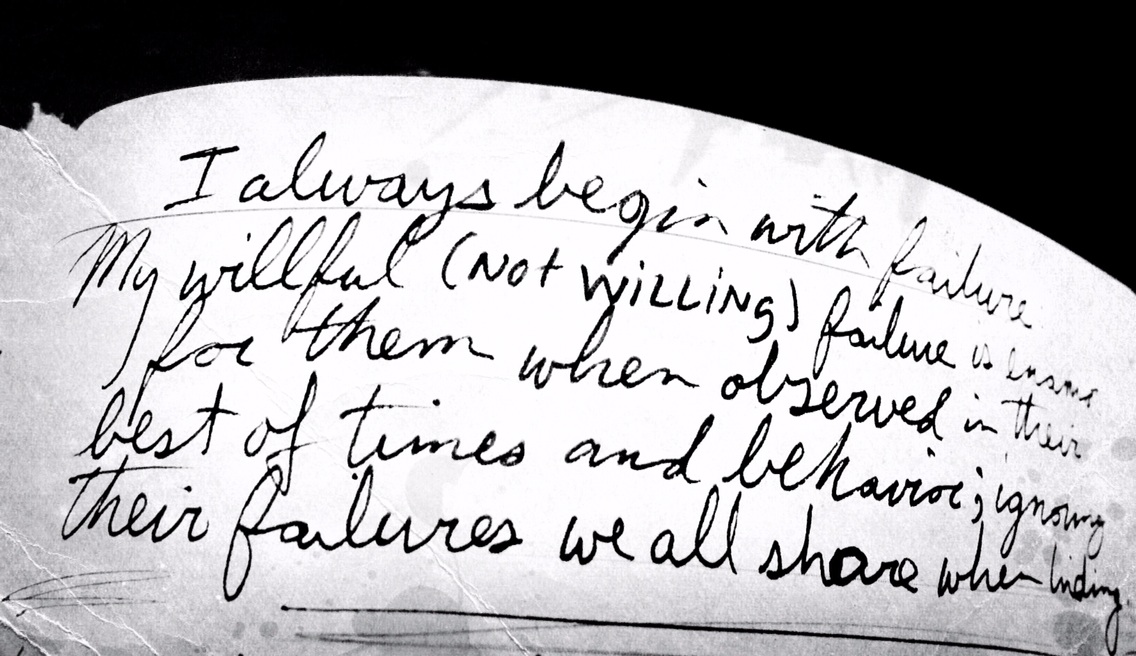 I always begin with failure.
My willful (not willing) failure is: enamor for them when observed in their best of times and best of behaviors; ignoring their failures, the same we all share as we are hiding.
for Selector.
p.shaw
where everything is coming from.
As with any life, we can never know where every river has a source, what that drip on a high wall above desolation sounds like; or what particles are risen from deep within a ground pushing itself up to run and eddy while the dwindling number sleeps. This is as fitful a last history this human world deserves.
for Selector.
p.shaw
​When the items I am looking for did not come, I'd look in other ways.
I'd put on albums that had belonged to others, their jackets so worn from being stacked and moved made me feel as if I should have known what was pressed into their grooves. They had come to me with a borrowed familiarity and yet, with music you can't fake knowing. They were foreign. It had to be heard to be understood, no amount of looking can compensate.
I thought I couldn't possibly be the only one who secreted these away, listening in hushed tones. How many of us were left willing to harm ourselves with the excruciating emotions, even the simple and banal, that our world used to tolerate, used to have a way to sample and dip into without being crushed by some artist's willingness to flay us open.
Then we had loved ones we could cry into, soak their bosoms or chests, drip our mascara or snot into ruins of garments, hug and hold and know we weren't alone, dammit! . The artists had made us feel something and we were more alive because of it.  But tomorrow I could feel nothing again. Handle an assignment that make nary a dime of profit or difference in our world.
Forget that there was something deeper for us all and that something was nothing. Absolutely nothing. And now that we were here in as an absolute nothing as our societies had ever imagined, I lay wondering if others muffled discoveries like I did.
for Selector. 
p.shaw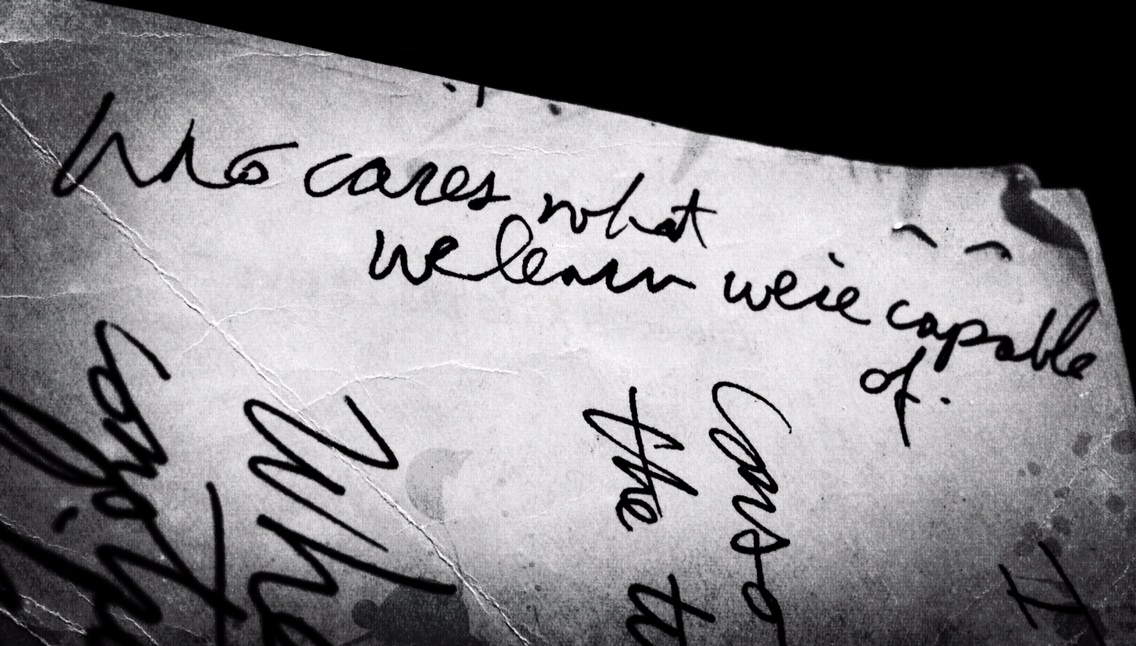 who cares what we learn we are capable of?
Nighstand Artifacts: 6.3.2014
4:39am
There is no one or nothing to own but your actions.
for Selector.
p.shaw
Nightstand Artifacts: 4.11.2014
What's left is to manage // define // translate // interpret // mediate the consumption.
for Selector.
p.shaw
allowing a rage.
And still, if I were offered a wish I'd ask for a stronger memory. Even though, until now, I've been graced with a life of forgetting.
– Martin Novsky, from Selector.
p.shaw
A Collective Act.
When it comes to finding a reason, and for those of us left behind, there is no God. Only a wish that was never a wish. But only an accounting that a One had been silently executing on for a betterment that could not realistically come to pass, but then did, without an intervention of a God. As if there were Two.
So, it was not a wish heard, but an intention collectively enough in strength, that the universe agreed with, whether there was One or Two or a God. A combination of want, a speculation that the cosmos extrapolated on from my limited wanderings to all that fit my model, which was not a model, but a combination that clicked the tumblers at random and something that was, and is not, a God decided to purchase and act upon. If I knew that only those would be left behind like a wish, and could heal, would I still choose them? Would anyone or anything?
Would I spare them that grief, and my discovery, to live worse than we already had? If I knew that many of us would never see, what we now have for our stares, would not surpass guilt but would stick to guilt because we had all passed judgement and taken accounting, and had chosen those like us, or one we wanted because the act of doing so would never be revealed, or heard, or acted upon because how could it...? How could it? And then it struck me: it was not my accounting.
p.shaw
on measuring time by tears.
When I could remember how good the crying felt was not too long after it stopped. I cannot remember, now.
I had never thought of it before as crucial. Before the crying was just a marker, a period for the end of need. The long wake of grief would hide whether there was a good that came from it, or not.
But after: everyone cried for what seemed the same amount of time. There was no news on a television or in a paper for weeks but the crying lasted longer than that. In the streets is where we knew that those of us left were all still in that same amount of time. It wasn't the same uncontrollable heaving that doubled you over in pain, where you could not catch your breath, where your eyeballs wanted to burst from their sockets from the pressure in our thoughts and temples. Our backs are hurt from the kneeling and supplication. It was a weeping instead, slow rivers on every face.
Then when the news came; the news that wasn't news, the news that never even tried to offer an answer, just statistics, that is when we could officially measure the time. The people left to be on the Tv were new to it...
from Selector.
p.shaw
TV Personalities
Most were gone. The ones left, foreign to one another. Others were observed as capable and asked to perform. They just did their best. Read the teleprompters and wept that same slow stream. Directors gave up on limiting the same slow stream. The personalities were chosen for their ability to not devolve into heaving or even quivering mouths, they had to be able to read clearly with just the tear roll and nothing else.
We eventually all learned how to do that, so when we saw one another in public spaces we could function. Everyone learned to keep the debilitating crying, private. Even when those were the only ones that felt good.
As we all began to run out – together – in private fits – in public quiet flow – this too could be measured on the TV. We all seemed to stop at the same time, or at least within days of one another.
As the ones who went about the work of changing the whole business, they changed the people on the TV and moved away from any more mentions of what we did know about the day.
That was when I could remember how good the crying had felt, for just a little while, long enough to ask myself what would ever replace it.
for Selector.
p.shaw
coming up with a plan for what's next.
We have given up. So they had to think about it, someone is in charge of it and whoever they are and wherever they are, I believe they are working to making more of us. For what I wouldn't know.
But that is not the hardest question. The Hardest Question is Why.
The only answer I have come up with is: This can't be the end. They wouldn't want that – so they could be just biding time, not ours – but whatever for and whomever comes next, this is not an end.
I do think they have to keep them hidden.
p.shaw
Nightstand Artifacts: 4.18.2014
4:05am
I want to kill every moment I didn't deserve, no matter how I wished they belonged to me.
p.shaw
Nightstand Artifacts: 4.1.2014
4:37am
Any joy in feeling common and anonymous comes from the privilege of reflection. How fortunate and I for the opportunity to compare?
for Selector.
p.shaw
Predicted Casualties
...this was all rough math, simple addition, with no science as to the overlapping factors...
for Selector.
p.shaw
questions that will never be challenged.
The governments, or what was left – and of course ours was the first – discovered after the need to catalogue was the need to eliminate. None of the that data and intelligence was worth connecting or maintaining any longer. Some of it may never had had a purpose before. Now, none of it did. Any dubious or nefarious roles or goals operated on effort. All efforts were gone and no debates were necessary. Why argue? That simple rhetorical was what drove every decision.
for Selector.
p.shaw
Tuning in.
I was one of those types who would never bother tuning in live. If the end of the world was to be broadcast, I'd prefer sitting it out. I was not one for the play-by-play, or the punditry of before, during and after. I took my analysis far after the fact, when it was considered in printed pages and papers. When someone's reputation was at stake to get it right. The Toeval provided no conclusions, except for the head count: those gone; those left behind.
for Selector.
p.shaw
Different. Guilty.
A creature had been reading our reports, doing my rudimentary maths, and came to a conclusion that the timelines of probability could all be collapsed into one night – released like a pressure valve. Had I floated this idea to anyone I'd be seen as heartless. As if anyone cared anymore about the organ. What kept us all different and guilty.
for Selector.
p.shaw
Q: "Let's start with the obvious..."
(interrupting) A: "Why Plagiarism?"
from Selector.
p.shaw
There were no ratings to speak of.
The fight was staged. An experiment that everyone could not imagine was even conceived. Conceived in the sense of at least two people discussing, ushering, convincing and then carrying it out. It wasn't impossible for a single one of us to imagine wanting this. It was impossible that it Became. Became is not consummated. Conceived – in this instance – is not consummated.
for Selector.
p.shaw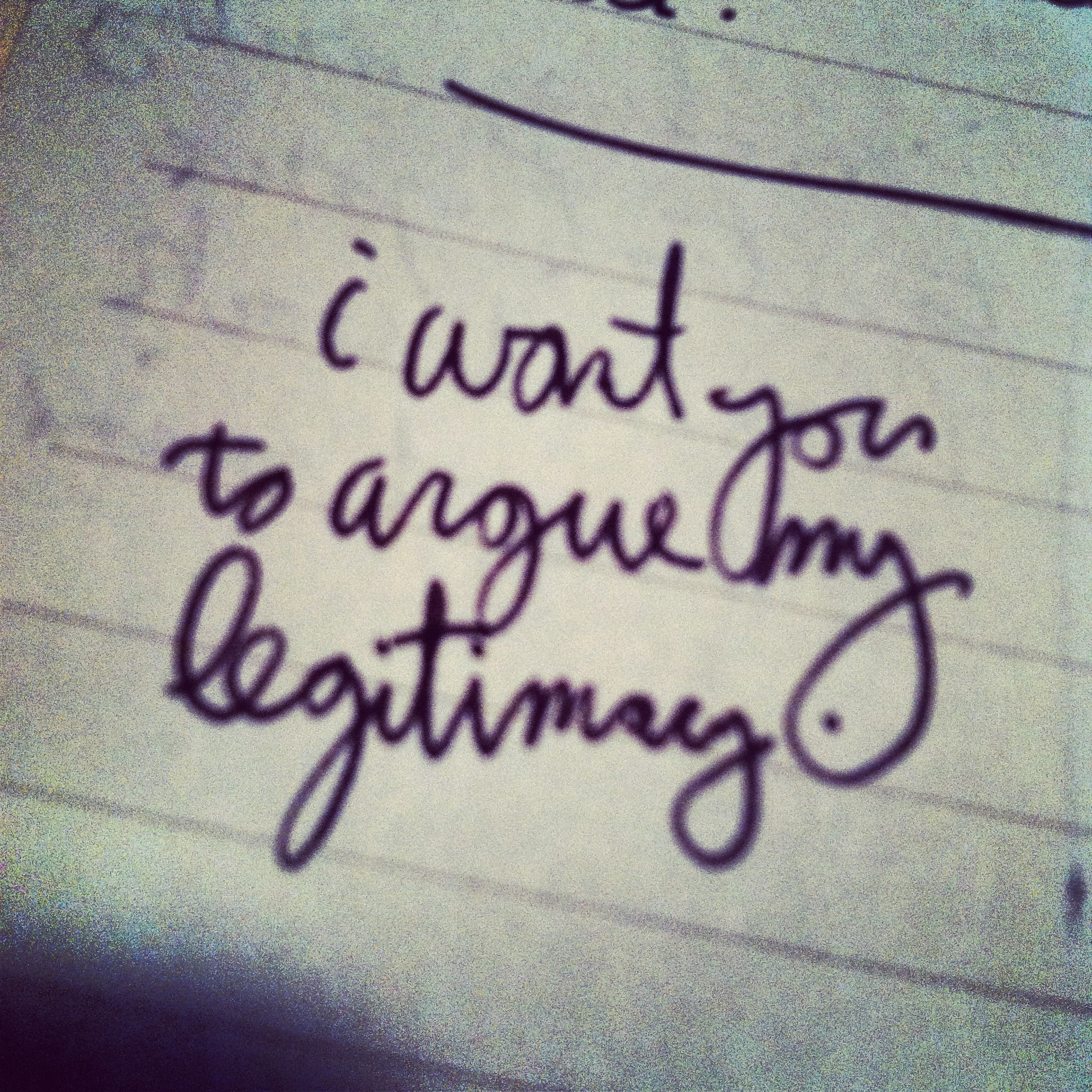 I want you to argue my legitimacy.
for Selector.
p.shaw
the same.
Every interviewer had had the same dream, the transcribist, the official leading the officials – all have had this dream. The subject's other dreams were just dreams, hers, potentially sharing common elements with others, but the water dream we have all had, still have. And the resemblance is exacting. That is, as exacting as a dream description can be. There is really no way of knowing whether it looks...
for Selector.
p.shaw
ending with dreams.
No one knows about the water anymore than the next person. Official-of-a-kind, had noticed the denominator while searching for a commonality among us. After genes and cells and traits and beliefs the officials-of-a-kind were left with simple questionnaire as their remaining tool. Once discovered, the water was, other than the obvious fact that we had all survived, the only item we shared in common.
The water appeared in a random sequence of one interviewee being more talkative than most in her responses to the questionnaire. She went on to share her dreams and nightmares. She opened up.
for Selector.
p.shaw
Synesthesia's connection to Memory.
...how the ball landed deep in my glove's pocket or barely in the webbing, the feeling of impact is where the acts became lodged in my mind, the details surrounding the impact, catalogued along with the smack. Writing a line is conjured similarly, as a kiss, a punch delivered or taken, one particular act of intercourse standing different than all the others by sheer touch. A meal. A concert. A fall.
The images that course a trajectory in the palm of my hand, or across a screen haven't the tactility to convey the pain, joy or wonder that I try to remember to forget. I have to use paper and pen. Pencil and shavings. All that work put into something that at least needed paper in my fingers to make it stick, or a crowded hall of revelers around what is now a screen, to capture anything that would let me consider it again and again until it's gone.
for Selector.
p.shaw
a conjoined wish from all who are left.
This is the time we were waiting to get to.
for Selector.
p.shaw
Nightstand Artifact 1.15.2014
4:17am:
The need was to make sure we "ran down all the possibilities," and all I could think about in that moment was there is no such thing.
for Selector.
p.shaw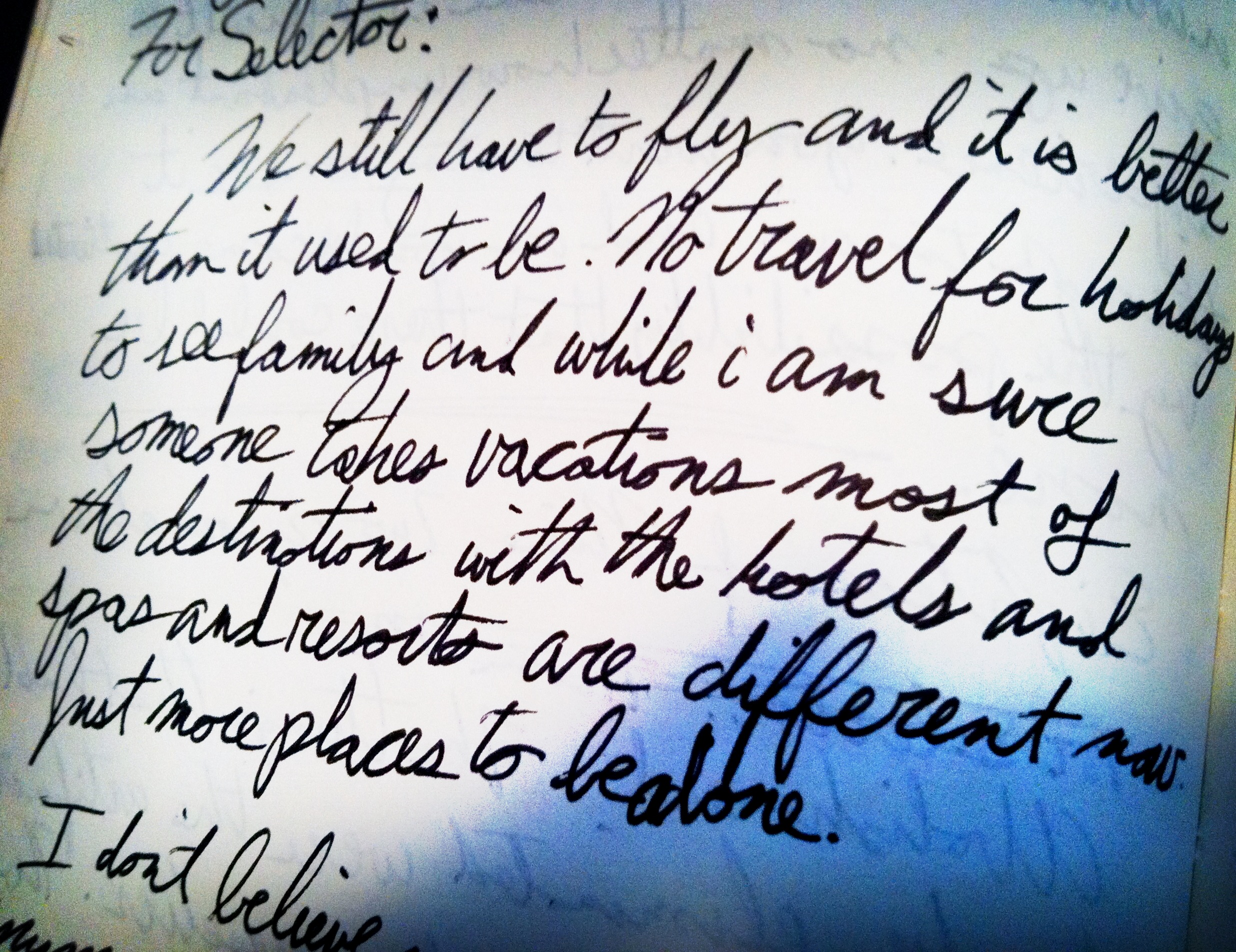 more places to be alone.
I still see planes in the sky. Less of them, but they are there from time to time. So, we still have to fly. I imagine it to be better than it used to be. No travel for holidays to see family. I also imagine that someone takes vacations but most of the destinations with the hotels and the spas and the resorts are different now. Just more places to be alone.
for Selector.
p.shaw
making the text/sub then erasing it all.
Maybe now we are that much closer to being outside.
Always felt like I was that one who was only a step away from being a man on the street. A man unshowered and unshaven and mumbling to myself. The ones who were thought of as being outside of everything.
Now after the Toeval, we are all...
Some got to come in. But now we are all one step away from an outside. And we are all many steps from one another.
for Selector.
p.shaw
more on faith where none exists.
To be together is buying into an idea of the: yet. (as in: it will come.)
p.shaw
for Selector.
the night before
When I used to be immersed in the failure of others, I am now surrounded by the limitations of the self. 
p.shaw
Martin Novsky before the Toeval. 
Selector.
giving up.
Adults would find children that weren't theirs, almost any child under 12 or 13, and take them with them. The rest of the children seemed to act on their own or in clusters, a tribe within a tribeless world. 
It was the clusters that gave reason to the efforts of searching for a supernatural, or symbolic, theory. 
Of course, none of us remaining will ever rule it out, like anything spiritual there is always a molecule of hope buried in there: evidence is not a key criteria for belief. The remaining have everything left to wonder about. If we allowed ourselves to wonder.
for Selector. 
p.shaw
Winning.
There were some of us who used to believe that you won by the # of mourners who would make the effort to attend your funeral. 
for Selector. 
p.shaw
Necessary Transactions.
We called these a Production of Need. The guide in all languages dealt with only the universally necessary concepts using words cross translatable to all words that carried no personal touch to our pasts. 
The crying in public began to subside as we accepted our new, limited, constructs of words. 
for Selector.
p.shaw
No Absolute Order.
Sometimes I couldn't quite suss out why the passages were special, underlined, highlighted; unsuspecting pages dog-eared. They seemed a mystery of selection, no need, they were unremarkable, unspecial and even more so in the context of the larger stories, the books themselves and what they were known for.
After I discovered them I didn't just peruse. I read them all. This is where the meaning came from, the key. Even if there was no absolute order I could sense a rhythm of choice, like music, the thing I missed the most that was cleansed first.  
It was music that very nearly brought us to our knees. 
from Selector. 
Martin Novsky explaining to himself where the material came from to say what he was feeling. 
people ARE reading...
"People are reading books. A lot of absurd books about one another. I wanted to know if there will be more than just one." 
- a response from Martin Novsky to his critic on where it started. 
from Selector.
p.shaw
the centers of grief.
...the capitols of the world were the first to go, silent. They were the hardest hit. When the Toeval was cleared away, and numbers put together, and rhymes put to reason, and suspicions bore out , they had lost the most. Their inhabitants were the first to think: "We'll never be understood because no one we knew is left." Because capitols operated on knowing. That was their power. Had been.
for Selector. 
p.shaw
The many first deaths were not the last.
In Selector., the event, the Toeval, is not the end of the toll. Many more follow in grief, in faith, in emptiness.
You'll have to come to know that every death is a suicide: the body whose organs and cells reject your need to live; the intentionally poor decisions that lead to an inevitable; the accident is your God that you created carrying out the work you are too afraid of doing; and the gun, the pill, the razor, the noose for when you have given up, admitted to yourself, and declaratively refuse the time you have left that all the others require.
for Selector. 
p.shaw
more than silence.
What we heard was not a matter of listening more. It came from a non-white noise that accompanied us all, a vibration inside each one in a symphony.
The Toeval led to silence where our voices feel more like a surprise to us rather than an expectation. With the beginning of each remark, a lifting from the vibration accompanying us like waking up. Our sadness and fragility is always on display.
for Selector. 
p.shaw
portions of the interview
"And how you to choose to share them, that's our opportunity to judge. What makes your creation interesting are the forms of self-sacrifice. Hidden? Well, mostly hidden."
for Selector. 
p.shaw
No need for the record.
The idea of magnetic tape, or recording of any kind, or actually documenting any thing to be referenced by any one, now or in the future, is irrelevant. Why would we do this? It will never be referred to. Everything now is about right now. Present is the only tense. There is nothing about what could be, that is based on what was.
for Selector. 
p.shaw
Pro-creation: the program.
Around month twenty-seven, when we were still counting months, counting anything, there began a consideration around pro-creation. "Consideration" being the replacement term for Debate or Dialogue, of the kind related to all the species; because that is what the process had become: a Consideration. Any other word would infer passion or fervor which there was no longer a taste for. It just didn't exist.
Pro-creation could become a policy, a program. There would not be votes or oversight, but "Recommendations," another term of replacement. It was generally considered too cruel to bring a child into this world. However, if that became a program, a policy, a bane of necessity we would have to raise them differently than any of us who had come before the Toeval.
for Selector.
p.shaw
somethings are worse.
There wasn't a war, only an empty sadness. One that did less than cripple. 
for Selector.
In Selector I am considering all of the things that are horrible in the world and how could it be any worse. 
p.shaw
Displaced is not accurate.
 ...be reached by plane, train, or ship. The mediation of technology makes us no more real to another, when I had to travel, I was amazed there were others, elsewhere, existing and suffering just as we/I were. Not because anyone believed the Toeval had happened just where they were, but because the body became surprised there was even another place where others suffered the same.
Now they are not, so far away and we are not here either.
For Selector. 
perfect candidate to leave behind.
I wouldn't keep images of me. If others grabbed them and offered me copies, I destroyed them. I didn't want evidence of any relationship that wouldn't last. Why keep track?
If you knew it was only momentary and even if the idea behind capturing the moment was innocent... hadn't we placed too much of an importance on the permanence? Otherwise, why bother? Why keep track?
Photos were developed for remembering. To assure us we had been: there, then, with whom; to prove it to others: we existed. Otherwise, why bother?
I didn't. Not a single image of me existed after high school, after the obligatory evidence that was mandatory to sit for. Perhaps there were surveillance tapes somewhere, of me shopping, of me using an ATM. I didn't have a passport and I didn't drive. There was simply no need for a picture of me to exist.
In many ways I was a perfect survivor, a good candidate to leave behind.
p.shaw
from Selector.
Martin Novsky had worked diligently, before the Toeval, to be traceless. He would have made a great spy. After the Toeval, there is no need for spies.
Coincidence of Commonality
In Selector, at first the remaining will reach for just about anything to establish patterns or something in common.
This was the tall stop. Nothing truly in common after The Toeval, except that we were survivors. It took months to riddle that out. Not a single person left knew one another, personally, familial or familiar. So, we searched for commonalities.
Maybe gravitated toward them subconsciously. But no one would make any real move towards a knowing of each other.
I began to notice, a few months in, the patterns. Like this one, this one was the Tall Stop. Everyone who ever came aboard at this stop was tall. Really tall.
from Selector.
p.shaw
a portion on math.
I started to find some clues to the numbers. I didn't call this to anyone's attention, I wouldn't know who to call. I found some modern articles, all published before the ToeVal and for no particular reason I began clipping them out, keeping them together, and one day on a lark – I still have larks – I did some math. 
for Selector. 
p.shaw
The quid pro quo of disaster.
Now, reason is assumed, because it happens without consideration. The item that stood so steadfast against reason before the ToeVal was: Interest. Personal Interest.
Consider this, only after that, and before. 
Now, we have no interest. 
We feel... even if no one would ever say it: lucky. 
We take that and leave any more for us off the table. We have no interest. 
What we do is: we do. With reason and reason only. It sounds absurd, but only if you are outside of the question. We are all inside the question. There is no one left; we will not assume a conversation with the past and we won't look. 
for Selector. 
p.shaw
Finding Fault Follows Guilt.
It was all of us: the Remaining. We had all these thoughts and we created the combination, we tripped the tumblers on the lock, we chose, even our loved ones, because our ideas were bigger than selection. 
We made our killing. We would not heal. Even though our secret thoughts had colluded together: my destruction I had prayed for delivered yours. Your prayers killed mine. Our accounting canceled out a utopia. 
Our blissful sharing became our mutual hell. No wonder we couldn't share a kind word, ever again. 
If I could figure this out, others must suspect and those who have to talk at the highest levels have done the calculations and if the source of the ToeVal were revealed, some could unconsciously band together and force another reduction. To nothing. 
from Selector.
p.shaw
In Sync (not the Boy Band)
Writing for Selector, comes in waves. The waves are created through the making of time to wonder what this lonely world would be like. And, like our narrator Martin, I seem to find the story between the lines of the same story that has been written over and over.
For Selector:
Helps me feel as if some thing has happened. When nothing happens anymore. I wonder if FEEL was the first thing to leave, before we even awoke, that rolling day where we must have all been in sync.
p.shaw
In dealing with the reasons.
...predictions of those who would have been afflicted with the AIDS virus, the poxes that still remained: predictions of dementias calculated to rates of mortality from food borne illnesses attributed to farming practices and processing of livestock; adding the poverty and squalor sufferers reported in urban centers – first, second, third worlds – those without fresh anything leading to predictions of dysentery deaths, mal-nutrition deaths, etc.' combined with the hundred plus armed conflicts in a study done pre-Toe Val... 
The human nature to consider predictions as predilections, looking for reasons and rationale: should we have seen it coming? did we see it coming? can we list the reasons? Or what is the common thread. All of that deciphering becomes moot over time. 
from Selector.
p.shaw
How My Thoughts Connect to the Story.
A little bit about process on this one: The right column was written last week, after a discussion with some other writers, I was walking home alone and the conversation didn't stop, it continued in my head. At one point I plopped on a building's stoop and rattled off the right hand column – to not forget. I didn't forget. I've been thinking about it non-stop. The left column, written this morning, begins to take on some of that notion in regards to Martin Novsky's discovery of the library, why he chooses his process, and perhaps even the owner of the library left behind some of his feelings in this regards. Maybe the notion was always his and Martin is just completing a dead man's work.
Right Column: 
What is this notion that, somehow, good works must acknowledge the world at large? We already have a lot of those. Then we also have too much of the self. What about the In-Between? The words that strike a balance? Or is beginning to be too obvious, the connection? You are afraid of yours. Aren't you?
Left Column:
Today's (or yesterday's – after the ToeVal there is no more) most celebrated writers tend to be very eloquent at stating nothing new. This does not diminish their value. The code is still hidden within their works, despite their obliviousness to their being part of the last novel – a greater book. They (are) were trying so hard and turns out they were just another vessel. Their selections need to be freed and placed.
p.shaw
A Single Wonderment
​There wasn't much we couldn't do to disarm one another. Everything needed a restructure. Covert (anything) became irrelevant. Religion, or distinction in doctrines, collapsed – not as in: Disappeared. But as in: Becoming a single Wonderment: How could a God, mine OR yours do such a thing?
For the Atheists who were left behind the questions were not any easier. They never expected to be challenged and now we all were.​
from Selector.​
p.shaw
Because I didn't publicly acknowledge my being.
What did I lose? ​
Friends. Bryan and David. Who would throw stones at my window at midnight. Something children would do but we were men. ​
That's all.​
The rest were co-workers, far-flung family I didn't talk to, the barista I came to know, who recognized me, asked after me. There was no one else. In fact, I may have lost the least – just two. But David and Bryan would come for me. There was never an obligation or a plan for next time, just a time shared, times shared. And it is now gone.​
Martin Novsky eventually has to consider what he lost. And for him, because he was maybe never there in the world, comparatively little was gone.
for Selector.​
​p.shaw
​
Nice thing about a disaster...
The nice thing about a disaster is everything looks different, a lack of recognition. Now everything looks the same but nothing is.​
- for Selector.​
p.shaw
leads to...
Grief leads to Guild leads to Rationalizing what cannot be dissected. A recipe for madness.​
from Selector.​
p.shaw
One Horrible Thing.
One horrible thing: on some level, a high level, from the moon level – from that perspective, because it was; once; one day; all at once; Because of that it becomes one horrible thing. So much horrible from before, from before Horrible: documentaries of Horrible... all of that horrible is gone.​
No one ever uttered: "solution."​
from Selector.​
p.shaw
positioned properly
I waited a little longer to explain knowing that it would give me the time to think it out, my answer. (the blame.)​
How Martin Novsky approaches avoidance during the critics interview/accusations.
from Selector.​
p.shaw
left behind
Our conversations were left un-ended.​
So many things without a finish.
from Selector.​
p.shaw

sincerity.
There is nothing left in us but sincerity and not a single one of us can share it.​
from Selector.​
p.shaw
​We used to be able to say to ourselves:
"I thought I'd like that."​
"I'd like to try that one."​
An 'entertaining' of thoughts was a universal removal. Removal from the inside of all the choices outside. Different than the dulling.​
from Selector.​
- p.shaw​
Martin Novsky catalogues the waves of change. One is the Universal Removal, another The Dulling.​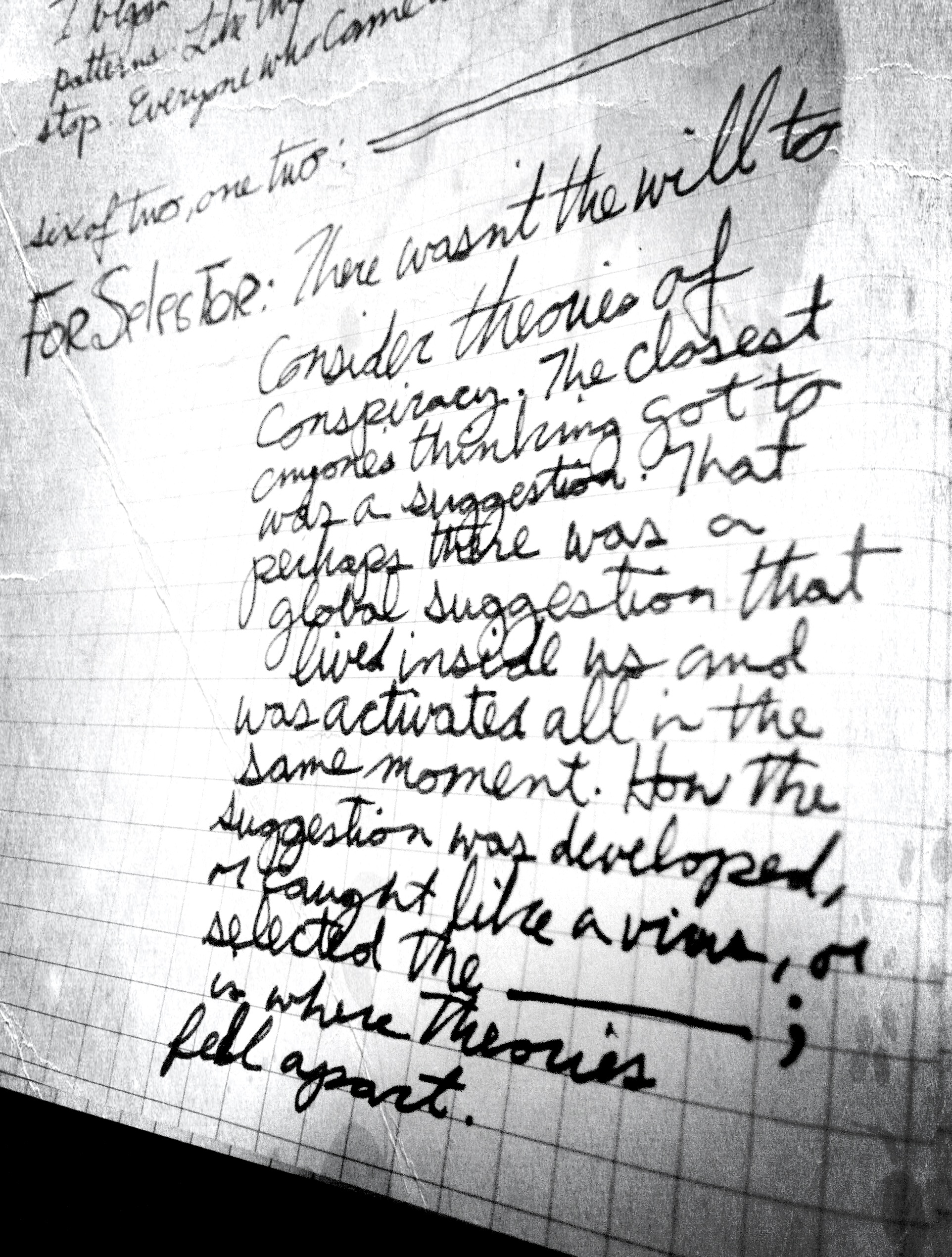 No will.
THere wasn't the will to consider theories of conspiracy. The closest anyone's thinking got to was A Suggestion: that perhaps there was a global suggestion that lived inside us and was activated all in the same moment. How the suggestion was developed, or caught like a virus, or selected the remaining, or the taken; is where the theories fell apart.
from Selector.​
p.shaw
Corroborating the Existence.
Internal Disappears.
External Returns.​
for Selector.​
- p.shaw​
a random exploratory note for Selector.
For example, in this world we wonder if those left miss a sense of entertainment. And if so what types are we ready to risk showing? Are there love scenes? Between strangers When we are all strangers in this what could bond us together, build bridges or is it mocking us? An intermediary step would be the clothed, anti-intimate scene of two embraced in a space of privacy where not a thing is revealed.​
for Selector.​
- p. shaw
As I work on Selector, I ask myself a lot of questions about the rules of this dystopian world. Since I have never written in that genre, and am not a big reader of it either, all I can do is ask the questions that I think will occur to my reader and try and answer them – along with answering the necessities of the world as I imagine them. Sometimes in that process, the note-taking and crafting of ideas, I misplace the third-person, I end up in Martin's world, which is okay, because that is the collision at the heart of the story.​
No one to declare : between a should, a could, and a must.
And now that there is no one to declare what must be done, what must be done? I can't be the only one wondering, still wondering, what comes next. All of us asked the question at first, then, mostly, none. I imagine. But I can't be the only one. And my ideas have little to do with a: must. Instead, more a: should. No, not that either. Between a should and a could is where my harmless ideas rest. I said, harmless, not worthless, just things that no one may ever need again, but in case we do, something must, between should and could, be done.
Martin Novsky, upon finding the Library, questions how to get to work in the world, post ToeVal.​
– from Selector.​
p.shaw
Median of Despair
A mystic rationale was the first thing The Remaining began to look for. The methods were practically identical, yet, without any ritual ties of any kind. The search was a waste, only human.​
Children. That was the median of despair. Except for handfuls in extenuating circumstances, like being in a hospital as the only survivor or somehow locked away. The population under 18...​
​from Selector.
p.shaw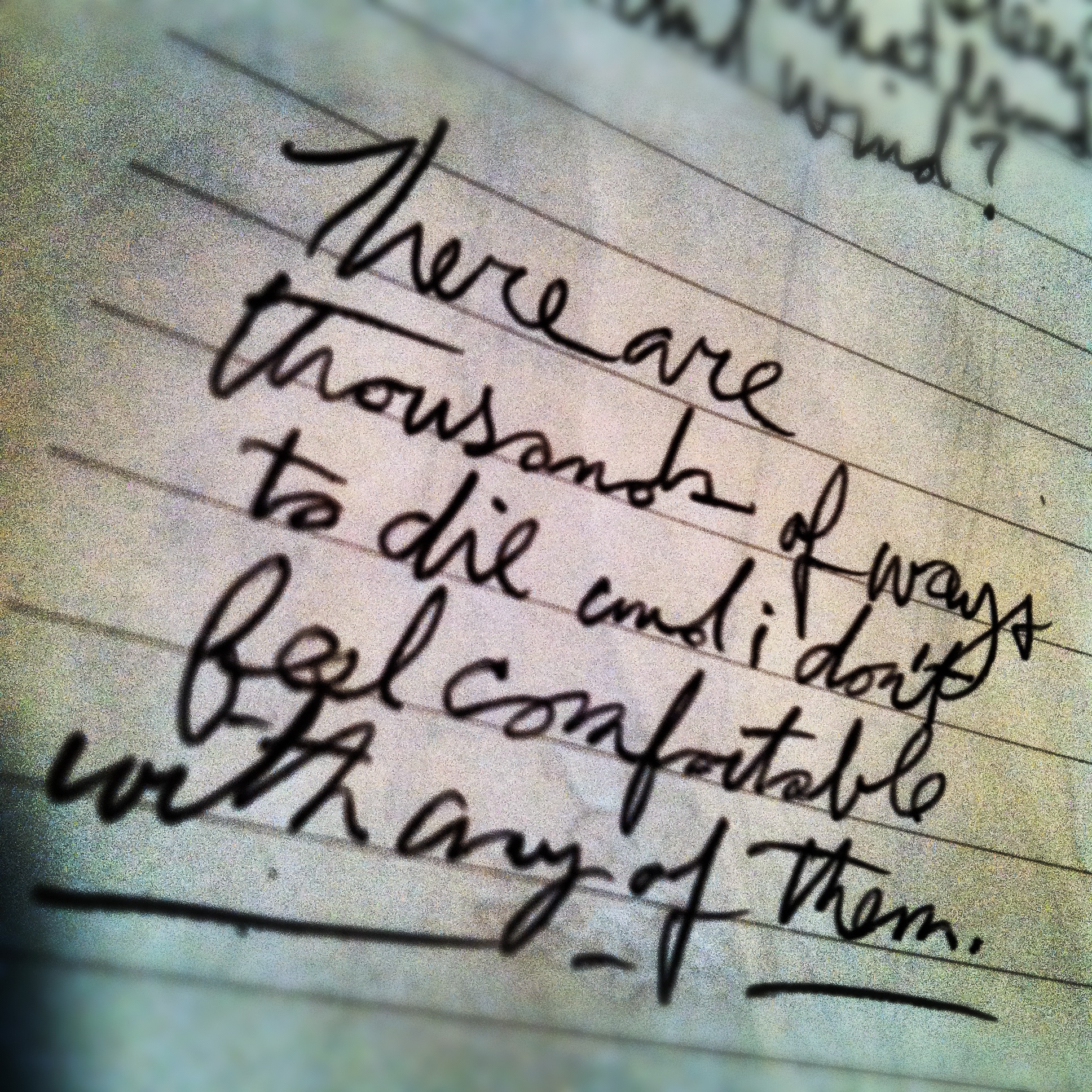 suicide is an uncomfortable thought.
There are thousands of ways to die and I don't feel comfortable with any of them.​
from Selector.​
- p.shaw
expect
You expect us to embrace.​
from Selector.​
- p.shaw
Martin Novsky's internal monologue as he gets riddled by his critic.​
b&b
beautiful & broken. the kind that weren't left.​
from Selector.​
- p.shaw
something like an Intuition.
​It wasn't the lonely who were left behind. In fact, it seemed all those who had been that way were now gone. You can't ask how I know this. Because I don't know it in the way we used to at least try to find a level of certainty about something. There is no way left to do that now. But still, I know it.
​from Selector.
- p.shaw
Progress.
They used to say, "Progress is not yours to stop." And now, we don't even mention the word progress. We talk about looking ahead, but not progress. Actually, we don't talk. 
from Selector. 
p.shaw
Nostalgia
Nostalgia is one of the first things to die.​
from Selector.​
- p.shaw
Day After
The day after The Toeval there was nothing but silence. The second day after The Toeval began the counting.​
– from Selector.​
p.shaw
Immutable
The investment in identity are immutable, they'll simply be there. Not forever. But for my ever. I then can relax in the fact that I won't hav to figure that shit out in the future.​
It's figured.​
– for Selector.​
p.shaw
Death Foot.
the foot that is death. What the extremity feels or looks like.​
- from Selector.
p.shaw
When phones would ring.
There used to come a day when the phone would ring and what you would find out from the other end of the line is that someone you love is dead. The phones won't ring anymore.​
– from Selector
p.shaw
Abolishment
The things that had to be eliminated were the artifacts we hadn't kept for ourselves. The ones in our own walls were easy to burn. It happened over months, but slowly, as people started to let go. The fires became an acceptable occurrence. We didn't have receptacles – but we made them whether we lives in suburban tracts or stacked upon one another in the urbans – somewhere to burn, somewhere to eliminate; and all the rules went out the windows. What was harder were the reflections already cast aside before the happening.​
– from Selector
p.shaw
w/o their assistance.
But I did bury them, amongst others whose camouflage will allow me to sleep better at night. Don't let it be said I do not possess reverence. Of course, I do. This labor is precisely because of my respect.​
– from Selector.​
p.shaw
Lack of Touch
I don't believe many people masturbate anymore. There isn't any porn anymore and our memories probably don't show us enough to go on.​
I do. It's one of my normals. I don't fantasize. It's mechanical. But I do have favorite places to do it. And I do it everywhere. I don't want to get caught but I also do. There won't be any sort of punishment but it will be awkward.​
– from Selector.​
Martin Novsky creates what we refers to as his "Normals." Things that used to exist and he tries them to see if they can lead him back.​
Maintaining.
In film, men sleep in their underwear. So that when they get up in the morning, on-screen, they will not be naked. In our world now, there is no more film – there is really no more reason to be seen. But I wear my trousers and my shoes to bed. The happening could happen again. I'd need to get up and get out into the street. I won't be able to do anything just as I wasn't able to before, none of us were but I'll need to take the temperature or take care of myself – not inside but outside where someone could find me. But we all wonder if it happens again: how many will be left.​
Martin Novsky adjusts to the Happening, which the Left Behind will eventutally refer to as the Toeval.
– from Selector
p.shaw
A relationship formed...
What is your relationship to the words themselves: brother, sister, employee, servant, monarch? And to the pages, which is different than the paper, so that, too? And then the stack of it all piled together?​
– from Selector
p.shaw
The tics
No longer a worship. 
The tics: Everyone now has one. Since the ToeVal mine has been looking at my hands. When I see others who have mine I want to share something but I have no idea what. 
for Selector. 
p.shaw
What's left.
The rest could all be lumped into a category of: For Pleasure. That is to say we have two large categories:​ For Work/Have-Tos and For Pleasure. And while the former can excuse all forms of dour face, tired affect, drawn and disheveled; the latter is no more visibly distinct. The For Pleasure category has no pleasure. There are clothing differences, sunburns, evidence – but no pleasure.
​
What's Left...
There becomes an expectation that you have rooted around in every backwater page, turn of phrase, to assure the thought or concept hasn't been considered and plumbed before. With all archetypes being equal and most of us agreeing to no such thing as an original idea... why not? It seemed like a logical next step.​
Or maybe I just have nothing new to say. No new ways or words to say it with.​
– from Selector – Martin Novsky attempts to argue for his process.
Happens
Why / What will happen when nothing changes.​
The creation of something.​
Thought you were waiting to be loved – far too long.​
I wanted to help. It helps me to help.
from Selector.
- p.shaw
As I craft one of the interlinked narratives, my process becomes a mirror of Martin Novsky's.​
Often
Often times my body wants to believe it lives in the same world as yesterday.​
– from Selector.
p.shaw
Finding the passages...
I would find passages and start to capture them, placing their books butterflied onto my desk. Their faces would look right at me. I would see if the words I wanted could be found in their eyes. I made up stories of our friendship, their understanding, the enthusiasm, and in only a couple instances their confrontations over property.​
– from Selector.​
p.shaw
Martin Novsky describing his process to the journalist and the lines between his story, his justification, and the world start to blur.​
God Removed them All.
In the immediate days following the Toeval, who was left among the remaining had questions. Observations lead to assumptions and in the minds long grooves of thought that could not be easily silenced:
​God removed the loved ones and the feral, the strays and the warm muzzles of dog, cat, guinea pig, hamster; get smaller and smaller to fish and lizards w/o a skin you'd love: to touch; God removed them all.
​This idea that (XXXX) can be made: God removed them all, God removed them all, God removed them all, God removed them all, God removed them all.
I'd stay asleep just to remain alive.
for Selector.
a new beginning.
My empathy: I once believed it a useless trait and that promises only bloom as expectations for such foolish flowers.
for Selector.
p.shaw
We can argue that...
...your immortalization is beginning at one of the worse possible times.
for Selector.
p.shaw
Being Outside.
In Selector, the Remaining were ones left of all kinds. The opinions we once held of the marginal were all but eliminated. Value is compressed. The ones who used to live off our refuse and generosity of ignoring; on our streets, in our doorways and loading docks:​
Maybe now we are all that much closer to being outside.​
If only we knew it was the last day, it wouldn't be so bad.
​When the world ends it'll probably be on a Sunday. Because Sundays have always felt like the end of the world to me.
(re)Forming of Words.
Narcissism is nearly dead. The time we used to spend, hours each day, considering ourselves is now spent hiding from thinking at all. We are not numb. I am not saying we are not contemplative. There is another word forming, less profound. We are done with profound. This word will be more useful. Accurate.​
– from Selector.​
p.shaw
Pro-Creation
There will be a time, they say, when an initiative for pro-creation will begin. I remember hearing that the whole world will be in on the decision of when. Until then we have all just chosen to leave each other alone.​
– from Selector
p.shaw
​
Alike...
I remember they used to say that no two people were alike. Now I wonder if those of us left behind are the ones where were left behind because we are alike. Or maybe the happening made us the same.​
I'd be willing to bet all of us left have some of the same thoughts. That we remember what it was like to do simple things with more of a sense of pleasure even if we didn't realize it at the time. Things like driving a car or brushing our teeth. We still do them but I bet we all wish it was like it was, like it used to be.​
– from Selector.​
p.shaw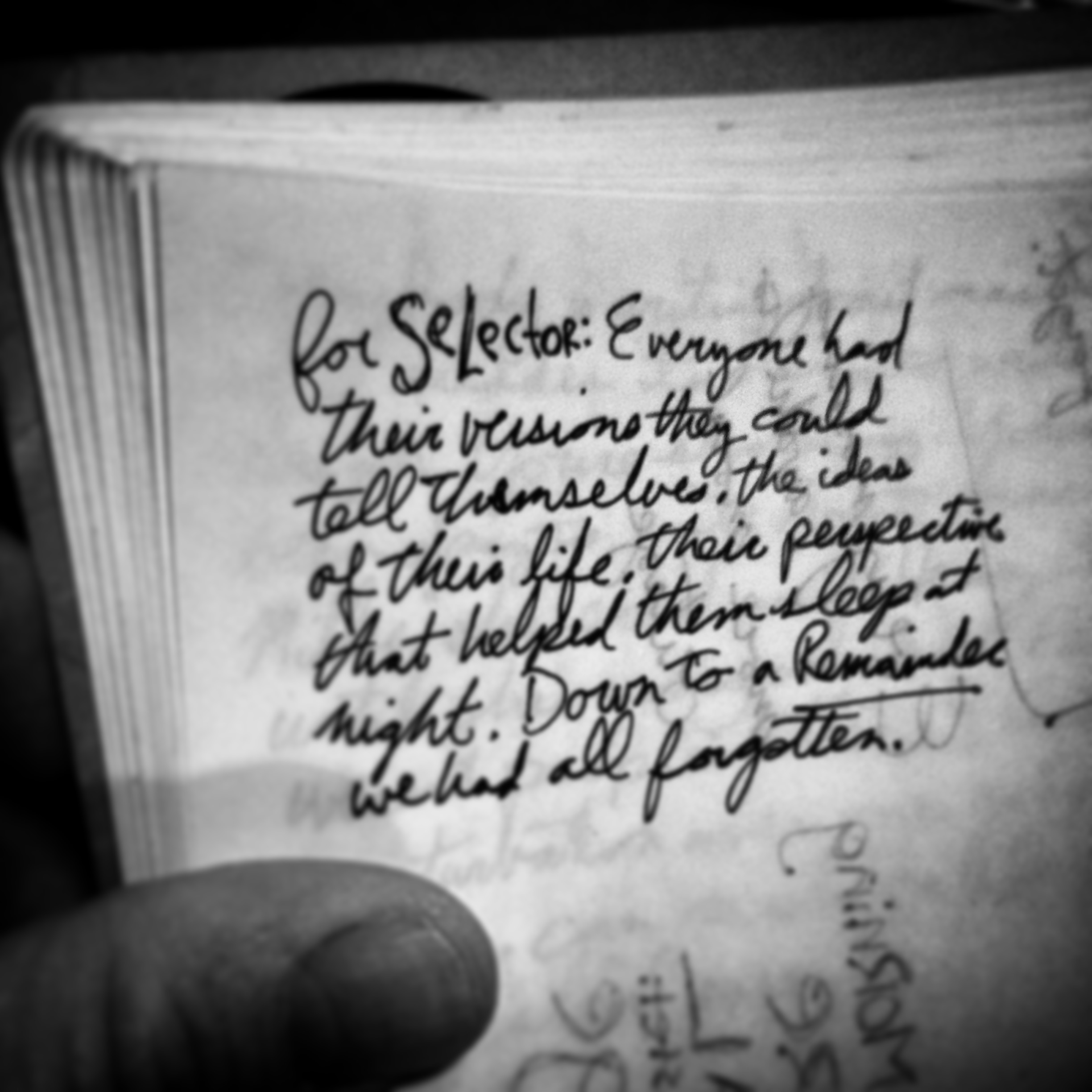 Cataloging the Commonalities
Everyone had their versions they could tell themselves, the ideas of their life, their perspective that helped them to sleep at night. Down to a Remainder, we had all forgotten.
for Selector.
p.shaw
Beauty of Hands
Used to be that a woman could hide her hands if need be. They could be a lovely feature for the ones who learned how to care for and use them. But you could notice most of them didn't, didn't know how or that they should. Then came the devices and there suddenly they were for all to see. Must have made some of them real nervous and self-conscious.​
Then it changed. We all still had the machines but really no use for them. Like that, like most things, hands stopped mattering anymore.​
– from Selector.​
p.shaw
​
Bearing Resemblance.
​Like a perfection in miniature – I can notice that if there was a future for us all... somehow we're left with mostly differences in the physical. You rarely find a resemblance.
Bearing little or no.​
Martin notices how you no longer come across similar facial features, just ones that remind you of the past.​
from Selector.​
p.shaw
​
No More Heroes
No one will ever be a hero again. Instead we all watch. We all watch. 
for Selector. 
p.shaw
No More Teachers.
There are no longer formal teachers. We tried, and teaching – while arguably has always been a form of grieving even if every wailer is at a different stage – became rooms of mixed-aged strangers with questions that could not be answered.
When it was declared a death to hypothesis, we all moved away from rooms of questions to only be with what we had left.
for Selector.
p.shaw
Surrounded by all of your words and all of your work and everything that hurts.
for Selector.
p.shaw
Upon finding a Nemesis.
from him: "Are these the best words you could have ever put together? "
Meta2: I'm stealing to show you what stealing means. And you are stealing from me just to steal. 
p.shaw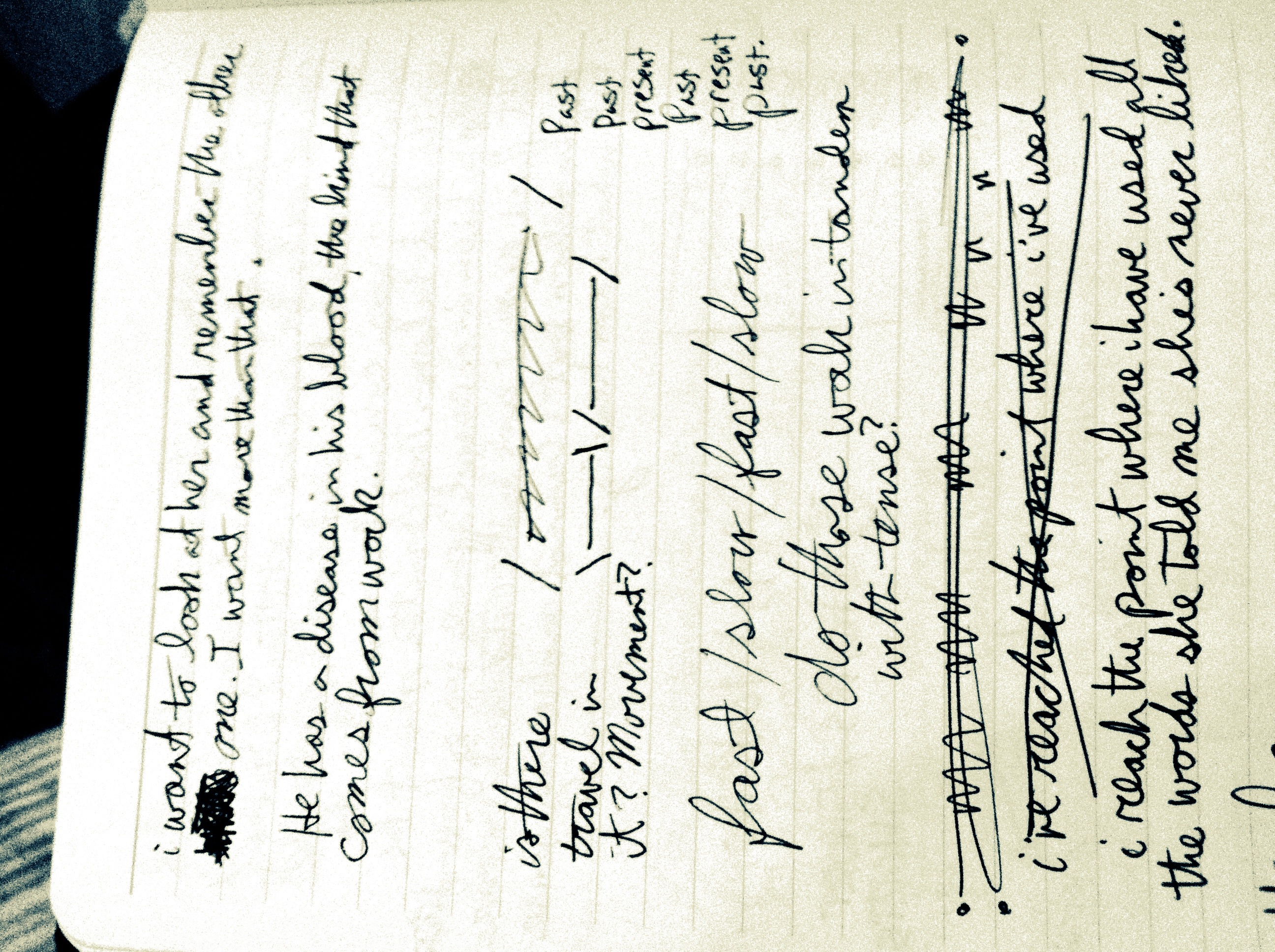 notes for Selector.
I want to look at her and remember the other one. I want more than that. 
He has a disease in his blood, the kind that comes from work? 
I reach the point where I have used all the words she told me she's never liked? 
p.shaw
suffering is a hyper-localized event.
My assignments were less conscious: I valued those I knew, first; those I counted on their existence (people in my orbit of functioning), second; third were people I met when I traveled – those who reflected my values but in a different geography.  
From there a cliff: I found it hard to imagine volumes of people existing and/or mattering in far flung places, despite the technologies that supposedly "connect" us. I didn't deny their existence, or value for that matter. I just couldn't hold them in my mind as I considered anything that "mattered." 
I did care, in the abstract, but who thinks of those, like themselves, who are suffering the same across a distance. 
for Selector. 
p.shaw
origin & impetus for technology
A surprise at the beginning of any necessary engagement. We created ways to not have to.
for Selector.
p.shaw
what will feel foreign? everything.
No resemblance: a supremacists nightmare or dream? 
for Selector. 
p.shaw
announce unexpectedly.
"There was not an abundance of new rules of laws. They seemed, unnecessary. The calendar, though, that was done away with. Not days of the week, but holidays and months and years. They stung."
"Initially it wasn't difficult to collectively ignore the indications. Then there were just too many. Residual, technological and analog, timers set to go off by people who were no longer around to remember their alarms. They would announce unexpectedly. A group was assigned to track them down and eliminate them."
- for Selector.
p.shaw
Accept a Present: A Now.
Stepping into these rooms you wish the calculation, if there was one, had been different: enough to leave behind one for each place. Each place that was full of items that meant something, to someone(s).
for Selector.
p.shaw
for Selector : another year of assembly.
Reflecting on the notes that are attempting to stitch this book into being.
p.shaw
Selector. : More of the Assembly
Reflecting on the notes that are attempting to stitch this book into being.
p.shaw
Selector. : Assemblage.
Reflecting on the notes that are attempting to stitch this book into being.
p.shaw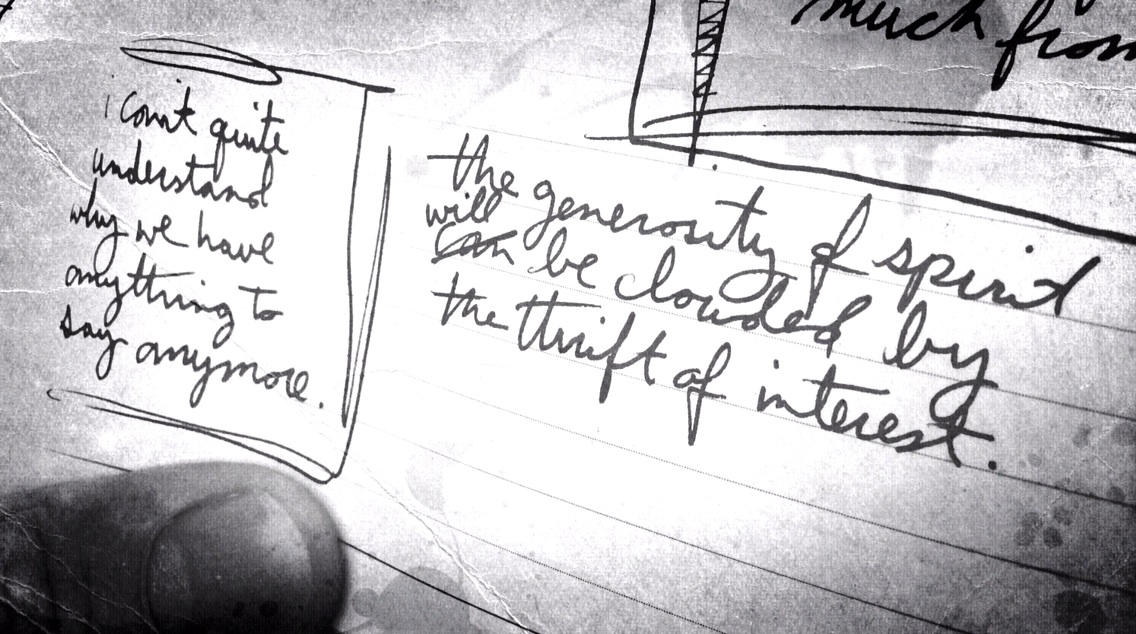 one thing leads to another.
First: I can't quite understand why we have anything left to say anymore.
>>>
Second: The generosity of spirit will be clouded by the thrift of interest.
p.shaw
"There are people who love pretty things, happy endings. I'm certain they will struggle finding much from me."
– from Martin to the Critic in Selector.
p.shaw
He struggled to find the last thought that was truly his, uncolored by the Toeval. He wondered if anyone left could remember what they thought before: the simple last thought.
He searched for his for weeks and then, while taking a break to scratch an itch, while scrubbing a frying pan he remembered: The way she was dressed, when he last saw her, made him hungry, actually made his stomach growl, he had been thinking: How does that work?
for Selector.
p.shaw
the process of collecting w/o prescription.
the process of associative categories.
There wasn't only the blessed.
Walking. Wakened. To the still no damn good around us all. They could have been removed based on a better criteria. And who am I to judge except being left behind with little else to do but see their entire lives behind their eyes and them seeing mine behind mine. There is nothing to do with our suspicions, no one to report to but ourselves, and live with the knowing that no one here is someone I want to know.
for Selector.
p.shaw
the sleep replaced with an insomniac's pall.
I used to sleep to escape. And, now the battle is as aggressive in dreams as waking. There is a shutting down but from there all comparisons are lacking.
for Selector.
p.shaw
Who shows up in your dreams to call you out on a lie.
Every dream inhabited by the past.
Peopled with the loss come to confront a tired lie.
I'm the most common attendee // denominator.
notes for Selector.
p.shaw
to become a single being.
Nightstand Artifacts: 4.14.2014
2:45am
No matter the thoughts you think or the words you choose, it is as simple as that. And, not nearly.
p.shaw
Anyone Can. And No One Did.
"Yes. You could've done it but you hadn't. And you could do it but you won't. Isn't all of this just mincing over could haves and should haves? Or really, the point you want to make is that I shouldn't have. Yes?"
between Martin Novsky and the critic
for Selector.
p.shaw
Criminal Acts
"We do enjoy the parts where you challenge us on right or wrong..."
"Who is 'we'?"
"...but there is an illegal, or at least ethical, dilemma to what you have made. Not the story, but the words. They aren't yours, are they?"
"Show me. On which page did I break a law with what I created?"
"It's more the premise. In fact, your using of words like made or create even have to come into question."
"Speaking of choosing words, first you are stating my work is a specific criminal act. And now you say it's the premise of my work. Which one do you want me to address?"
"You're missing the point."
"Yes, I am, entirely. But I can't answer you if you can't tell me what about my work makes you uncomfortable. The story is the story and it is a story."
"But it's more than that."
"Of course it is."
between Martin Novsky and the critic
for Selector.
p.shaw
More on What's Left and How
The last building boom before the ToeVal bred sky scraping towers to fill in what was left of the empty spaces in our cities, making room for more of us, the more of us that are no longer more. The builders competed for our attentions and desires with grand atriums and lobbies, designed to encourage languor, to replicate other ages full of exorbitant wealths of time.
When there were people to fill these spaces they did not. They moved swiftly past to their homes in the skies. These spaces were held by those waiting for taxi cabs. These spaces were for the concierge, the bell-hop, the janitorial and landscaping staffs to maintain, and monitor, and little else. Now they haunt even more.
Most of us left behind who chosen these as our homes have removed the trees and potted plants, whether real or silk, to try and make it on their own outside. Any of the previous services offered, no matter how simple, are agreed as being too extravagant so podiums and desks are removed, repurposed, as if there is a lack of podiums and desks. Just eliminating more reminders and ghosts.
I removed all the signage in the building myself. After the officials came to assist with what building systems could be maintained and I accepted the decommissioning of the elevators, I took every signs down: apartment numbers, directional signs, etc.. I also spent a month rigging every lock but my own door to remain unlocked, in case someone would decide to join me.
And for myself, the absurd use of space that was a lobby designed to attract, I do make time for languor, daily. Its a pretense, I know. We all have the time. I choose to spend some of mine here, shifting myself from bench to seat to couch, just to see what if I can feel any of the intentions that had for us.
for Selector.
p.shaw
Everything seems open to rules that will not apply.
I am not allowed to love anything anymore or... I would be foolish to. And the anything in question is a bigger not – as in: there is not anything left to love; or that we are allowed to love; sanctioned to love.
There are not specific rules. There is instead an encouragement to discourage. Not specific. Not a campaign. It, like everything else, is not just an it; and is silent.
There is no enforcement of the non-allowance. It is implicit and explicit; it is a new immutable. And I believe a form of loving. the way it used to be. I believe I am the only one who wonders.
If that is true then we have no need for rules, campaigns, specificity... or love. So, what is true?
for Selector.
p.shaw
inventing someone to call a friend.
In my dream I invented a blind woman of striking beauty. The kind of beauty that despite her handicap from childhood, or perhaps birth, there would be absolutely no way she could not be aware of it. The kind of beauty that would be remarked on so much that it would lead to discussions of the concept of beauty for because of her blindness others may assume she could not conceive of the importance of beauty. They would ask her if she could imagine a world where things are compared by their visual representation. She would remark that she could. They would ask her if she could imagine all of the tangible and intangible items that are equated with beauty: the sky, a flower, a taste, an expression, a feeling, a car. She would say she could for while all of these tangible things she had never seen like we had she had imagined them.
for Selector.
p.shaw
More than more.
It wasn't our fault. We were bred as a race to gather and hoard, which is just the action in action of the genetic disposition to suspicion. We were a race that survived on suspicion and grew to a place where there was no longer need for it. There was plenty for everyone. More than plenty, and like love, we didn't admit it to ourselves and we didn't let it stop the race of our race to have more and then after, after the Toeval, we couldn't deny that there was more than enough because now there was more than more, too much was our biggest problem, and suspicion, like almost everything but More disappeared.
from Selector.
p.shaw
Directionless Input: Like a drunk in his moment of clarity.
Often times my body wants to believe in lives in the same world as yesterday.
The anthropologists, if there are any anthropologists left, would feel too guilty to look in on this: That the last two generations had been lulled further into a passive-aggressivity from computerized communication, using devices to distance ourselves from face to face conflict or love; everything made to strike from ambiguous distance, or direction, or to simply mask and avoid.
Our duties got lost in to-do lists and buried in unchecked InBoxes, but we call could empathize so it would never get to a point of accountability. That's not to say we weren't sad. But if we could admit to it, we're now better prepared to be alone that we ever have been. Ready not to have anyone to talk to because we'd only been talking to ourselves for a long time now.
for Selector.
p.shaw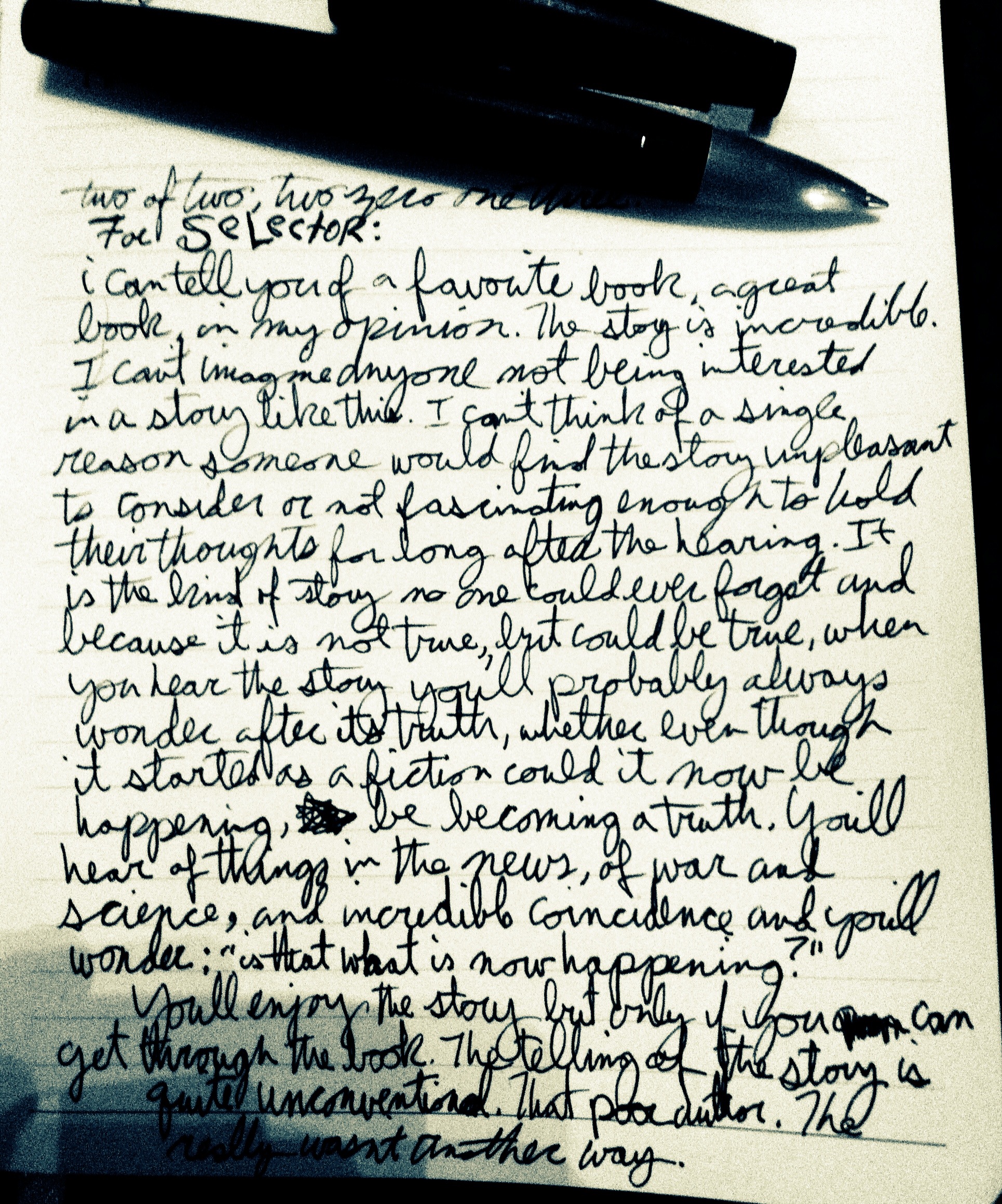 I can tell you of a favorite book, a great book, in my opinion. The story is incredible. I can't imagine anyone not being interested in a story like this. I can't think if a single reason someone would find the story unpleasant to consider or not fascinating enough to hold their thoughts for long after the reading or hearing. It is the kind of story no one could ever forget and because it is not true, but could be true, when you hear the story you'll probably always wonder after its truth, whether even though it started as a fiction could it now be happening, be becoming a truth in the minds of all the readers and listeners. You'll hear of things in the news, of war and science, and incredible coincidence and you'll wonder: "is that now happening? I read that once."
You'll enjoy the story but only if you can get through the book. The telling of the story is quite unconventional. The poor author. There really wasn't another way.
for Selector.
p.shaw
The religious zealotry, something that would have been expected if there was anyone left who was to put a critical eye to our left-over society and examined the fallout, the outcome, the results of the ToeVal – simply did not come to pass. There wasn't anyone left who cared to do a sociological, theological, survey that would have been measuring the variety of reactions. And if there were, even if it had been deemed a necessity but some and reassignments offered up a team dedicated to such an examination, their research wouldn't last long. There was little variety in the reactions, or in those actuals who were left behind. Of us there was not a consistent make-up of survivorhood, no consistent form of an emptying of emotions. That would be the reporting back at the end of any such observation: no trend. Simple. And as for God and zealotry, there was no one left who cared to raise a voice to speculate this was an act of a god. Or, if they did their sorrow was too large in comparison to their faith. Fear, the great generator of Faith, in small doses... is something like this... crippling our desire to make reason... until....
Everything you stand for & against:
Somedays I wonder. Somedays I wonder as I am thinking back, something they advise us not to do – yet, hardly can any of us know how not to – was I engaged in an unconscious accounting? Were we all? A judgement of them, and by extension, others like them.
Was I counting those I would choose to be with, to have stay, finding only the like-minds to populate not this world, or their world, but my world. And... had I received my wish?
Could I have such power? Would I have such power and now seeing the outcomes of my wish in its early days, despite my grief and guilt, were I knew it to be mine and it would only take time for my rewards to take roost, would I have changed my mind? If I knew that those left with me were the ones I wanted, had wished for, and that it would only take time for us to grieve the loss of what only I knew we did not need, that when we realized we better, that I am no God, that there is no God, that we are all the God, that this was all of our wishes.
for Selector.
p.shaw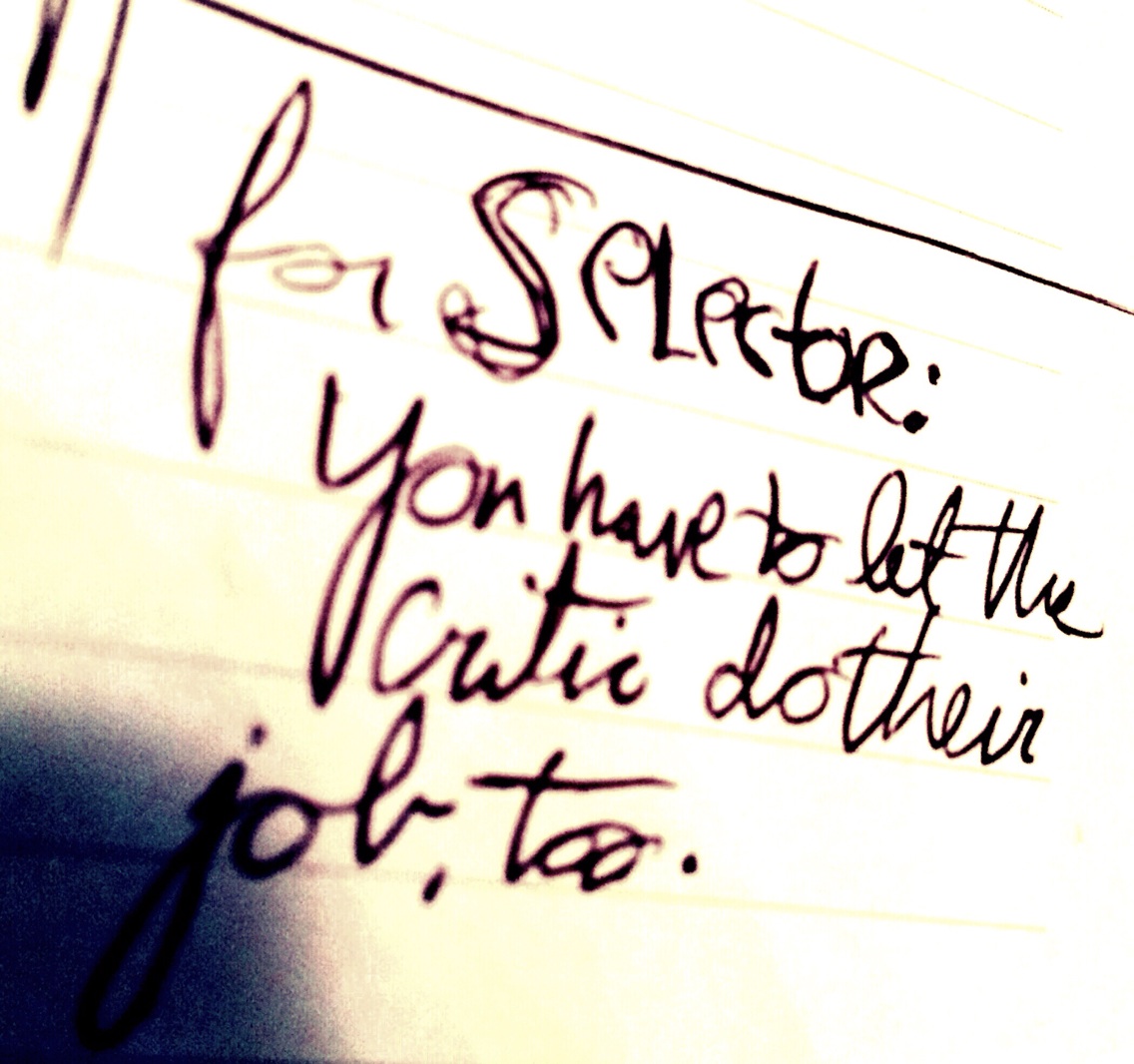 imaginary characters
You have to let the critic do their job, too.
reminder for Selector.
p.shaw