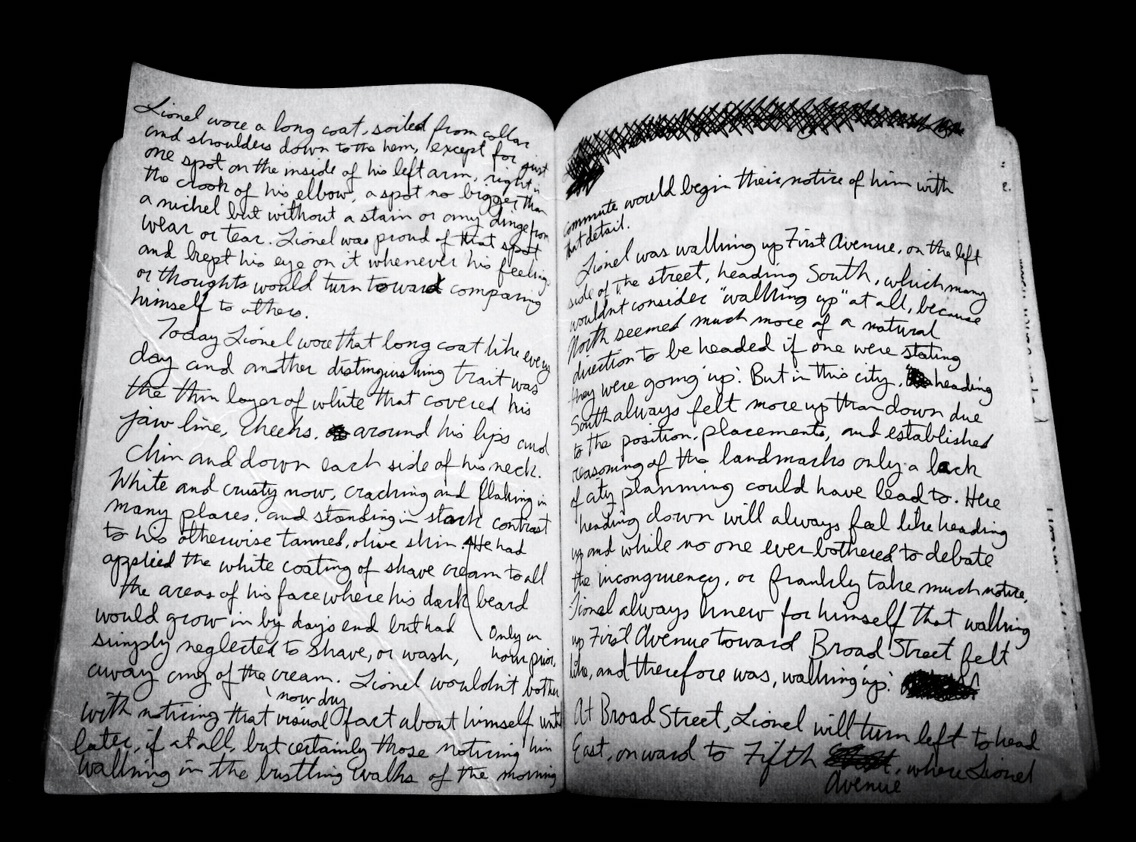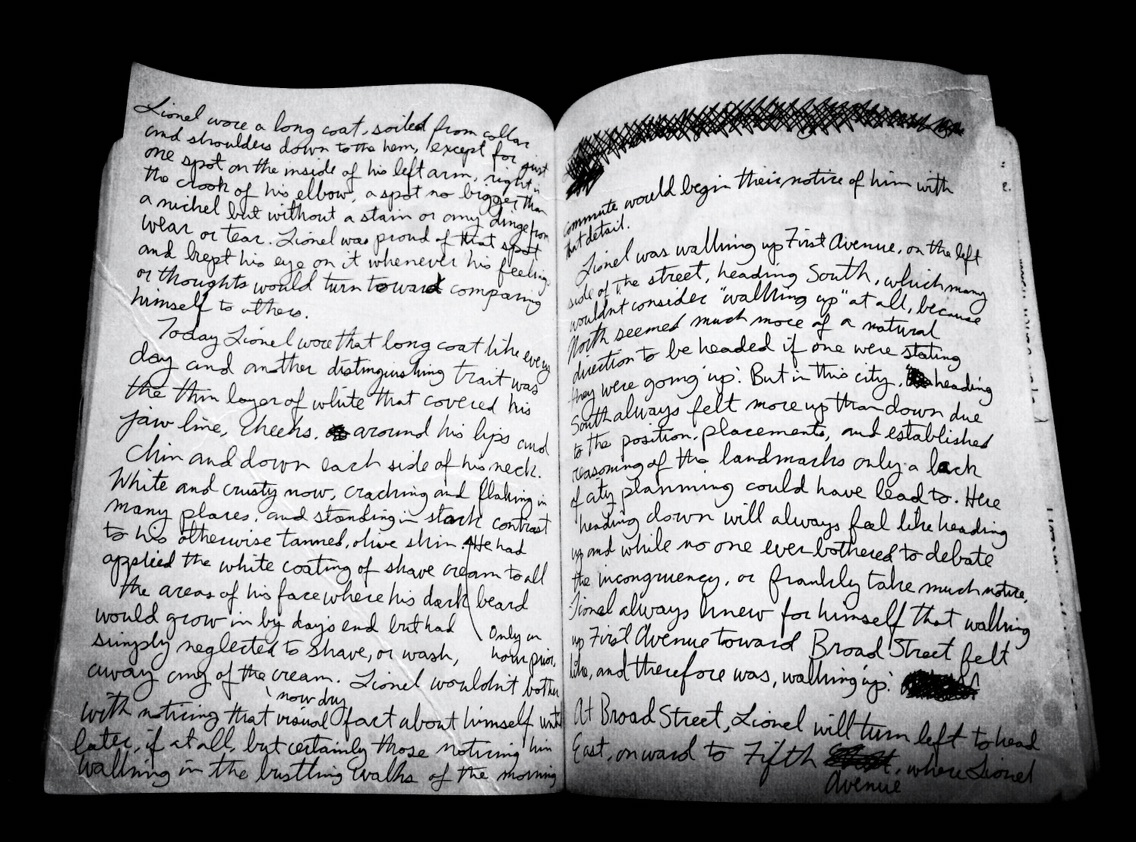 Palimpsest #1
Lionel was wearing his long coat. His long coat that is soiled from collar, to shoulders, down every surface to the hem, in all directions. A complete encapsulating circle of stain excepting for a single spot on the inside of the left arm of Lionel's long coat. A spot right in the crook of the elbow, a spot no bigger than a nickel in diameter, without any dingy quality to it, not a sign of wear or tear. Lionel is proud of that spot and whenever his thoughts would turn toward comparing his station in the world to that of others, and therefore those thoughts turning his feelings into ones of distress and lacking, he would turn his eyes toward that spot as a reminder that every thing has an opportunity for permanence, that every thing can weather a storm to remain beautiful.
Today Lionel wore that long coat like he does every day and when others saw him today that coat was not his most distinguishing characteristic. Today his most distinguishing characteristic is a thin layer of white upon the skin of his face, a white that stands in stark contrast to his otherwise tanned, olive skin. A thin layer of white that covers Lionel's jaw line, Lionel's cheeks, around Lionel's lips and chin and down each side of his neck and stopping just shy of his collar bones. A thin layer of a white crusty substance that lays flat against his skin, but with bristling dark nubs of hair that protrude from the white substance that is now flaking and cracking in many places but still provides a coating around these areas of his face that is complete. Only an hour prior, Lionel had applied the white coating of shave cream to all the areas of his face where his dark beard had grown overnight and would grow in darker, fuller, by day's end. Lionel had applied that cream to those areas of his neck and face with the intention of removing the stubbly hair from his neck and face with a razor and he had neglected that part of the process. Nor had Lionel bothered with washing away the now dry cream before donning his long coat and beginning his time outside of his home. Lionel will not bother with noticing this visual fact about his appearance until much later, if at all, but certainly those who will take notice of him walking in the bustling walks of the morning commute will begin their notice of him with that detail, perhaps more so even than taking notice of Lionel's long coat.

Lionel was walking up First Avenue, on the left side of the street, heading South, which many wouldn't consider 'walking up' at all, because North seems much more of a natural direction to be headed if one were stating that they were going 'up'. But in this city, heading South, does feel, for many, as if they are heading more up than down. In this city, the cause for this feeling is more than likely due to the placements of, and lack of established reasoning of, the positioning of notable landmarks, which truly seem to indicate a master plan of development in this city does not exist. In this city here, heading down will always feel like heading up and while no one has ever bothered to debate this incongruence, or frankly take much notice of what it feels like to be up or down in relation to direction or global positions such as North, South, East, or West, Lionel has always known for himself that walking 'up' First Avenue toward Broad Street, felt like, and therefore was, walking 'up'.

from Palimpsest
p.shaw
Palimpsest #2
At Broad Street, Lionel will always turn left to head East, on the left side of Broad Street on his way onward to Fifth Avenue, where Lionel will always make another left without crossing Fifth Avenue proper, and therefore be on the left side, or West side, of Fifth Avenue, as he will always, and is now, walking 'down' to Caps Way.
At Caps Way, Lionel will always make another left to walk West, on the left side of Caps Way, eschewing crossing Caps Way to walk on the right side of Caps Way to head West, as he once did, but has come to find it never to his liking. Whereupon reaching First Avenue and Caps Way, Lionel will once again, as he does always, make another left to once more head South, a 'going up' motion, until he reaches Broad Street for his fated left turn.
This circle through a portion of the city is Lionel's route. A route that Lionel takes everyday, Sunday through Saturday, regardless of weather or holiday, regardless of health. For more than 10 years Lionel has taken this route while wearing his spoiled and stained long coat – excepting the spot that is pristine within the crook of his left arm – and today his route will be walked a total of seventy three times from sunrise to mid-afternoon. This circular route will be walked by Lionel all while he also unknowingly wears the clownish mask of a shaving that never occurred. It is quite possible that Lionel, were he willing to turn his gaze to his left, at many points of his circular route he would perhaps be able to acknowledge the discrepancy in his appearance through viewing hisself in the reflection of a storefront window. At some points in his circular route, particularly along Fifth Avenue, where Lionel often will move from one edge of the sidewalk to another to avoid tourists or clumps of day workers as he attempts to maintain a a consistent forward momentum, Lionel could look to his right where he may view hisself in the reflection of a parked car's window, or perhaps a bus stopped at a light or transit stop to pick up passengers, as Fifth Avenue is a one-way street where all vehicles head down, or North as it were, and therefore fill all five lanes of the avenue, including the one nearest the sidewalk edge that Lionel will often be moved to walk along. So many opportunities for Lionel to see hisself with the shave cream silhouette upon his face and neck, and yet, we believe he will not notice hisself in a reflection because if there is one thing we know about Lionel is that he avoids his reflection in the reflective surfaces of the city as much as possible.
Regardless, to our knowledge, this is the first time in more than 10 years that Lionel has applied the shaving cream and forgotten to shave before leaving his dwelling with the cream painted outline along the lower part of his face and the totality of the frontal area of his neck.
from Palimpsest
p.shaw
Palimpsest #3
We all will have seen Lionel walking. We will all have seen Lionel more than he can see himself. And we will all pretend that we do not.
*****
Beneath the long coat of Lionel, Lionel dons a trusty pair of trousers. The trousers bear less evidence of the wear and tear of Lionel's life than the no-less-trusty long coat does. Perhaps this is due to the no-less-trusty long coat's protection of the no-less-trusty pair of trousers. However, it can be said that Lionel is not known for his cleanliness. In fact, Lionel is not known, by anyone, for anything.
There was a time in Lionel's life, as there would be for any person, where Lionel was known by some. If he was ever truly known by any, Lionel was mainly known by a mother who is now dead, as could be said for many a soul.
for Palimpsest
p.shaw